How I Threw A Mini COVID Wedding For Just $2,000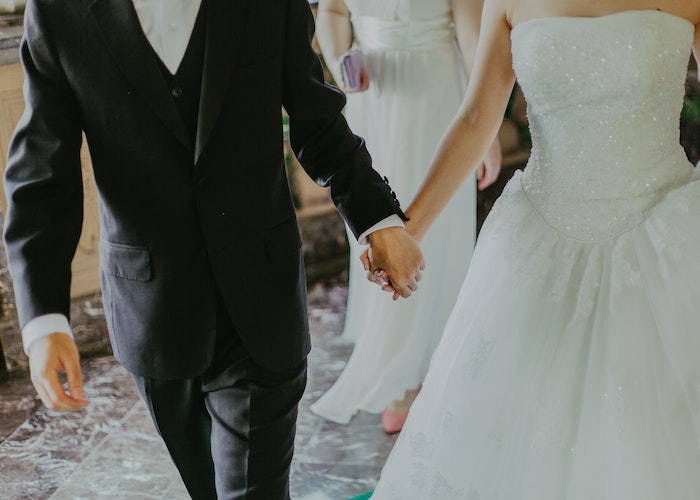 According to The Knot Worldwide Global COVID-19 Study, a comprehensive survey of engaged couples affected by the global pandemic, 93% of American brides-to-be reconstituted their spring 2020 wedding plans. 
I was one of them.
The day my offices closed mid-March, I immediately jumped on the phone. I called, texted, and emailed every vendor my fiancé and I hired for our May 2020 wedding. Our wedding plans included a guest list of 120 people, a yacht club, caterers, a makeup artist — basically, all the bells and whistles. None of these things felt like the shutting-down of Massachusetts would have an effect on a May wedding. I remained uneasy but decided to wait before asking about deposit returns. 
As March turned into April and April turned into early May, Massachusetts remained under strict stay-at-home order, and I began to truly stress. I won't deny that it took more than one bottle of Merlot to utter the words, "We should cancel" to my future husband. After a lot of wine and even more tears, I was finally emotionally ready to look at numbers and contracts.
Of course, getting the deposits back from our venue, photographer, makeup artist and caterer was number one on our list of priorities (we'd held off on mailing invitations to guests). As I reached out again to our reception venue and photographer, it became clear that a refund wasn't going to be as straightforward as we had hoped. Of the vendors we spoke with, most were happy to accommodate a new date (originally, we had booked May 23, 2020), but not open to returning funds. As we didn't – and still don't –  have a new date in mind, most of the deposits hung in an awkward limbo. 
"To date, I have not received any refunds or returned deposits."
After negotiating with our venue, we were told our deposit would be returned to us; however, we were also warned not to expect it in the mail anytime soon, since, according to our venue contact, returning funds was a lengthy process. All other vendors on our list asked us to give them a new date. Like the majority of couples who tied the knot this year or are waiting-to-wed,  we still plan on having a larger "sequel wedding" in 2021. What I'm discovering now, though, is that the competition for available dates in 2021 is stiff. Out of pure discouragement, I stopped emailing alternate venues weeks ago when two places told me they could only offer Sunday and weekday receptions next year (FYI: any booking day, aside from Friday and Saturday, is often considered "less desirable" for weddings, since it's harder to accommodate to guests who are traveling, work weekdays, etc.) As for those other vendors on my list, I have mentally prepared myself to consider those deposits a "loss."
On May 18, 2020, my fiancé and I decided to officially put our wedding plans to bed and get creative in the midst of Covid-19. Getting married was the goal, the big shindig and the deposits could wait. 
In all, our reimagined wedding cost slightly less than $3,000. Thanks to the generosity of my new Azorean father-in-law, who gifted us $1,000, we paid a mere $1,934.00 to get married in the summer of Covid-19.
Line-by-line breakdown: 
Marriage License: $45 – As the weeks progressed, Massachusetts slowly, incrementally re-opened. Because of this, we were able to apply in-person for a marriage license at city hall. 
Church: $200. 00 – Though most churches in our city were closed for open worship, we were allowed to have an intimate ceremony with ten guests indoors at one of the oldest churches in Massachusetts. We were not charged for using the church, but because the minister was performing our ceremony (and we were so grateful), we left a donation. 
Flowers: $289  – We found a local nursery (considered "essential") that created my bouquet and an arrangement for the church altar. 
Photographer: $1,400.00 – We requested our pre-booked photographer change our contract to document our mini matrimony (or "mini-mony). This included a $500 deposit, plus $900 for day-of photos.
Dress: $0 – I recycled an ivory Zara dress!
Accessories: $44 –  In terms of accessories, I managed to nab a great pair of heels at TJ Maxx ($28) and a clutch on Amazon ($16).
Makeup: $15.00 – I did my own makeup, mostly with products I already owned, but naturally needed to supplement with a few glitter-related supplies from CVS!
Suit and Alterations: $132.00 – My fiancé needed his suit ($118, thank you, Banana Republic sale) altered ($14). 
Rings: $559 –I purchased my fiancé's wedding band on Etsy ($90), and he purchased mine at a local jewelry shop ($469).
Dinner: $250.00 – After our ceremony, we took three family members out to dinner (at the time, a six-person maximum was allowed per seating arrangement).
Subtotal=$2,934.00
(Minus +$1,000 wedding gift)
Grand Total=$1,934.00
"Meditate on what's ultimately most important to you and your spouse-to-be. It's your relationship, and it'll be your marriage."
My advice for other brides is simple —  do you. I wasn't willing to let Covid-19 ruin every single aspect of my life, but reorganizing definitely meant coming to terms with a difficult reality. Meditate on what's ultimately most important to you and your spouse-to-be. It's your relationship, and it'll be your marriage; coming to a mutual agreement and plan together should take precedent, and hopefully get you both into the groove of making these kinds of decisions as a unit.
Karoline is a Californian transplant now living the east coast dream in Massachusetts. By day, she works in fundraising at the college Matt Damon made famous, but by night, she writes and illustrates to flex those left-brain muscles. Always on the lookout for good espresso and beer, she and her boyfriend try as many coffee shops and breweries in New England they can find.