How I Was Finally Able To Get My Own Place In The Most Expensive City In The U.S.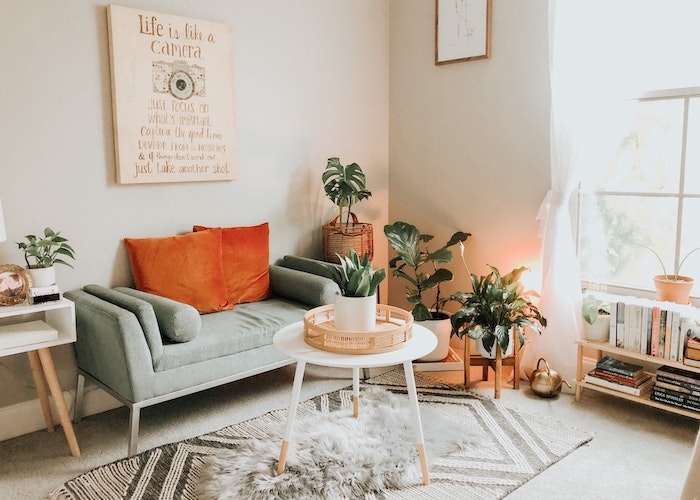 I think it's safe to say we all envision a certain life for ourselves after college. It's definitely a whole lot more glamorous than your actual 20s wind up being, and in my case, I didn't anticipate needing to live with six other roommates—strangers—in a giant townhome just to afford Bay Area living. While cities in the Bay Area, such as San Francisco and Oakland, have continuously topped the charts of the most expensive places to live in the United States, I don't think most Americans outside of the area understand just how pricey it can be. For context, me sharing a home with six strangers, a bathroom with another girl, and living in a bedroom that barely had enough room for a desk and chair, in addition to my full-size bed, was $1,500 a month with utilities. 
And that was considered cheap. 
Needless to say, it quickly became a financial goal for me to be able to afford a better living situation in the Bay. While my bedroom was certainly nice, with plenty of sunlight and two built-in closets to boot, I nevertheless wound up spending most of my time outside of my home. I never hosted a book club—there were already too many people in my house—and had to plan to use the kitchen around the schedule of my roommates. 
But when I first moved to San Francisco around 2018, this was the best living situation I could afford. At the time, I was making $75,000 as my base salary and had close to a quarter of that amount in student loan debt repayments. Although $75K is considered a decent salary for a single woman in her early 20's with no additional mouths to feed aside from my own, given the high cost of my rent, additional living expenses and my impending student loan payments, I saved less than 10% of my total paychecks that the first year. 
Fortunately, later that year,  I received a salary increase and heftier bonus than I'd anticipated and I refused to touch it. In a city filled with software engineers who make six figure salaries right out of college and are given free meals, transportation, and other perks, my finance job was a slog (in comparison), so this bonus was a boon and I saved the bulk of it. I continued to live in my crowded townhome, at this point living way below my means, just so I could continue to save money in a way I hadn't been able to during my first year out of college and in San Fran.
Also, for full context, I had a family emergency a few months after moving to San Francisco and spent a lot of money flying across the country to be with my family, taking unpaid days off of work because remote work wasn't possible pre-COVID, and also helping my family pay hospital bills. So for me, that first year out of college was truly a break-even kind of year which is why saving my bonus was such a huge priority for me and I didn't use this salary boost to hastily splurge or  improve my living standards, in the slightest. It just went straight to savings.
Once the pandemic hit, however, living in a household of six strangers was anxiety-inducing, to say the least. I knew by now that  I had enough money to justify a better living situation, so I moved into a two-bedroom, two-bathroom apartment after my lease ended. Pre-COVID, it would have easily cost me $2,500 to live in a nice unit in an apartment building with security and a balcony as well as have my own bathroom. With the pandemic reducing housing costs, though, I was able to negotiate this down to $1,800 a month, utilities included. 
At this point, I'll admit I was feeling pretty good: I was living in a beautiful new apartment that only cost me an additional $300 a month, I was out of the red with my debts and in a place to save close to 40% of my paycheck. 
Well, the thorn in my side was the fact that I didn't actually enjoy my job and found it to only added to my anxiety.  I had been ready to make a career shift just as the pandemic hit, resulting in the offer I had, being withdrawn. Naturally, being employed during the pandemic was my first priority, so I didn't question my inability to change my career too much at this time, but as the year wound down, I began looking for a new job. 
Here's the thing about being in your 20s, though: you only really have experience in a few skills. While I had been making close to $155K at my job in 2019 (bonuses included), as I searched for new jobs in a slightly adjacent industry I realized I'd have to take a massive pay cut. At the same time, my new living situation also began to deteriorate due to frequent clashes with my roommate, who was dating heavily during the pandemic, introducing different people to our "pod"  with a frequency that I didn't feel comfortable with, especially during quarantine.
Lo and behold, I took more than a 50% pay cut in 2020, and accepted a $72,000 offer with my new position.  I wound up moving into a studio apartment during quarantine. With negotiations, my rent for my first year in the studio would be $1,650, but after my first-year rent would rise to a rent-controlled amount of $1,850. Utilities, in particular, were easily an additional $100 a month since I wouldn't be sharing internet or other bills with other roommates. While this was doable, it nevertheless put a strain on my budget. After all, I had just barely broken even my first year in the city when I was making around the same amount a year and $1,500 for rent with utilities included. Now, I was paying more each month and making less each month, too.
However, given that I no longer have student debt payments, I'm still able to save 10-15% of my reduced paycheck a month. Also, given my previous savings from my last position, I've been able to justify living alone, even though, in most circumstances, it would be more financially prudent to live with roommates when taking a pay cut. 
The pandemic has also changed my monthly bills. I no longer have to pay for public transit to commute (a 100+ / month cost shaved off)  and my living space has taken on a new degree of importance to my life and work. Given that my mental health wasn't thriving over the past year, too, with multiple roommates and off-the-charts anxiety, it feels good to be able to have my own space where I don't need to worry about the actions of others during an ongoing global pandemic. 
At the end of the day, living in expensive cities is a cost-benefit analysis. I am someone who thrives when living in their own space and enjoys being alone. Pre-pandemic, my studio would've cost me $3,250 a month, so in many ways, it's unclear that I would have been able to live on my own if it wasn't for these major shifts in the housing market that have taken place over the past year. Housing and cost of living in San Francisco is outrageously high and the pandemic has put a bit of a reset on those prices, but that doesn't mean it's any cheaper to live in this city than others, which have also seen a shift in their housing prices. 
My experiences over the past year with fluctuating incomes and housing costs have taught me that when you can live below your means and save as much as possible so that when you need to prioritize your mental health or physical well-being, you can draw from that pool and make a decision that meets your goals, in more ways than one (Also, when housing prices drop, you better be taking advantage of that!)
So, a recap:
Save for a rainy day:

While I know many people aren't in a position to always do this, if you are, please do! As mentioned, when I made $75,000 a year, I barely had any savings by the end of the year. When I came across a hefty bonus and salary increase the following year, I opted out of any changes in my budget and sacrificed luxury in order to embrace saving. So if you've had practice living within your means on a reduced income, don't rush to live above your means once you get a salary increase or come across surplus money. This brings me to my next point:

Save the surplus:

Bonuses, gratuitous raises, side-gig money, unexpected monetary gifts, etc. Save it!  I'm not saying to stay stuck on survival mode or to

not

treat yourself, but continue to implement the savings strategies and budgeting techniques that have worked for you throughout the years. Don't throw away all you've learned about savings once you feel you're finally "out of the red" of paycheck-to-paycheck living

Negotiate, negotiate, negotiate:

If you're looking to buy or rent in an expensive city, now is the time to embrace the advantages you have as a potential renter or buyer. Many people fled the cities at the peak of COVID.  While negotiating is a good thing to do no matter what season we're in, it's especially important to do so now. As mentioned, I'm paying $1,650 for a studio apartment that would've cost me $3,250 (nearly twice as much) a year-and-half ago.
Image via Unsplash