How To Indulge Your Fancy Food Tastes On A Lentil Budget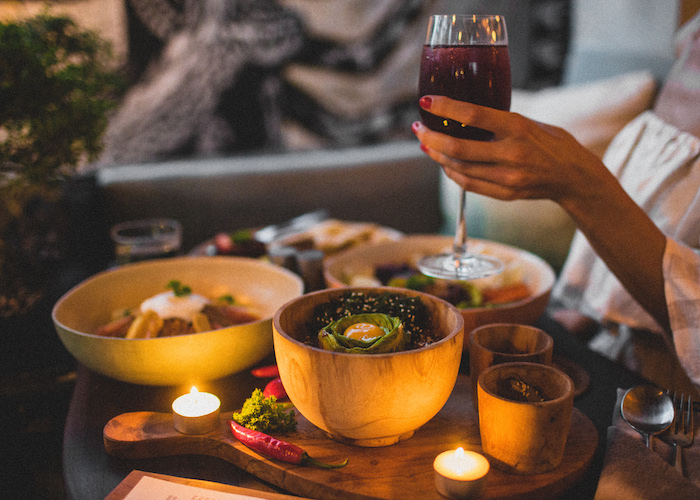 While fillet steaks, prime cuts of chicken and fish, rich desserts, and hearty meat-based stews are all decadent and satisfying, they can leave a hefty dent in your supermarket bill as well. The cheaper alternative is to load up on carbs such as cereal, bread and boxes of pasta; yet while these food substitutes might save you cash, they often lack the nutrients that quality protein and vegetables provide. Not to mention, can you really compare a plate of savory steak to a bowl of Frosted Flakes?
Anyway, if this financial and dietary dilemma sounds all too familiar, here are five ways to satisfy your steak appetite on a bean budget. 
Craving a rich beef stew? Try a pot of black beans, instead
A hearty and arguably more delicious swap for beef stew is a pot of Cuban-style spiced black beans. Start with a base of garlic and onion fried in oil, add diced carrot for sweetness and sprinkle in ground cumin, coriander, cinnamon and smoked paprika for an aromatic base. Then, soaked or canned black beans, tomato passata and seasoning, and cook over a low heat until the beans are soft. Just before you serve, ladle a cup or so of the stew into a small bowl and mash with a fork, then tip back in. 
This dish is best served over rice and paired with roasted vegetables, avocado, sour cream (or plain Greek yogurt) and grated cheese on the side. A salad of finely chopped leaves, red onion, tomato and sliced cucumber on the side will turn this into a healthy feast where you won't even miss the meat. 
Feeling inspired to taste-drive this meal? Check out a similar recipe here.
Craving steak frites? Roast some field mushrooms
Plate-sized field mushrooms provide the succulence and flavor of a steak — but at a fraction of the price. Make them the centerpiece of your dinner by roasting or pan-frying gently with garlic and olive oil, then sprinkling with salt, pepper and fresh herbs once they are soft. Serve piled on top of buttery mashed potatoes with a green salad on the side. Or, or course, you can pair it with actual fries, in true steak-frites fashion.
New to roasting field mushrooms? Check out this yummy recipe here!
Craving fish or chicken fillet? Buying whole saves you a whole lot.
Fish fillets are expensive and wasteful compared to buying a small, whole fish. Sure, it's not always fun to slice or cut our own proteins, but working hard doesn't only apply to making money — it applies to saving it too. However, there are ways to ease this burden; when purchasing a whole fish, ask the fishmonger to scale and clean it for you. Then later, roast it in the oven with oil, lemon and lots of salt and pepper, and serve alongside rice or potatoes. 
Whole chickens also cost considerably less per kilo than fillets or thighs and will go along much further. Roast with olive oil, salt and pepper, and clean out your vegetable drawer and roast an extra tray of vegetables while you're at it, for adding to salads and other meals later on. If you really want to stretch this course, simmer the leftover carcass to make stock for soup. 
In need of some mouth-watering inspiration? Check out these huge lists of fish recipes here, and chicken recipes here.
Craving curry? Presto — lentils!
A good curry is all in the spices, and two recipes available online that I personally think everyone should bookmark are Ottolenghi's spiced red lentils and Four Corners Soup from the blog, My New Roots. Served with rice and yogurt, both of these reciepes satisfy that urge for rich, Indian-style curry, at a cost that is barely more than the actual bag of lentils.
Just craving flavor overall? Stock your pantry & make some dressings
For a sauce you can mix in a jar and keep in the fridge to lift the simplest dish, you can't go wrong with this miso-tahini dressing from Goop. It will work well with any rice or noodle dishes, alongside some tofu or finely chopped salad, or over roasted vegetables. 
Also, a classic homemade French salad dressing will make even the most ordinary iceberg lettuce taste amazing. To make this dressing, take a clean jar and fill it with six (6) tablespoons of olive oil, four (4) tablespoons of vinegar (white wine, apple cider or balsamic), a garlic clove, some salt and pepper, a teaspoon or so of maple syrup, honey, or sugar, and a tablespoon of Dijon or any other mustard. Shake vigorously and keep in the fridge, for freshness. As with any dressing, be advised to shake each time, before use.
Other common ingredients that give an impressive burst of flavor for a small outlay are lemons, garlic, ginger, miso, tahini, Dijon mustard, soy sauce, fish sauce, smoked paprika, maple syrup or honey, Parmesan cheese, and cinnamon. Keep these in your pantry and you'll be able to make any seasonal fruit or vegetable taste far more interesting – the only limit is your imagination. 
Zoe is a writer, editor and author. Her debut novel, The Night Village, is due in 2021.
Image via Pexels
Like this story? Follow The Financial Diet on Facebook, Instagram, and Twitter for daily tips and inspiration, and sign up for our email newsletter here.