I Followed A Frugal Version of Kourtney Kardashian's Skincare Routine — Here's What Happened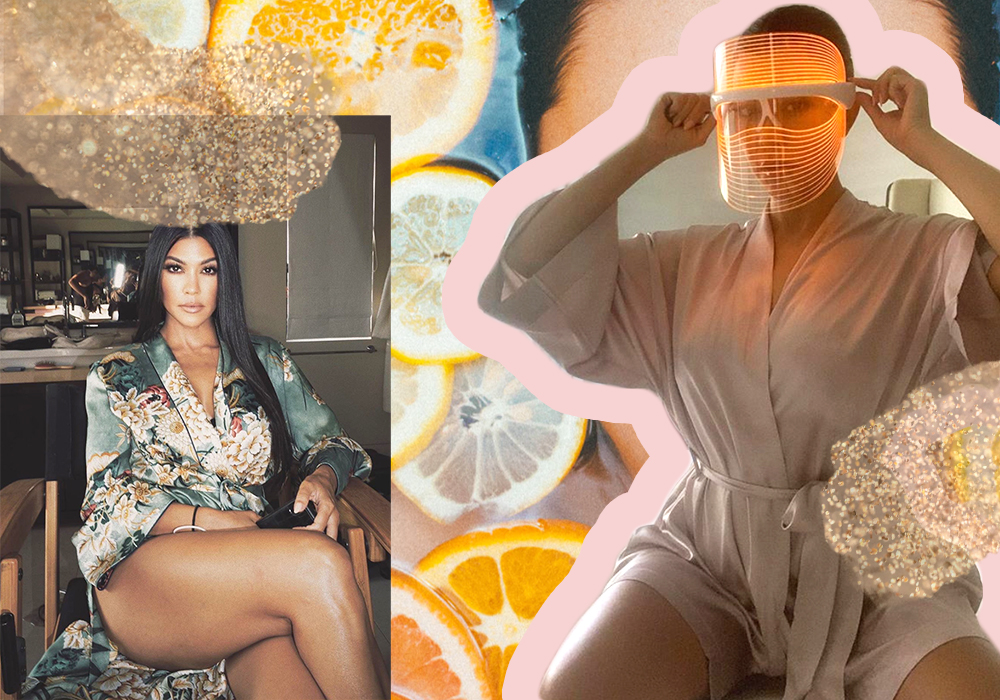 Undoubtedly, 2020 has been a jam-packed year of turmoil and WTF moments. But despite all of the chaos endured, it's also been a year of discovery. I discovered my knack for baking banana bread (and my affinity for eating it). I learned just how addicting TikTok can be. And I was reminded about the special kind of ignorant that can only be found, and celebrated, in America.
Ah, memories.
But beyond the fads and frightening choices made by government officials, I've had more time to think about my own consumerism and spending habits. Before this year, I didn't give much thought to the drugstore products and makeup essentials I picked up. I figured all affordable makeup was the same. It didn't concern me if certain chemicals or ingredients were safe and healthy or, as it turns out, just filler that could only be given the green light in America. 
Understandably, my suspicion around what and how things are regulated in our country has grown over the last several months. It's equal parts disgusting, disturbing, and heartbreaking to learn about how many of our favorite brands operate. I'm far from standing on a soapbox proclaiming how each and every individual should do better and vote with their dollar. I think that point-of-view can be, at times, damaging, elitist, and a bit tone-deaf, especially during this time. Instead, I'm sharing what I've chosen to do to take better care of myself.  I've started to examine my previously all-too-trusting approach toward everyday purchases, starting with my skincare. 
Last month, I decided to challenge myself to two things. First, I want to use cleaner, more socially-conscious products. And second, I would like to actually develop and maintain a skincare routine. (Reforming slob over here.) So I turned to the first person who comes to mind when I hear the words "organic," "clean," and "skincare." Kourtney Kardashian. (Don't at me.) 
After some quick Internet sleuthing, I found her skincare routine on Vogue's YouTube channel, and I thought, I bet I could do a budget-friendly version of this. So, grab a salad, shake it up, (only Kardashian viewers will get that joke), and get ready to learn if cleaner products are worth the steeper price tag. 
My Previous Skincare Routine
To give some context, and a bit of a disclaimer, I didn't have a skincare routine before quarantine. My husband applauded me if I took my makeup off before bed. My reasons were twofold. First, I have oily-combination skin and feared that skincare products would clog my pores and make my skin worse. (False.) And second, I was lazy AF. (True.) So like any beginner, when I first set out to clear my stress-induced breakouts, I bought a sh*t-ton of Glossier. I think it's worth mentioning that Glossier was a great introductory brand — a gateway drug if you will — into skincare. That said, I did keep the Glossier toner in my routine last month, and wanted readers to know the brand I was using before I switched to a cleaner routine. 
Products Used (& A Price Comparison)  
When purchasing cleaner products, I was sure to do more research on the brands and do my best to let the facts do the talking. Additionally, I was very conscious about giving my money to Black-owned businesses whenever I could. (Many products were sold out!) Before purchasing any products, I watched and read several reviews on how the products would perform, and I learned about the brand's philosophy on social issues and how their goods are developed.  
Below is a list of everything I used in the month of July.
The results: Day One
Purifying mask: Holy crap, this dead sea mud mask does not mess around. I thought my face was falling off. Somehow I have been living under a skincare rock, because upon experiencing the *insert angel music here* glory of a dead sea mask, I quickly learned it's been all the rage in the beauty community for years. The mask pulls every ounce of dirt to the surface, leaving your skin red after rinsing it clean. Although you look like a sunburned tomato after using it the first time, your skin will feel baby-bottom smooth. 
Lip scrub: This is mostly just really delicious. Between this and my Biotin vitamins, I felt like an adult kid in a candy store. The lip scrub gives your pout a rush of blood, helping them look fuller and dare I say, sexier. 
Face pads: I was already using this before my challenge, and I felt the toner made a considerable difference. I like a little sting — makes me feel like it's working. 
Serum: I switched my Glossier serum for Blade + Bloom, and wow, did I have a journey with this product. Honestly, one day in, I wasn't converted into a believer but I had no complaints. If anything, I used way too much and looked like a greasy disco ball. But that was my fault, and I knew that.
Mist: My exact thought was, "She must be overhyping its hydration benefits. There's a problem if this is doing more than serums and creams." But I was excited to keep it in the rotation. The misting made me feel like a queen.  
Face Oil: Similar to the serum, I had no complaints but quickly learned a little goes a long way. 
Sunscreen: Confession, despite having the information to know better, I totally thought wearing sunscreen each day was a "white person thing." But I knew I needed to keep with it before developing a true opinion.
The Results: Two Weeks
Purifying mask: Over time, my skin became more tolerant of the mask's intensity. In order to follow Kardashian's routine, I used the mask each morning for the first two weeks, but have since reeled into just once or twice a week. Personally, it's because I'm lazy and frugal. However, if you're willing to put in the time and have the money, I would advise doing it each morning. I absolutely noticed a change in how tight my skin was once I reduced its use.
Lip scrub: This is embarrassing, but lips are way more crusty than we even realized. I was shocked at how much the scrub made a difference. I expected this to be a BS step in a long routine. My lips feel so pillowy! (Even my husband noticed a change in texture. Again, I know that's embarrassing.) 
Face pads: Used it before, and will use it afterward. Due to the price, I use a toner 2-3 times per week usually and feel that works great for my skin. 
Serum: I will likely never go back to my old life of a serum-free routine after using this product. The Blade + Bloom serum smells incredible and invigorates my skin instantly. I have a beautiful and healthy glow within seconds of its application. If I have five minutes to get ready, this serum is one of the items I prioritize along with (spoiler alert) sunscreen. 
Mist: I wasn't completely convinced that this wasn't just a bougie girl step, but I loved how it made me feel like I was at a spa, when in actuality, I hadn't left my house in months. What I will say is, if you are going to mist, I think you see a considerable difference if you apply it after you've set your foundation. Helps it set more naturally. And I learned this trick from Bailey Serin.   
Face Oil: I appreciated the face oil but did feel it wasn't a top-three product choice. It's a step I skip when I'm in a rush, but think a thin layer is nice somethin' somethin' for the skin. Not a game-changer, but certainly more useful than other steps that influencers push on us. 
Sunscreen: Turns out, mother (and every single person who is into skincare) knows best. Personally, I felt applying sunscreen daily helped with hyperpigmentation. I felt my skin looked more even and hydrated after using sunscreen. It's one thing I will not leave the house without now. 
Final Thoughts & What I Would Use Again
Overall, I've got to hand it to Kourtney, her routine really helped me glow-up. Ultimately, I saw the most prominent improvement in my forehead lines and hyperpigmentation. By the end of the month, I felt my skin looked smoother and more even. Additionally, I appreciated how much bang for my buck I got with greener products. I felt a little went a long way, whereas I was applying multiple coats with my Glossier products. 
However, I did feel like I lost that "baby face" look I had before. Though I was on a lower-carb diet during this time, and that could be attributed to weight loss. I think Glossier products gave me more of the "naturally FaceTuned" effect if that makes any sense at all. 
All in all, here's a recap of what I used and what I'll be  repurchasing and using in my skincare routine moving forward:
Purifying mask, Anne's Apothecary, Dead Sea facial treatment: A must-keep. As I said, I'll be using this only once or twice per week, but recommend daily use if it fits your budget. Your skin will reach its full potential with this step.
Lip scrub, a mix of raw sugar, honey, and coconut oil: OK, I think this could be a great nighttime step. When I am in a rush, I skip this step but can admit it makes a difference. But it's not something I would deem life-changing.
Face pads, Glossier toner: Honestly, I'm on the hunt for a cheaper, greener option. If you have a recommendation – please hit me up. But I do think a toner masks a difference, but I don't think it's a daily make or break. 
Serum, Blade + Bloom rich face serum : If you only buy one thing from this list, it's this. It's multipurpose and goes to work the SECOND it hits your skin.
Mist: A step worth taking when you're wearing makeup. 
Face Oil, BLK + GRN: I am not a firm believer quite yet. The product was great, I have no complaints at all, but I just prefer to use it a couple of times per week versus each morning. That said, I could see someone with dry skin falling in love with this product. But as an oily-combination girl, a daily serum & sunscreen combo goes a long way.
Sunscreen, Black Girl Sunscreen: Just apply it. It truly protects and nourishes your skin. You'll be a believer within a couple of days. 
*****
Skincare, and what works for each person, will vary. But taking care of yourself, no matter if it's healing childhood wounds or healing childhood acne, is incredibly therapeutic. And if you feel called to do so, I would encourage you to consider a routine stripped of ingredients that aren't the best for us or our environment. But regardless of the brands you use, I hope you find a routine that works for you during this time.
Jazmine Reed-Clark is a true crime and self-improvement junkie working in HR, and a millennial who (finally) knows the difference between a stock and a bond. She thinks. 
Image via Pexels
Like this story? Follow The Financial Diet on Facebook, Instagram, and Twitter for daily tips and inspiration, and sign up for our email newsletter here.