The Surprising Upsides To Dating During Quarantine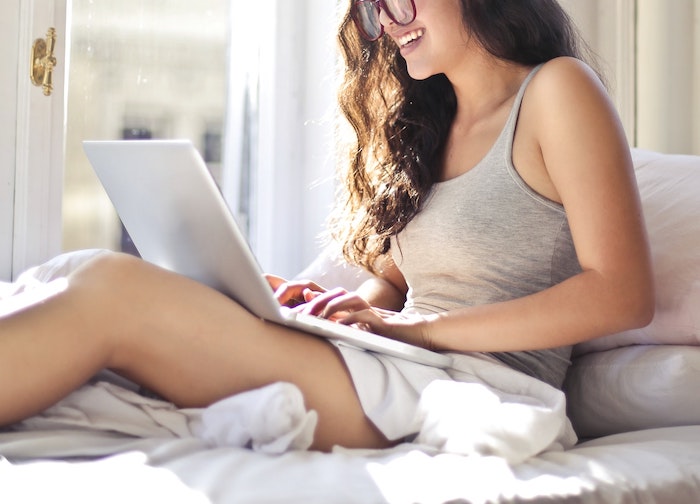 For over a year now, I've been single. During that time, I've traveled and spent time working on myself. In fact, it's been almost five years since I tried online dating, and recently, I felt like it was time to try it again. I was ready.
And then the pandemic hit, and everyone was ordered to stay at home. Of course, dating is a trivial matter compared to what's going on in the world right now, but after a little research, I learned that online dating apps have seen a surge in usage since the beginning of the pandemic.
It's difficult to predict how long it will be before we can have "normal" interactions again, so what does social distancing mean for singles like myself? Is it possible to make a romantic connection without the possibility of meeting face-to-face?
In attempting to answer these questions, I tried a few apps I hadn't before, like Bumble and Hinge, but mostly stuck to my old standbys — namely, OkCupid. After talking to a guy I met on the app for a couple of weeks, things were going well, and I finally asked if he'd like to Zoom (I still cannot believe I'm incorporating "Zoom" into my dating vocabulary). He said yes, and we made plans to go on a virtual date. Here's how it went and what I learned from the process.
The odds are in your favor.
No wonder there's a surge of users right now. So many people are stuck at home and done with Netflix binging, now craving social interaction and ready to restart their dating lives. And with virtual dating, you have the opportunity to connect with others — that's really all anyone can do. I noticed I had more notifications and messages than normal. With a bigger pool of potential dates to select from, the odds of finding someone you hit things off with are higher.
You have to embrace the awkwardness.
The first few minutes of our zoom date were awkward. I mean, how could it not be? While online dating isn't anything new, this is a new type of intimacy — you're in someone's house (virtually) on a first date. You're up close and personal. You could possibly see up their nose or be the victim of (gasp) unflattering lighting. You might see a mess or unfolded laundry. Neither of us dressed up. We just wore sweats. I took my computer in the backyard for privacy.
While all of this sounds intimidating and uncomfortable, I found that it actually relaxed the mood a bit. It forces you to address the awkwardness and roll with the punches. Not a bad way to start a date.
No possibility of sex can be a good thing.
One of the biggest complaints about online dating is that lots of people are solely there to hook up, that they're not looking for anything serious. Unless people aren't abiding by social distancing standards, sex, or any other form of physical contact, is currently out of the question.
For me, this has been helpful. It's been easy to figure out who's genuinely interested in getting to know me because, with no possibility of sex, the people using these apps seem more interested in a connection. My date and I talked for several hours, and it was clear we wanted to get to know each other.
It forces you to get creative.
Quarantine ups the game for creative dates. Nothing is more Meg Ryan and Tom Hanks rom-com than navigating romance in a quirky fashion, via Zoom. Instead of that typical dinner and a movie or drinks after work, you can opt for online wine tasting. You could pick flowers from your own garden.

The lightness and humor of a virtual date actually make it easier and relaxed. My date went so well, we decided to have a picnic in our separate yards for our next date!
It's easier to be yourself. 
It's hard to gauge how things are going for everyone right now.  You're seeing people during a stressful and vulnerable time, and how they handle a crisis can tell you a lot about whether their personality would be a good match for you or not. My date and I avoided the topic of COVID-19 for the most part. But I appreciated his positive attitude and his plans for the future, despite current circumstances. 
You can always blame a poor connection — literally.
If things aren't going well, you can always pretend your signal isn't working and end the date early. You don't have to ask your friends to call during your date to rescue you. You can get out as fast as the date started. Thankfully, my date and I had a great connection — both personally and technically speaking. 
Overall, I think it was a great way to start dating someone new.  As awkward as it is initially, the seriousness of the situation right now allowed for the date to be less serious and laid back. I also appreciated the convenience of a Zoom date. 
If you're thinking about trying to go on a virtual date during lockdown, it's worth trying! You never know where it might lead you.
Ali Hanckel is a freelance marketer and travel writer based in Austin, TX. In her spare time she focuses on activism, spending time outdoors, and her two cats, "the boys." You can follow her story on Instagram.
Image via Pexels
Like this story? Follow The Financial Diet on Facebook, Instagram, and Twitter for daily tips and inspiration, and sign up for our email newsletter here.