An Insider's Guide To Sophisticated Clothes-Shopping On An Entry-Level Budget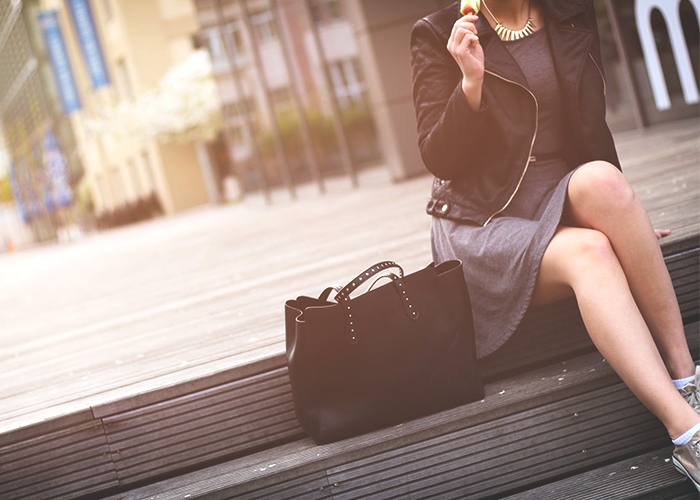 The magazine industry is often portrayed as one of the most glamorous career paths you can follow. And while it has its perks, being a writer comes with its wide array of everyday struggles. Yet in television and film, one aspect of this difficult job choice is glamorized over all else: the fashion.
From The Devil Wears Prada to Beauty and the Briefcase, the life of a women's magazine writer consistently features high-level fashion. While those in these esteemed positions do dress to impress, this portrayal isn't completely accurate. In fact, on a typical writer's budget, designer clothing is way out of reach.
Freeform's hit show of this past summer, The Bold Type, falls victim to this as well. The three leading ladies, Jane Sloan (Katie Stevens), Kat Edison (Aisha Dee), and Sutton Brady (Meghann Fahy), are the rising voices at Scarlet, a fictional magazine based on Cosmopolitan. While each one of their plot lines is intriguing and empowering, one of my main takeaways from each episode is their style. From leather to ruffles to the trendiest tops, there is so much fashion inspiration to take away.
Unfortunately, as a newer writer myself, I've quickly come to realize that having an impeccable wardrobe like those of Scarlet is near impossible with my strict budget. Still, I've successfully found a way to have bold fashion on a not so bold budget, as has Hannah Orenstein, Dating Editor at Elite Daily and author of Playing with Matches (out on June 26, 2018).
"I think the trick to not blowing your money on fashion is to focus on what you really want and know you'll get a lot of use out of, instead of just dropping $15 on random Forever 21 items you know you'll be over in a few months," Orenstein says. "When I shop, I tend to think obsessively about one kind of item for weeks or months before finally pulling the trigger. I like to think that makes me more satisfied with my purchases, so I'm not tempted to shop more."
Having written for and worked at Seventeen, ELLE, Cosmopolitan, Marie Claire, Refinery29 and more, Orenstein is no stranger to the world of fashion. A quick scroll through her Instagram or Twitter accounts proves that, and she defines her style as "preppy and feminine." Some of her favorite looks include pleated mini skirts, sweet dresses, heeled riding boots, and a bold red motorcycle jacket. Even when looking for a laid-back outfit, Orenstein has her look set. "If I'm off-duty, I'm probably in a Juicy tracksuit," she says.
So what can new writers like myself do when it comes to being fashionable while still paying rent? Orenstein explains that the trick is evaluating the worth of the season's trends. While Orenstein has never been one to need each and every expensive trend that walks Fashion Week, she does, at times, have the desire to shop that one unforgettable look. "I do definitely go through phases where I really want to shop — like, right now, I'm on the hunt for the perfect medium blue pair of vintage Levi's." Thankfully, she's found the perfect way to get exactly what she wants without breaking the bank.
"If you're dying for a trend that you know will be big this year but dead by next year, get the cheapest version possible. There's no need to spend lots of money on something that'll look dated in a year."
And a lot of the time, finding the cheapest version of the latest trends might even be, in true Macklemore fashion, at your local thrift shop. Orenstein adds, "I'm also a big fan of vintage/consignment/thrift shops, but you have to be really focused on looking for wearable pieces at low prices. Otherwise, it's too easy to get sucked into trying on racks of $300 ballgowns from the 1950s. My favorite secondhand pieces are a $10 black leather purse that everyone guesses is way more expensive than it really is, and this outrageous, oversized, 1960s mink coat that I got for a bargain because the store had too many of them in stock."
Thrift shops are the perfect place to find strong pieces that complete a simple outfit. Of course, they're often hit-or-miss, but there's nothing quite as thrilling as finding that artsy, bold jacket for only $15. Many of the outfits from The Bold Type can be replicated with thrift shop finds. A good go-to look is a simple top and pant with a jacket or blazer that screams "runway." When in doubt, all black with a pop of flare is the way to go.
To be honest about the magazine industry, there's one thing we must discuss: the fashion closet. In The Bold Type, the starlets of Scarlet often borrow looks and pieces from the closet for personal reasons or outings. In reality, to my disappointment, this does not happen. "The clothes in the fashion closet are there for photo shoots, and after the shoots, they're returned," Orenstein explains.
Still, though, the show leaves out a pretty great perk that Orenstein loves.
"One thing you don't see on The Bold Type is that publicists send over freebies pretty much every day. I mostly get beauty products and books. I haven't paid for a single beauty product since 2012. And a couple times, I've gotten free shoes — sneakers, ankle boots, riding boots. I won't lie, it's pretty sweet."
Though the media may be flawed in its depiction of writers as hyper-fashionable, like Orenstein, I've always felt better when I dress my best and know that doing so will leave a great impression upon others.
"Once, when I was interning at ELLE, I was asked to get coffee for one of the higher-up editors," she recalls. "I went to the editor's office to take her Starbucks order, and she did a double-take. I remember I was wearing a knee-length dress with a bouclé jacket, pumps, and pearls. She was like, 'You're an intern? You don't look like an intern. You look like you could be working here.' I felt like that was a win — you know, dress for the job you want, not the job you have."
If The Bold Type has inspired you to up your fashion game, let it be known that this is possible even on a tight budget. It's all about great finds and knowing when and where to shop for cheap, fabulous garments. Black jeans and shirt with a leather jacket can be taken up a notch with gold/glitter jewelry and accessories, adding that extra pop of glamour to a somewhat basic outfit. Bold fashion does not mean expensive fashion: A-list designers are great, but so is paying your bills. It may take some extra time and effort, but coming up with stunning looks like the women of The Bold Type is possible no matter your salary, as long as you're savvy, smart and ready to sashay your way through the halls of your workplace.
Gianluca Russo is a New York-based freelance writer whose work has been published in BUST Magazine, Brit+Co, Romper, Byrdie, Playbill, Paste Magazine, Dance Spirit Magazine and more. Visit www.GianlucaRusso.webs.com for more of his work and follow him on Twitter and Instagram @G_Russo1.
Image via Pexels