Introducing TFD's New Web Editor, Kristin Wong!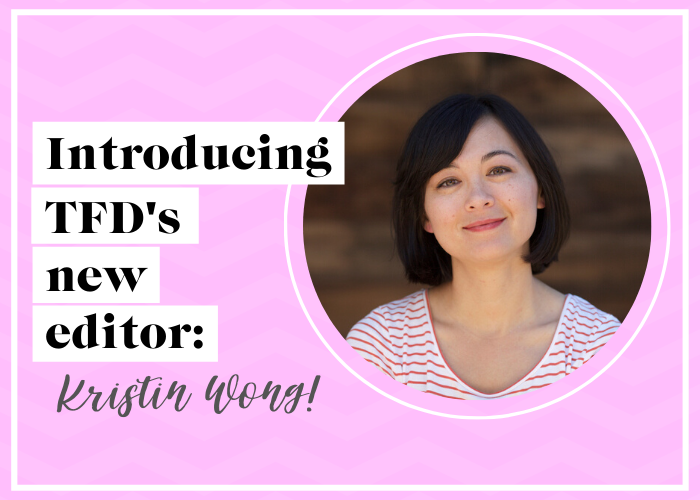 Today is a very exciting day here at The Financial Diet, and one that I am thrilled to finally be able to share with you all: we have a new web editor, Kristin Wong! We've been huge fans of Kristin's for a long time, and I'm personally so thrilled to have her join the team. If you're unfamiliar with her work, Kristin has written about money from all angles, from exploring the ethics of the salary history question to the myth of the "frivolous female spender." She's also written a book, Get Money: Live the Life You Want, Not Just the Life You Can Afford. To introduce her to you all, I figured there was no better way than to have her tell you about herself — from her own money journey to the future she envisions for thefinancialdiet.com. You'll still see me here on the site from time to time, and I can't wait to work with Kristin to bring you an even better and brighter publication! – Holly, TFD's Head of Content
When I was 18, a pair of Doc Martens spiraled me into a thousand dollars worth of credit card debt. 
A credit card company sent me an offer in the mail, I completed the application without my parents knowing, then I headed straight to the mall to buy a pair of big brown boots for $100. Eventually, I grew out of the boots, but the credit card remained. When I couldn't afford lunch or a cute sweater or a concert, I simply pulled out the plastic. Debt and interest accrued, and worse, I kept using the card to buy shit I didn't need. The one hundred dollars turned into three hundred, and then five hundred, and then a thousand. Ashamed to admit my problem, the debt was my dirty little secret for years. It wasn't until I was faced with a student loan that I finally learned how debt works and, thankfully, paid it all off.
Should I have been smarter about money? Absolutely. We could all stand to be a little more money smart, but there are so many outside forces conspiring to make sure that doesn't happen. Growing up, we're told money is not something to discuss openly in polite company. People are also incredibly judgemental when it comes to money, which makes it hard to admit mistakes or ask questions. Worse, there are so many entities that are literally banking on keeping us in the dark about money.  This is a big part of what keeps me interested in personal finance. 
I've been freelance writing for ten years and have written about money and other topics for places like the New York Times, Glamour magazine, Refinery29, The Cut, and Travel + Leisure. In 2018, I wrote a book: Get Money: Live the Life You Want, Not Just the Life You Can Afford. Gradually, I think the taboo attitudes around money are starting to break. We're beginning to understand that the taboo has been used as a way to oppress people financially. After all, it's hard to learn about how money works — and how it can work for you — if you're discouraged from even discussing it. Money can make life immensely easier and immensely more difficult. You might as well learn how it works so you can use it to your advantage as much as you can. 
I've been a fan of The Financial Diet for a long time, as the values and views of the platform align so closely with my own. I can't tell you how many times that, watching a TFD video, reading the website, or following TFD on social media, I've found myself nodding or even saying out loud, "Ugh, it's so true it hurts." As you can probably tell, I'm very excited to be a part of this team.
We already have excellent voices on the TFD website. I want to build on that and add content that will make it even more robust. That means I'll bring to the site some things I've been doing in my career as a journalist for the past ten years: reporting on trends in the workplace and economy, examining the impact of those trends on social issues, sharing stories of how people deal with money in the real world, and asking questions that don't always have easy answers.
If you're interested in writing for TFD, I want your pitches! Have an interesting story or essay about how you deal with finances and navigate the workplace? Pitch me! Want to rant about money or think there's an important issue we should discuss? Pitch me! I want your lighter takes on money, too. So if you have a fun hack or hilarious money-related story, you know what to do. (Pitch me! My email is kristin@thefinancialdiet.com.) 
Money has made my life difficult in some ways, but learning how it works has only made life easier. My goal in this new role at TFD has been my goal in writing about money all along: to make personal finance more accessible and less scary for our readers and viewers. I can't wait to get started, and I can't wait to hear from you.
Kristin Wong is the web editor of The Financial Diet. You can pitch her at kristin@thefinancialdiet.com.
Like this story? Follow The Financial Diet on Facebook, Instagram, and Twitter for daily tips and inspiration, and sign up for our email newsletter here.