Luxury At Home – Fancy Coffee Shop Drinks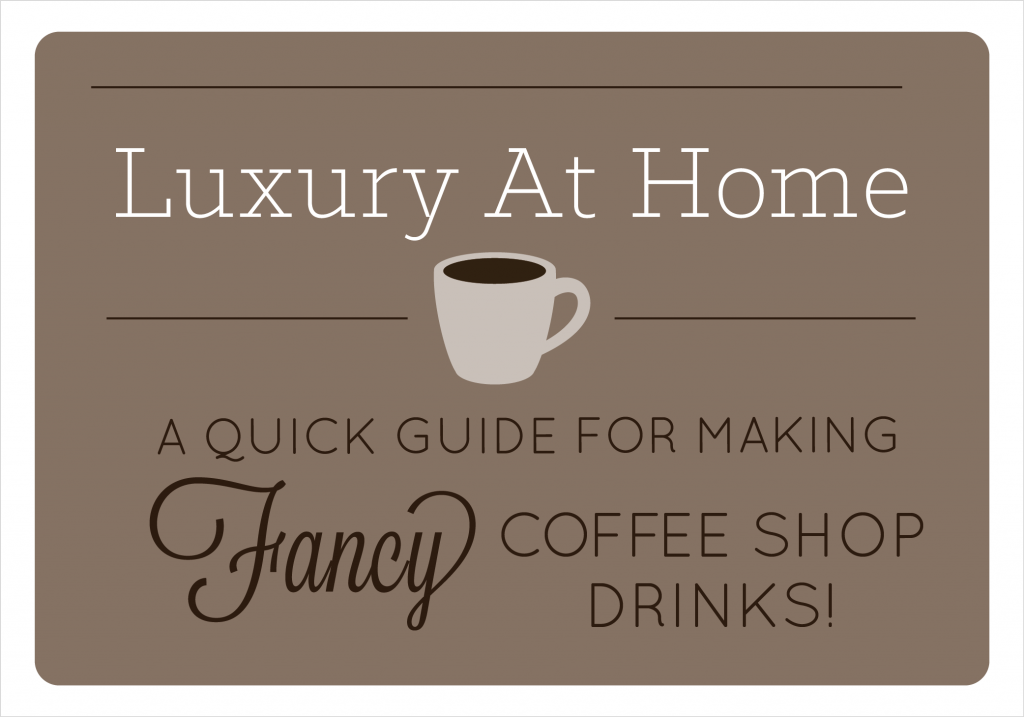 There's nothing quite like a great cup of coffee, and the whole coffee experience is often so crucial to our morning routines that we will justify otherwise-crazy amounts of money spent to find the perfect cup. While it might seem like the barista at your favorite coffee shop is using some form of sorcery to conjure up your favorite drink, coffee drinks are often incredibly easy to make, and the simple tools and ingredients required can be mixed-and-matched in tons of different ways. Plus, your favorite coffee shop grinds are typically available for purchase at the shop itself or the grocery store, meaning you can literally use the same ingredients to brew a cup yourself at a fraction of the price.
As someone who viewed coffee as their first ~true love~ I  can honestly say I've tried out nearly every coffee variation. On average I drink about 4-5 cups per day which is a ridiculous amount, but I balance it out with roughly a gallon of water in attempt to give my liver a lil cleanse/break. When you drink as much coffee as I do, purchasing it out each day is simply NOT an option. Over the years I've been brewing my own pot each morning, but drinking the same basic as hell coffee day in and day out can get dull. More recently, I've gotten more creative with the coffee-and-tea-based drinks I whip up at home so that i'm not tempted to go out and purchase a $4 cup in the morning and afternoon. My favorite coffee drink to make at home by far is homemade cold brew coffee which is absolutely perfect for summertime sipping. The espresso-based homemade Frapuccinos are also a favorite, which doubles as dessert & an afternoon pick me up.
Below is a quick guide of a few simple & satisfying home-coffee recipes, as well as a brief list of supplies you'll need to really ~up your coffee game~!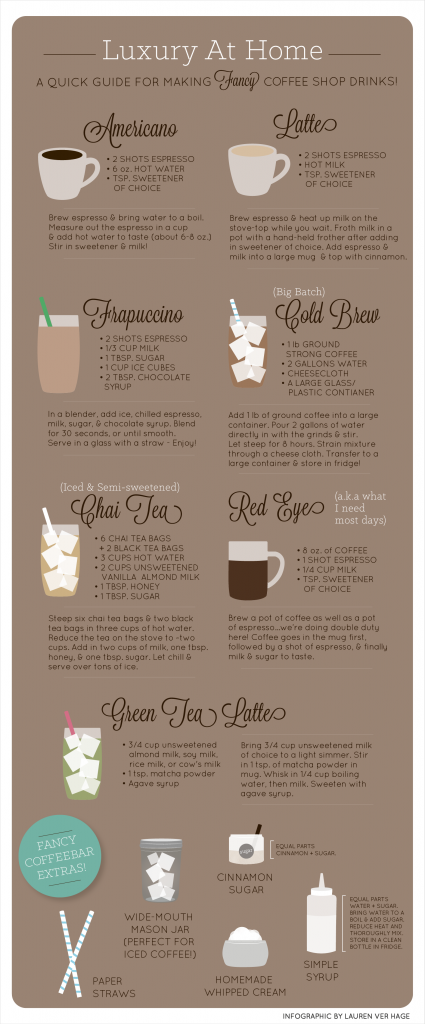 Here is a quick short list of items you'll want in your home coffee bar to make life DIY your morning cup of jo' that much more enjoyable and delicious.
And there you have it! It's really that easy to turn your home coffee bar into a much more desirable (and affordable) location to get your multi-daily java fix!