Meet Our New Lifestyle Beat Writer, Gina Vaynshteyn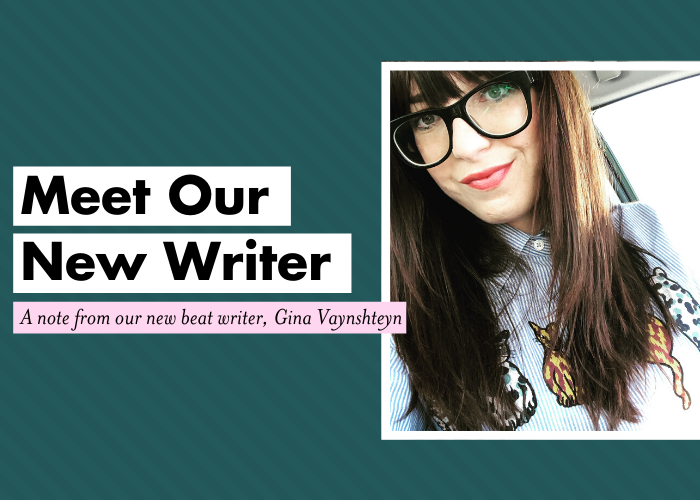 We're excited to introduce Gina Vaynshteyn as a regular contributor to TFD. Gina was a freelance writer, editor, and content lead at Hello Giggles, and she's written for places like Apartment Therapy, Refinery29, Business Insider, and more. You'll be seeing Gina's excellent, engaging writing here a few times a week, so we thought you should get to know her better.
The Financial Diet launched around the time I began my career as a freelance writer. I was 24 years old and finally earning enough money to fully support myself, but I didn't possess the faintest idea of how to manage it. I figured the equation worked like this: I made money, I paid my portion of the rent, bills, and groceries, and then I was free to buy stuff I wanted if there was any left. As you can imagine, this strategy didn't help me out when I needed to get a new car, plan a trip, or pay an expensive medical bill. I was living paycheck-to-paycheck only because I didn't know what the heck I was doing with my paychecks.
I knew I was money illiterate, but I'm not the only one to have ever felt this way. Managing personal finances isn't something you're taught in school, and it's certainly not something most people feel comfortable bringing up with friends. My parents' views on finances seemed complex and I constantly needed them to dumb down the terminology they were using (IRAs? APRs? More like, WTF), and the kind of budgeting advice I'd read in glossy women's magazines seemed targeted toward self-possessed readers who didn't actually need the budgeting advice. For me, there was no in-between. So when I discovered TFD, I felt like I had finally found a place where I could learn about managing money without feeling intimidated or prescribed to.
As my career evolved, I went from freelance writer, to editor, to content lead at HelloGiggles.com, where I worked for three years. I've also written for sites like Apartment Therapy, Business Insider, Refinery29, and others. I've been in the digital media space for about eight years, and have covered every topic under the sun, including real estate, beauty, health, refinancing mortgages, Meghan Markle — you name it, I've probably written about it. And now, the latest home for my work is here, The Financial Diet. And I couldn't feel more excited about that.
I've followed TFD for six years, and I've always considered myself a silent member of the community. I'd bookmark useful articles, save or share Instagram posts, and watch videos that would accessibly break down topics I had always thought were either too complicated or too scary. The more I consumed, the less I felt like money (and the ways we spend or optimize it) is the taboo, impolite subject our culture has shaped it to be. For better or worse, money rules our lives — it helps everyone if we understand it more. The thought of getting to create content that could help readers (like myself) feel less alone, anxious, or overwhelmed about everyday financials is an absolute dream. 
Writing for TFD also helps me continue to pick up on more ways to lead a smarter, more thoughtful lifestyle, and feel more confident about cash. I hope I'm able to introduce you to new ways of navigating life that feel more attainable, clever, and easier to manage. I'll be writing about budget-friendly (or just straight-up free — because that's always the best, right?) ways to enhance your everyday life, actually helpful job and career advice, and more. Just know that I'll be learning right alongside you. 
Gina Vaynshteyn is an editor and writer who lives in LA. You can find more of her words on Refinery29, Apartment Therapy, HelloGiggles, Distractify, and others. If you wanna, you can follow her on Instagram or Twitter.
Like this story? Follow The Financial Diet on Facebook, Instagram, and Twitter for daily tips and inspiration, and sign up for our email newsletter here.