The Secret & Affordable Way I Keep Up My Sustainable Fashion Obsession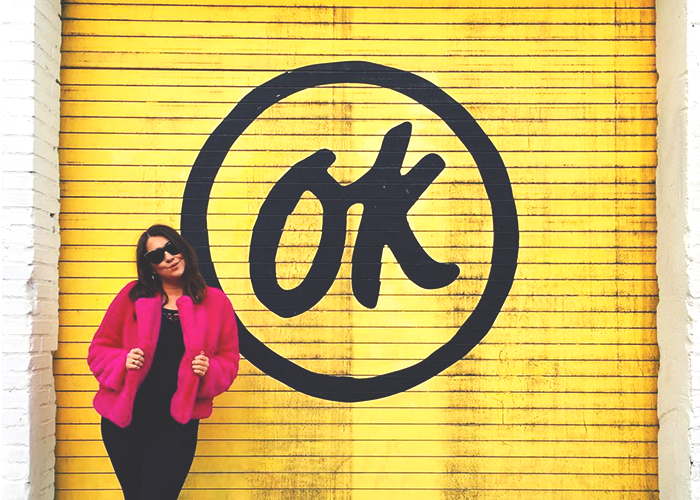 If you scroll through my Instagram feed, you'll find yourself amongst countless colorful designer bags and printed jackets. One might conclude that I have an alarming shopping addiction. Others would guess that I have a high-paying New York City job. Nobody would assume that I rent my clothing.
The known rule of fashion is that quality is more important than quantity. While I'm inclined to agree, when you're 80K deep in student loan debt, it's frankly irresponsible to drop $200 on a new sweater. On the other hand, fast-fashion retailers have earned themselves pitiful social and environmental reputations. Not only do they produce poor quality garments, but popular shops like Zara are widely known for low wages and poor working conditions.
The fashion industry is the second dirtiest industry in the world, next to oil. Although this doesn't appear to be a well-known fact, it shouldn't come across as surprising. Because of the globalization of fashion, it's likely that the shirt on your back once traveled across the world in a container fueled by dirty fossil fuels. The extreme demand for cheap clothing has increased the amount of toxic waste caused by the industry.
Being conscious of the fashion industry's carbon footprint and environmental impact can make shopping on a budget very challenging. The most ethical and affordable purchases you can make are from second-hand stores, but I often find that consignment shops mark up garments far beyond their value. There is the option of wearing only domestically-produced brands, but the selection is limited (though growing), and often very pricey.
I've found a solution for myself that is environmentally and socially conscious, without sacrificing quality or variety. It's called a revolving wardrobe. Not only do I have access to unlimited high-quality products, but I've managed to save a lot of money by investing only in clothes I would wear daily. I rent my clothing.
If you identify as a fashionable person, there is a very good chance you've heard of Rent the Runway. If you consider yourself both stylish and tech-savvy, you may be familiar with their Unlimited program. At $139 a month, it's one of the more expensive subscription services on the market, but I believe it's priced fairly, considering the benefits.
I'll break it down for you; RTR sends you three products of your choice at a time. There is no limit for how long you can keep each item, and you can send them back individually to be replaced. Their distribution center is in Secaucus, New Jersey, so the turnaround time where I live in New York tends to be less than 48 hours. Once your return is received at their warehouse, they send you a push notification and email, alerting you to pick a new item.
They have a beautifully designed app that I think makes finding the perfect item intuitive and enjoyable. Their selection of accessories, outerwear and dresses is very strong, and they offer a decent array of plus-sized garments as well. Shipping is included in the program, so there is nothing deterring you from fully optimizing your subscription. And if you fall in love with an item, you're able to buy it instantly at a discounted rate.
I faced a few predictable issues when I first began using the unlimited program last year. For one, the quality of the products wasn't always up to par. I had been making my selections from the "most popular" tab, and was receiving items that were visibly worn. Now, most of my deliveries come unworn with the tags still on, because I choose my items from the "new arrivals" section. The downside to this tactic is that few new arrival items have been peer reviewed. To solve this problem, I read reviews of similar garments by the same designer to determine my size.
Having a revolving wardrobe has made me a much smarter shopper. The clear majority of my (permanent) closet consists of solid, neutral colors and versatile cuts. My clothing, accumulated over several years, looks like it belongs in a singular designer's collection. I have made very few impulse purchases in the last year. Recently, I bought a Kate Spade camel print wallet
at full-price, but that was a one-off. Rent the Runway has allowed me to experience the excitement that is having new designer clothes, without having to commit to a lifetime of dry-cleaning them. And the monthly fee includes insurance, so I can wear the white dress without fear of red wine.
It isn't unusual for me to be carrying a purse that costs more than a month's rent. I've learned that Derek Lam is my favorite contemporary designer, something I may never have found out otherwise. Diane Von Furstenberg's wrap dress is as universally flattering as the traveling pants that America Ferrera and Blake Lively once shared. Brands that were never on my radar or seemed dated have now earned my devotion. Converting young people to their clothing is a strong incentive for these designers, even if they don't have the same buying power as their older clients. For this reason, the selection of brands on RTR is continuously growing.
Not surprisingly, there is a good amount of planning that comes alongside renting a wardrobe. Since they cannot guarantee when your shipment will arrive, I do my best to consider all upcoming events when making my selections. For instance, if I am going on vacation in a week, I'll return my items a few days early to make sure I get my new selection before I leave. On an average week, I try to choose one handbag, a piece of outerwear, and versatile top or groovy blazer that I can rock at both work and Sunday brunch. For handbags, I love Anya Hindmarch, who is known for incorporating rainbows and smiley faces into her designs. I also like Loeffler Randall and Zac Posen. For the rare occasions where I need to look Vegas appropriate, I'll order a scorching hot Herve Leger bandage dress.
There are many people who would consider this a waste of money, and I understand that it isn't for everyone. I feel like, if you're new to the PR or editorial workforce, or someone who deeply loves fashion, it is an excellent investment. I always have one of the nicest dresses in the room when I need to, and my blazer game is strong in big meetings. If you have several dressy events in a row, a month of unlimited is a very smart financial investment. You can look like you're thriving for the price of a dress and a pair of shoes from Topshop.
Having a revolving wardrobe has allowed me to drastically reduce my shopping, and eliminate fast-fashion altogether. Before signing up for an Unlimited subscription, I spent about $400 a month on my clothing budget, which was an appropriate 10% of my monthly net income. Now that number has been cut in half, despite being the best-dressed version of myself. I have watched myself make better purchases and have had an opportunity to build a versatile wardrobe at a steady pace. Without having to sacrifice variety or quality in my wardrobe, I have succeeded in saving money and reducing my carbon footprint.
Mackenzie Newcomb has been running her blog, Mack in Style, since 2011. By day she works for Petrossian, the world's leading purchaser and distributor of Caviar and smoked fish. She lives in Astoria, New York. Follow her on Twitter here.
Image via Instagram