TFD's Weekly Amazon Prime Super-Sale Roundup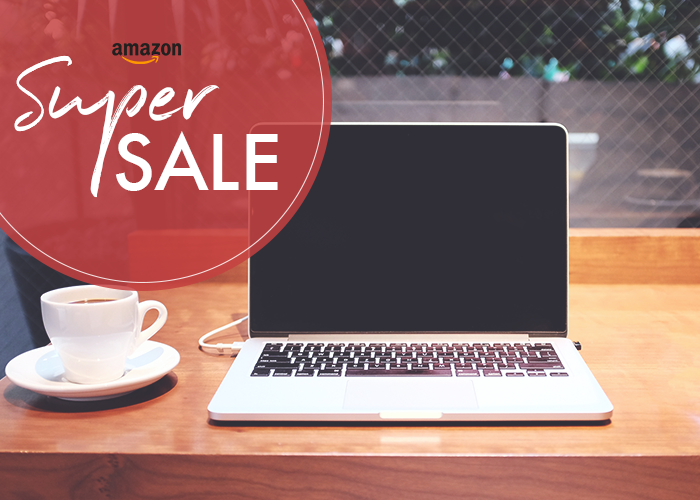 This is our now-weekly roundup of awesome, useful products currently at a big discount on Amazon. From the bigger investment items your home needs to the things that are nice to have, we'll be letting you know when the stuff you've been wanting anyway has gone on sale (sometimes up to 83% off) so you can get the best deal possible!
1. AmazonBasics 6-Piece Bakeware Set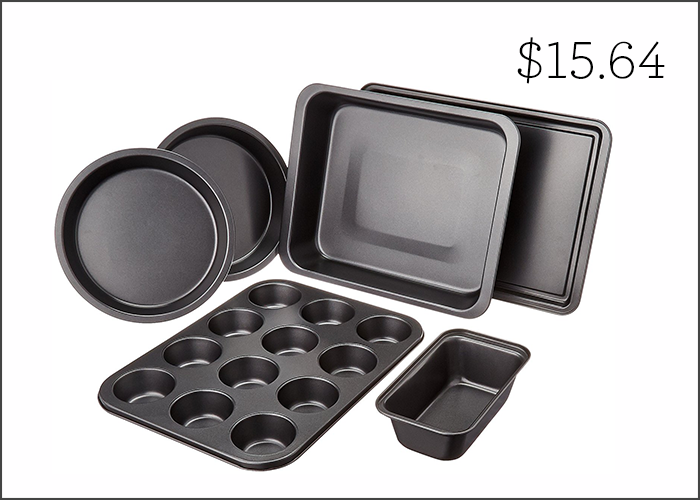 15% off. 
People who know me well know that I love to bake. One of my favorite things to do is to spend Saturday morning tackling a new cookie, cake, granola, quick bread, mousse recipe, etc. And, by Sunday afternoon, it's usually almost entirely gone. (I make relatively small batches!) One of the first things I outfitted my kitchen with when I moved into my own place was grabbing essential bakeware stuff like cookie sheets, brownies and loaf pans. The above set is a lovely starter-pack, and it's very inexpensive. 15% off today too, so grab this set now if you want to start baking more!
2. AmazonBasics Wood Suit Hangers – 30 Pack, Natural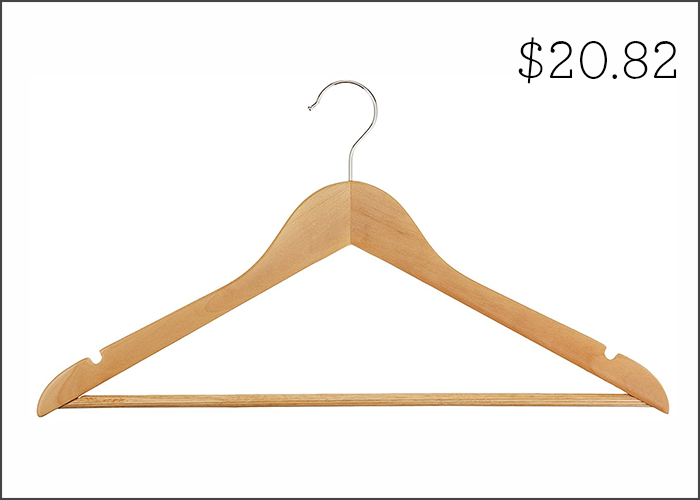 13% off. 
One of the easiest ways to give your closet a streamlined and decluttered look is to use matching and uniformed hangers. For years, my closet contained an odd assortment of white plastic, wood, and black felt hangers, along with a few random ones thrown in from department stores and the dry cleaning place down the street. FAR from chic. Then, when I overhauled my closet last year, I picked up a pack of nice wooden ones online, which gave my closet the facelift it desperately needed. The above set of 30 hangers is on sale, and is exactly what you need to make your closet look tidy and organized.
3. Flameless Candles, Flickering, Battery Powered, Real Wax, Realistic Decor Unscented, – 6 Pack, Yellow Light – Divine LEDs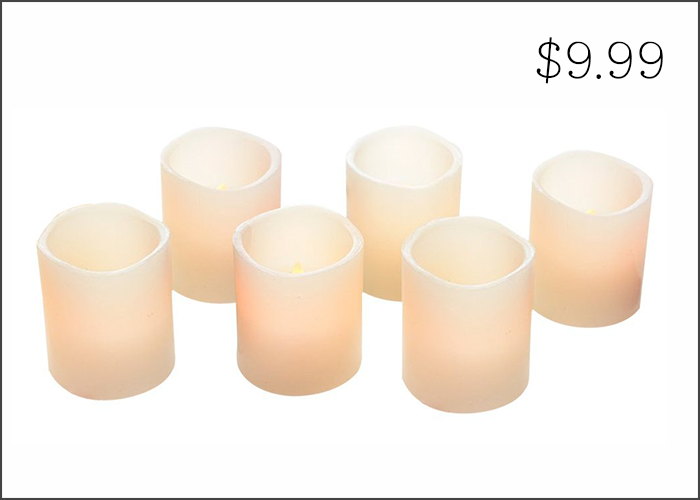 80% off. LED candles rock! They're a great alternative to traditional candles if you're: A student living in dorm housing, if you have a mischievous cat who enjoys knocking things over, or you're simply forgetful and might neglect to blow it out before leaving the house. This lovely natural-looking set of LED candles is a whopping 80% off today and will only set you back $9.99. Bring the look of warmth (with virtually no responsibility) into any room with these little bbs.

4. Greenco Bamboo Lazy Susan Turntable 14 Inch Diameter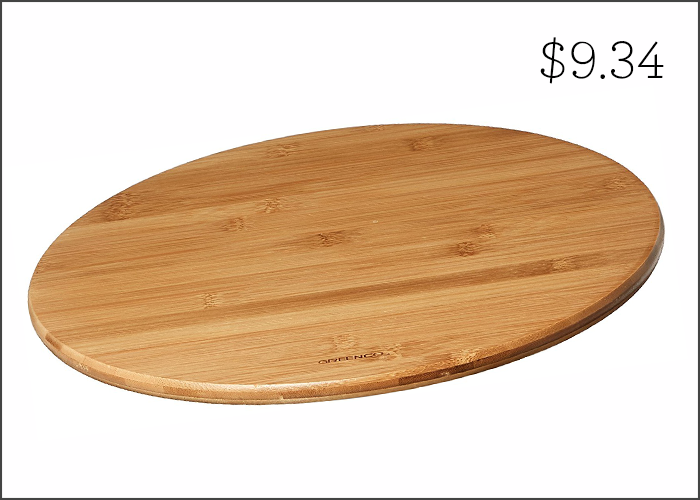 15% off. Lazy Susan's are such an under-appreciated kitchen utensil in my opinion. They're great in that they transform spice collections into functional and easy-to-use arsenals, and make dinner party table passing a total cinch. This one is made of bamboo, and has a great organic natural-looking quality to it. It would look lovely on any kind of stone, slate, or granite counter top, and it's a solid 15% off today.

5. Aicok Oven Gloves Non-Slip Kitchen Oven Mitts Heat Resistant Cooking Gloves for Cooking, Baking, Barbecue Potholder, Red, 1 Pair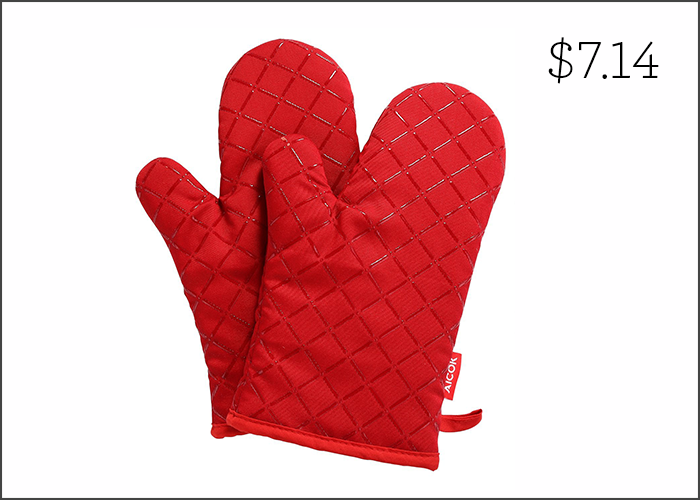 64% off. 
Your girl needs new oven mitts after I burned through the heinous beige and black rubber ones I had been using up until a few days ago. I held onto a 500° pizza stone for a taaaad too long until the scent of burning, singed rubber filled my nose as I realized what was happening. Anyway, this pair of adorable bright cherry red ones are fun and practical, and would look very charming hanging from the little hook near my stove. They're high-tech heat resistant, solidly rated, and happen to be 64% off today. Yay!
6. ECOVACS Robotic Vacuum Cleaner, Tangle-free Suction for Pet Hair, Hard Floor – Automatic Floor Cleaning Robot, DEEBOT N78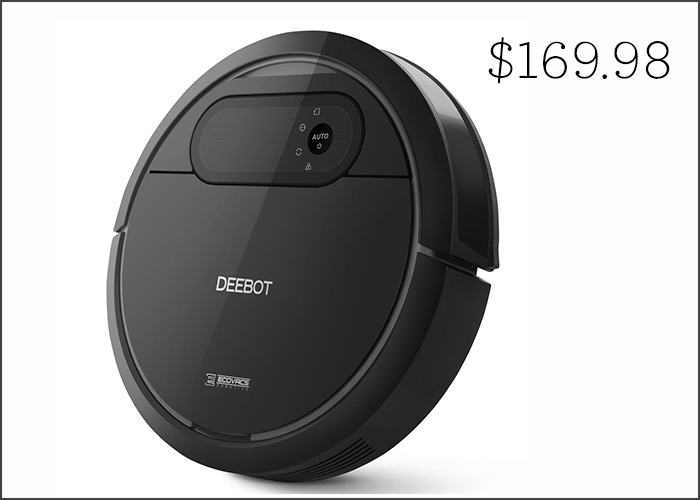 48% off. 
Listen, I'm not going to tell you to purchase a $169 robotic vacuum, but if you WERE thinking of splurging and going in for one of these super neat floor vacs, than I have to share this sale with you. This one is a pretty solid 48% off today, and that's a lot of money to be saved. So, now's the time to snag one if you were thinking of buying one and have the money saved up to responsibly do so. This one has a use time of 110 minutes before it needs recharging, and it comes with a one-year warranty. Just leaving that here!
7. Wazor Hair Flat Iron 1 Inch Ionic Ceramic Hair Straightener Professional Flat Iron With LED Digital and Temperature Control From 284&x2109; to 446℉ Auto Shut Off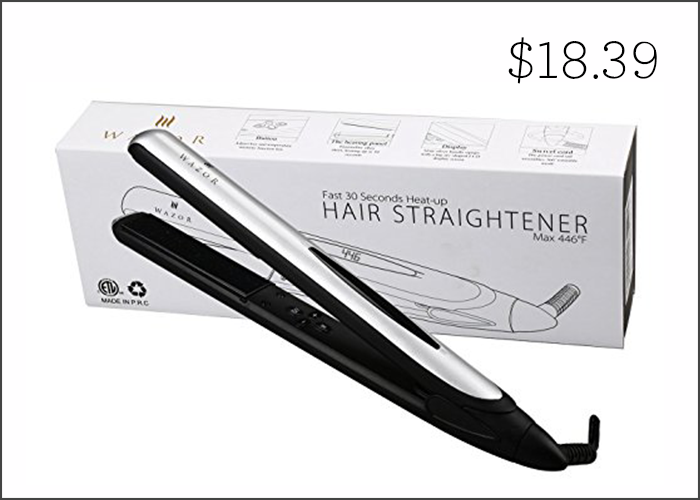 83% off. Love a good flat iron! This one gets 4.5 -out-of-5-stars (rad), and is 83% off today (radder). It heats up in a mere 30 seconds, so that means your morning routine can come together much more quickly — you can be out the door and on your way to greatness kicking ass at your job with hair that looks very much on fleek. (Or so the kids say.)
8. Body Scrub with Himalayan Salt, Deep Cleansing Exfoliator With Sweet Almond Oil & Lychee Oil, Moisturizes Nourishes Soothes & Promotes Glowing Radiant Skin, Body Wash – 12 fl.oz. by Pure Body Naturals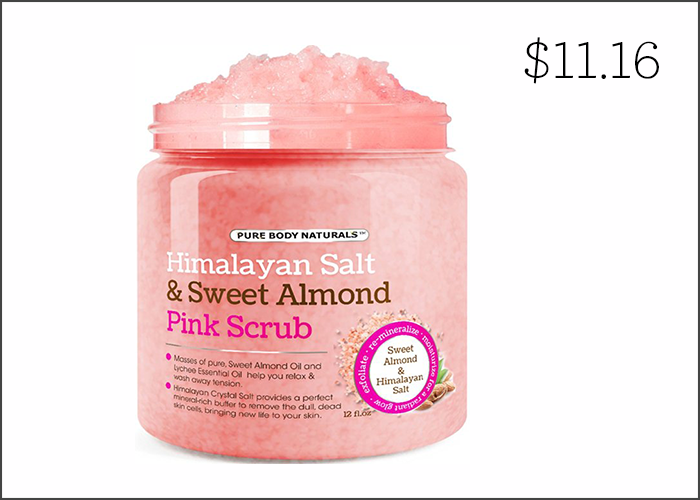 49% off. The weeknight bath has become somewhat of a ritual for me over the last two weeks. I've been taking salt baths to try and clear up the skin on my back (which always starts breaking out when I start running more), and I find it extremely relaxing and beneficial to relieve any anxiety and stress I'm experiencing. This beautiful little jar of pink Himalayan salt and almond scrub would be a wonderful addition to any home bath/at-home spa night. The reviews on it are glowing, and it's 49% off for the jar. It might just be the perfect addition to my weeknight routine.
9. Lumina 15000 mAh Ultra Compact Portable Charger 2-Port External Battery Power Bank with High-Speed Charging Technology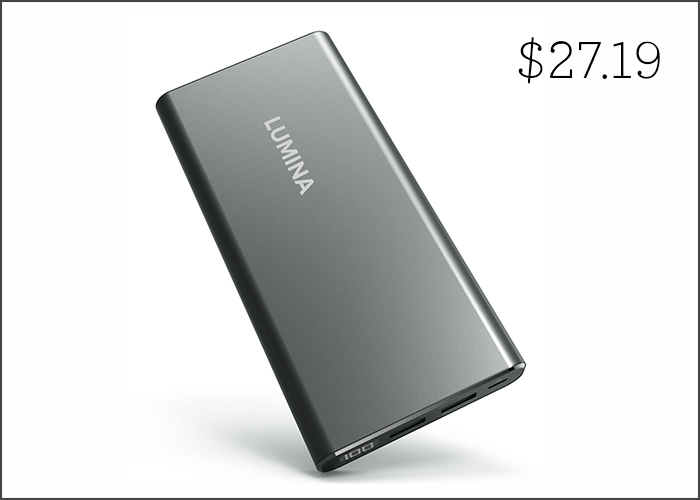 22% off. 
When I stumbled across this portable charger, I saw the words "compact" and "high-speed charging technology," and I thought it sounded like a dream for freelancers like myself, who are typically on-the-go a lot. It's got a highly-useful LED display, so you can easily keep track of how much juice you've got left, and model snags a 4.5-out -of-5 stars review. Awesome!
10. Halter Acrylic Monitor Stand / Monitor Riser – 20.75″W X 3.675″H X 7.5″D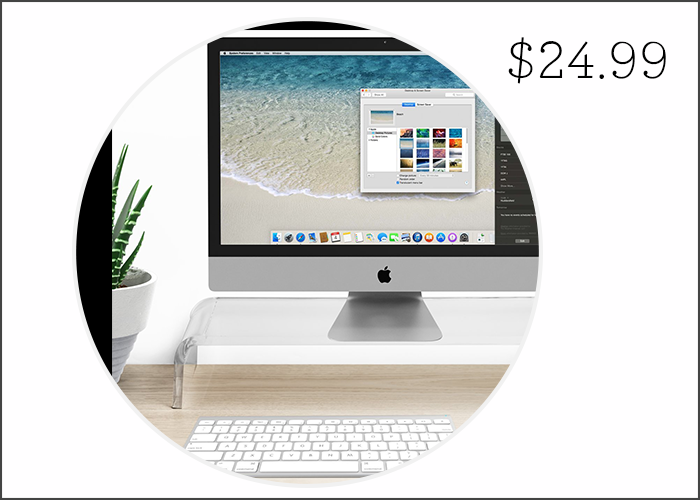 64% off. 
Hell yeah @ this awesome, beautiful, functional, and cheap workspace hack. Elevating my computer is essential to relieving tension in my neck muscles, since it keeps my head and gaze upright. The difference in the way I feel after using an elevated surface for my laptop is astounding. I love that this clear acrylic one is chic and minimalist, and I think it could help any desk situation look more stylish and become more functional. I'm all about good posture, and this simple desk tool will help your muscles align properly.