TFD's Weekly Amazon Prime Super-Sale Roundup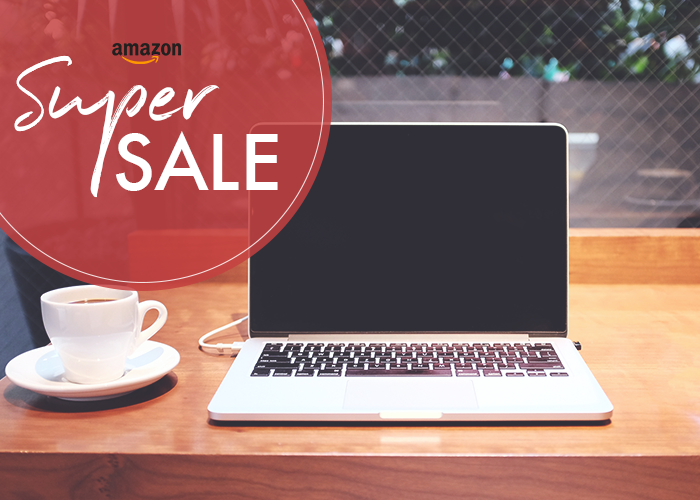 This is our now-weekly roundup of awesome, useful products currently at a big discount on Amazon. From the bigger investment items your home needs to the things that are nice to have, we'll be letting you know when the stuff you've been wanting anyway has gone on sale (sometimes up to 88% off) so you can get the best deal possible!
1. Design Ironing Board Holder with Storage Basket for Clothing Iron – Over Door/Wall-Mount, Chrome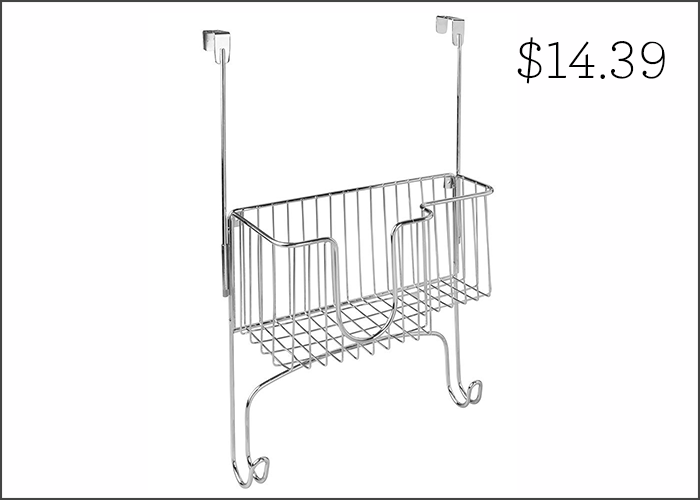 20% off. This here wire basket is a nifty little over-the-door storage unit for your ironing board and related ironing supplies. How neat! Joe and I don't have room in our place for an ironing board, but we do rig up a setup where we iron our clothes over a heat proof towel on top of our dining table. Desperate times call for desperate measures, eh? Anyway, this contraption hangs the board and keeps all other items — like spray bottles, the iron itself, anti-wrinkle solution, etc. — organized and easy to see. A useful idea for keeping your closets tidy.

2. Leak Proof Travel Bottles Set, 4 Refillable TSA Approved Silicone Travel Containers For Liquids with Silicone Cream Jar and Clear EVA Toiletry Case By AusKit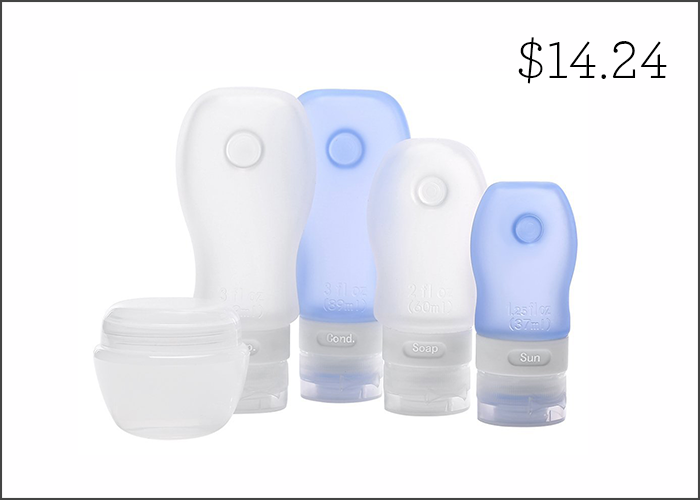 5% off. It seems that every time I travel, I end up going to the pharmacy to stock up on mini versions of everything I need, which gets…expensive. Since I have a good number of trips booked this year, for both work and pleasure, I recently invested in a nice set of reusable travel-sized containers to help make my packing situation run (and look) more smoothly. The above set is very reasonably priced (and the little 5% discount can't hurt either!), is well made, and well reviewed.
3. Kattee Urban Style 3-Way Women's Genuine Leather Shoulder Tote Bag, Orange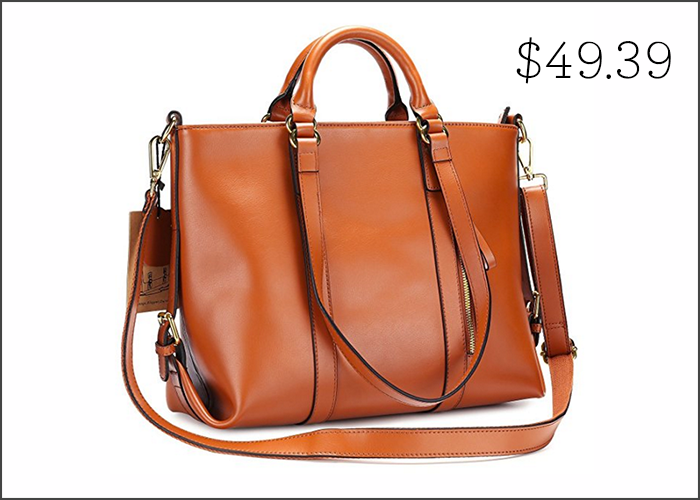 50% off. Ooooo, baby! How lovely is this fine-looking caramel colored, genuine leather purse??? I personally love the functionality and ease with which one can use purses with shoulder straps — I find it easier to get out the door and where I'm going with a bag like this. (You can wear it three ways, but I prefer the shoulder strap method.) This model has a few different compartments inside, so all of your stuff stays organized and separated into different categories. For example, I keep my on-the-go makeup in one section, my wallet and keys in another, and maybe a book, pens, and snacks in the other. If you're looking for a high-quality investment item without the $$$ price tag, this could be a winner!

4. Angerella Vintage High Waisted Two Piece Swimwear Bathing Suits, US14-16, Tag Size 4XL, Red(Polka Dot)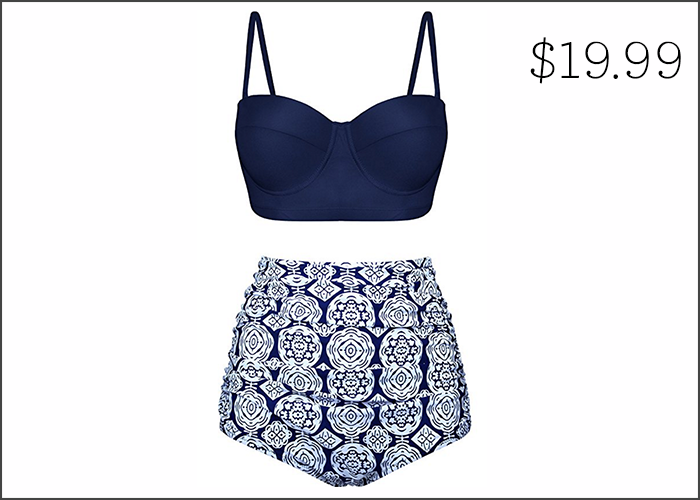 66% off.
 It's nearly bathing suit season y'all, and how lovely is this high-waisted retro looking one above??? If you click the link, you'll see that there's about six different styles — all of which are super cute. I love this kind of bathing suit, as I find it really flattering, and this brand offers patterns, colors, and prints which are all really fun (but don't look childish.) The suit is a whopping 66% off, so if you're looking for a new summer bathing suit, this could be a nice option!
5. KrBn Silver Macbook & Macbook Pro Space-saving Vertical stand with Modern design | With Adapter for all size of Macbook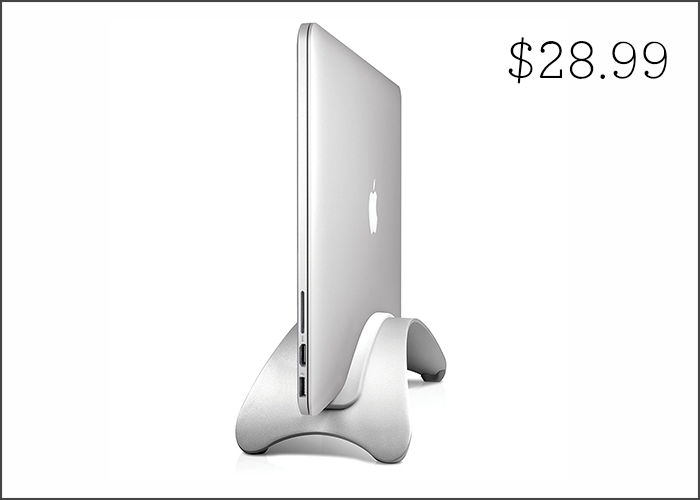 52% off. Having my work desk in the middle of our living room means my workspace is always in full view. Needless to say, I have to keep my belongings tidy, and my computer, mouse, hard drive tucked away and out of site when I'm through using them. This really neat vertical storage stand saves space and neatly holds your laptop when it's not in use. This creates more room for beautiful things like flowers, a patterned planner, or stylish pen holder to take front stage. A really nice investment and a whopping 52% off! Wooo!

6. iPad Mini Keyboard, COO Mother's Day Gifts Wireless Removable Bluetooth Keyboard Case for Apple iPad Mini 1/ 2/ 3 with 360 Degree Rotation and Multi-Angle Stand (White)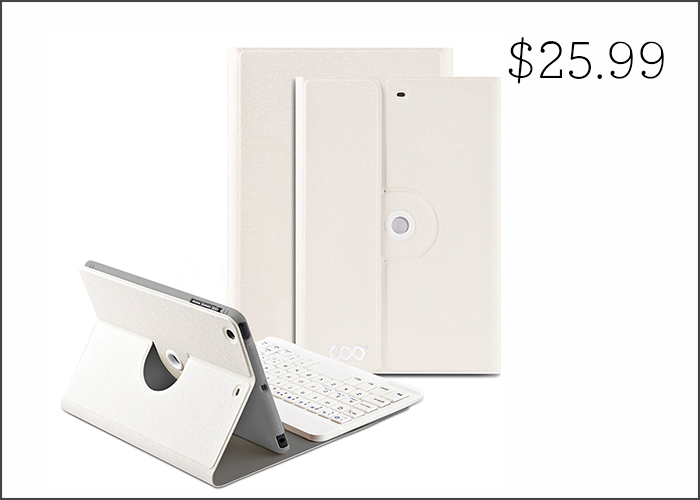 30% off. Those nifty removable keyboards you attach to iPads are super useful, and make the iPad more versatile and functional. I bought my dad one a few years back when he got his, and having actual keys to type into made it really easy for him to navigate his larger fingers around such a small device (sorry dad, lol). Anyway, it could make a thoughtful gift and won't cost a lot!
7. Dylan Wireless Headphones, Bluetooth 4.1 Over-Ear Headphone with HiFi Stereo Built-in Mic 3.5mm Audio Jack for iPhone, Samsung, Android Phones & Tablets, Black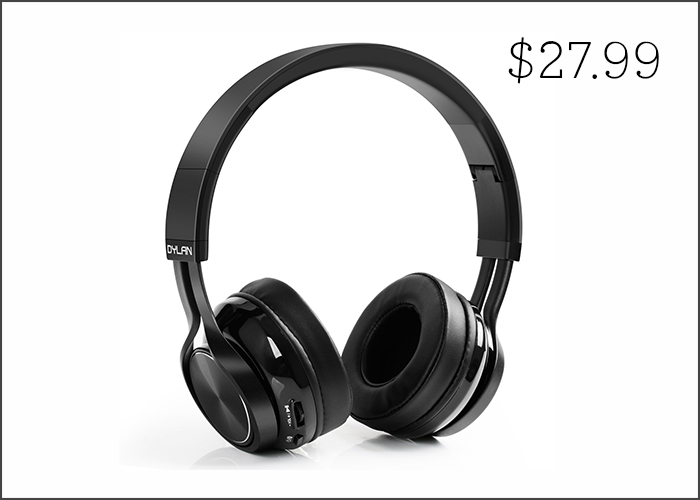 65% off. Just when I find one pair of beautiful, sleek, noise-canceling headphones that I want to buy, another even better model seems to catch my eye. There are so many factors to consider when making a purchase like price, sound quality, color, reviews, bluetooth, etc. The pair above is just lovely, and happens to be on sale for a steep discount. If you're looking for a new pair, these bluetooth, over-the-ear headphones could make a great purchase!

8. INLIFE 3-Tier Coat Hat Rack Display Stand Hall Tree with 11 Hooks for Jacket Umbrella Handbag Purses Hats (White)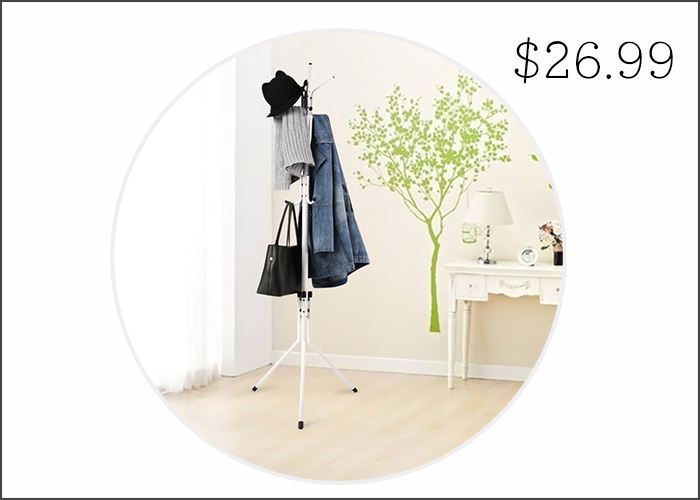 55% off.  The idea of having a coat/hat rack seems very adult-chic to me. Alas, we have ZERO space for one in our place, but the dream of an airy, open, stylish, and functional entryway is something I can't wait to have. I picture myself offering to hang up a guest's coat neatly on the rack before handing them an ice cold cocktail and telling them that dinner will be set in a half hour, and in the meantime they can indulge in some of my homemade canapés (effortlessly styled of course). Anyway! Yeah! This one is very simple but for the price and high reviews it gets, it's worth it in my opinion!

9. Ohuhu LED Night Light with Touch Sensor, 3 Brightness Level 2 in 1 Vase Table Lamp Nursery Light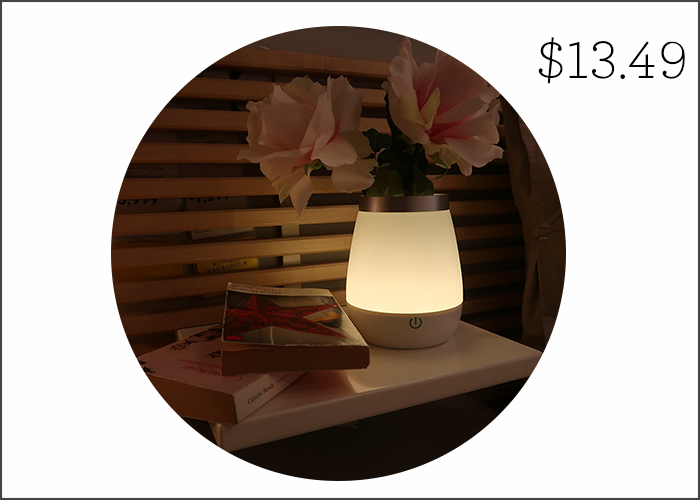 16% off. I originally found this sweet nightlight in the baby/nursery section, but I actually think it's quite beautiful and could be a smart addition to any room. I get up to go to the bathroom in the middle of nearly EVERY single night, without fail, and often find myself stumbling around and cursing myself for stubbing my toe. The soft ethereal glow of a nightlight might be exactly what I need to make the nightly commute from bed to bathroom easier. And, this model could be extremely useful! 16% off too, which won't break the bank.

10. Good Housekeeping
 Magazine Subscription.
88% off. Mother's Day is coming up next weekend, and a subscription to Good Housekeeping could be the perfect little addition to a bouquet of flowers for your mom or mom-figure in your life! Let's be honest though, I would love to get a subscription for myself to enjoy, since I think the photography, content, and recipes within these pages are awesome. Anyway, 88% off! Only $5 for like, six month's worth of magazines. Pretty rad.