TFD's Weekly Amazon Prime Super-Sale Roundup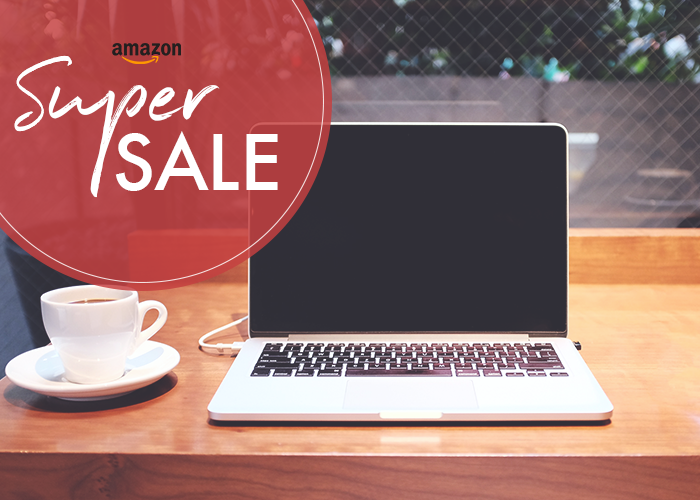 This is our now-weekly roundup of awesome, useful products currently at a big discount on Amazon. From the bigger investment items your home needs to the things that are nice to have, we'll be letting you know when the stuff you've been wanting anyway has gone on sale (sometimes up to 76% off) so you can get the best deal possible!
 1. Belkin 3-Outlet SurgePlus Mini Travel Swivel Charger Surge Protector with Dual USB Ports (2.1 AMP / 10 Watt), BST300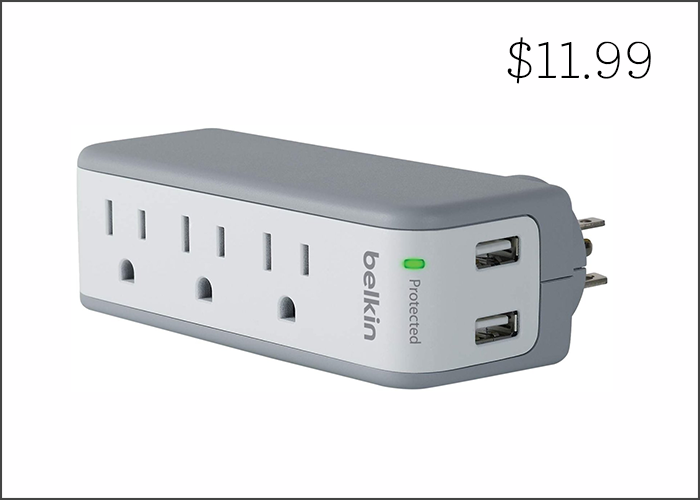 31% off. Having a surge protector with you when traveling is an absolute must in my opinion. No one needs their computer, phone, or hair gadgets blowing a fuse in the middle of their vacation. This small and portable Belkin one is super effective and highly-rated — the best-selling one in the category! For the next 13 hours it's on sale for over a third off, so if you're looking for some peace of mind for your electronics while traveling, this could be an inexpensive addition to your list of travel essentials.
2. Kodak Dock & Wi-Fi 4×6″ Photo Printer with Advanced Patent Dye Sublimation Printing Technology & Photo Preservation Overcoat Layer – Compatible with Android & iOS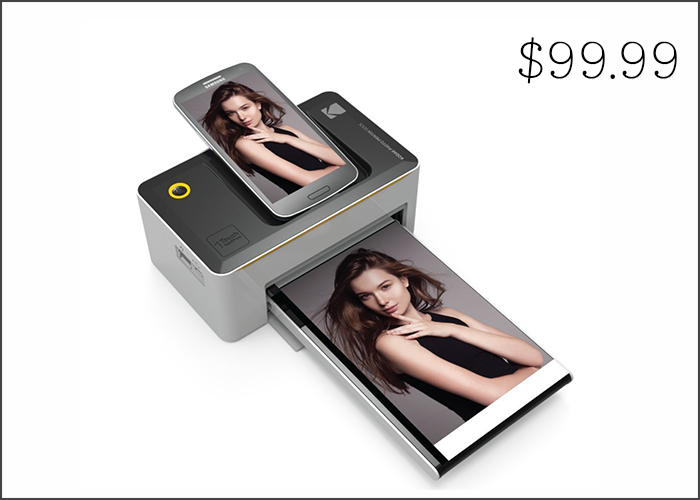 29% off. Several people I know have recently been complaining that when we're all together, a lot of photos are snapped, but the photos never see the light of day. Since Facebook photo albums have all but disappeared amongst those in my social circle, and social media posting is sporadic, having the ability to actually print out photos and keep them somewhere seems much more appealing than it did a few years ago. I've seen those mini photo printers around, which print pictures directly from your phone, but they're always so expensive. However, this Kodak print dock above is reasonably priced and minimalist, and prints photos quickly and with nice detail and crispness (or so the reviews say!). It's on solid discount today, so if you're looking for a gift for a friend, this one could be a good deal.
3. iPhone 6S Plus Case, Vofolen [Zipper Wallet] iPhone 6 Plus Cover PU Leather Protective Shell Detachable Magnetic Folio Flip Holster Card Holder for iPhone 6 Plus 6S Plus 5.5 inch -Black Plait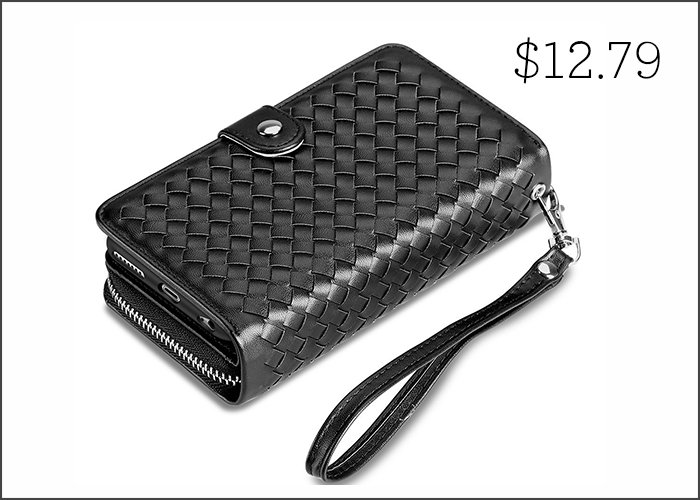 56% off. If you're looking for a compact way to carry around all your essentials for a night out on the town, this little black woven satchel is the perfect thing. It fits a phone, credit cards, money, and other essentials with a zipped and magnetic lock, so all your stuff is safe and secure. I like that it's neutral and understated — the perfect thing to pair with a variety of outfits, patterns, and colors. It's on sale for a very reasonable $13, which is a fantastic price for something so useful.
4. Running Girl Women's Mesh Yoga Capri Pants Workout Running Crop Leggings With Inner Pocket(1045Black,L)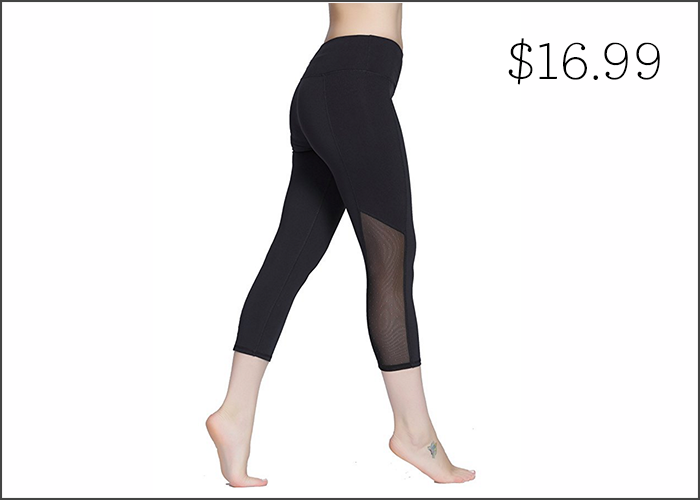 65% off. The amount of money people spend on fancy workout clothes never ceases to shock me. $80 for leggings?! $70 for a sports bra?? No thanks! I get all my workout clothes from stores like Marshalls, TJ Maxx, or Amazon, and they've never let me down. I love these mesh, breathable leggings, and they're on sale today for a steep 65% off. They're great for running outside on a summer night and they provide much-needed ventilation while you break a sweat. Check them out!
5. Alvaq Women's Summer Casual V Neck Sleeveless Lace High Low Party Midi Dress Wedding Cocktail White, Medium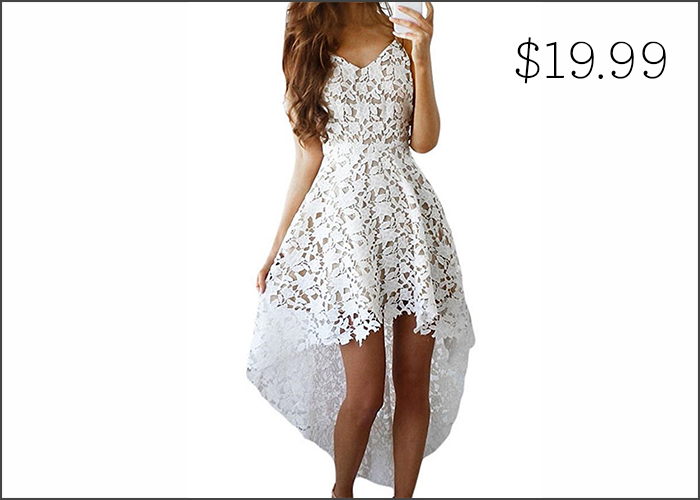 44% off. Soooooo, this dress seems way too fancy for the low price tag of $19, but hey, I'll take it. This would be the perfectly-elegant dress to wear to a warm weather wedding or other summer fête. It comes in four striking colors, gets high reviews, and has a very comprehensive sizing guide to help you order correctly. If you're looking for a lovely dress for a low price point, this is a winner.
6. YUUVE Ladies Summer Straw Hat Fedora Floppy Sun Hat Large Wide Brim Beach Cap For Women(Free Ribbon Gift)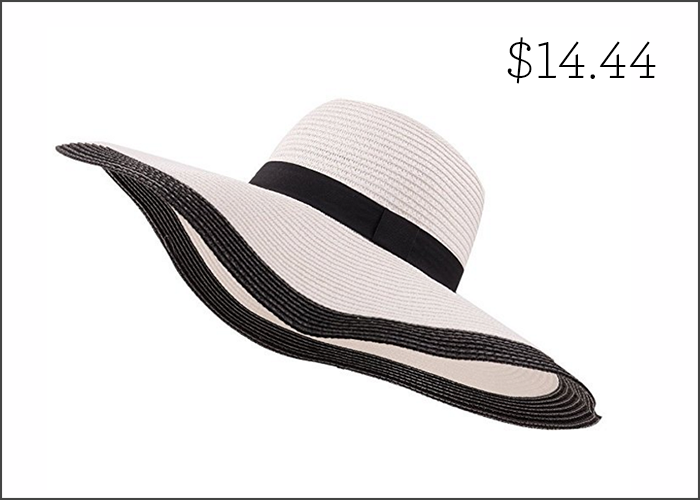 76% off. In other summer-related fashion news, when can you go wrong with a chic-as-hell floppy beach hat? Answer: never. I'm on a family vacation in Aruba as I type this, and I'm seeing a lot of #hatspo around the pool. I, unfortunately, didn't bring my own to rock, so I'm wrapping a scarf around my head when I'm out in the sun to keep my face protected. This lovely one is 76% off, so if you're in the market for one, jump on this deal!
7. URPOWER Garment Steamer 130ml Portable Handheld Fabric Steamer Fast Heat-up Powerful Travel Garment Clothes Steamer with High Capacity for Home and Travel, Travel Pouch Included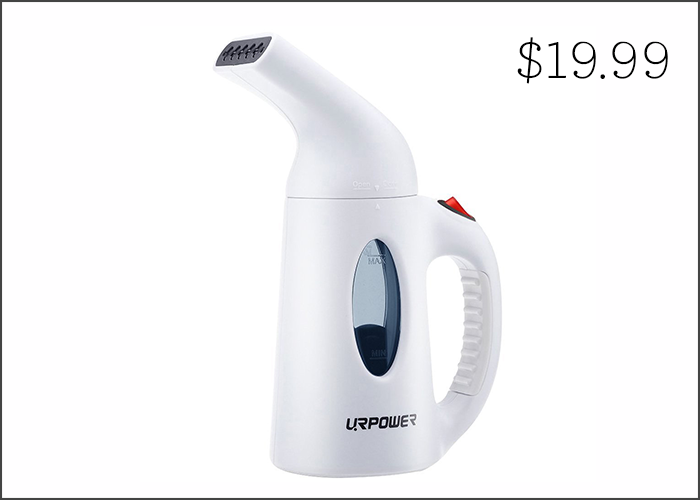 71% off. The one major concern I have while packing for every trip is just how terribly wrinkled the clothes will look once I unfold them. This is where a portable mini steamer comes in handy! If you want to keep your best clothing looking fresh, consider investing in one of these steamers to help bring your clothes back to life once you unpack them. The one above gets solid reviews and comes with a travel patch to make it easier to carry around.
8. BLACK+DECKER TO1303SB 4-Slice Toaster Oven, Includes Bake Pan, Broil Rack & Toasting Rack, Stainless Steel/Black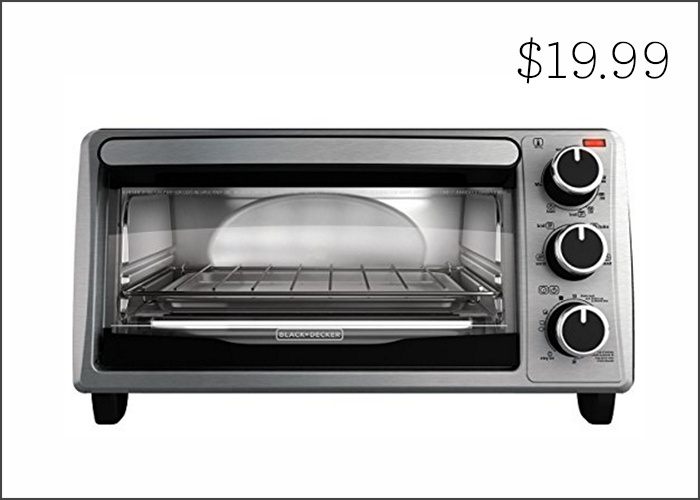 33% off. Toaster oven are super energy-efficient, warm up leftovers quickly and efficiently, and make one beautiful slice of toast. I much prefer them to a microwave, and If I had enough counter space in my kitchen I'd order one of these ASAP. If you're in the market for one, this guy is 33% off today so grab it now!
9. Mildew Resistant Shower Curtain Water-Repellent & Anti-Bacterial – 72×72 inch – White – by Utopia Bedding (White)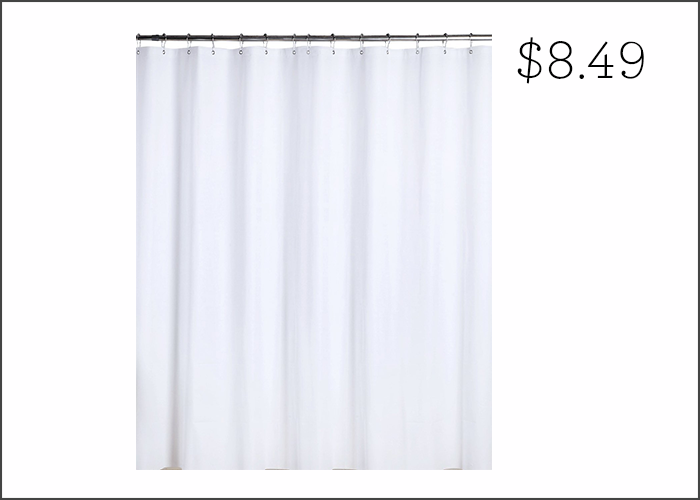 65% off. I've had to replace my shower curtain more times than I ever anticipated because it gets smelly so quickly (despite the fact that I clean it regularly). This one has the trifecta of attributes you want in a shower curtain: mildew-resistant, water-repellent, and anti-bacterial. Rad! It's 65% off today, so it'll run you only $8.50 for high-quality shower curtain — practically a steal.
10. LANGRIA 4-Tier Wire Mesh Rolling Cart for Serving Utility Organization Kitchen Cart Easy Moving Flexible Wheels, 55 lbs Weight Capacity, White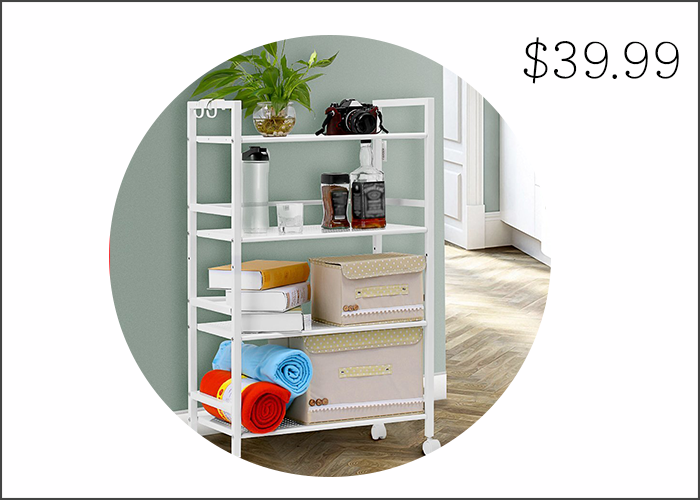 56% off. A college-aged girlfriend of mine bought this rolling cart for her dorm room apartment, and it is the cutest thing IRL. It's got plenty of storage space, is nice quality, and neutral, so it fits in any space. It's over half off today on discount, and will only run you $39. It's perfect for college students on a budget who need something functional and not hideous. Go take a look!