TFD's Weekly Amazon Prime Super-Sale Roundup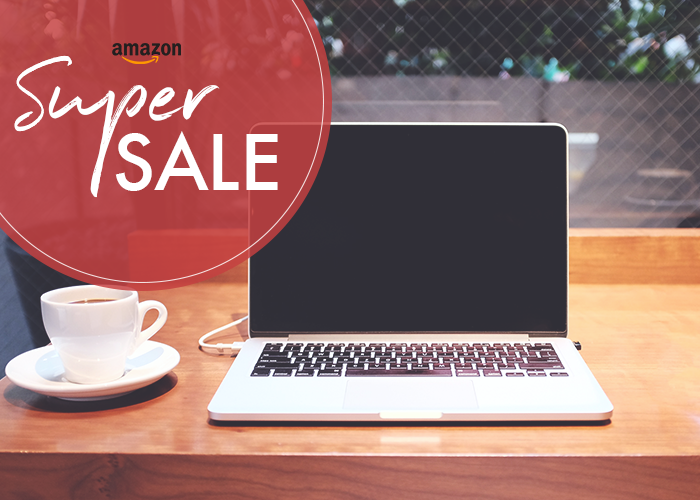 This is our now-weekly roundup of awesome, useful products currently at a big discount on Amazon. From the bigger investment items your home needs to the things that are nice to have, we'll be letting you know when the stuff you've been wanting anyway has gone on sale (sometimes up to 76% off) so you can get the best deal possible!
 1. G.U.S. Multi-Device Charging Station Dock & Organizer – Multiple Finishes Available. For Laptops, Tablets, and Phones – Strong Build, Eco-Friendly Bamboo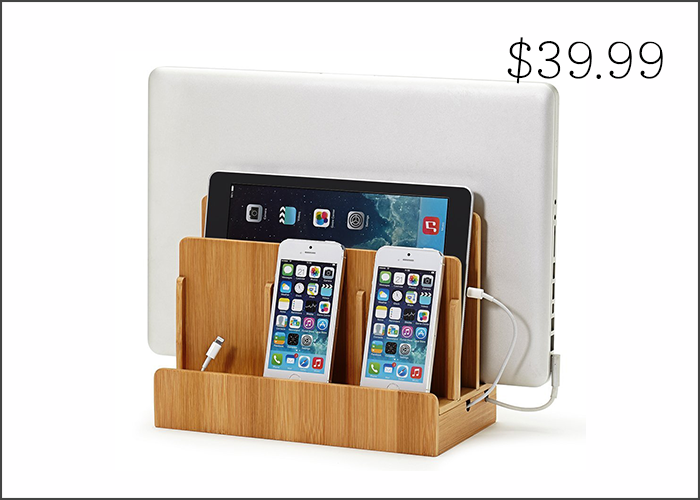 33% off. Recently, I stayed in an Airbnb that had one of these charging stations set up for guests. And, since I was traveling with three other people, it was the perfect way to charge (and never misplace) our phones, tablets, and computers. This lovely eco-friendly bamboo one is 33% off today, and it could be the perfect addition to the central hub of your home.
2. Sissely Women's Sleepwear Short Sleeve with Shorts Pajama Set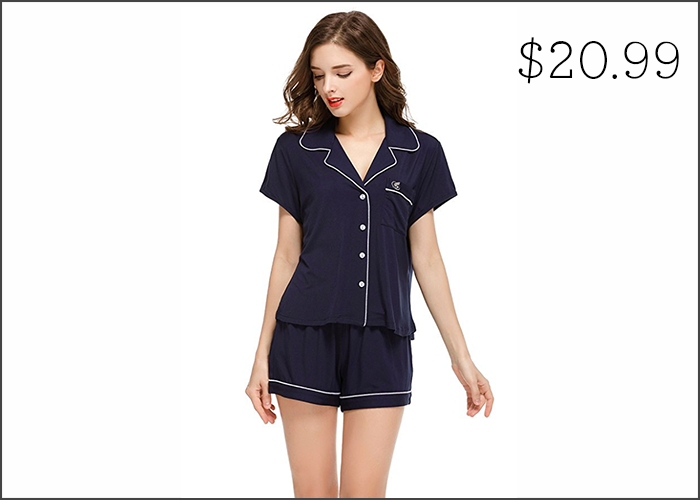 16% off. Chelsea showed me this adorable little pajama set — how sweet?! 16% off, which is a nice little discount on an already inexpensive set of very cute evening wear. I used to be terrible with having designated clothes for bed — I'd usually wear a t-shirt, gym shorts, or some other random combination of clothes. But, one can never underestimate the pleasure of truly comfortable pajamas. Check them out!
3. Styleword Women's Summer Off Shoulder Casual Cute Dress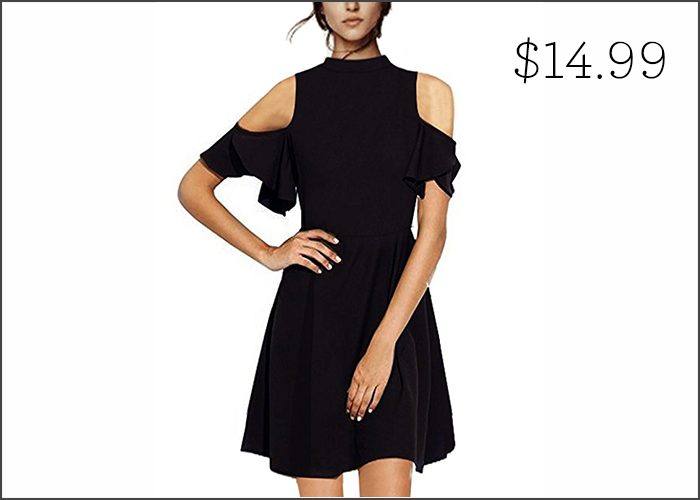 42% off. Off-the-should tops and dresses are everywhere this season, and I LOVE this example of this trendy style. The dress is casual-yet-elegant, and would be the perfect thing to wear for a special occasion out with your significant other. Pairing it with chunky earrings, fancy footwear, and a high ponytail would look *killer*, in my opinion. It's inexpensive AND highly rated. Win win!
4. Mpow Bluetooth Headphones Over Ear, Hi-Fi Stereo Wireless Headset, Foldable, Soft Memory-Protein Earmuffs, w/ Built-in Mic and Wired Mode for PC/ Cell Phones/ TV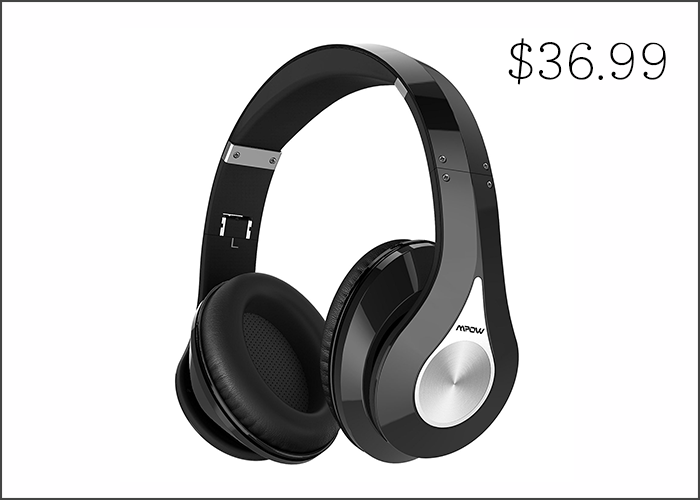 54% off. I saw someone on the subway wearing these a few weeks back, and they looked really expensive. However, when I looked them up, I was surprised at how affordable AND highly rated they were. They get 4.5 stars on Amazon, and are the #1 best seller in their category. They're super soft and foldable. If you're in the market for nice, noise-cancelling headphones, these could be the ones for you!
5. Poly and Bark Eames Style AG Management Office Chair in Vegan Leather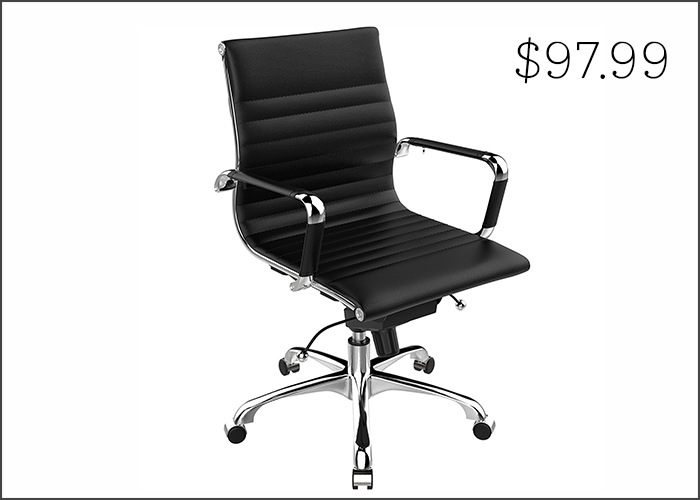 11% off. This is almost the exact desk chair that Chelsea and I had bought for the old TFD office, and it's on respectable discount today. It's really difficult to find good desk chairs that are stylish AND comfortable, but this one checks both boxes. It's vegan leather that's super soft and really comfortable. And, the armrests made long days at your computer more bearable. If you work from home, or are in need of a more functional chair in an office-like space, check this one out!
6. Brilliant – Steak Knife Set with Pakka Wood Handles in Oakwood Storage Box, Set of 4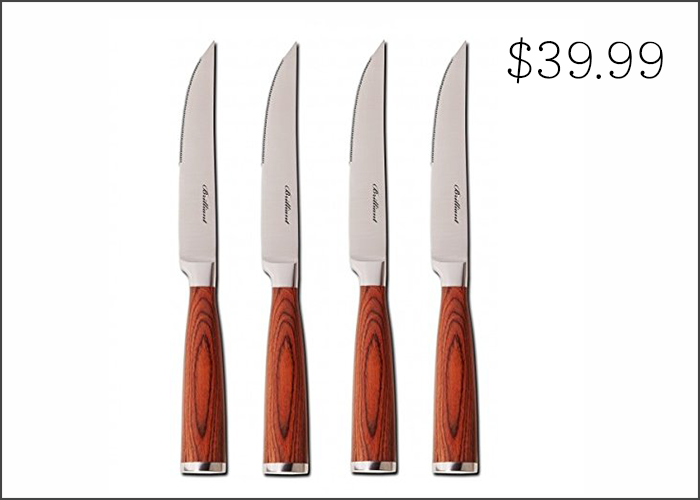 27% off. It's pretty unreal that a set of high-quality kitchen knives like the ones above are on sale for nearly 30% off today. The handles of these steak knives are made of real Pakka wood and come with a lovely oakwood storage box. And, they get a five-star rating, which I honestly haven't seen before. This set would make a beautiful gift to give to a friend, and while they are pricey at nearly $10 a knife, they last a lifetime and are well worth it.
7. HQY Best Rabbit Wine Opener Corkscrew With An Extra Corkscrew Worm/Spiral, Luxury Golden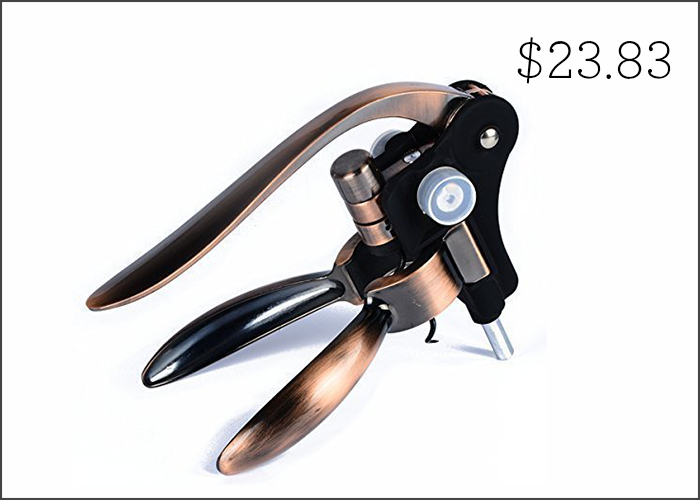 76% off. Ah, the rabbit wine opener. I think I've included this in a roundup before, but this thing is so nifty and life-changing that it deserves to be added here again. A friend I was with last night said to me that she just recently bought herself one and was IN LOVE with it, and would never go back to her old wine-opening method with a manual corkscrew. Hah. I got mine as an engagement present, along with a nice bottle of red, and I've used it countless times. Buy one! This thing rocks!
8. Activated Charcoal Body Scrub and Facial Scrub from Majestic Pure, 10 Oz – Natural Skin Care, Face Cleanser – Promotes Skin Whitening, Reduces Acne Scars, Blackheads and Helps Improve Complexion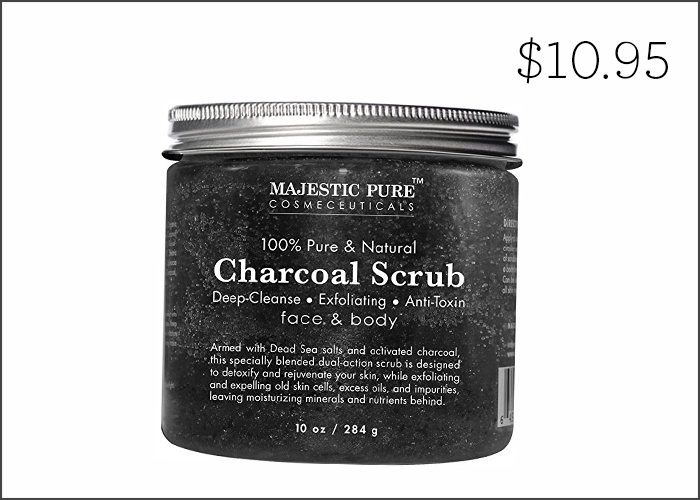 68% off. Love, love, LOVE charcoal scrubs and this one rocks. I've been using it for a few weeks now and adore the way it makes my skin feel — so soft and clean! This one provides a really nice deep clean, and scrubs away all the dead skin and other nonsense on your face that's built up after a long day. This guy is almost 70% off, and has a nice price tag to go with it, so it could be a good time to check it out!
9. Led String Light, Arespark Ball Fairy Light, 33Feet 100 LED Globe Waterproof Starry Light for Christmas, Wedding, Party- Warm White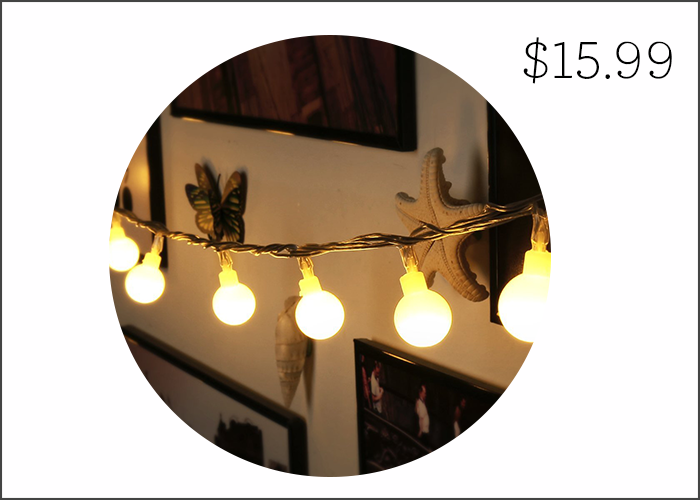 56% off. Look at these adorable (and affordable) globe string lights (!). These things are versatile and easy to string up in any space. I've added different varieties in these roundups before, and these bulb ones are another great option. This set is cheap and substantial — 33 feet long — and they transform any space into one that is warm and cozy.
10. SONGMICS 3 in 1 Vanity Organizer Clear Makeup Brushes Storage Holder UJMU05T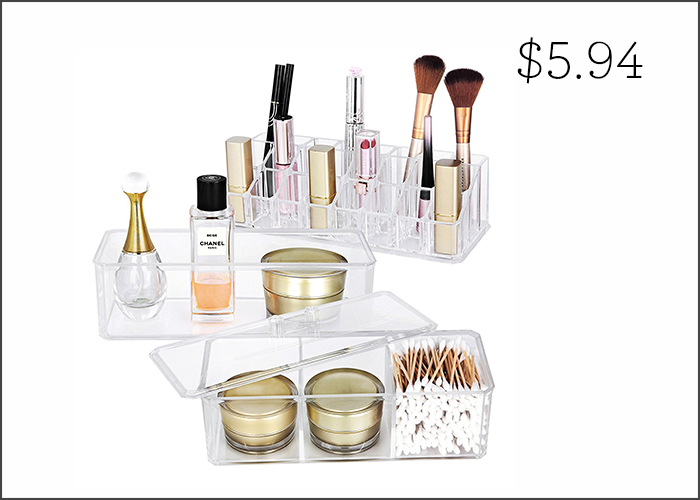 59% off. This clear plastic, 3-in-1 makeup organizer is exactly what you need to transform your bathroom/getting ready space into something beautiful. These stack up and come apart, so they're multi-use and easy to clean. It' the #1 best-seller in the category — and that's saying something because there are A LOT of these. This could be exactly what you need to get your space feeling chic, adult, and organized. Check it out if you're in the market for one!