TFD's Weekly Amazon Prime Super-Sale Roundup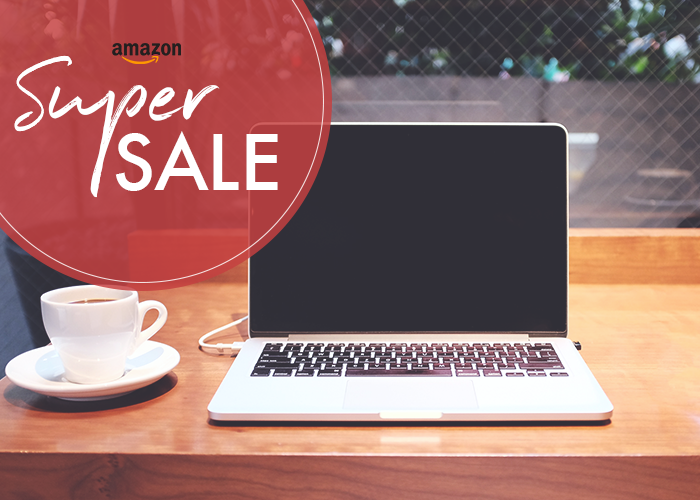 This is our now-weekly roundup of awesome, useful products currently at a big discount on Amazon. From the bigger investment items your home needs to the things that are nice to have, we'll be letting you know when the stuff you've been wanting anyway has gone on sale (sometimes up to 81% off) so you can get the best deal possible!
 1. Facial Cleanser – Organic and Natural Gel Daily Face Wash Anti Aging, Deep Pore Cleansing Soap for Acne Prone Breakouts, Normal, Oily or Combination Skin, Best for Men & Women, Can Use With Brush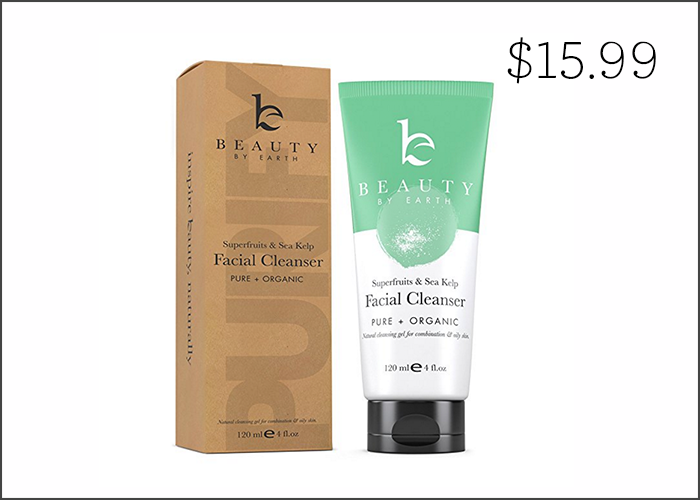 36% off.  Beauty products that almost get a five-star review are ones that I can get behind! This organic and all-natural facial cleanser is made with powerful ingredients that aren't harsh on your skin. It's on steep discount today, so you are definitely getting more bang for your buck. If you're in the mood to switch up your routine to try a new face wash, and want one with hundreds of reviews, this Beauty by Earth one looks like an awesome find.
2. iXCC 50W/10A 5 Port Car Charger, Cup Holder Multi USB Car Charging Port, Univeral Fast Charger Adapter for iPhone 7 6 6s Plus, iPad Air Pro mini, Galaxy S8 S8+ S7 S6 Edge Note for Family Road Trip
58% off. Back when I used to drive a car, I always made sure that I had an adaptable car charger for my phone in case of emergencies. I never wanted to be stranded, lost, or out of touch with people in case of a roadside emergency. The car charger above is perfect for multiple people traveling around in a car, and is a universal adapter for various electronics. It's on sale for over half off today, and clocks in at a very reasonable $16.99.
3. 12 Square Glass Spice Bottles 4oz Spice Jars with Silver Metal Lids, Shaker Tops, and Labels by SpiceLuxe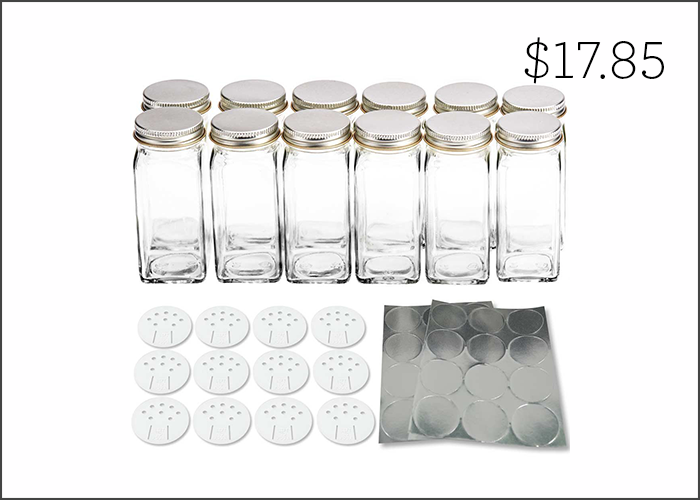 15% off. I know I can't be the only person with a slightly haphazard looking spice cabinet, right? Not only do I have way too many to keep track of, but they're all in different shape and size bottles, which makes the scene look even more chaotic. Buying plain glass bottles and labels would be an easy and affordable way to streamline the look of your spice cabinet, and would be a perfect weekend DIY project.
4. Mr. Coffee ECMP1000 Café Barista Premium Espresso/Cappuccino System, Silver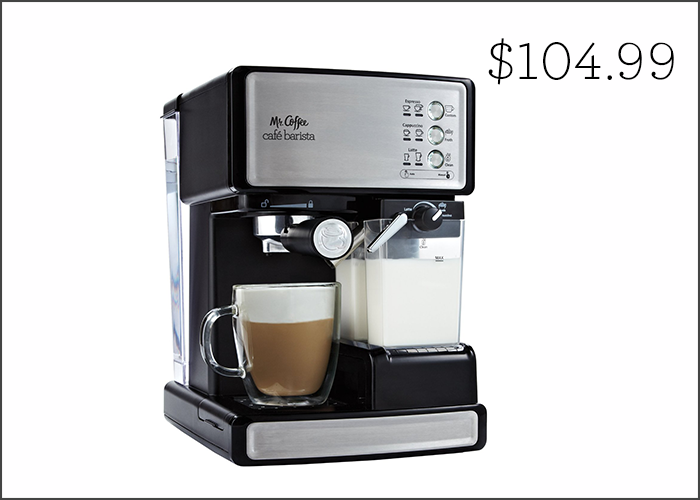 48% off. Ahhhh yes, an espresso machine <3. Every time I go back to my parents' house, I use the one they have, and I feel as if I'm at a spa for the weekend. That thing produces the most creamy espressos, lattes, and cappuccinos that taste ~heavenly~. The one above would make an awesome gift for a special occasion or a really nice treat yourself gift for your own kitchen. It's almost HALF OFF today, but I admit it's still kind of pricey. So, seriously consider whether or not it's in line with your budget! But, it's the #1 rated best-seller, so it's worth checking this one out if you're going in on that investment.
5. HOMFA Floating Shelves Wall Mounted Display Ledge Shelf with Bracket for Pictures and Frames Modern Home Decorative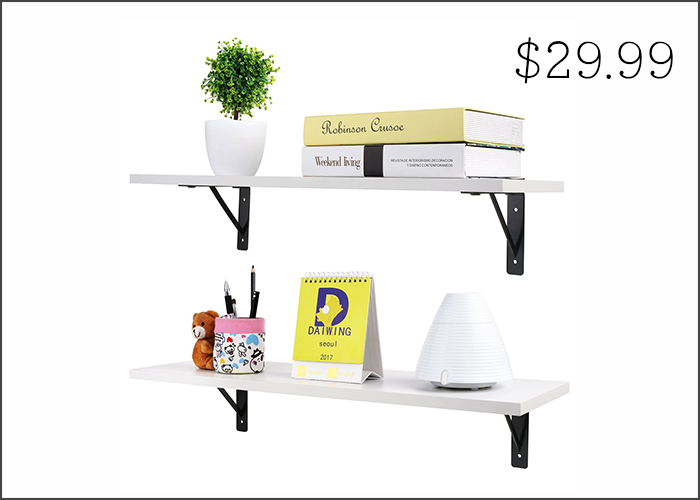 60% off. This clean and classic looking shelf would be a wonderful way to spruce up your home, apartment, or dorm room for very little $$$. This modern shelf would elevate any space and add visual interest to walls in no time. When Joe and I hung up a shelf up in our bedroom, it totally transformed the look of the space for the better. Adding greenery and colored books to it also made it feel like statement piece, and again, cost us like $15 bucks to install. Winning! Check out this lovely set today, as it's 60% off!
6. Set of 3 Galvanised Metal Battery Operated LED Fully Weatherproof Outdoor Garden & Patio Flameless Candle Lanterns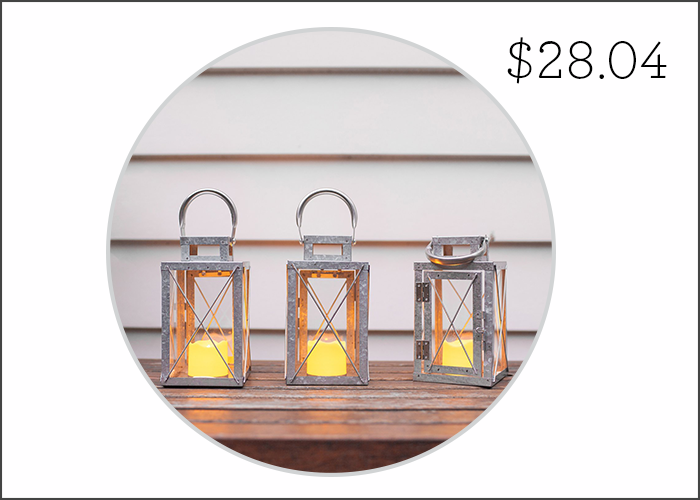 15% off. I love the look of galvanized metal, and I love the way my sister-in-law uses it in her outdoor space at home with things like buckets for drinks and in lanterns along the steps. This set of three lanterns is weatherproof and made of high-quality materials. They're also fitted with LED candles, so there's no chance of anything catching fire. They're stylish but not overly so, so they'd be easy to fit into any space without disrupting existing decor. Check it out!
7. Greenco Marble Mortar and Pestle, 3.75″, White/Gray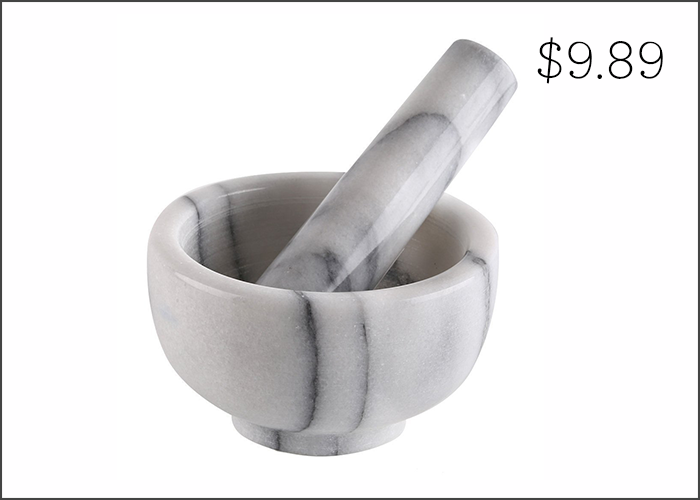 10% off. I've included a mortar and pestle on this roundup before, but it was a more expensive dark colored one. Today, I'm back with a much cheaper white marble version. This would look stunning on any counter, and I really love the way it makes a kitchen look more serious. Like, "Wow, you have a mortar and pestle to properly grind spices, mash garlic, make pastes, sauces, and guacamole?! You are impressive and have true cooking cred." Or, you know, something to that effect. =)
8. LadyColour Black Swarovski Crystals Earrings Drop Pierced Earrings Jewelry for Women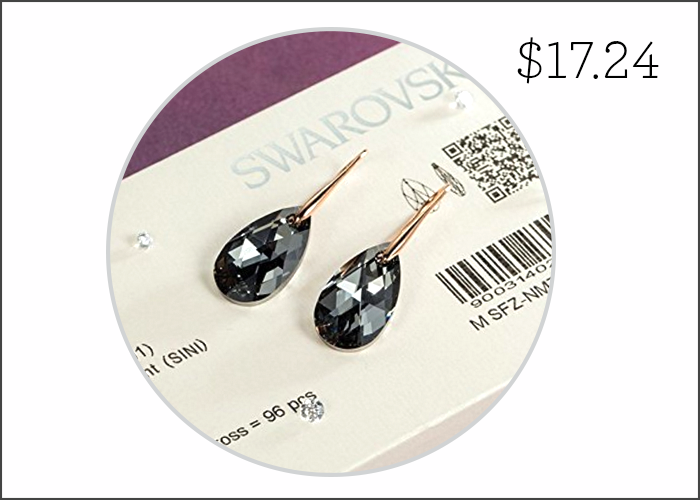 81% off. Normally I don't include jewelry or accessories of that nature in these roundups because taste and style are so subjective. So, what I like and deem worthy of a buy might be totally heinous in your opinion. But! These chic-as-hell dark grey Swarovski crystal dangly earrings are just BEAUTIFUL. They would compliment any outfit for a special occasion and look stunning with any face shape, skin or eye color, etc. They look expensive, but aren't, and are on a whopping 81% discount today! Yay!
9. SodaStream Fizzi Sparkling Water Maker, Red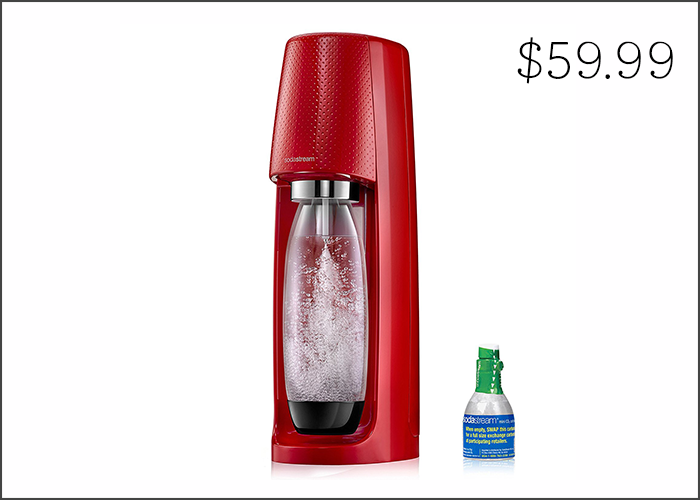 25% off. Behold — a fancy red Soda Stream! Chelsea has mentioned these in her articles and videos before because they really are a great investment if you drink a lot of sparkling water/carbonated beverages, or buy a lot of mixers for cocktails. This one is a solid 25% off today, so check it out now! If you've been oscillating when deciding whether or not you need one, this discount could be the thing that pushes you over the edge. In a good way!
10. Baebody Moroccan Argan Oil Shampoo 16 Oz – Sulfate Free – Volumizing & Moisturizing, Gentle on Curly & Color Treated Hair, for Men & Women. Infused with Keratin.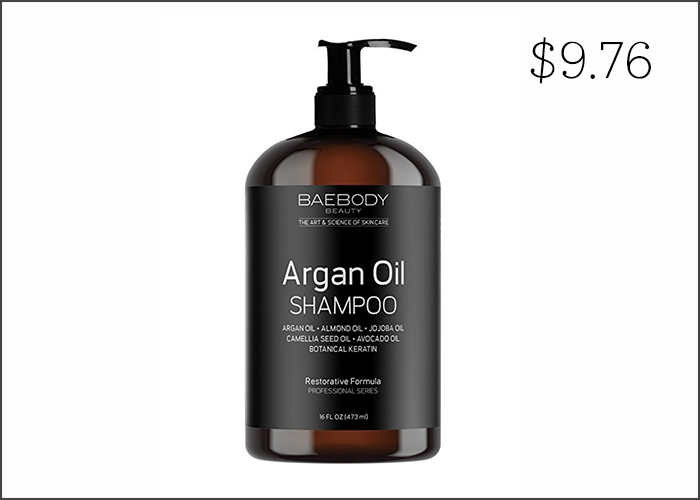 67% off. Lately, I've been considering swapping out my good ol' Pantene shampoo and conditioner for something more organic and high quality. I've been doing some research into some high-recommended options, and I love the way this Argan oil one looks. This stuff is supposed to work wonders for you hair and scalp, and provide nourishment and hydration. I just ordered a bottle to try it out because I figured one can't go wrong with a 67% off discount. Stay tuned!