TFD's Weekly Amazon Prime Super-Sale Roundup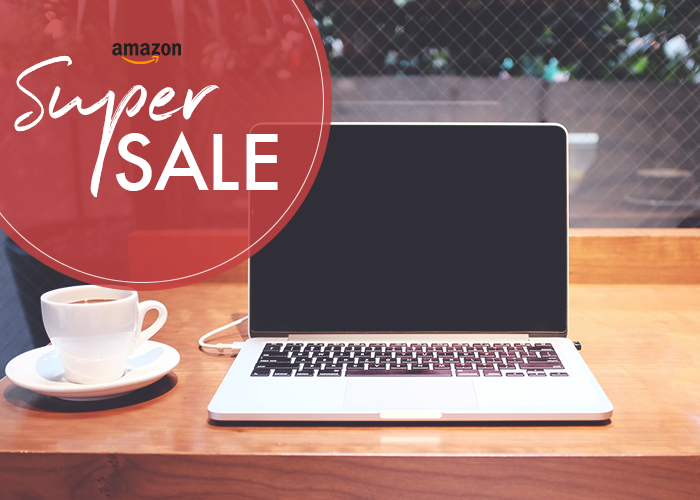 This is our now-weekly roundup of awesome, useful products currently at a big discount on Amazon. From the bigger investment items your home needs to the things that are nice to have, we'll be letting you know when the stuff you've been wanting anyway has gone on sale (sometimes up to 72% off) so you can get the best deal possible!
1. Roku Streaming Stick (3600R) (Certified Refurbished)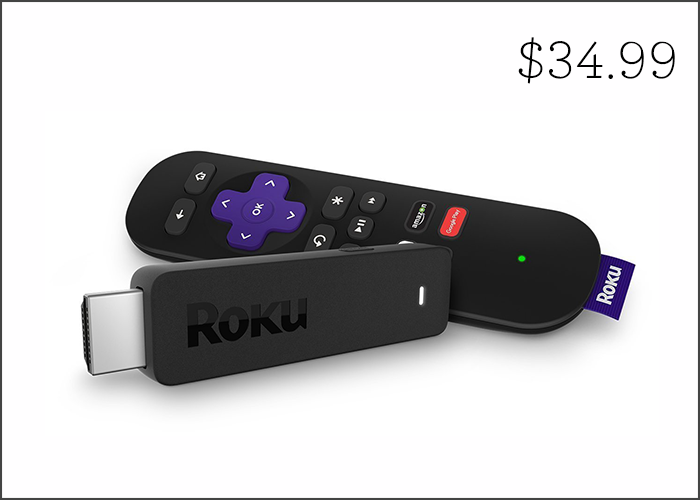 13% off. If you don't already own a little internet streaming device to help you watch TV, than you're doing it wrong. Joe and I have one of these, and it ROCKS. It lets you stream movies, music, shows, games, etc. straight from the Internet, and it makes nights spent in at home a whole lot more enjoyable. This option is certified refurbished, but I've always found that this kind of stuff runs totally fine. If you're in the market for one of these bad boys, check it out now!
2. iPhone 7 6S 6 Screen Protector Glass, amFilm iPhone 7 Tempered Glass Screen Protector for Apple iPhone 7, iPhone 6S, iPhone 6 2016, 2015 (2-Pack)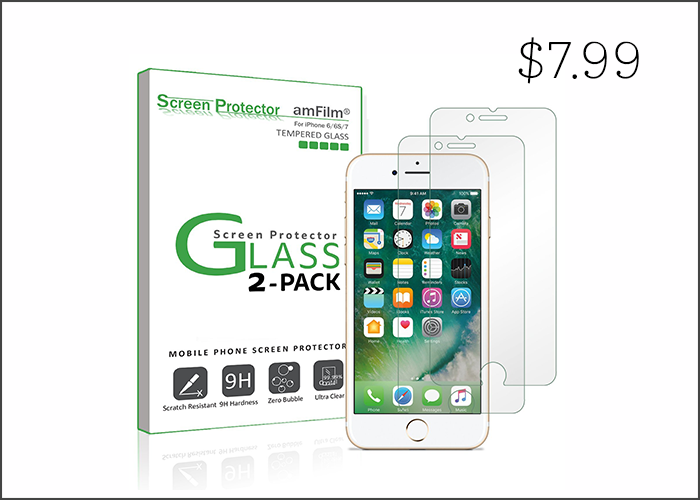 73% off. Oooohh, damn. I can't tell you how many times these iPhone screen protectors have saved my phone's life (and my sanity). It always feels like an unworthy investment when you're at the checkout and they ask you to shell out another $30-$40 on protector glass — I used to think that as long as I was careful and had a outer case on it, what could happen?? Turns out — as most of you already know — the glass in front is usually the first thing to break and needs the most protecting. This Amazon deal comes with TWO cases for only $7.99. So yeah, pretty freakin' cheap. You have nothing to loose!
3. Jackery Mini Premium 3350mAh Portable Charger – External Battery Pack, Power Bank, & Portable iPhone Charger for iPhone 7, 7 Plus, 6s, 6s Plus, 6, 5, iPad, Samsung Galaxy S7, S6, and S5 (Pink)
63% off. Living in NYC means that I'm frequently caught on the subway or out running errands downtown, and then my phone will suddenly die. Having a small portable charger tucked away in my purse is a lifesaver, and it's a very small monetary investment to ensure that I'm never stranded without a way to contact someone. Trust me, these things are 100% worth it. The Amazon deal for these is on mega sale, and they come in an array of bright cheery colors!
 4. KIND Bars, Peanut Butter Dark Chocolate + Protein, Gluten Free, 1.4 Ounce Bars, 12 Count
15% off. When Chelsea started stocking these KIND bars at the TFD office last year, it was really hard for me to resist eating one every single time I was over there. GUH. They're just so good, and I was happy to read that they aren't bad for you either. They're made with natural ingredients, and the bar is a hearty snack that keeps me feeling satisfied for a good long while. Stock up while they're on sale, and level up your desk snack situation!
5. Chef Buddy Grill and Panini Press, Non Stick
68% off. So, I don't own one of these things myself, but every single one of my friends who have one are obsessed. Having the ability to grill something during the cold months is life changing for some (I know a few serious grillers). It's also fun to be able to make paninis, grilled cheese, etc. with relatively little cleanup. And, for someone who lives in the city, it's also a useful kitchen gadget to have if you don't have access to an outdoor area. Yes, this is a luxury to have in the kitchen for sure, but if you were considering one, or considering it as a gift for someone else, this one is on mega-sale. It's a good time to pick one up.
6. Eparé Ice Cube Tray- Large Covered 2 Pack Set w/ Lid – 2 Inch Cubes Mold – BPA Free Silicone
6% off. Omg, these ice cubes trays. They make the biggest most luxurious looking ice cubes that transform any cocktail into something special. Chelsea and I have used them to make fancy ass ice cubes made with liquors and sodas to drop into a glass of prosecco (or even sparkling water). When they melt, they produce beautiful colors and interesting flavor combinations and pretty much make everything in life right again. They're not expensive and they're BPA free too. Woo hoo!
7. STREET CRAFT Set Of-4, Barrel Mugs / Hammered Copper Moscow Mule Mug Handmade of 100% Pure Copper, Nickel Lined, Brass Handle Hammered Moscow Mule Mug / Cup Capacity-16 Ounce
70% off. If you've been looking for these adorable mugs you see all over the Internet (mainly in cozy Instagram photos,  then here they are. And, a whopping 70% off too! These would make an adorable gift or a lovely addition to an at-home bar cart. They're typically used to serve Moscow Mules in, but I think they're equally fun to drink non-alcoholic drinks in as well. Grab them now if you're looking for it!
8. Totes Auto Open Close Golf Size Umbrella, British Tan, One Size
30% off. There's truly nothing worse than being caught in a rainstorm totally unprepared. But, it's perhaps EVEN WORSE when you have an umbrella in tow that is shitty, falling apart, and/or broken and you have to fumble around in the rain cursing yourself for being so stupid. <– Can you tell I've been there? So, invest in a chic and functional umbrella if you haven't already, and never fear a drastic change in weather again!
9. Nexxt Classic Multi Length Shelves, White, Set of 4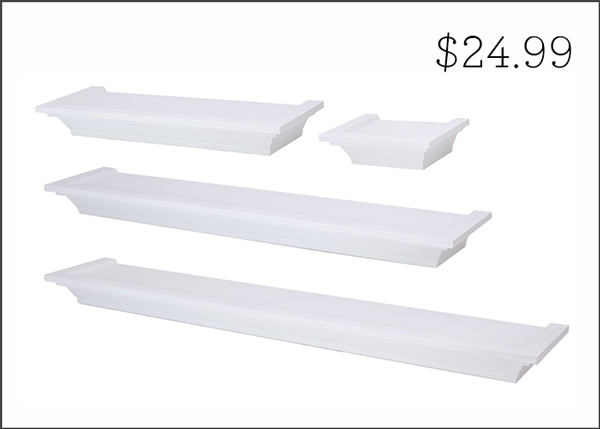 22% off. We often talk about creating storage shelves and utilizing vertical space in your home if you're decorating a smaller space or if you're on a budget. Shelves — especially ones with varying lengths like these ones — are a simple and effective way to add visual interest to any wall. These ones are very highly rated, and are on a pretty solid sale right now coming in at 22% off.
10. TCP LA927KND6 60 Watt Equivalent Non-Dimmable A19 LED Light Bulbs, Soft White – 6 Pack
40% off. LED lightbulbs are more expensive, but they're worth the investment when you think about how much longer they last compared to traditional ones. They are also much better for the environment, which you can read up all about here. This 6-pack of bulbs is the perfect starter pack for a home that's in transition to becoming more energy efficient. $11.99 is a steal for good quality bulbs like these, so get 'em while you can!