TFD's Weekly Amazon Prime Super-Sale Roundup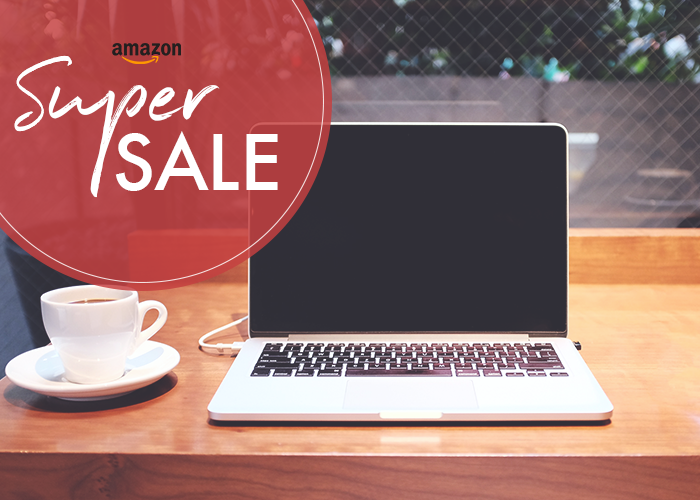 This is our now-weekly roundup of awesome, useful products currently at a big discount on Amazon. From the bigger investment items your home needs to the things that are nice to have, we'll be letting you know when the stuff you've been wanting anyway has gone on sale (sometimes up to 77% off) so you can get the best deal possible!
1. Baebody Eye Gel for Dark Circles, Puffiness, Wrinkles and Bags – The Most Effective Anti-Aging Eye Gel for Under and Around Eyes. – 1.7 fl oz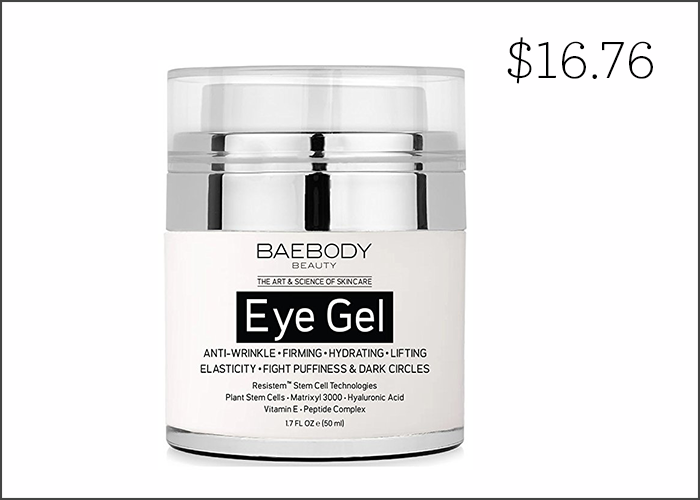 70% off. Good morning, world! I'm here looking fine and feeling tight! <– *What I wish my under-eye bags said to me every morning* Instead, my face doesn't start feeling fresh until I've downed several cups of water + a mugful of coffee, scrubbed my face, and put on under-eye cream and moisturizer. I was using the Origins Refreshing GinZing Under-eye Cream for a while, and really liked it, but I'm always on the hunt for inexpensive-yet-effective alternatives. This Baebody brand under eye gel has very high reviews and is the #1 rated eye cream it the category. Worth giving it a go I should think! And right now, it's a fairly reasonable price. I feel like investing $$$ in your skin always means spending a hell of a lot less on actual makeup, so you save money over the long run. Check it out.
2. Newbely Women's Plus Size Dresses 1950s Retro Vintage Cap Sleeve Party Swing Dress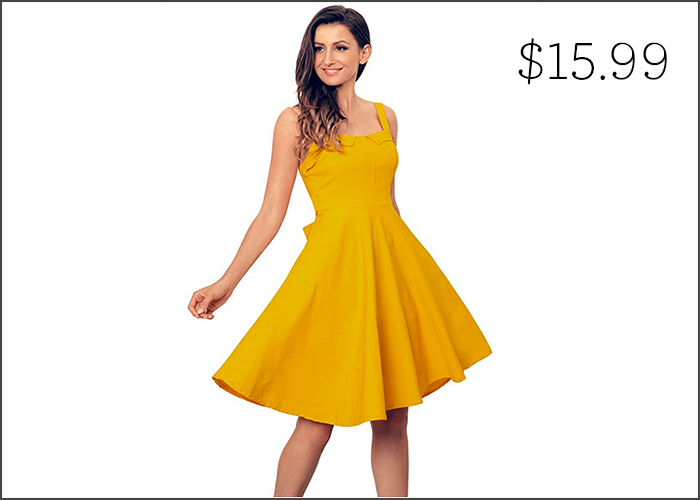 73% off. Summer is over, but I just can't resist this bright yellow, cheerful, vintage-looking dress. It actually reminds me a lot of the one Emma Stone wore in La La Land, as she and Ryan Gosling frolicked around LA. Anyway! It's got a beautiful, romantic, feminine cut, and it's on STEEP discount. For $16, you could buy it now and store it away until next spring, which could be the perfect thing to whip out when the weather becomes warm again.
3. Nine West Women's NW/1996CHCM Gold-Tone and Caramel Colored Strap Watch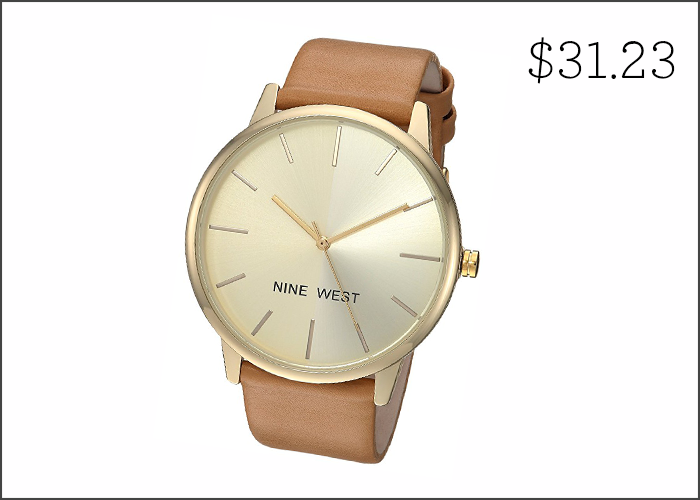 36% off.
 As soon as I scrolled past this watch, I knew I had to include it in this week's roundup. The face on the watch is sleek, minimal, and oversized, and I LOVE the caramel colored leather strap. (No numbers to help tell the time, but I'll deal with it.) The reviews on this watch point out that it can get dirty easily if you aren't careful with it, so I suggest spraying it with a leather protectant if you plan on wearing it often. If you're in the market for a lovely, chic watch, or a gift for someone with #style, might I suggest checking this out!
4. YiYiNoe Silky Fabrics Ultrathin 14 15 inch Laptop Bag Handbag for Macbook Business Briefcase Messenger Shoulder Bag Black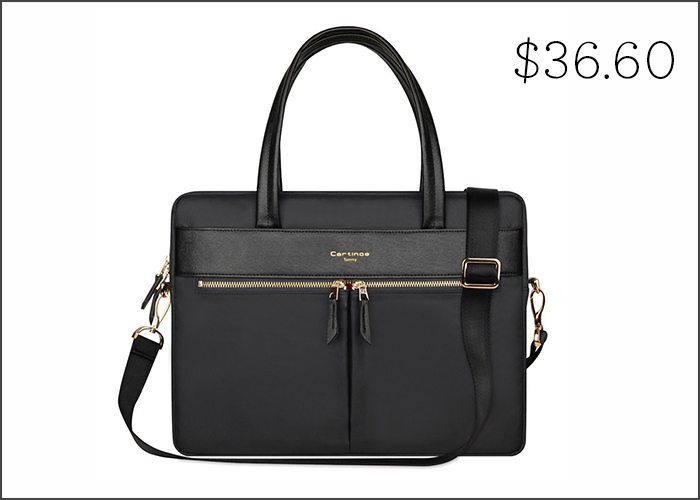 When I was searching for functional and beautiful work bag for an upcoming work trip Chelsea and I are taking, this one kept cropping up. It fits a 15-inch computer, has multiple pockets for storage, and beautiful gold hardware detailing. I love that it looks like a purse and comes with a structured handle for easy carrying. If you're in the market for a new work bag, I think that this could be a very solid option. And! Best of all, it's black, which means it won't show dirt and wear and tear so easily. A bonus for us commuters!
5. Bdcoco Women's Ruffle One Shoulder Cape Cocktail Party Bodycon Midi Dress(7 Colors)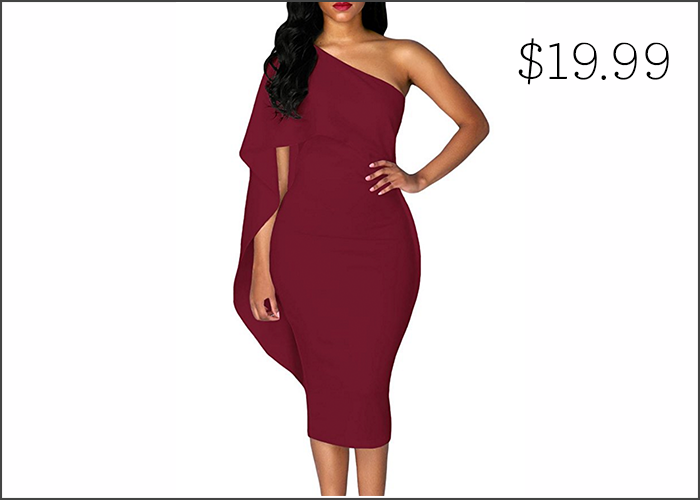 59% off. I nearly died when I saw this fabulous *cape* cocktail party dress. It's so striking and stylish, and I absolutely love statement dresses like this one. Also, check out the view from the back. So dramatic! It would be the perfect color to wear to a fall or winter party, and you could pair it with a high collar black wool coat and these heels, and just look killer. The dress is on steep discount today, so check it out!
6. Hoover UH20040 Sprint QuickVac Bagless Upright Vacuum Cleaner, 1-Pack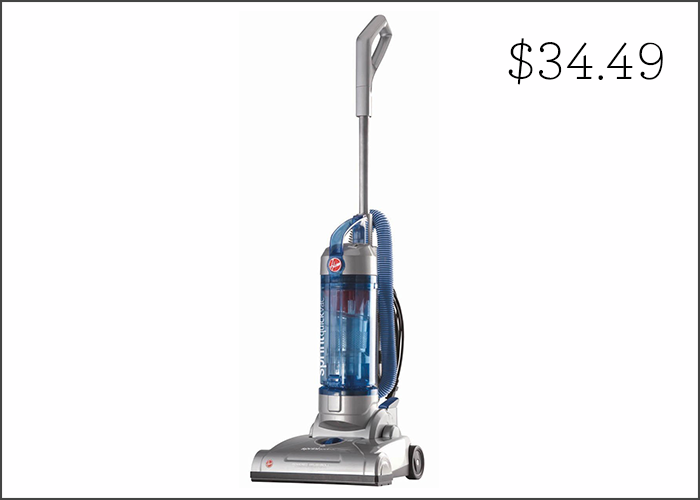 58% off. People that know me know that my vacuum is perhaps one of my favorite household purchases that I use over and over again. There's nothing more satisfying than waking up on Saturday morning, putting on a podcast, and firing up my vacuum to do some deep apartment cleaning. I don't have a large space, so using mine takes no time at all, and it leaves my hardwood floors feeling and looking amazing. Do I sound like a granny?! Probably, and that's okay. If you're looking for one of these, which will seriously alter the way you clean, check out this guy. It's on deep discount and rated #1 in it's category!
7. OMorc Ice Cube Trays 4 Pack, Easy-Release Silicone and Flexible 14-Ice Trays with Spill-Resistant Removable Lid, LFGB Certified & BPA Free, Stackable Durable and Dishwasher Safe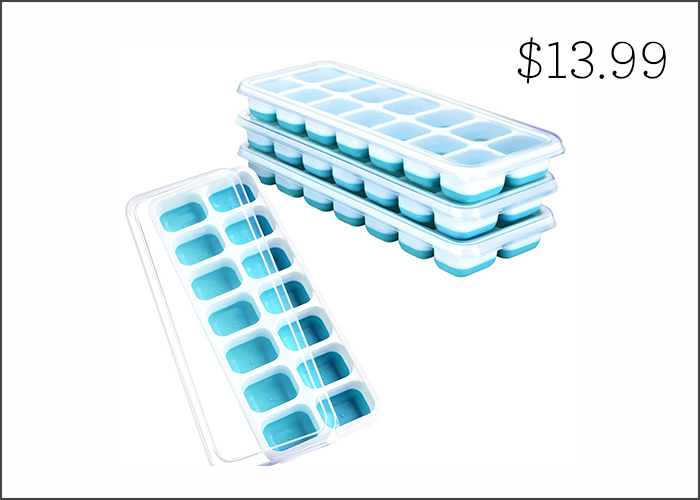 65% off. Just this AM, I vowed to pick up new covered ice cube trays since mine had a bunch of coffee grinds in them after a bag we were storing in the freezer toppled over and spilled into the tray. These covered ones will ensure that your ice stays clean and fresh, and honestly, who wants anything more than that?! I want to live my life with the peace of mind that when I go to shake up a cocktail, I have the supplies to make it happen. It's the little things.
8. Portable Handheld Garment Steamer, WINSEE Fabric Steamer 25s Fast Heat-up 1500W Powerful Garment Steamer with High Capacity for Travel and Home
68% off. The idea of being the woman who carries around a portable, handheld garment steamer is insanely tempting to me. I just might pick one up to carry along with me for the book tour that starts later this year. This model heats up fast and will keep your clothes looking amazing no matter where you are.
9. Heavy Duty Waterproof Hanging Toiletry Bag – Travel Cosmetic Makeup Bag for Women & Shaving Kit Organizer Bag for Men – Size: 10.2 x 4.5 x 8.5 Inch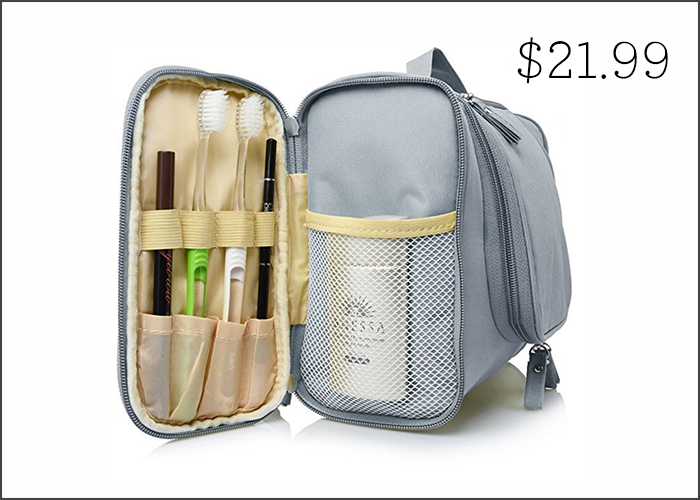 56% off. I recently upgraded my toiletry bag to one that's similar to the one shown above, which has a bunch of useful smart pouches and different ways to organize your various odds and ends while traveling. I love how easy a bag like this makes it to sift through all my stuff while I'm out of the house, and I made sure to buy one that was water-resistant and easy to clean. Look no further than this awesome one! And, at over half off, you can't go wrong!
10. PriorityChef Knife Sharpener, 2 Stage Sharpening System for Knives, Black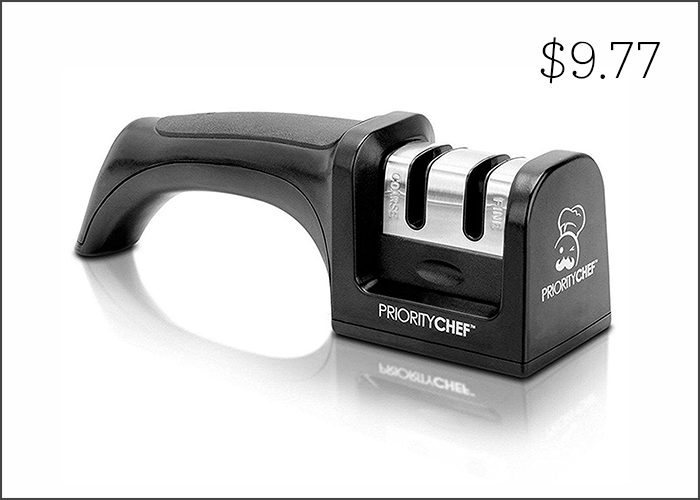 61% off. This might seem random — a knife sharpener — but it's totally worth investing in for your kitchen arsenal. The older I get, the more inclined I am to buy good quality kitchen utensils and tools, even if it means taking time and going super slowly. When I moved in with Joe, we picked up a really nice knife block set, since we do A LOT of cooking at home. In order to take care of it and keep the knives sharp, using a sharpener is essential. It's the kind of thing that will last YEARS, and prevent costly turnover. If you, too, have a good knife set at home, this is a really great way to ensure they perform their best each and every time.