TFD's Weekly Amazon Prime Super-Sale Roundup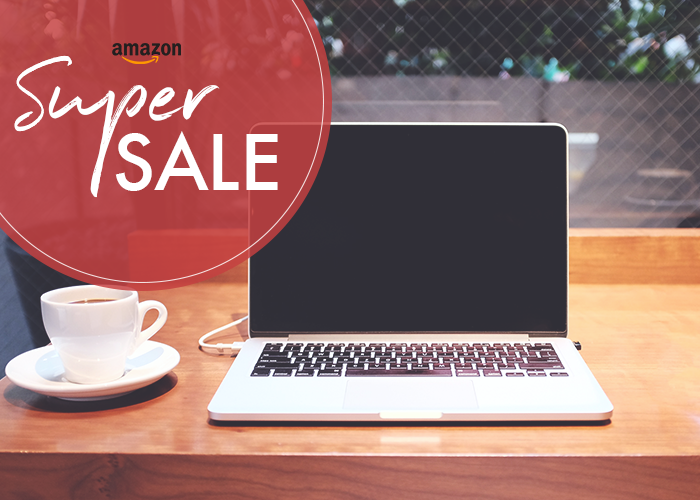 Hello all! Welcome to this week's roundup of awesome + useful products currently at a big discount on Amazon. From the bigger investment items your home needs to the things that are nice to have, we'll be letting you know when the stuff you've been wanting anyway has gone on sale (sometimes up to 81% off) so you can get the best deal possible! Thanks for reading — let's jump right it!
 1. Align Wall-Mounted Vertical Wrought Iron 9 Bottle Wine Rack by True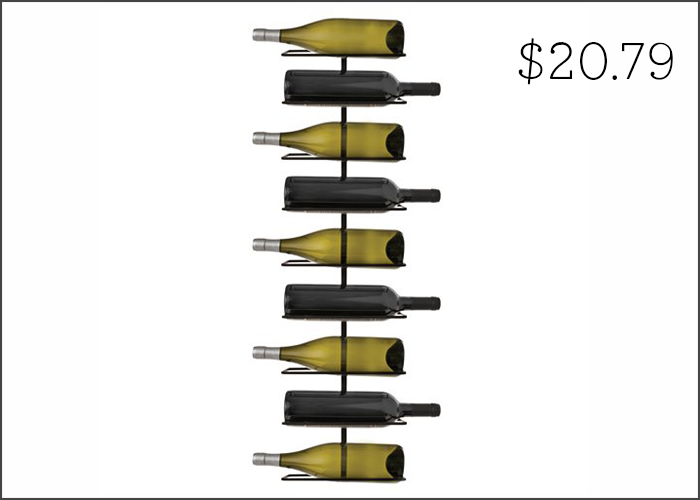 39% off. Kicking off this week's roundup with a very important consideration for you home — wine storage! Vertical storage units are always a great idea, as you can leave floor space open and ready for more important things like furniture and…walking. Lol. We have a mounted wall wine rack in our home, which fits about seven bottles, and it's the perfect size and shape. I like that the one above is so minimalist, so all you have to focus on are the beautiful bottles we all know you chose just because of the label. Like myself! This one is a solid 39% off, so check it out!
2. Baleaf Women's High Waist Yoga Pants Inner Pocket Non See-through Fabric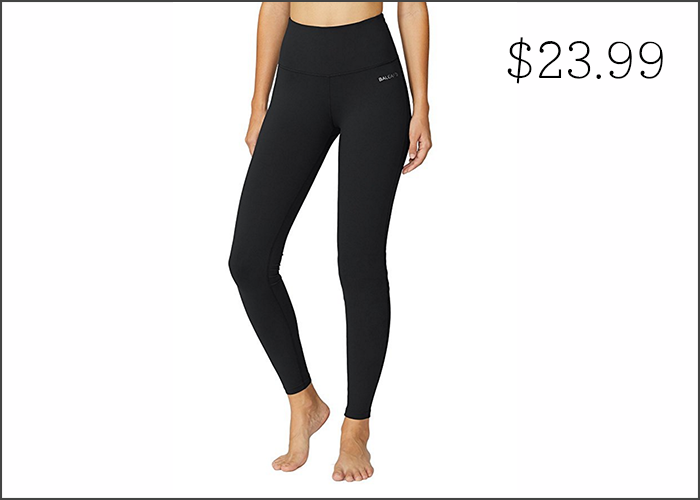 51% off. I *actually* own these leggings, and I wouldn't tell you how incredible they were unless I could vouch for them myself. They rule! I LOVE a good high-waisted yoga pant, especially because when I'm taking class and feel like I'm going to puke from feeling overheated, I can take my t-shirt off and continue the class in my sports bra without feeling so dang exposed. These cover a good amount of my stomach, so I can continue to move through poses without the thought of what I look like. Anyway! They're nice and opaque, they're breathable and stretchy, and they don't cost an arm and a leg to purchase. An overall really lovely pair.
3. Crock-Pot 6-Quart Programmable Cook & Carry Slow Cooker with Digital Timer, Stainless Steel , SCCPVL610-S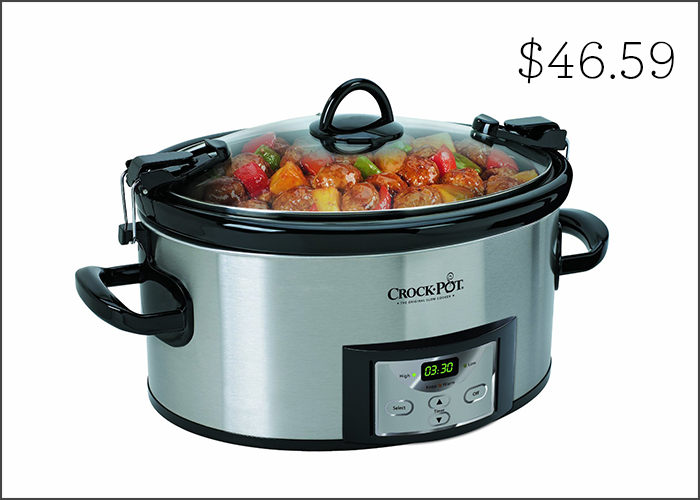 22% off. If any of you follow me on Instagram, then you probably saw my Instastory yesterday where I was making Coq Au Vin in my crock pot. Bless crock pots — they take so much work out of dinner prep, and the results are fantastic. Since I work from home a few days a week, I usually set mine up during my lunch break so it's ready to eat around 7ish. Anyway, it's still 80 degrees here in NYC, but I just couldn't wait to bust mine out and get going on cold-weather dinners. They are a great investment for your kitchen if you like stewed meats and hearty soups that simmer away until they reach a seriously mouthwatering texture. (And if you didn't nod along in agreement to that sentence, may I ask what's wrong with you?!?!) And, surprisingly, they aren't expensive. With a discount, mine was under $50, and this one is on sale for that price, too. Check it out!
4. Hesta Women's Organic Cotton Basic Panties Underwear 4 Pack
47% off. Ahhh, just looking at these super simple, organic cotton underwear make me feel calm and happy. No lace or frilly details, no sayings or rhinestones or crazy colors, just plain ol' comfortable-as-hell undies. Of course, there's a time and a place for fun undergarments and lingerie, but when I received my clothes back from the wash and fold the other day, I noticed that I was seriously lacking in the "comfortable underwear" department. I went out and bought a few nice pairs like these, and never looked back. This set comes with four pairs, is super soft, very highly rated, and made with organic cotton, so it won't irritate your skin or lady parts.
5. InterDesign Pebblz Non-Slip Suction Bath Mat for Shower, Bathtub – Clear
31% off. Once-upon-a-time, I slipped and fell in the shower on a small dollop of shaving cream, and it was honestly like something out of a cartoon, except it was hella fucking painful. Thank god I was not seriously injured, but I did have a bruise on my thigh that took over a week to heal. I never realized how useful shower mats were until that point, and I actually think they look quite luxurious inside a tub. I love those see-through, rock shaped ones, and I found a very similar version, shown above! I bought one the first month we moved in, but it accidentally fell off the fire escape, and went the same way as the small bathroom rug we were drying. Fail. I have yet to replace mine, but this steep discount + affordable price tag is reminding me I need to.
6. Womens Lightweight Lining Hooded Waterproof Outdoor Zipper Rain Jacket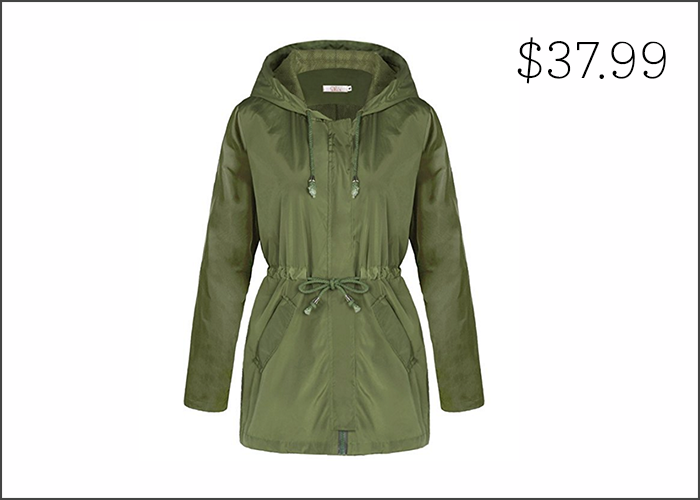 7% off. Rainy days call for umbrellas and waterproof jackets, and if you don't have both of those things, it's time to level up your Inclement Weather Gear. This olive-colored raincoat is an incredible shade of green, and the cinched waist make it useful AND stylish. It also has a lined hood and drawstrings to tighten it. It's hand-wash only though, so beware! A baby discount, yes, but better than nothing. If you're in the market for rainy day wear, be sure to check this coat out.
7. Cast Iron Vintage Double Wall Hook | Decorative Wall Mounted Coat Hanger | 7.75″x4.8″ | With Screws And Anchors by Comfify CA-1504-22-BR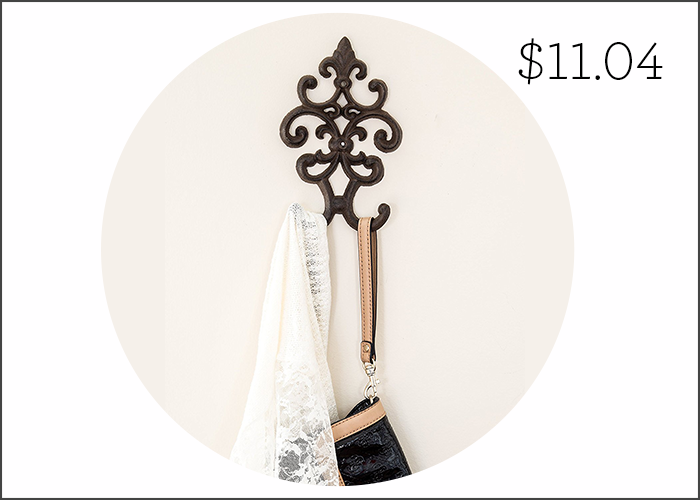 63% off. I firmly believe now (but didn't always) that anything that's going on your wall should be very carefully considered, stylish, and well made. Why? Because if it's going on your wall, it fits into the "home decor" category more than it fits into the "functional" category. I've come a long way since the days when I bought metal coat hooks for our wall, which THANK GOD were too weak to hold anything, so they fell down and had to be replaced. I've always loved the look of intricate wrought iron work, and these hooks are no exception. Sturdy enough to hold coats and bags, and pretty enough to deserve a place of honor on your wall.
8. Cell Phone Stand, Lamicall S1 Dock : Cradle, Holder, Stand For Switch, all Android Smartphone, iPhone 6 6s 7 8 X Plus 5 5s 5c charging, Accessories Desk – Black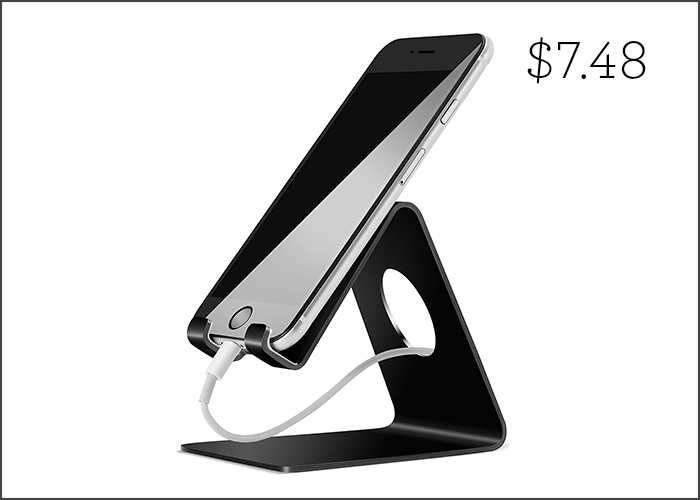 81% off. So, this phone holder is pretty much just a sleek way to display your phone while it charges. And, while I do think it's rather unnecessary in a regular home, it makes more sense when you have limited space. Since we don't have a proper bedside table, Joe will sometimes charge his phone on the kitchen counter, which looks really college apartment-esque because the wire is just straight chilling in plain sight and looking heinous. This holder would at least help tuck the wire back and look more intentional. It's very affordable and would be a small investment to make your home look more put together and streamlined.
9. HapTim Multi-function Baby Diaper Bag Backpack W/ Stroller Straps- Insulated Pockets- Changing Pad Included, Nylon Fabric Waterproof for Moms & Dads(Dark Gray-5279)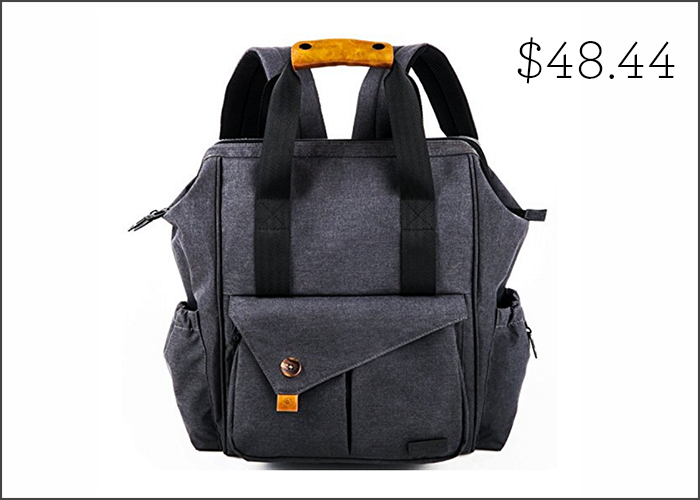 59% off. I stumbled across this backpack, and didn't realize it was a baby diaper bag — so chic! Love the rougher gray texture, pockets, and pop of orange details. Baby supplies and gear can get expensive (from what I'm told), but this functional backpack is nearly 60% off today! I like that this one is gender neutral and doesn't scream BABY. If you're looking for one of these for yourself or friend, this one is worth checking out.
10. Coquimbo Mini Sewing Kit for Kids, Travel, Emergency, Sewing Supplies with Scissors, Thimble, Thread, Needles, Tape Measure, Carrying Case and Accessories (Black)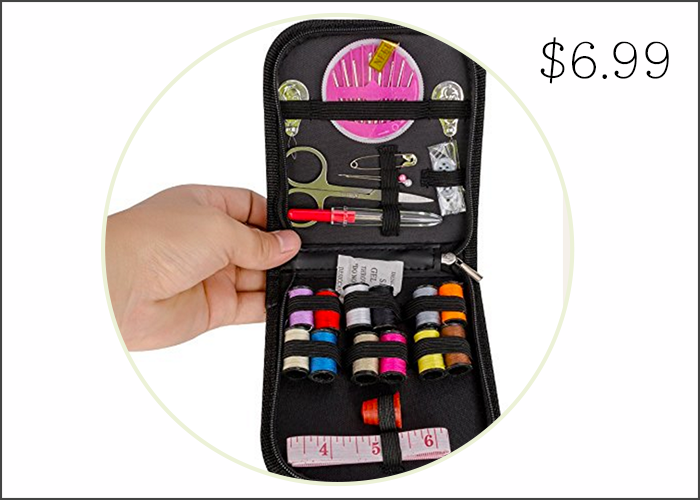 59% off. Just last week when Chelsea and I traveled to Montana for work, I made sure to pack up a mini sewing kit in my toiletry bag. Why, you may ask?? Simply because I wanted to be prepared in case of unforeseen rips or tears in my clothes. I really wanted to avoid that excuse to buy something because of a tiny hole, and being prepared is what ADULTS do. This one has everything you need for a super functional on-the-go sewing kit: scissors, thread, a measuring tape, needles — all the good stuff. And, for the very low price of $7. You can't beat it.