TFD's Weekly Amazon Prime Super-Sale Roundup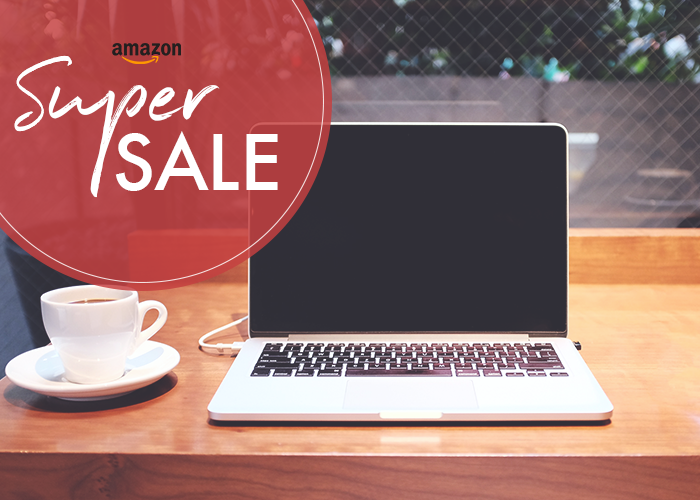 Hello all! Welcome to this week's roundup of awesome + useful products currently at a big discount on Amazon. From the bigger investment items your home needs to the things that are nice to have, we'll be letting you know when the stuff you've been wanting anyway has gone on sale (sometimes up to 78% off) so you can get the best deal possible! Thanks for reading — let's jump right it!
1. OLAXER Ceramic Flat Iron Hair Straightening Brush Comb Straightener Hot Brush with 5 Heat Settings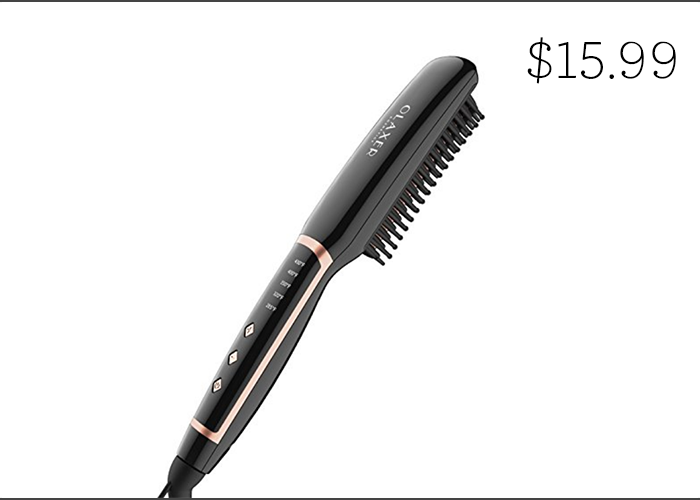 76% off. I couldn't resist putting this straightener-comb in here today, because it is SO on sale. I had a friend in college who had one of these, and I thought it was the niftiest thing and did a great job straightening my hair quickly. The only problem was that they tend to run a little steep. If you've been in the market for a heat styling upgrade, be sure to check this out today.
2. U-Taste 10 Piece Measuring Cups and Spoons Set in 18/8 Stainless Steel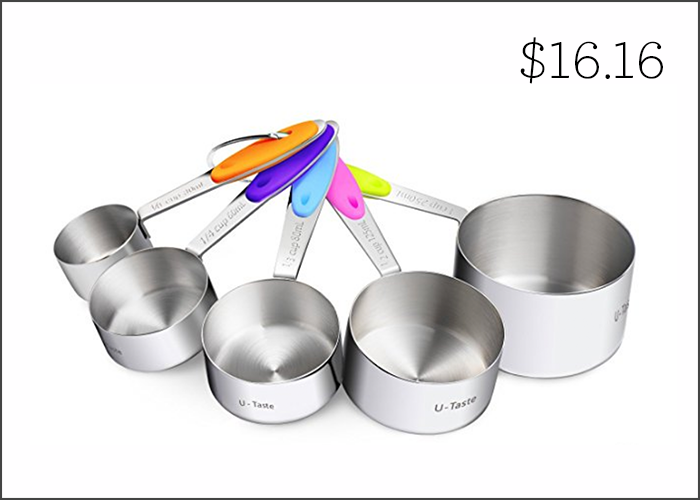 68% off. Don't be fooled by the above photo — this sale is for a set of measuring cups AND measuring spoons! I love colorful kitchen items, so the cute little multicolor handles on these super nice-looking steel cups caught my eye. Plus, the awesome sale price doesn't hurt!
3. NNEWVANTE Coat Rack Bench Shoes Rack Hallway Hall Tree Organizer 2 Tiers Shelves Storage Rack Entryway Natural Color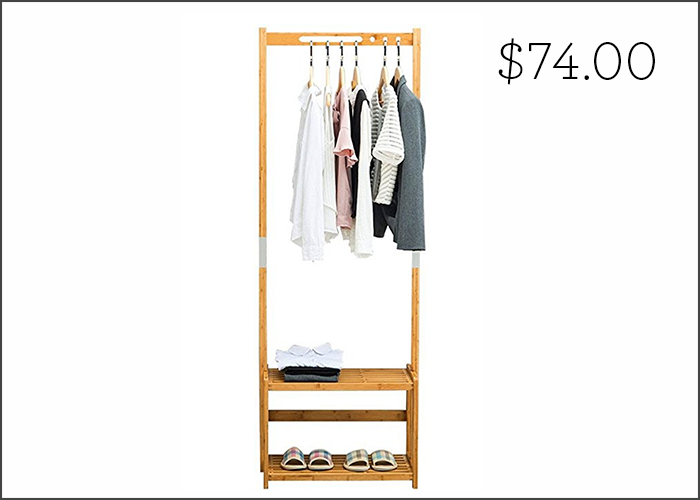 59% off. I can't tell you how much I adore things that are both cute and useful, so this is borderline pornographic. I can imagine this looking great in an entryway, but also in a guest bedroom or home office if you're lacking closet space, or even to add a serious level of chic if you're lucky enough to have a nice big bathroom!
4. Ohuhu Acrylic Makeup Organizer Jewelry Cosmetic Storage Display Boxes 4 Drawers with Top Section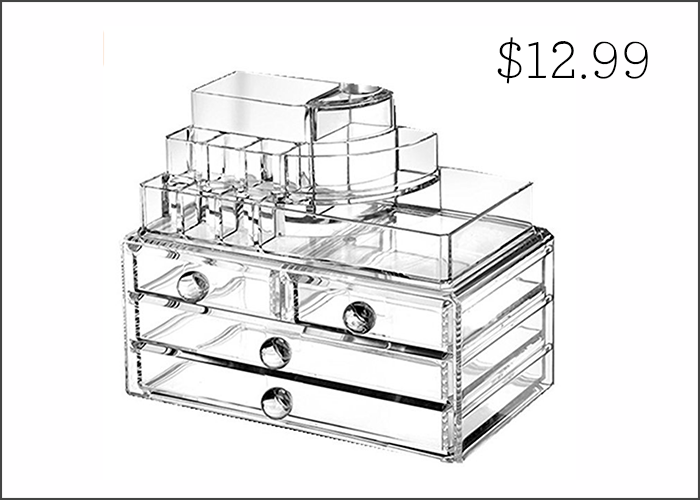 35% off. I wear a lot of jewelry, and I find that keeping all of it in clear, compartmented containers makes it much easier to find what I'm looking for. I keep mine in a drawer, but this container would look so cute on a nightstand or dresser. I'm not personally a huge makeup person, but if you go through a lot of products, this would also be a great way to save space and keep everything organized.
5. Spezia Unique Stainless Steel Designer Anti Slip Spice Rack, Elegant Wall or Door Mount Spice Organizer, SpiderGrip Special Gripper Lining, One Handed Operation, Set of 3 (12 Jars)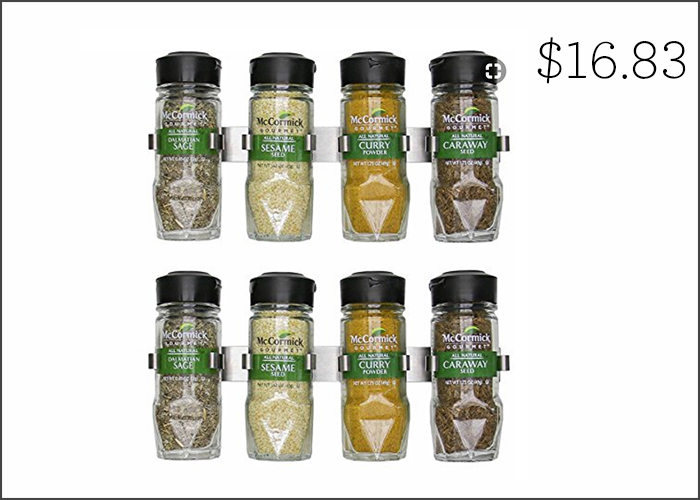 46% off. Oh, the minutes and hours I have lost not being able to find the spice I need in my clumsily organized spice rack. This wall-mounted spice holder makes it super easy to see what you have. Normally, I'd think it was overkill, but the price today is good enough that I'd consider getting a few sets!
6. Greenco 6 Piece Refrigerator and Freezer Stackable Storage Organizer Bins with Handles, Clear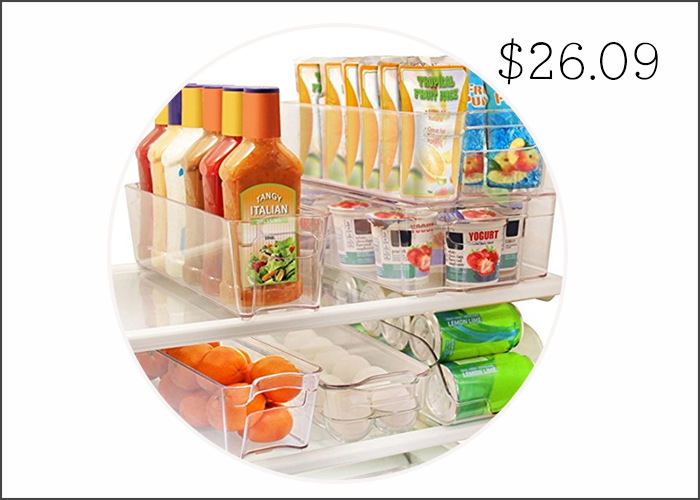 24% off. My current fridge situation doesn't have a lot of rhyme or reason to it, and I can see these organizers helping a lot (especially that little section for sodas and seltzers — cute!). However, these would have really come in handy when I had two roommates, and of the three of us, none were what I'd call "organized." I think these would also help reduce the amount of food wasted — SO much easier to see what you have this way.
7. Queen Comforter Duvet Insert White – Quilted Comforter with Corner Tabs – Hypoallergenic, Plush Siliconized Fiberfill, Box Stitched Down Alternative Comforter by Utopia Bedding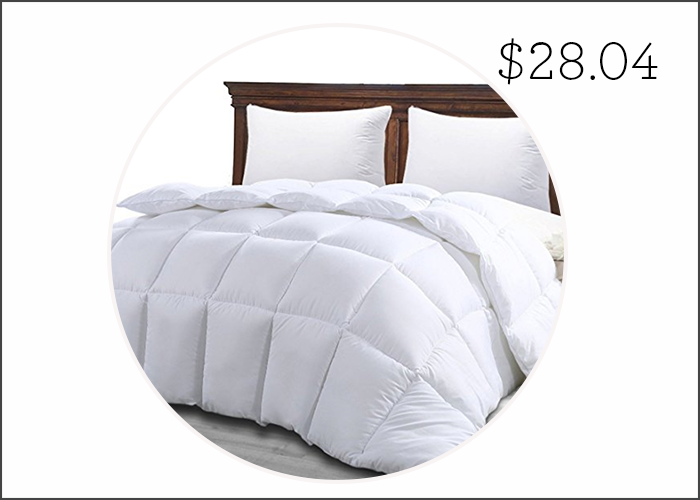 60% off. I love a good down comforter, but damn can they be expensive. This down alternative duvet insert would make any bed look super cozy, plus it has great reviews and is hypoallergenic — and it's at a great price today, so if you're looking for some new bedding, check it out!
8. Silicone Muffin Pan With Steel Frame, 12 Cups Full Size | Professional Non-Stick Baking Molds by Boxiki Kitchen | FDA Approved BPA-Free Bakeware | Silicone 12 Cup Muffin Mold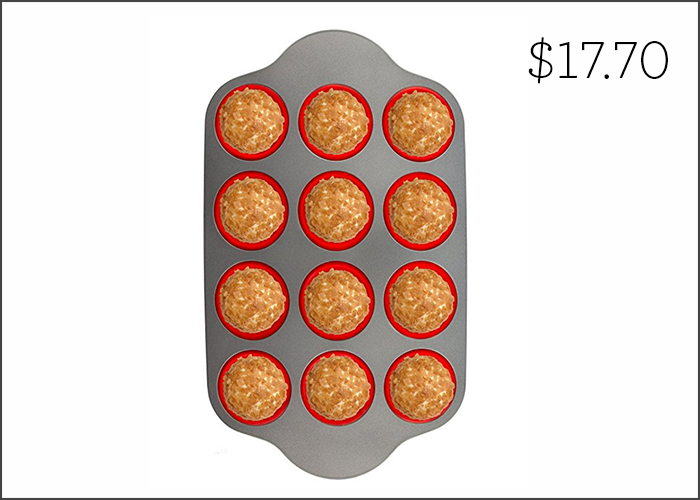 41% off. This silicon baking tray is definitely not a necessity, but I gotta say, it would make life so much easier considering all the times I've had muffin pan mishaps. This is almost half price today and would make an awesome gift for the baker in your life!
9. Meal Food Prep Containers Bento Box – 14 Pack Divided Take Out Lunch Box – Food Storage Portion Control – 21 Day Fix BPA Free, Reusable, Microwavable, Dishwasher & Freezer Safe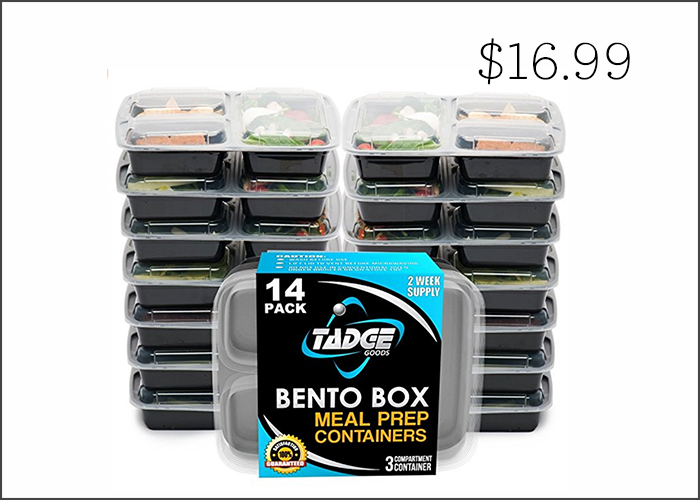 66% off. Meal prep seems to be all the rage these days, and it's not going anywhere — I couldn't resist alerting you guys to this great sale on meal prep containers today! You'll get $14 for $17, which means each comes out to less than a buck fifty. Really not bad, and definitely good for people (like myself) who struggle with portion control!
10. DHP Novogratz Brittany Sofa Futon, Premium Linen Upholstery and Wooden Legs, Blue Linen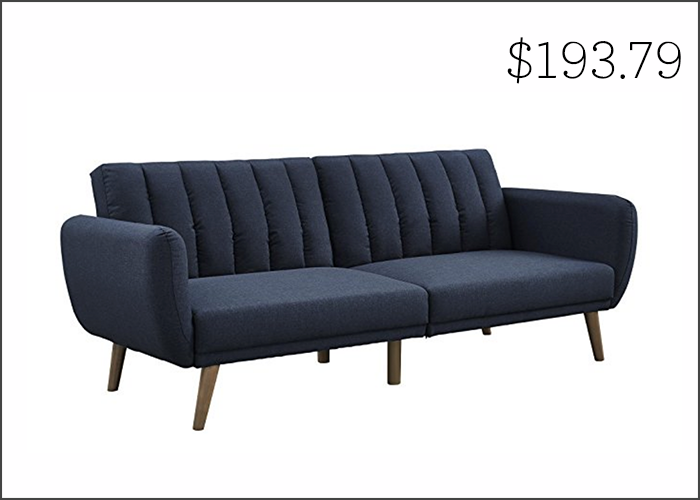 32% off. I am of course not suggesting anyone willy-nilly purchase a futon today. But if you are looking to add a little more sleeping space for guests to your current living situation, this futon comes in a few colors and is much more chic than most. Definitely worth a look-see!