TFD's Weekly Amazon Prime Super-Sale Roundup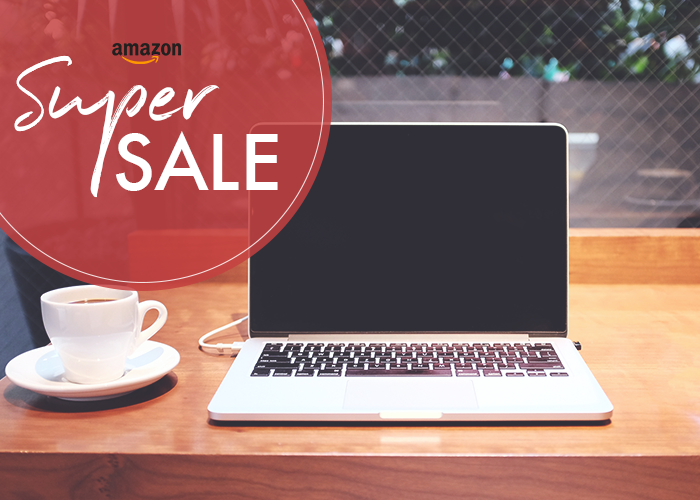 This is our now-weekly roundup of awesome, useful products currently at a big discount on Amazon. From the bigger investment items your home needs to the things that are nice to have, we'll be letting you know when the stuff you've been wanting anyway has gone on sale (sometimes up to 76% off) so you can get the best deal possible!
1. Batiste Dry Shampoo Original Clean & Classic 6.73 fl. oz (2 pack)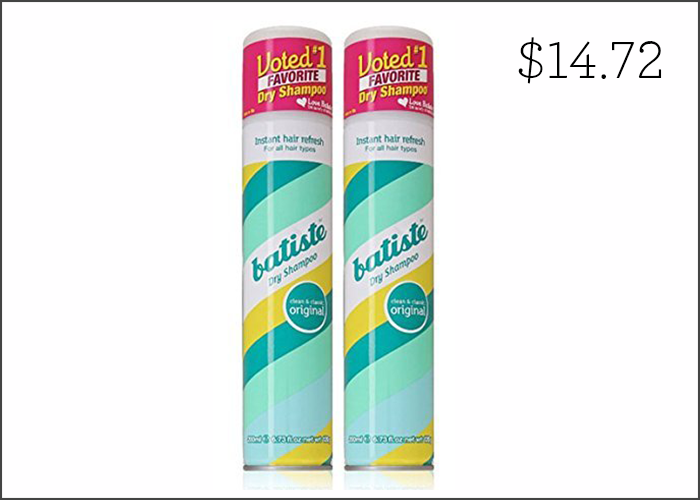 8% off. On those mornings when I've snoozed the alarm on my phone way too many times, having a bottle of dry shampoo in my bathroom cabinet is a total life safer. I also usually keep a mini one handy in my purse in case I need it while I'm out and on the go, and I love that it gives me an excuse to be very low maintenance at times. This brand Batiste is the Amazon Top Rated dry shampoo, and this one in particular comes in a nifty 2-pack. Hooray — a little more bang for you buck!
2. Facial Mask – Hydrating Face Clay Treatment – with Natural & Organic Ingredients for Acne, Deep Pore Cleansing & Spot Treatment – Men & Women with Dry, Combination, Oily or Sensitive Skin – USA Made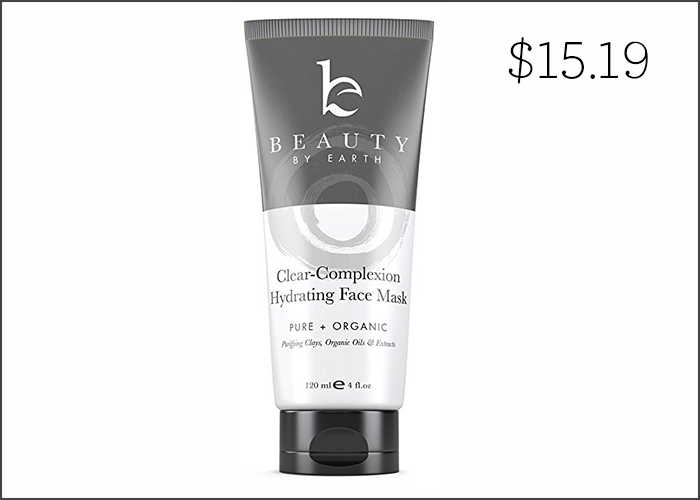 15% off. I'm a bit of a face mask/sheet mask/homemade DIY scrub junkie. This AM, I counted no less than 10 sample-sized face masks in my plastic toiletry bin in my bathroom. I feel like they're the perfect indulgent-feeling thing to add to a Friday night bath + book session at the end of a long week. This brand Beauty By Earth is made with organic products, doesn't test on animals, and snags a 4.5/5 stars in ratings (which is hella good for beauty products on Amazon). I just ordered myself one to try, and I'm super excited to try it!
3. Swan Comfort 100% Cotton Pestemal Turkish Bath Towel, 39″ x 70″ – Blue – Navy Blue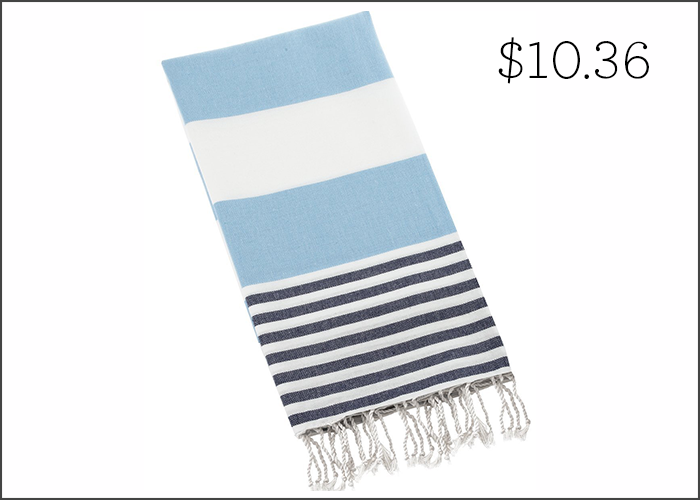 45% off. Ahh look at this gorgeous, vaguely nautical themed Turkish bath towel! It's a beautiful way to upgrade the look and feel of your bathroom for very little $$$, and the look of two of these hanging side-by-side would look *stunning*, if I say so myself. The reviews on it say the towel is sturdy and holds up well, which means it can double as a picnic blanket if you were so inclined to use it that way!
4. EuroSac Natural Cotton String Bag (6 Pack)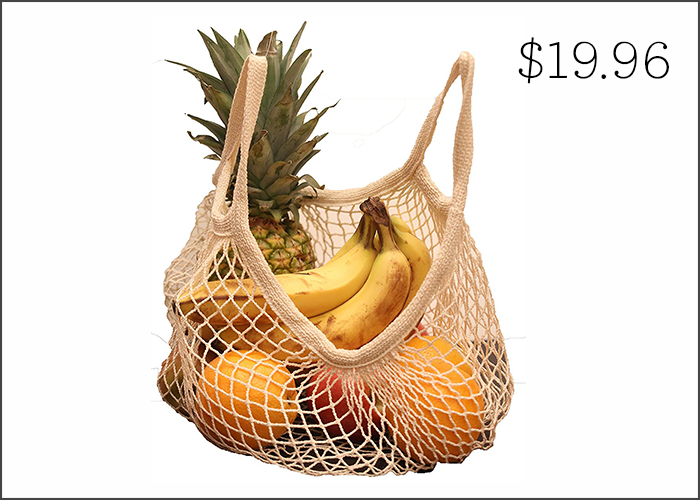 33% off. I know I'm not alone in my love of shopping at the farmer's market when the weather gets nice — what a pure joy to walk among the rows of lovely smelling produce and samples. I'll often use crappy old reusable bags when I go shopping, but how cute are these netted, natural, cotton string bags? This one comes in a pack of six for — what I think —  is the very reasonable price of $19.96. The reviews on the bag are solid as hell (3.5/5), lightweight, and they are easy to clean, which is v important when you think of how dirty these things get (and the potential risk of salmonella if you don't clean it properly.) Finally, while I love the idea of doing my shopping in a big structured straw bag, I love that this one breaks down easily and can fit into a small space when you aren't using it.
5. Simple to Brew Loose Leaf Tea Infuser Cup with Glass Strainer, Stainless Steel Lid and Drip Tray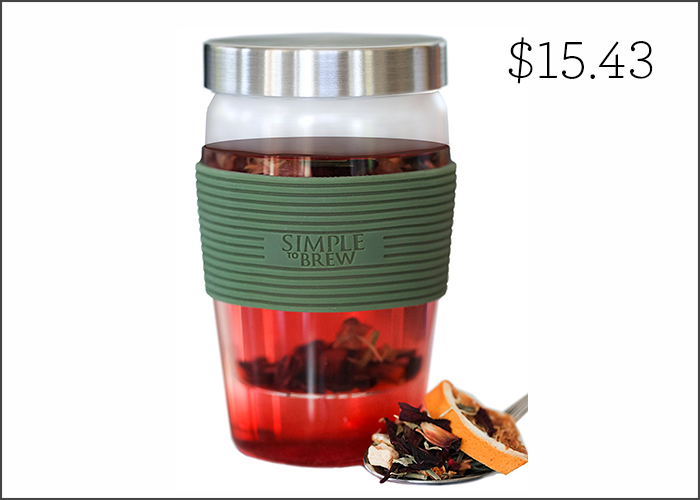 38% off. This beautiful little to-go cup is the perfect solution for brewing loose leaf tea at work (or on the go) without making a production out of it. It's easy to use: all you do is put in the hot water and tea, and then let it steep. It's currently 20% off on Amazon, so it's the perfect time to pick up something like this for yourself or another tea-loving friend.
6. Homfa 4-Tier Gap Kitchen Slim Slide Out Storage Tower Rack with Wheels, Cupboard with Casters – Silver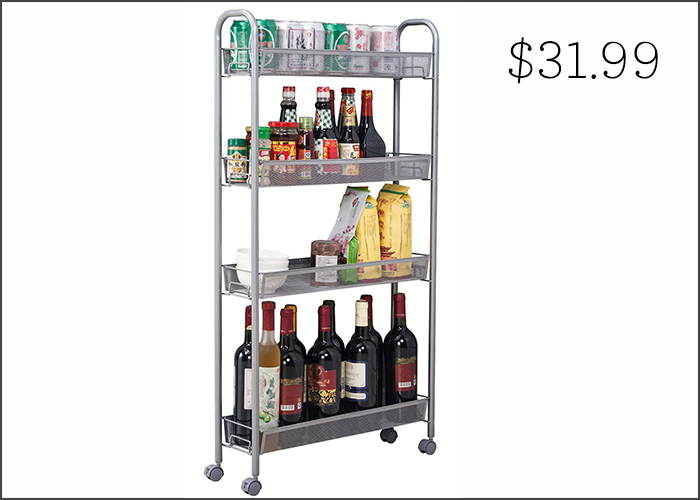 57% off. OooOOooO, if I only had the space to fit something this lovely and functional into my kitchen. 
I love a beautifully designed kitchen cart, and this one is slender enough to slip into a tight space and smaller kitchens. (Unfortunately my kitchen has absolutely ZERO extra space for anything like this…I think my entire kitchen is 10 square feet in total, lel.) This rolling kitchen cart has wheels, which makes it easy to move and the silver mesh siding makes it hard to stain and difficult to clean. Win!
7. Gourmet Basics by Mikasa General Store Stacking/Nesting Metal Basket, Set of 2, Antique Black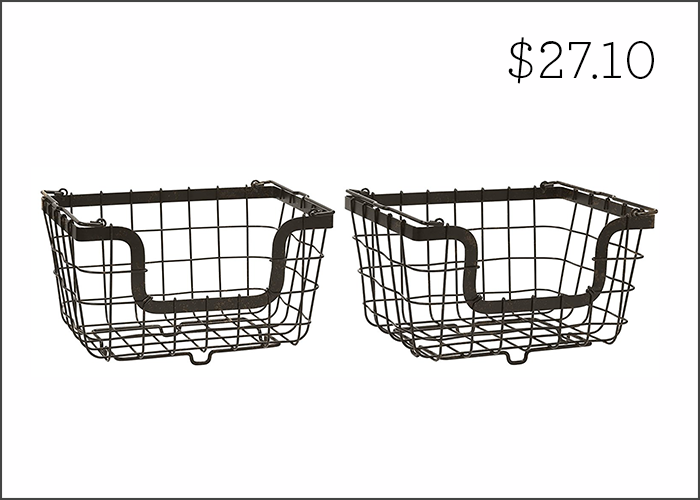 32% off. Another nifty little storage unit that's perfect for the kitchen and a chic place to store things like citrus fruits, garlic, onions, etc., or even little folded up tea towels! This would work equally as well in a bathroom setting, where the baskets could be used to hold hand soap, candles, and tampons in a cute little jar. (The Pinterest possibilities are endless!) Anyway, these come in a love antique black finish and are made of metal so they'll hold up well. If you're looking for storage solutions that are small and stylish, these would make a fine addition to any home.

8. Meelio Coffee Pot,1 Liter Gooseneck Drip Cafe Kettle,18/8 Stainless Steel Stovetop Coffee Pot,Works on Regular and Induction Stoves with Easy Grip Handle and Gooseneck Spout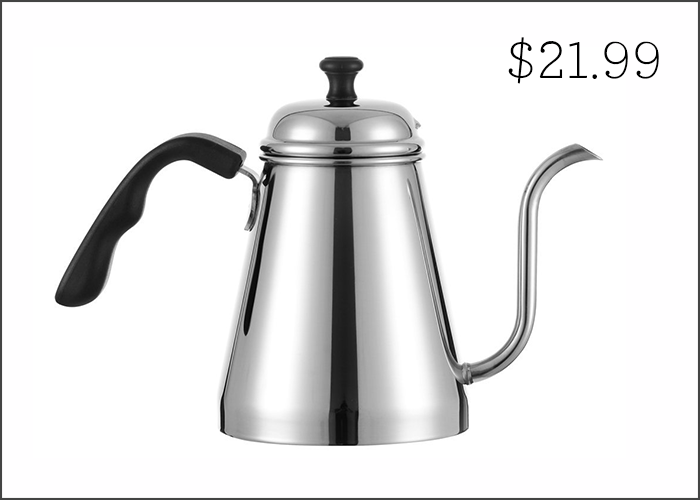 65% off. There's something so elegant about the spout of this stainless steel drip coffee kettle
, and maybe that's enough of a reason to snag this one while it's 65% off. I use an espresso pot at home, but if I ever switched over to pour-over coffee, this is definitely the product I'd spring for to upgrade my morning coffee routine. Again, another 4.5/5 rating (today's list is full of 'em!), so you can rest assured that this will work beautifully and provide serious bang for your buck.
9. Magic Cover Adhesive Vinyl Contact Paper for Shelf Liner, Drawer Liner and Arts and Crafts Projects – 18 inches by 9 feet per roll, Black Toile Pattern
20% off with coupon. I first discovered the idea of using contact paper to line drawers and shelves on an Apartment Therapy home tour, and I think that this floral adhesive vinyl contact paper one is just beautiful. I love how bold yet simple it is, and the fact that it would equally well on black, cream, white, or wooden cabinetry. If open cabinets are a thing you're looking to try out (or already have!), this could be the perfect decorative kitchen hack to upgrade the look of an entire room for very little money. This one comes with nine feet per roll — not too shabby!
10. Bambüsi 100% Natural Bamboo Floor and Shower Mat – Measures 1″ x 23.75″ x 17.75″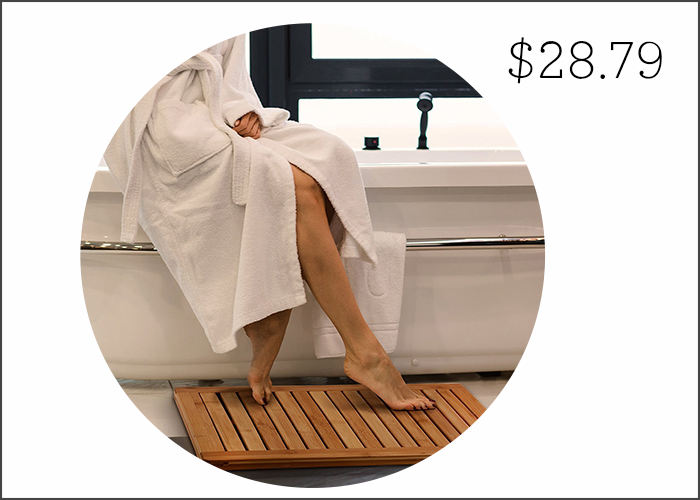 42% off. I currently do not have a bathmat to step onto when I get out of the shower. Would you like to know why? When we first moved in, we purchased a black bath mat which got SO dirty and gross looking from dust and dirt buildup within a week that we couldn't fathom going more than three days without washing it. And this thing was fluffy and heavy, so sending it to the wash and fold was $$$. We were forced to go and dry it out on the fire escape, and some surly construction worker ended up tossing it over the side of the railing while he was touching up the paint on the back of our building. LOL. If I could go back in time and save myself a lot of trouble, I would've purchased this simple and easy-to-clean bamboo one to use instead — and I suggest you do the same.