TFD's Weekly Amazon Prime Super-Sale Roundup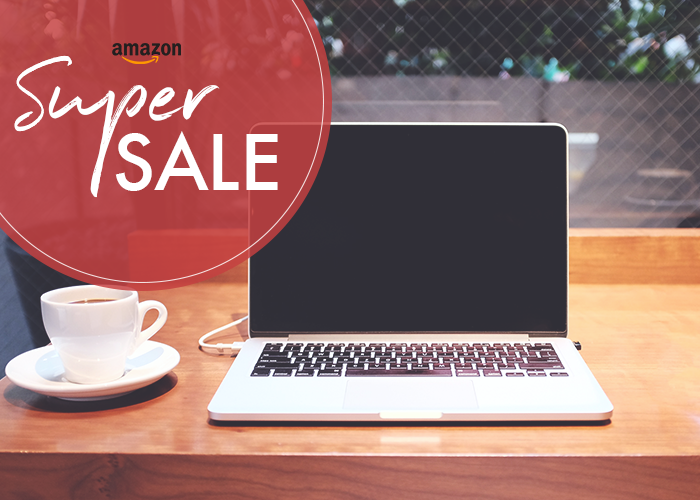 Hello all! Welcome to this week's roundup of awesome + useful products currently at a big discount on Amazon. From the bigger investment items your home needs to the things that are nice to have, we'll be letting you know when the stuff you've been wanting anyway has gone on sale (sometimes up to 78% off) so you can get the best deal possible! Thanks for reading — let's jump right in!
1. PURA D'OR Organic Moroccan Argan Oil 100% Pure Cold Pressed & USDA Organic Moisturizing Treatment for Face, Hair, Skin & Nails, 4 Fl Oz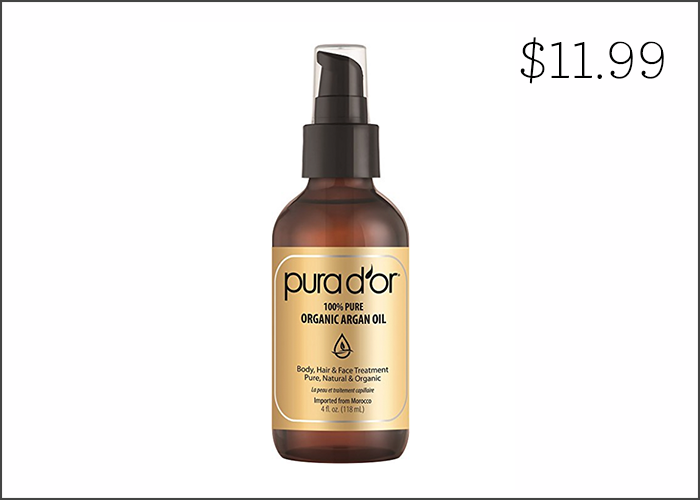 52% off. I have super sensitive skin and haven't personally tried Argan oil, but I've heard of plenty of people who use it successfully as a moisturizer. If that sounds like you, this brand has great reviews from customers, and it's more than half off today!
2. iFox iF012 Bluetooth Shower Speaker – Certified Waterproof – Wireless It Pairs Easily To All Your Bluetooth Devices – Phones, Tablets, Computer, Radio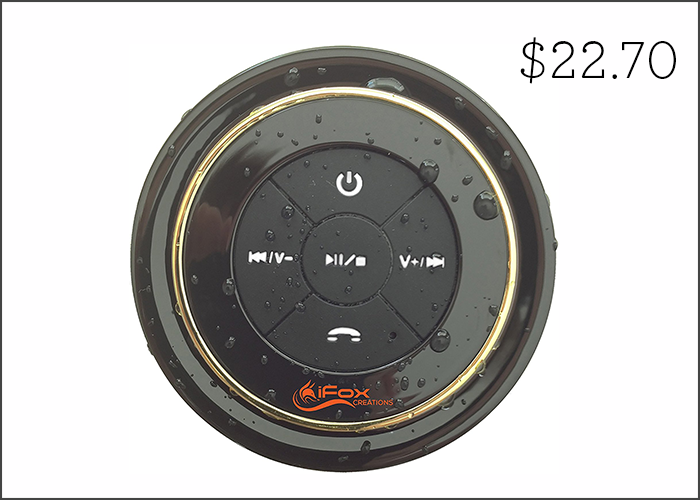 24% off. I love listening to podcasts in the shower, but I can never hear them very well — I'm not about to get my phone or Bluetooth speaker wet just to do so! This waterproof speaker looks awesome, and you wouldn't have to worry about the dangerous (in more than one way) habit of using electronics near water.
3. Dreamegg Sound Machine, 6 Relaxing Sounds Including Fan, White Noise, Ocean, Rain, Summer Night and Lullaby, Built in USB Output & Timer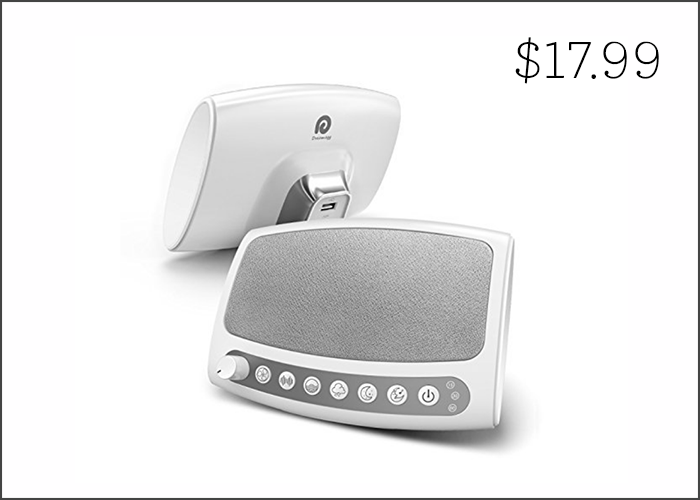 55% off. When I lived in Midtown Manhattan, I almost never slept all the way through the night. There was constant honking out the window thanks to our being so close to the highway, and I just never got used to it. A white noise machine would have been amazing (idk why I never thought of it!), and this one is super on sale today.
4. Aesthetica Cosmetics Beauty Sponge Blender – Latex Free and Vegan Makeup Sponge – For Powder, Cream or Liquid Application – One Piece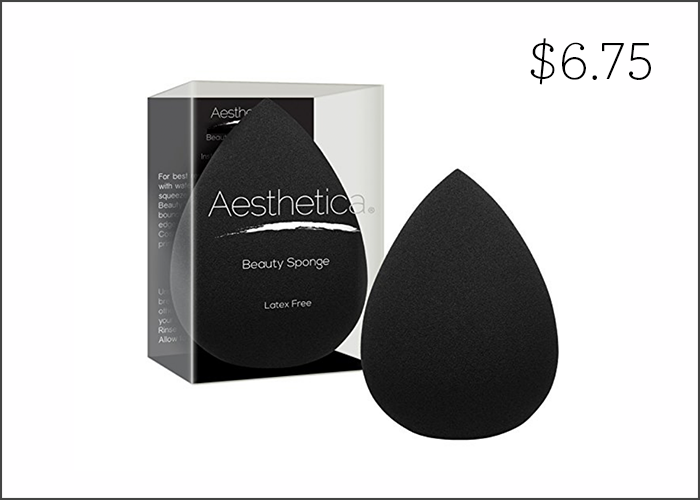 52% off. I cannot tell you how many people I've heard preach the gospel of the beauty blender. I still haven't gotten one myself, and I think the brand-name ones are a little cost prohibitive (i.e. how can a sponge possible cost $22?). But this one is at a great price today, and it has just as good of reviews as more expensive ones — check it out!
5. Levoit Kana Himalayan Salt Lamp Natural Himilian Hymalain Pink Salt Rock Lamps(5-8 lbs,6.5-9), Ideal Decorations & Gifts, Touch Dimmer Switch, 3 X 15Watt Bulbs,UL Cord & Gift Box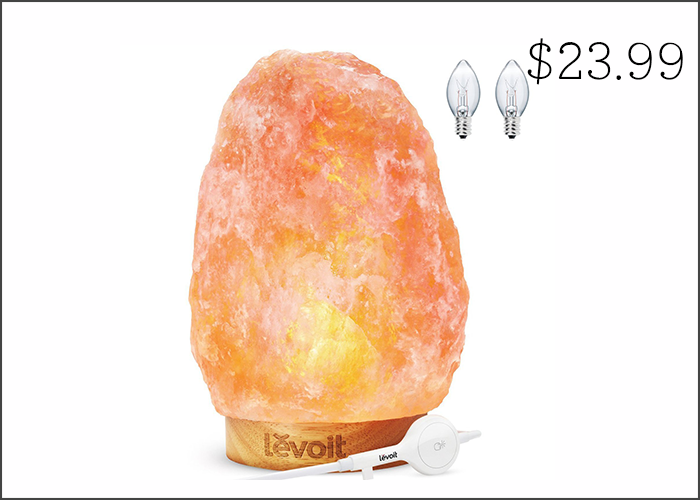 60% off. Full disclosure, I'm not 100% sure what a salt lamp is supposed to do. But my more granola friends all seem to have one in the background of their Instagram cat photos, so they must be helpful in some way. This one is a cool 60% off today, has great reviews, and if nothing else looks like it would give off a pretty, soothing light!
6. SKG Automatic Bread Machine 2LB – Beginner Friendly Programmable Bread Maker (19 Programs, 3 Loaf Sizes, 3 Crust Colors, 15 Hours Delay Timer, 1 Hour Keep Warm) – Gluten Free Whole Wheat Breadmaker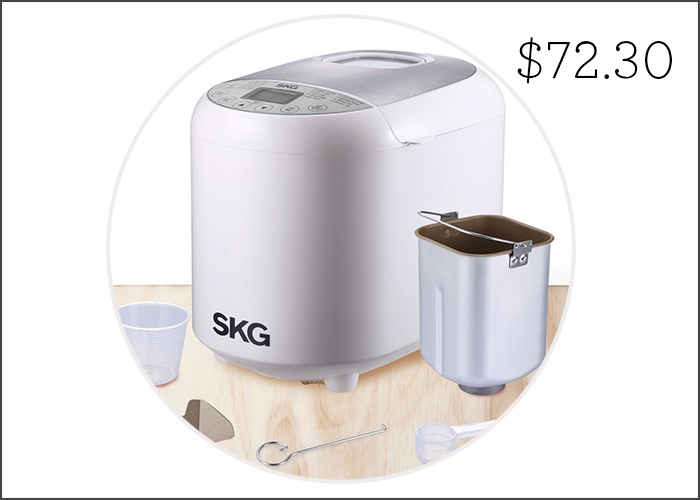 25% off. I probably don't have to tell you about the wonder that is homemade bread, but I'm going to anyway: it's just so much better! But it can also be super time-consuming. If you're a bread aficionado (or you know one), this would be an awesome kitchen addition, and it has a nice little discount today.
7. Ado Glo Manual Lemon Squeezer – Premium Quality Lime Juicer – Aluminum Citrus Juicer with Cooking Sprayer & Mini Funnel (Yellow)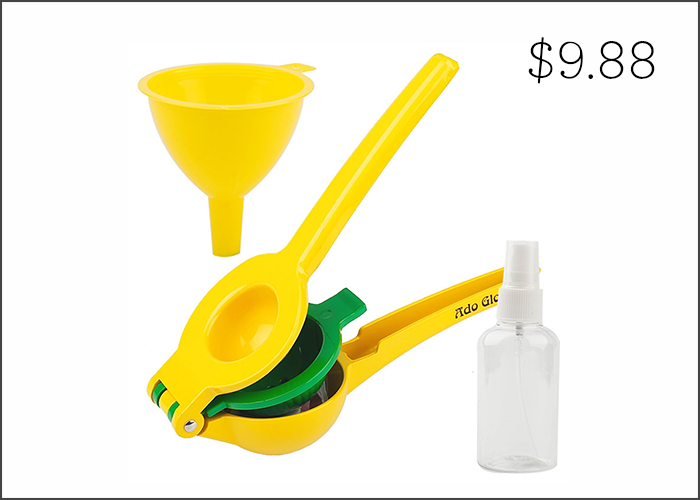 48% off. I generally subscribe to the rule "don't buy any kitchen item with only one use," but the exception is handheld juicers. They just get so much more out of a lemon or a lime than I can with my little hands, and I miss having one in my home. This is just about half price today and is already in my shopping cart.
8. Cell Phone Stand, iPad Mini Stand, Comsoon Universal Adjustable Holder, Cradle, Charging Dock for all Smartphone, iPhone X/8 Plus, Note8, Switch & Kindle Reading, Facetime & Live Stream (Sliver)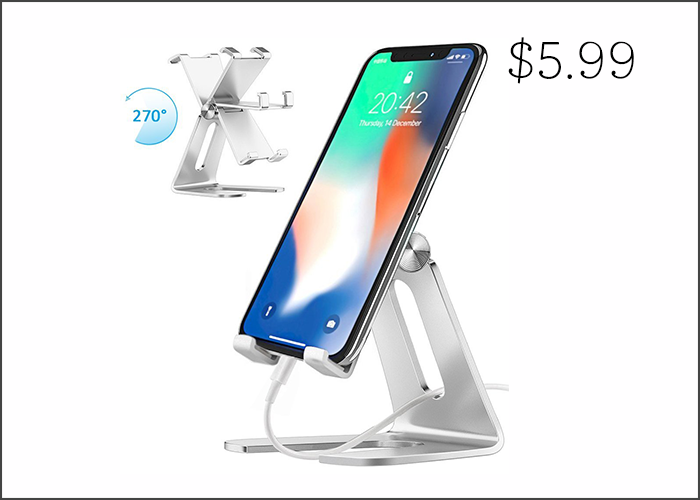 33% off. Not the most exciting sale item, but definitely useful! If you have any need for an adjustable holder for your smartphone, this is super cheap today and has great reviews all around.
9. Trianium iPhone X Wallet Case [Walletium Series] for Apple iPhone x / iPhone 10 Case Wallet Credit Card [TPU Cushion] Protective Holder Enhanced Grip / Card Slot Holder Cover [Heavy Duty Protection]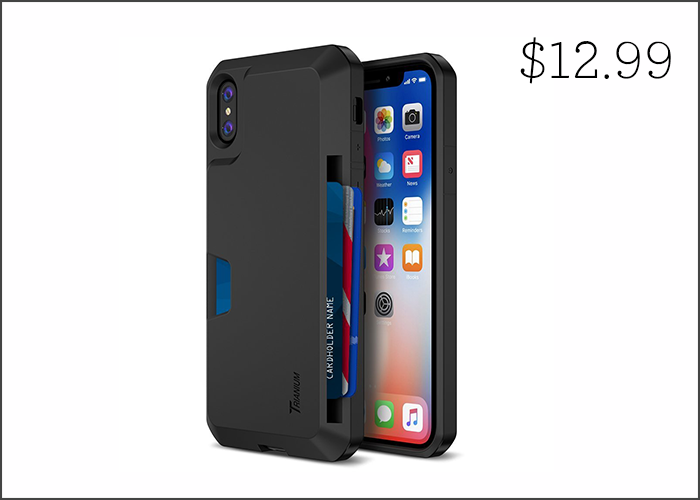 57% off. Your phone was probably super expensive! It deserves a case! Real talk, there is nothing more depressing than accidentally dropping and cracking your phone screen, because it's super preventable. This hardcore case doubles as a wallet and looks like it could protect your precious cargo through legit anything — check it out now that it's way on sale!