TFD's Weekly Amazon Prime Super-Sale Roundup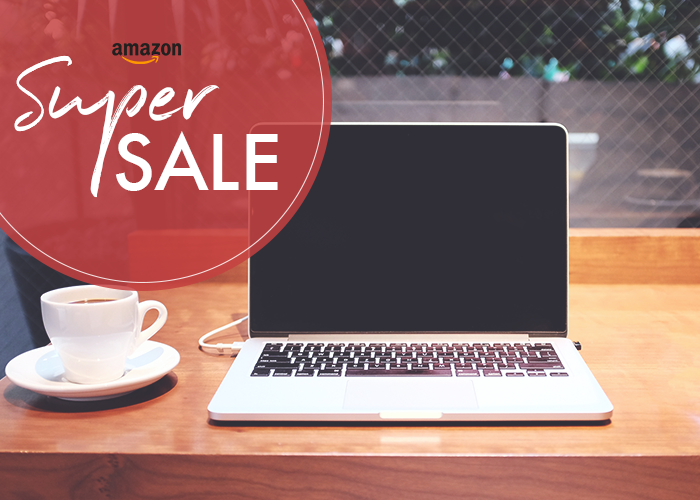 This is our now-weekly roundup of awesome, useful products currently at a big discount on Amazon. From the bigger investment items your home needs to the things that are nice to have, we'll be letting you know when the stuff you've been wanting anyway has gone on sale (sometimes up to 83% off) so you can get the best deal possible!
1. PURELL Advanced Instant Hand Sanitizer – Travel Sized Jelly Wrap Portable Sanitizer Bottles, Scented – (1 oz, Pack of 8)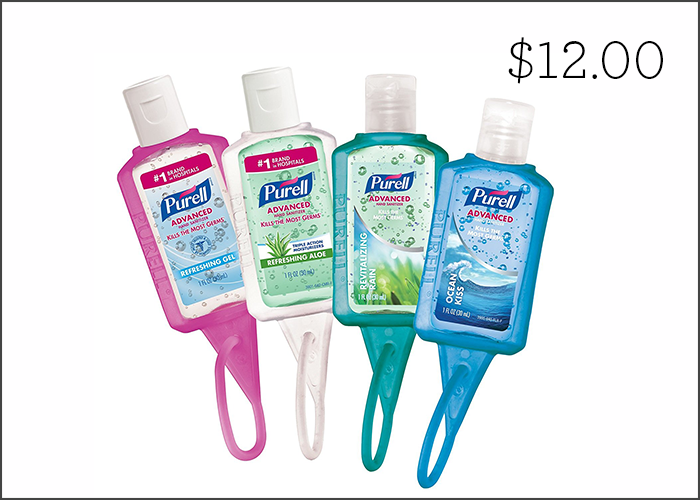 20% off.
 I don't use a lot of Purell, as I hate the way it makes my hands smell and feel, but some germaphobes people living here in NYC are complete devotees. From seeing people riding on the subway and using it, to equipment at the gym, I see it out and about everywhere I go. The above nifty, small, and portable on-the-go jelly wrap Purells are a neat way to stay (almost) germ free. They come in a variety of striking colors that I see dangling from the backpacks and tote bags of students when I walk along the Columbia campus near my apartment. ALL THE RAGE WITH THE KIDS THESE DAYS APPARENTLY, lel. But seriously, these are 20% off so if you're in the market for them it could be a good time to stock up!
2. Motion Trend Lumbar Support – Bamboo Charcoal Memory Foam Back Cushion (Black)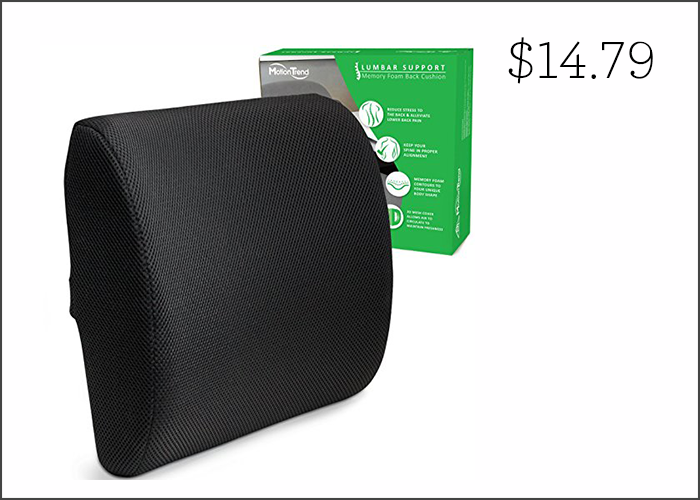 63% off. 
The number one complaint I hear from people who work in an office all day is that their back starts bothering them after spending years sitting in an office chair. Having a good, comfortable, adjustable chair is essential to your overall health and wellness, and it's especially important to protect your lower back. This lumbar support cushion is 63% off today, so if you don't already have one on your office chair (or your dorm room chair where you sit for hours doing homework!) than you should absolutely snag one. Yay for back health and proper posture!
3. ElleSye Shaving Brush and Razor Stand Set with Premium 100% Pure Badger – Silver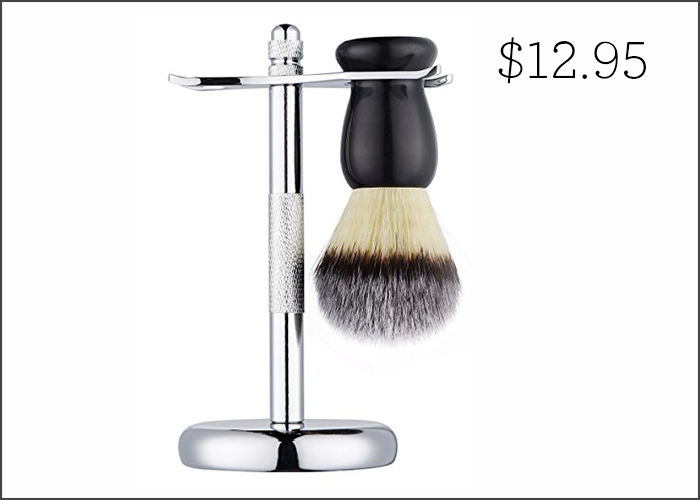 41% off. This might look like a random addition to all the ladies out here perusing this list, but let me tell you — dudes love fancy shaving stuff (I know my Joe certainly does), and it's the perfect gift item for when you have no idea what to buy them. This fancy stand can be paired with a bunch of other themed items like a bottle of good shaving cream and a nice razor. This brush is made of 100% badger hair, and when used with warm water + shaving cream it creates a perfect pre-shave lather that feels (or so I'm told) indulgent and helps to moisturizer the skin. It's 41% off today, so it could be a great time to add something to your home that will look beautiful if it's kept out and displayed.
4.ColorMixs® Hanging Toiletry Cosmetics Travel Bag Cosmetic Carry Case for Woman Man Travel Organization Gift (Navy Circle)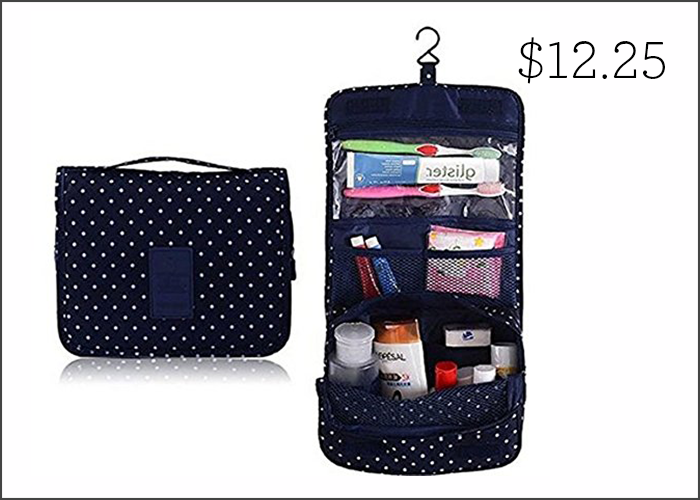 69% off. Oooof, raise your hand if when you travel your toiletry situation resembles a bathroom where a bomb went off and chucked everything around all over the place. *Raises both hands.* Yes, I have a dedicated bag that I throw everything in, but there's no organization! There are no compartments or fancy zipped pouches to separate bobby pins from hair mousse! Gah! This lovely polka-dot patterned travel toiletry kit is organization-spo all the way. It has plenty of smart and useful ways to keep all of your stuff neatly organized, AND it hangs. So that means you can keep it clear off of the bathroom counter, which somehow always manages to get inundated with splashes of water when I'm nearby.

5. Sound Intone Headphones with Microphone and In-Line Volume Control, Perfect Sound with Powerful Bass, Adjustable, Foldable Headset for Iphone and Android Devices  (White)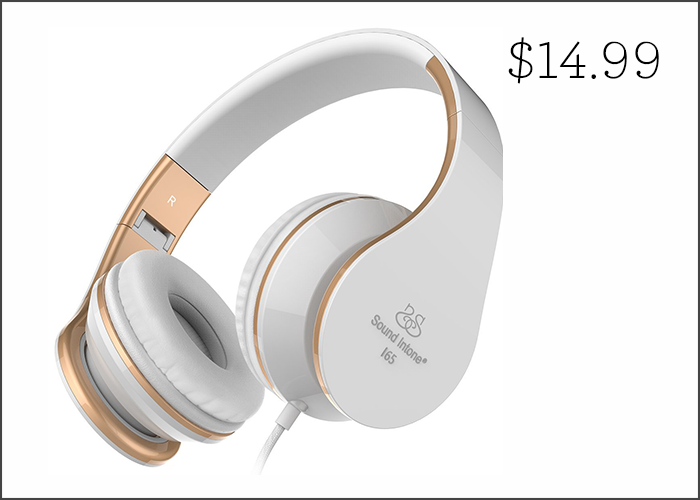 58% off.
 I've put over-the-ear headphones in these roundups before, and that's because I love them and use them every single day walking around NYC — I can't get enough. These white + rosegold ones are super cute and would look adorable with just about any outfit. They feel light and springy — perfect for the warmer weather — and they're extremely reasonably priced. The ratings on Amazon are solid, so if you're looking to upgrade your current pair, it'd be hard to do better than these lovely ones.
6. Plemo Water-resistant PU Leather Sleeve for iPad Pro, MacBook Air and Pro, Notebook,13-13.3 Inch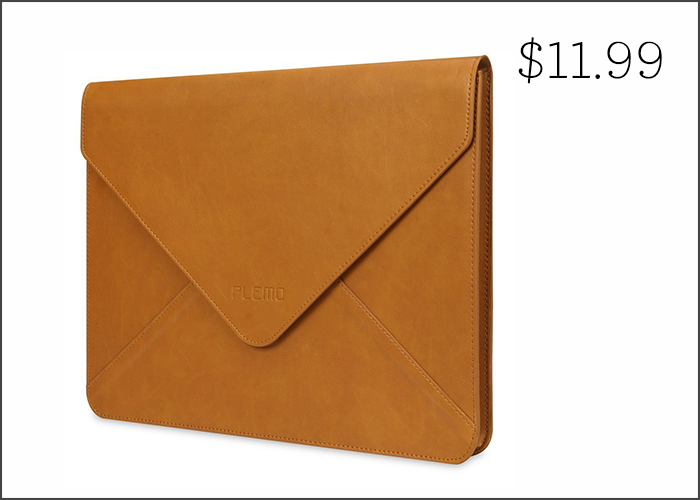 40% off. A few years back, I managed to sew my very own laptop case using gray felt and a microfiber interior that I was extremely proud of. While I did love how it came out, one of the major downsides of using it was that it wasn't waterproof, which is an essential requirement of my laptop case nowadays because I'm taking my computer on-the-go so frequently. This gorgeous and sleek leather one is a beautiful shade of brown, is on 40% off discount, and water-resistant. AWESOME! Need I say more?
7. Xpatee 5 Blades Herb Scissors with Cleaning Brush (Green)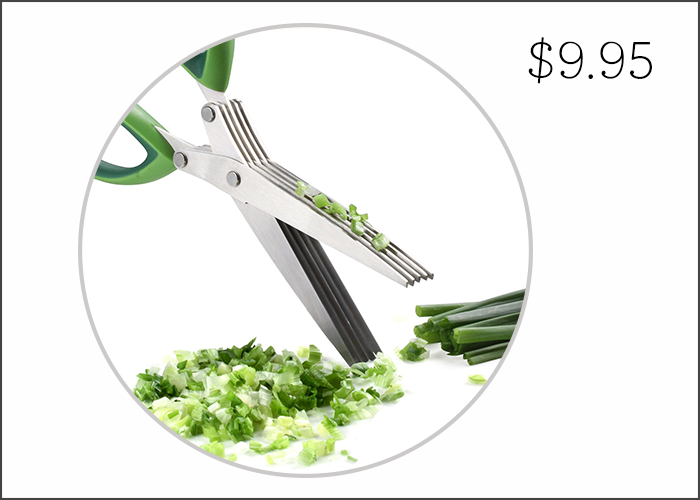 80% off. 
Herb scissors might seem like a superfluous kitchen accessary, but say that after you've spent 15+ minutes chopping up various herbs needed for a spring-themed dish or a hefty batch of homemade pesto sauce. These 5-blade scissors are so inexpensive, setting you back a mere $9.95, that they would almost pay for themselves after using them a few times over buying pre-cut herbs and jars of sauces. If you threw a pair of these together with a basil or cilantro plant wrapped in twine, it could make one sweet housewarming present that I'm sure anyone would love.
8. Winsome Wood S/2 Beveled Seat 24-Inch Counter Stools, Nat/Wht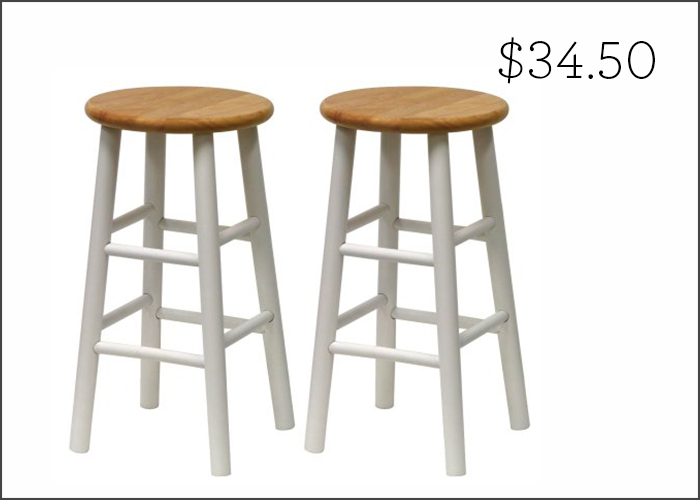 15% off. 
If you are blessed enough to have any kind of kitchen island or counter that could function as a breakfast bar, then I SERIOUSLY envy you. When I came across these kitchen stools, I was having visions of myself reading a book in the early Sunday morning light while I steadily made my way through a plate of blueberry pancakes + coffee…hey, a girl can dream! Anyway, these come in a pair, are relatively inexpensive, and serve as the perfect canvas to paint a bright color if you choose to do so! 15% off as well, so not too shabby.
9. Farberware 15-Piece Triple Rivet Forged Knife Block Set, Black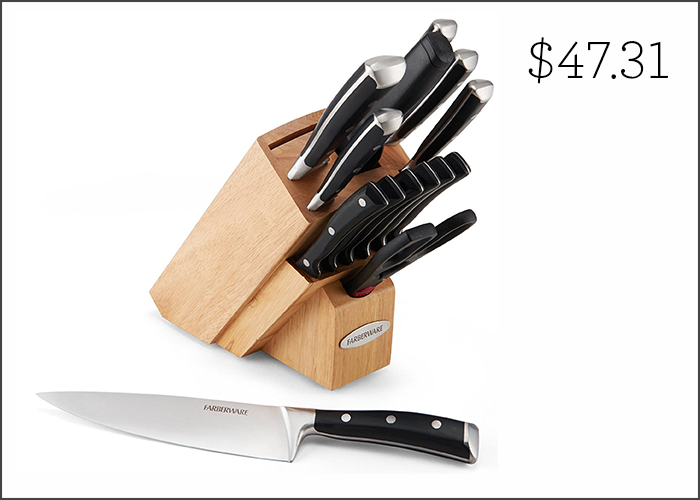 16% off. A good knife set is the key to any well-stocked kitchen, and this Faberware set gets insanely high ratings, it comes with 15 different pieces, and it doesn't cost a lot as an investment item. I highly recommend grabbing one of these if you don't already own one, and it will seriously make cooking at home feel a lot less painful. (PS. This set also comes with a sharpener, which will help keep your blades in tip top shape for the long haul. #Bless.) 
10. Japanese plate set, blue glaze design of "Bankoyaki" style, set of 2 plates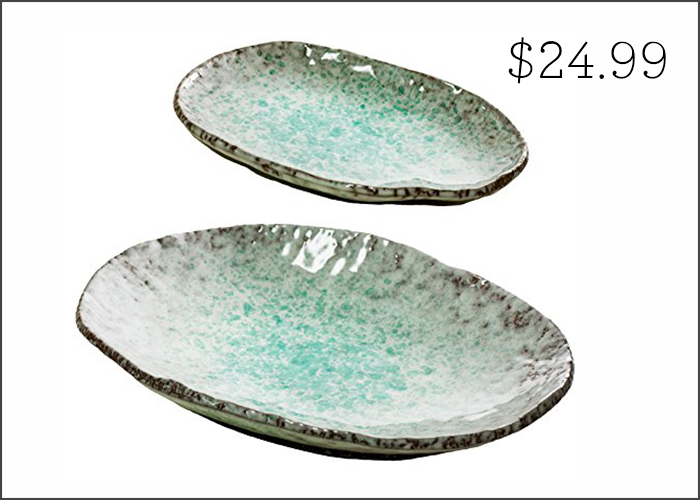 83% off. HOW FREAKING BEAUTIFUL ARE THESE SERVING PLATTERS. Oh wow, the light blue, cream, and brown look so beautiful together, and these plates would be such a delight to whip out at a festive summer dinner party. It would also make one amazing housewarming present for a friend. These plates are microwavable and dishwasher safe — always good to know — and are glazed so they're easy to wipe off and clean. They're a whopping 83% off, so grab 'em while you can!