The $3 Treasure Hunt: Creating A Look From A Big City Yard Sale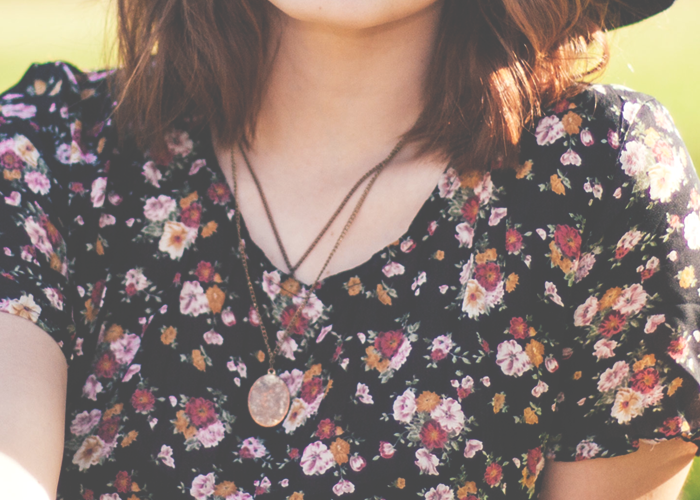 It's the sixth week of the $3 treasure hunt and the mission to find the best buys at our favorite stores continues. Last week, we looked at IKEA kitchen supplies for under $3, which involved me thirsting after a glass cup and saucer for $2.99. This week, I wanted to take a different approach. While finding the inexpensive items at stores is an incredibly worthwhile goal (and there are still great crowdsourced suggestions I'll get to in the coming weeks), I also think it's important to learn our way around other budget shopping techniques. With this in mind, I want to work on expanding to thrift stores, and other well-known secondhand shops, so we can all start thinking out of the box when it comes to dressing, eating, drinking and furnishing for the right price. If you have any other $3 treasure hunt ideas, I'd still welcome them. Email me: maya@thefinancialdiet.com.
So, I wanted to start by creating a look at a "stoop sale," or rather, any yard sale held in a big city. And my new mission was to make a look using only articles of clothing, shoes, or jewelry that I could get for under $3.
Here is how I created a #look (from a stoop sale in Astoria, NY last weekend), and some tips to help you navigate a big city yard sale.
The full yard sale look: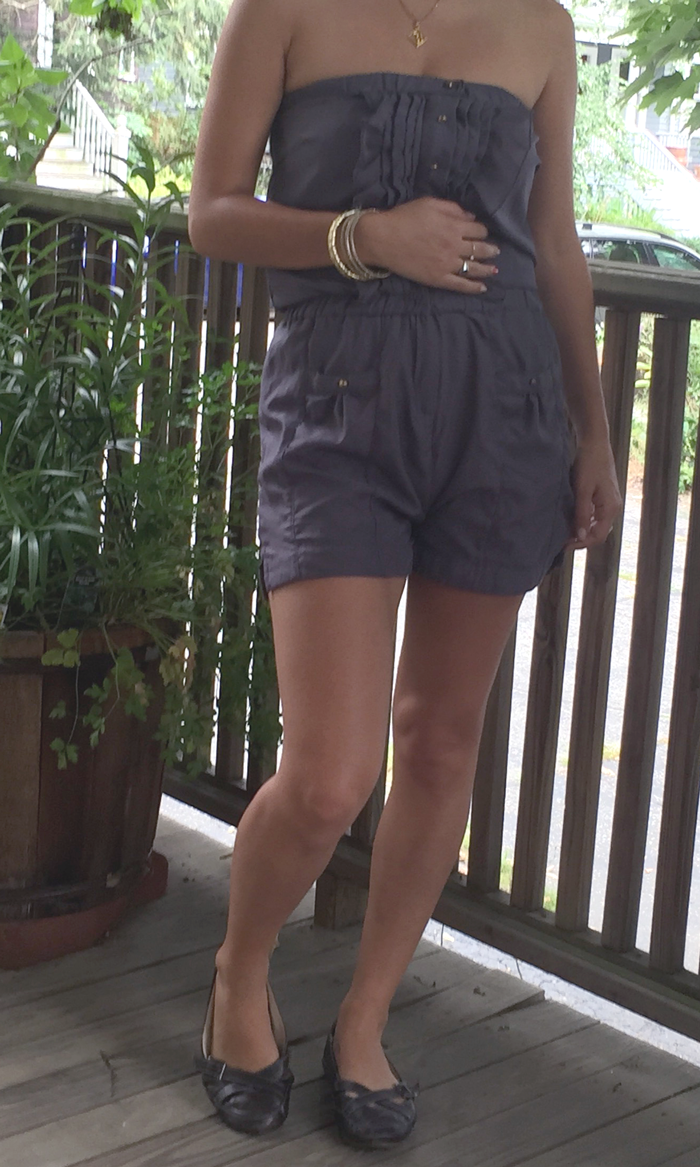 Like any stoop sale, this had a huge amount of stuff the seller was trying to get rid of, and about 40% of it was in almost unusable condition. But if you sift through, you can find some great clothes and decorations.
Old candles and decorations: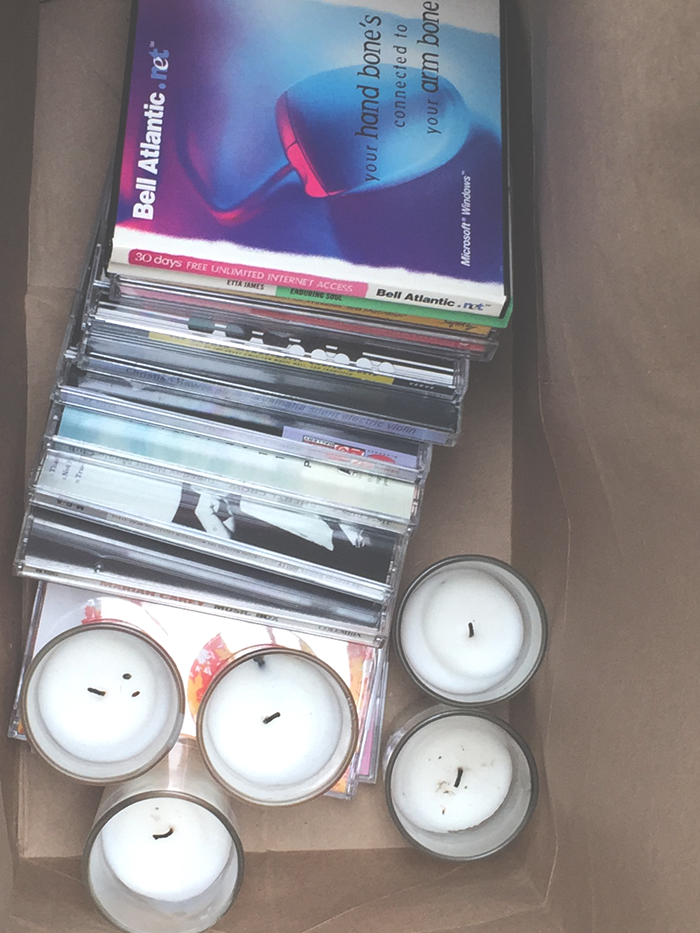 I don't have any use for the CDs (most unfortunately), but I had to hold myself back from buying the candles. Matching candles like this can go for $2 each at a pharmacy, maybe more. But picking up a candle that's 90% unused for 25 cents is, in my opinion, well worth it. The seller also had a magnificent display, and my good friend bought an Elton John record for $1 (another purchase that's perfect to use for decoration, or an inspiration board, if you don't have a record player).
First, I looked through the jewelry. Everything was mismatched, but as I sifted through, I noticed that a few of the bangles were part of a set. Then I found a gold bracelet that would look good with the bangles, or work as a stand alone piece.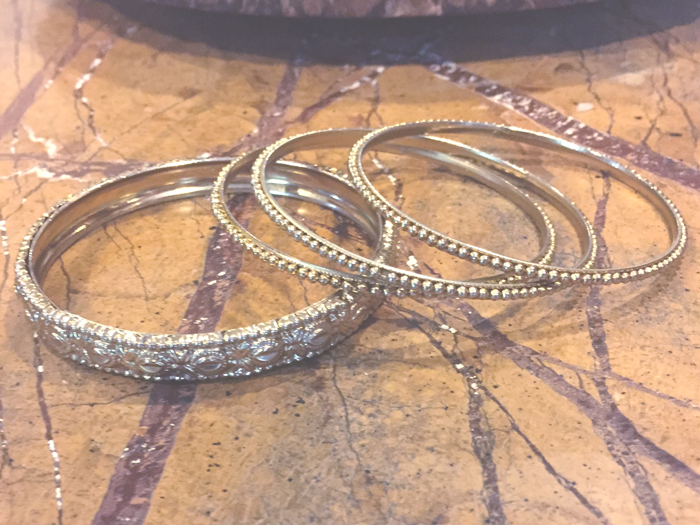 It was clear she wasn't going to get rid of all her jewelry, so I convinced her to give me the the 3 bangles and the bracelet for $1.
Necklaces are the same way at these sales. They're all tangled, but whoever is selling typically won't mind if you untangle them and take a closer look. More often than not, wrapped around a half-broken chain, you'll find a nice statement necklace, and the seller will let you keep it for $1-$2.
Here's my $1 jewelry look: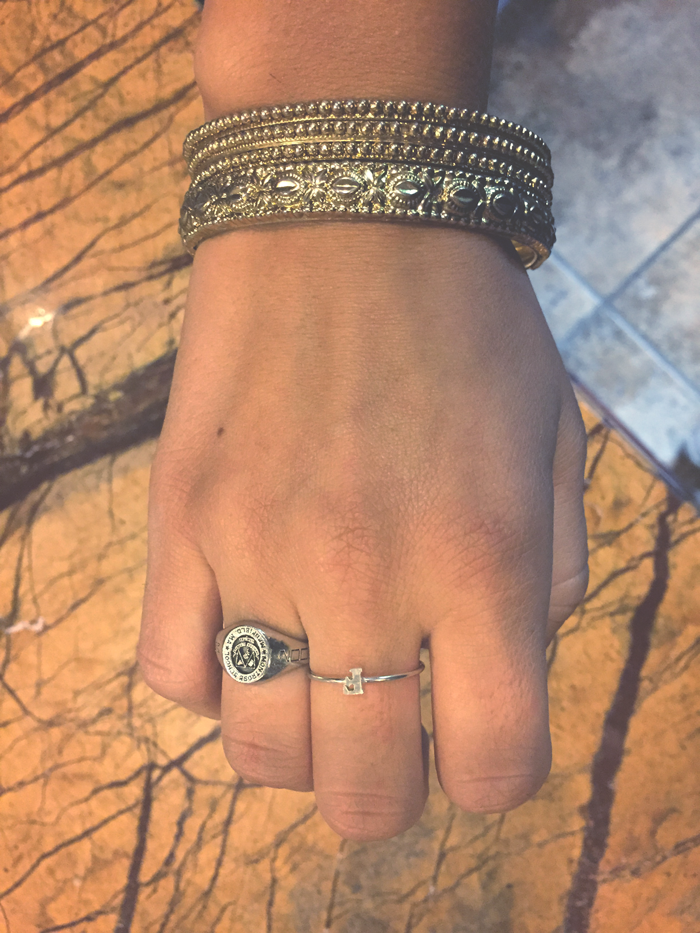 (That's my TFD ring!)
Next, I got my romper. I've never worn a romper, because at 5'3″ (optimistically), I assume I don't have the torso for it. But the girl selling was my size, so she encouraged me to look through her clothes. Here's the big lesson: We went to this sale at 5 p.m. and the seller had been outside all day and was ready to be done. She had a box of clothes marked "free." People tend to give away designer labels, that they simply aren't interested in, or that they consider "out of style." (I caught a glimpse of a few Ralph Lauren labels, etc.)
I found the romper in the "free" box of clothes. People might assume that they won't run into this kind of luck, but I've found otherwise. The girl selling was at least 4 inches taller than me, and the box of clothes that held the romper was filled to the brim. It takes sorting, holding things up to your body, and maybe asking a friend's opinion, but you can find a great look in someone else's free hand-me-downs. I couldn't try the romper on (of course), so I took a chance on it.
The romper: $0
On to the shoes. I'll admit, these didn't come from this yard sale. They came from a different sale my mom and I found in Boston a few years ago. The woman wanted $5 for them, but they were so worn out, she gave them to us for $3 because we were buying other things. Two learnings here: first, if you buy two or three good pieces, you're likely to get a better rate because you have a leg to stand on when you bargain. Also, you can always ask about pricing, especially if something is in particularly worn condition.
The $3 shoes: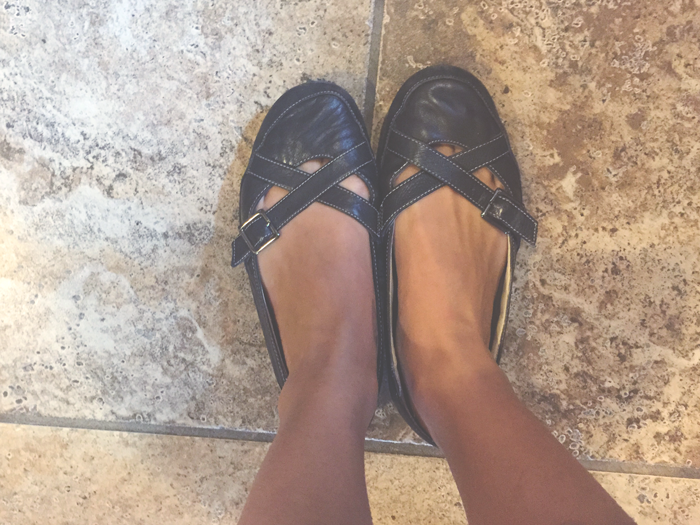 I tried on the whole look, and it worked!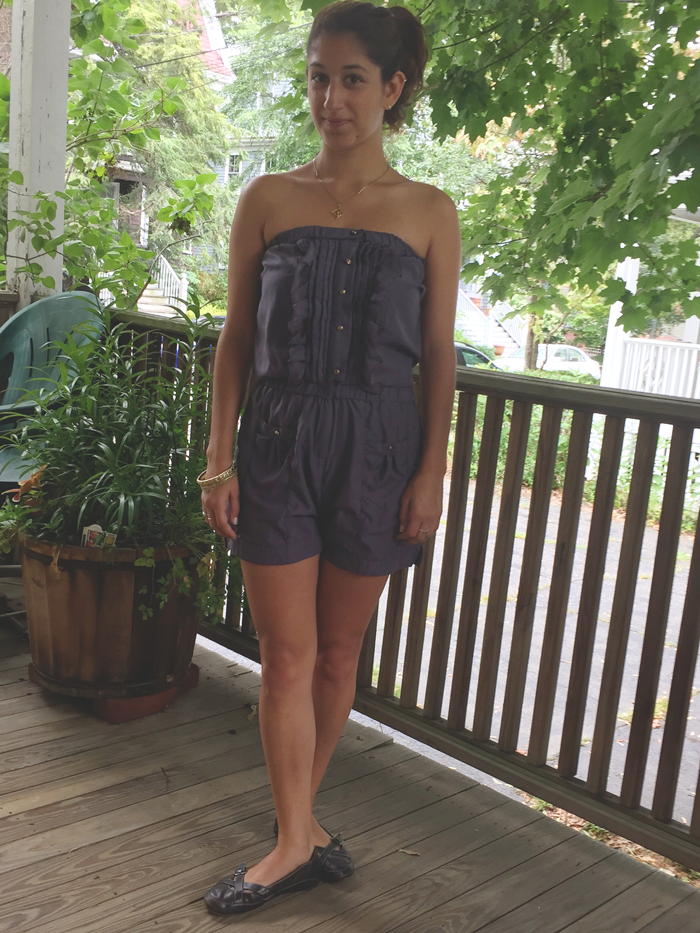 You can also take a few under $3 pieces from a stoop sale and mix-and-match with your pricier pieces at home to make your ideal outfit. Just like we combined the $3 CVS treasures with some fancier products to make a great make-up look, I wanted to apply that logic to my yard sale look.
Here is the romper with all of the different accessories:
And here's the glammed look. I swapped my $3 shoes for a pair of J. Crew espedrilles, which were on sale at the factory. Then I added a sweater (which, I must admit, is so old that I do not know where it's from), so that I could cinch the waist of the romper.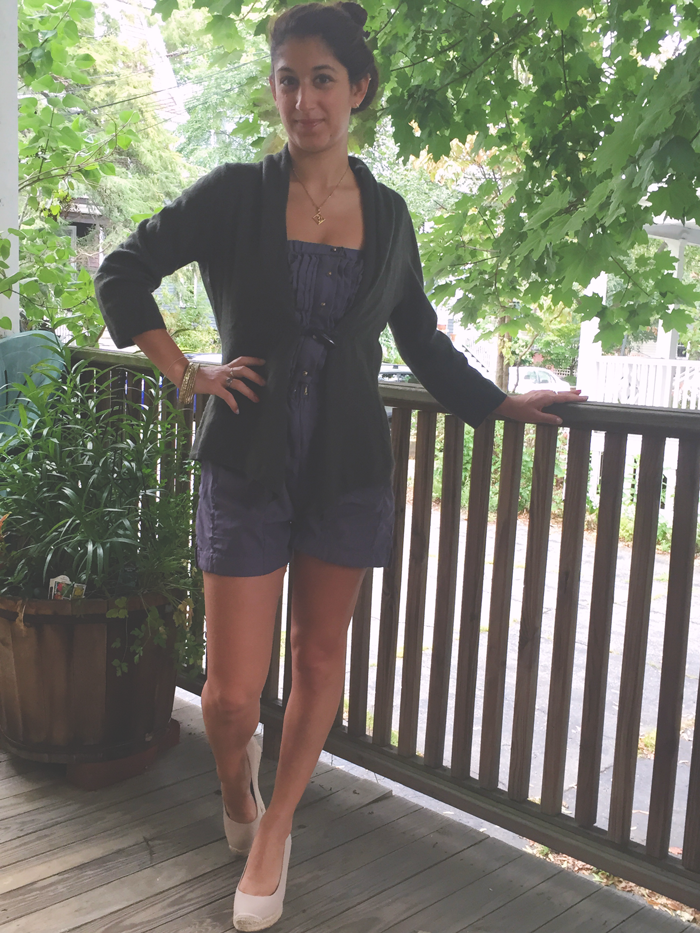 (I'm not sure why I thought a ballerina pose was the way to go here, but as you can see, the sweater and wedges completely transform the look.)
Here are six things to keep in mind when you're shopping a stoop sale:
1. The earlier you get to the yard sale, the better the choices. But the later you get there, the better the prices. The "free" box rarely makes an appearance before late afternoon.
2. If you are going to take the leap of faith (like with the romper I couldn't try on), weigh the cost and benefits first.
3. Sort through the jewelry, the records, or whatever that "thing" you're hunting for is, and typically your small bit of nosiness will pay off.
4. You can make an entire stoop sale look using piece under $3, but dressing it up with one of your favorite statement pieces (whether that's shoes or a necklace) is also a great option.
5. Always wash what you buy thoroughly before you wear the clothes.
6. You might have to go to more than one sale before you can find enough pieces to put together an entire look, but the hunt is half the fun.
Maya Kachroo-Levine is a writer and Editorial Assistant at The Financial Diet. Send her an email at maya@thefinancialdiet.com or follow her on Twitter.
Image via Pexels