The $3 Treasure Hunt: How To Make The Most Of Good Will
It's the ninth week of the $3 treasure hunt, and as we are no strangers to the art of thrift shopping at TFD, I decided to make a few outfits using pieces under $3 at Good Will. I made a work outfit, and a day outfit, and I think if you mixed and matched with the right accessories, you could easily make the work outfit transition perfectly from day-to-night.
We've been trying some new vibes with the treasure hunts to incorporate activities (like girls' night in necessities for under $3), and learn more about how to find great deals in unconventional ways. Of course, I can't provide you with a list of everything I found at a Los Angeles Good Will and hope that you'll track down the exact same things, wherever you are. But, after spending some quality time at Good Will, I can safely point you to some recurring items. In fact, some of these finds are so good that  I think it's worth looking for specific buys at Good Will, before looking for designer labels, or buying online.
First, here are two outfits I put together using pieces under $3 at Good Will:
Day outfit: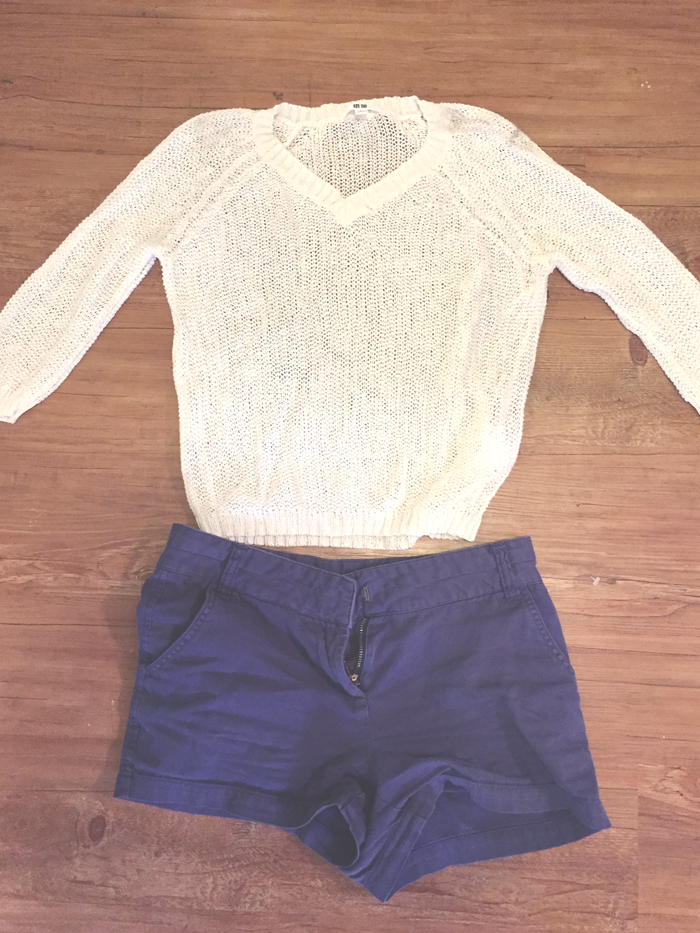 I've been looking for a pair of high-waisted shorts that aren't denim all summer. These are a dark blue, almost purple, and sit right below my belly button. They were $3 exactly because the button on the inside was loose. The white sweater is slightly cropped to go with the higher shorts. It was $2.99. I'd probably wear it with a bandeau underneath at night, and with a cami if I were to wear it to work with the dark jeans below.
Work outfit: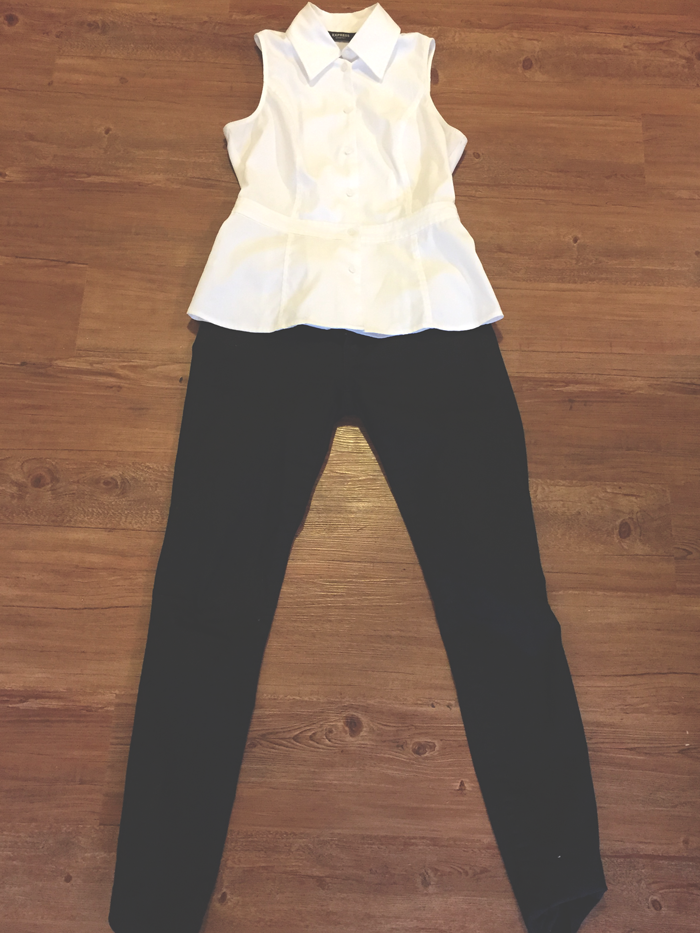 The shirt is an Express sleeveless collared white shirt and it was a steal at $1.99. I had to wash it with a bit of bleach, but the collar was in good condition. I paired it with darker jeans to make it more appropriate for work. If jeans aren't appropriate for your workplace, you can almost always find plain black pencil skirts (that come to your knees) at Good Will. I found a couple in my size after just a quick browse.
Here are seven things you should always look for at Good Will:
Sports Shirts/Novelty Tees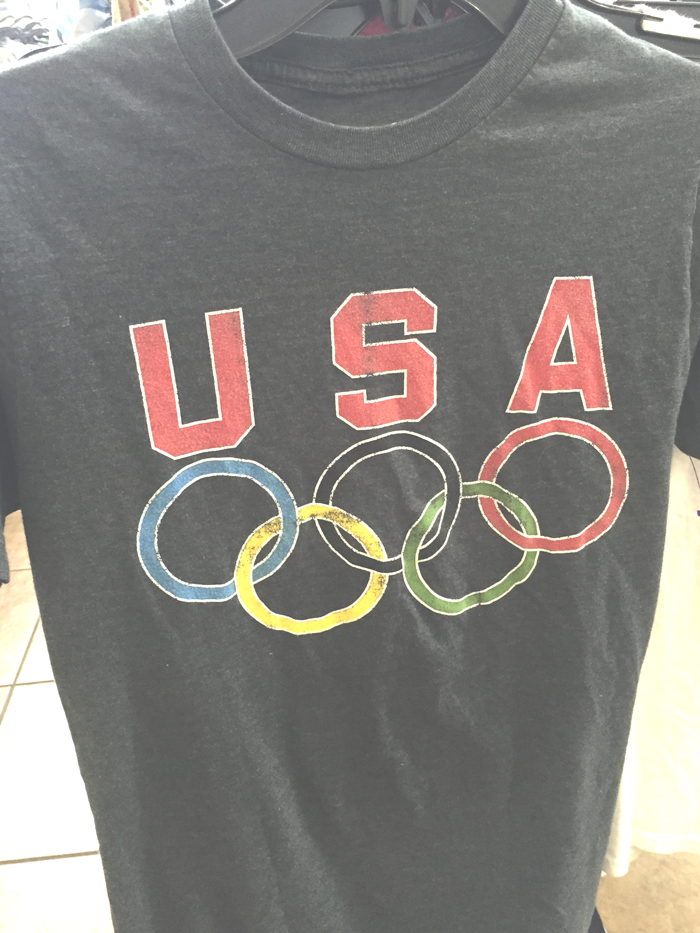 T-shirts at Good Will run from $1-$5, but you can find the good stuff, like this Team USA shirt, for under $3. I'm from Boston, and I get all my Red Sox shirts and hats from the local Good Will when I'm back in Massachusetts. Honestly, you should never buy shirts for your sports team at the ball park/stadium/etc, because the local teams are always represented at the Good Will in your city.
Collared shirts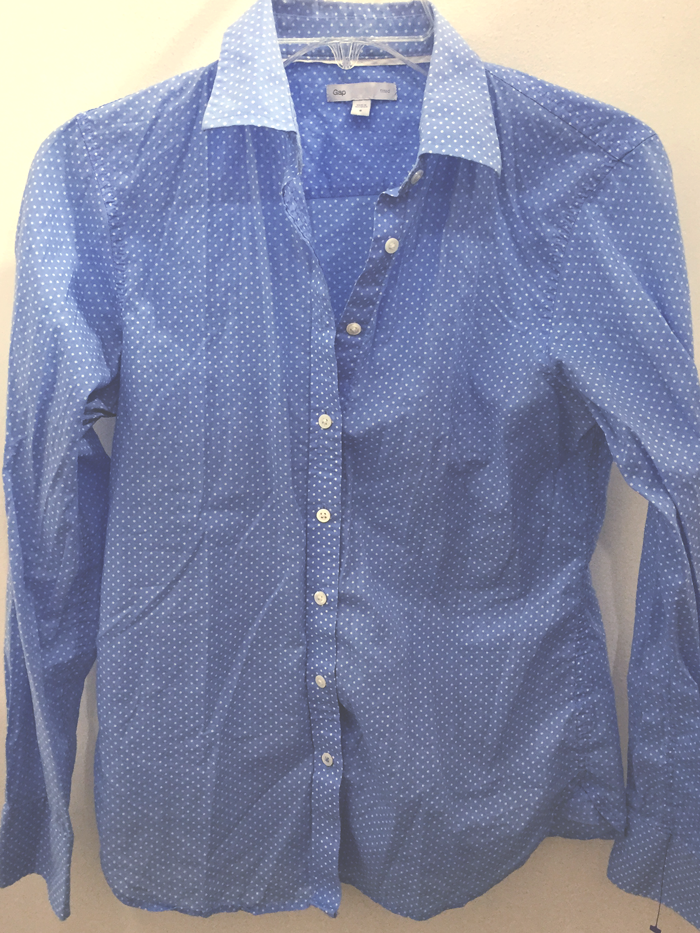 This Gap button up was $2.99, and the pattern would work perfectly with white or black jeans.
Neutral Sweaters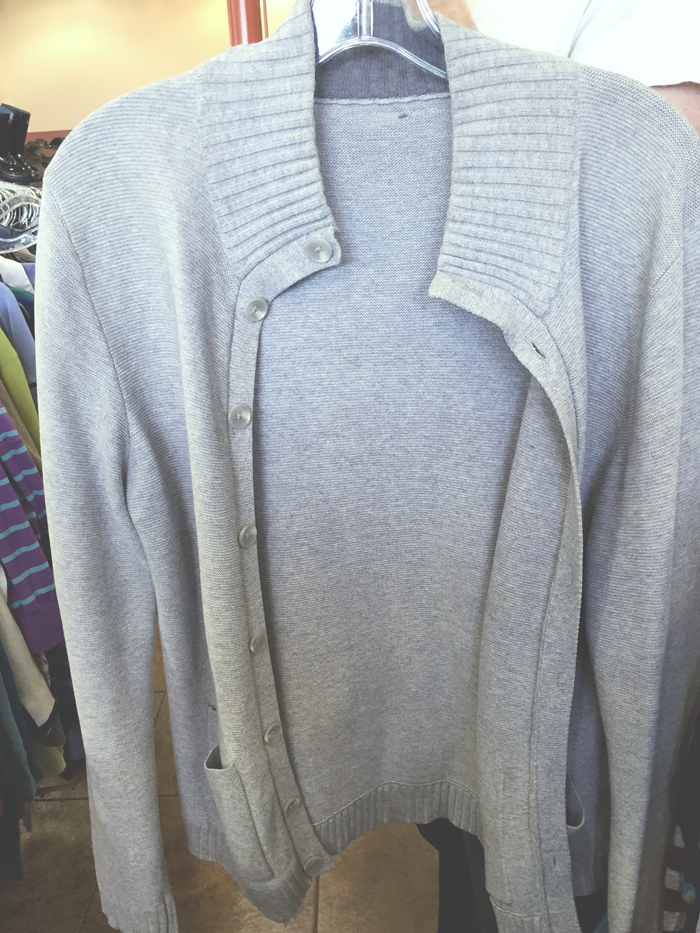 And neutrals in general, because most thrift shops are organized by color, which makes it simple to lock in on the bieges, whites, grays, blacks and navy blues. Some of the best finds have stains, so looking for gray and black is always a safe bet. September is a great time to find sweaters for the fall. I'm not in the market for sweaters, but I grabbed my boyfriend a J.Crew navy crew-neck sweater for $2.99
Halloween costumes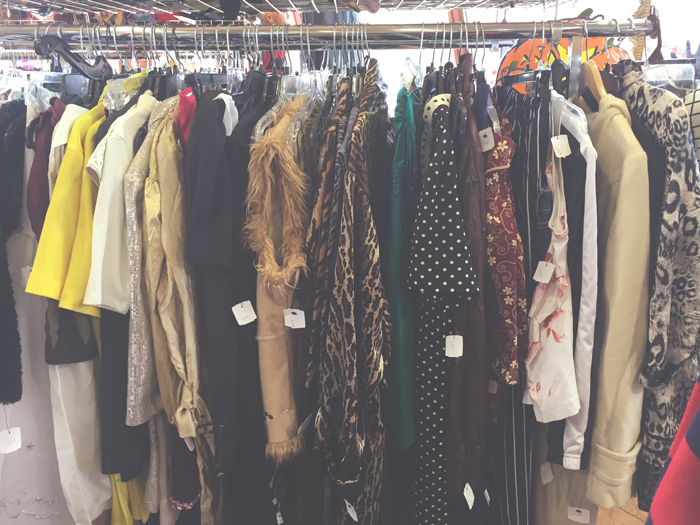 I was never allowed to buy costumes at the store growing up. We were taught to make our costumes, or get creative with what we had, and my homemade Wednesday Adams costume was ten times better than everyone else's store-bought Cinderella outfit. If you're looking for costumes this year, definitely head to a thrift store.
Worn Demin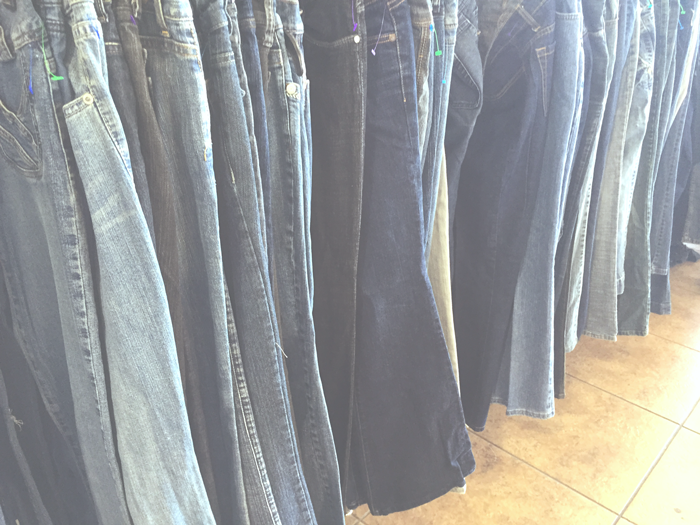 I sometimes prefer to buy worn in demin because I hate the feeling of starchy new pants. One of the perks of buying demin on the cheap is you don't feel weird about distressing them yourself. I've distressed my own jeans a few times, and while you need to be careful (please!!!), you can creative a solid aesthetic with a razor or a pocket knife.
Records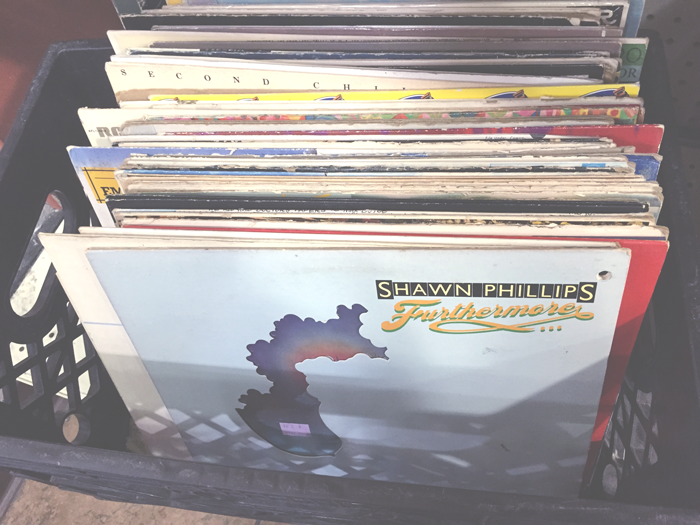 Records typically go for $1 or less at a Good Will. I have a few friends who own record players, because they're just #so #hip, but I also find records to be great gifts (if you know your friend is a huge Springsteen fan, why not grab them the "Born To Run" album for $1?). They're also just good decorations if you have a bare wall that needs sprucing.
DVDs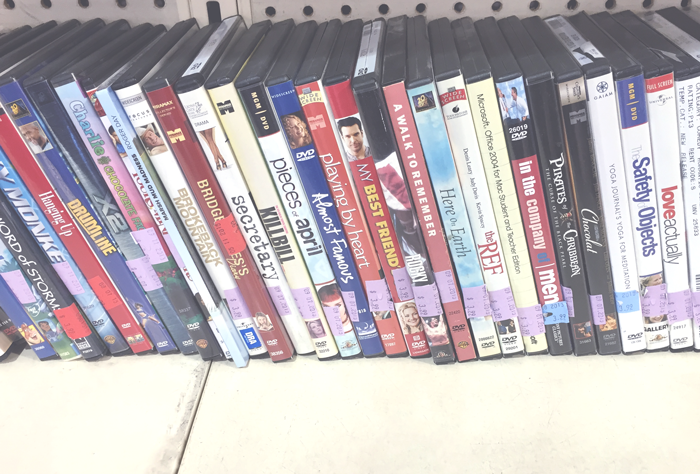 It's entirely possible that finding DVDs on the cheap is less and less relevant, especially because my laptop doesn't even have a CD drive anymore. Nonetheless, you can find classics for under $3 at Good Will. (And yes, it took all the discipline I had not to buy Almost Famous.)
Flannels/Plaid Shirts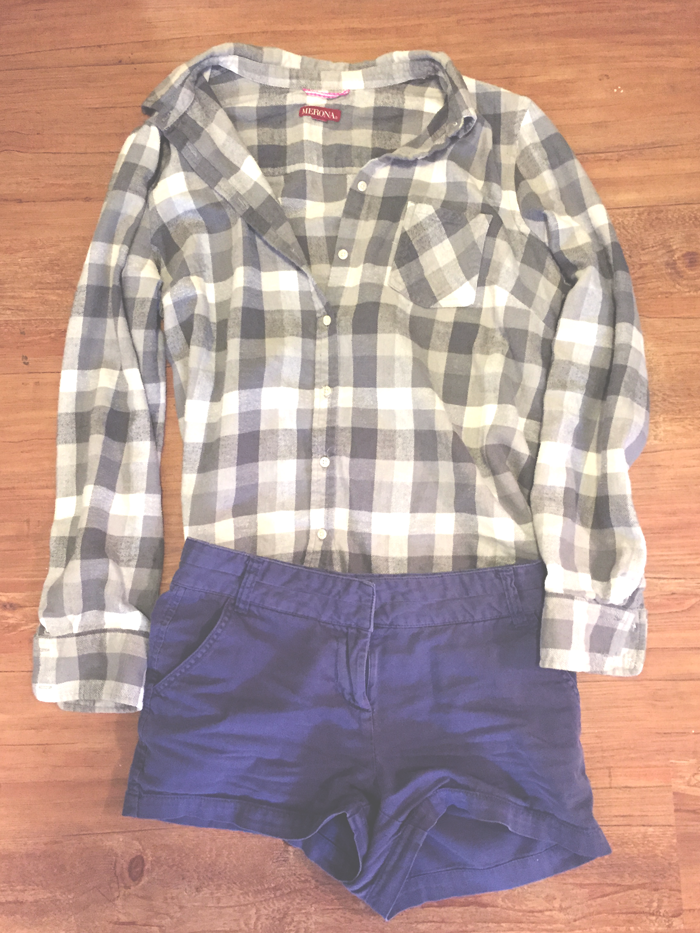 Most of the flannels I own are from a Good Will or Salvation Army. They're hard to track down in the women's section, but there's generally a surplus of plaid in the men's section, and you can grab a smaller size or shrink it down in the wash. The plaid shirts (especially if they are more threadbare) can run around $2, where as the flannels that are thicker run closer to $5. The one above (which I bought) was $4.99, but one of my comfiest blue plaid shirts was $2.50 at Salvation Army.
Maya Kachroo-Levine is a writer and editorial assistant at The Financial Diet. Send her an email at maya@thefinancialdiet.com or follow her on Twitter.
Image via Flickr