The Basically-Free Weekly Activity That Made Me A Happier Person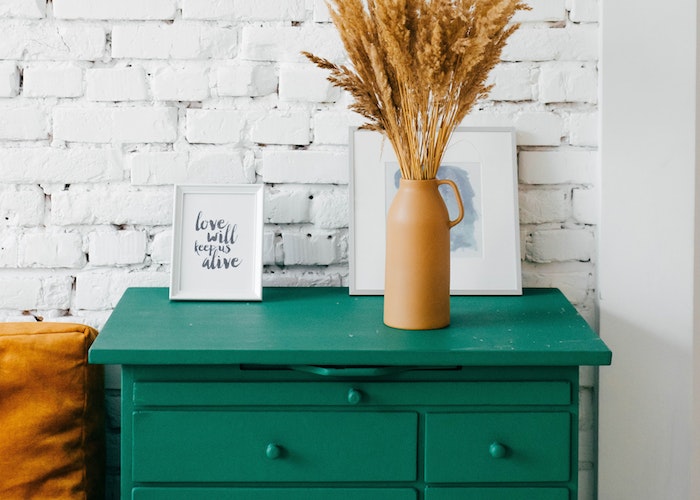 One of my most cherished possessions is an envelope filled to the brim with emotion: notes, birthday cards, ticket stubs, postcards from places I've traveled. This precious pouch holds so much sentiment. I display my favorites prominently in my bedroom, too — a 2015 postcard sent to me from New York City, a doodled bouquet of flowers with a note that says, Thinking of you (given to me after a breakup, nonetheless). I consider these items snapshots of times when I crossed someone's mind, and I love that when I need a little pick-me-up, I can always visit these notes and feel like I'm wrapped in a hug. 
Due to the constraints of the pandemic, I'm missing real hugs a lot — are you? I've fully realized how the simplicity of being embraced by a loved one has true comforting powers for both parties. Many of us are starved for that type of warmth these days. In search of a similar sense of connection, one that is off-screen and intimate, I've turned to old-fashioned snail mail. 
Even in my "regular," pre-pandemic life, I always gravitated towards paper and pen, partly because it allows me to take a break from screens. I keep a journal instead of using my phone's 'Notes' feature and use a written agenda instead of Google Calendar (whenever possible). I also love written To-Do lists with an obsessive passion. But I think, especially right now, as screen time is harder and harder to avoid due to boredom, taking intentional time away from our phones and computers is imperative. 
Here's where writing letters and sending mail can be a self-care activity. It offers the chance to escape from the unrelenting news cycle and the addictive pulls of Instagram and brings you to a clear headspace. If you concentrate hard enough, maybe it'll even feel like you're at a coffee shop, having a conversation with your friend. There are many reasons beyond metaphorical time travel to revisit sending mail right now.
Here are a few:
It Won't Cost You Much
You can quite literally write on anything you have lying around the house, whether that be a post-it note, some scrap paper, or a piece of paper torn from your notebook. However, if you want to upgrade slightly, you don't have to break the bank either. I love to make homemade cards using cardstock I buy in bulk (about $15 for 100 sheets) and cut-outs from old magazines and newspapers. 
Postage is cheap too. You can send a letter for $0.55 through USPS domestically. Plus, you'll support a service that's in financial turmoil with its current lack of federal funding.
You Can Capture The Moment
We are living in some historic times; we're amidst moments that will certainly be taught in schools, in the future. Writing a letter is a way to preserve a snapshot of these unprecedented times. Have you ever read letters exchanged between your grandparents, perhaps during a war? Perhaps love notes swapped between your parents, even. Maybe this is our moment to create a similar relic for ourselves and others to look back on. If nothing else, good and bad, this year is significant.
Make Someone's Day — And Your Own
Not only does the act of giving make the recipient happy, it will also make you feel good, too. It's well-known that generosity is satisfying and contributes to one's overall happiness: there's science behind that "warm glow" feeling you get after making the decision to give. Plus, writing to someone can help you feel connected with your community in a time when we're isolated from one another. It's a win-win. 
It Can Be A Creative Outlet
As noted, you can totally make something to send a loved one using whatever you have around the house, but there's a creative opportunity here too. You can make beautiful mail with just a few supplies! If you have watercolors, construction paper and glue, or even some beautiful pens, sending mail just might be the easy inspiring activity you need on your next Saturday night in.
Use It As A Self-Care Moment
There are only so many face masks you can use before the practice loses its calming powers. If you are getting to the point in this year where your regular coping mechanisms aren't working, crafting some mail for special people in your life could hit differently. As with many relaxing activities, lighting a candle and listening to soothing tunes will enhance the experience (Enya, anyone?). Also, be sure to shut off your phone so you can fully immerse yourself in this chance to switch off. 
Ashley is a freelance writer and on-going contributor at TFD based in Toronto. An avid traveler, she recently returned home to Canada after two years living abroad in Vietnam and Japan. She loves to read, try new things in the kitchen and get outside. You can learn more about her work here and can follow her adventures on Instagram @ashley_corb. 
Image via Pexels
Like this story? Follow The Financial Diet on Facebook, Instagram, and Twitter for daily tips and inspiration, and sign up for our email newsletter here.