The Best Budget Alternatives To Luxe Clothing Brands, According To A Stylist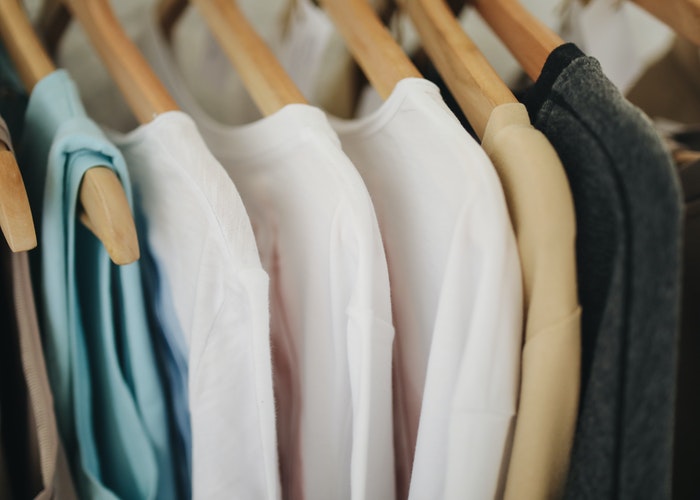 As someone who built a career from a love of clothing and shopping, I  truly enjoy the process of sifting through clothing racks to find a perfect new piece to add to my closet. The feel of the fabric on my skin, the excitement when I find a great deal in my size, the smell of new clothes… I love the whole experience.
From years of working as a Wardrobe Stylist in Los Angeles, I spent hours looking for clothing for the actors I needed to dress for the shoot I was on that week. And I quickly learned the brands that worked on people, whether I was given a small budget or if I was able to spend $300 on a t-shirt. 
After having my daughter, I pivoted from working in the entertainment industry and focused on one-on-one personal styling clients. But I still use the knowledge of the brands I discovered years ago. I thought I'd share my go-to brands, categorized by splurge and budget. These are brands I've been using for years based on quality, style, and fit. I always tell my clients once you know the brands that work for you, you can shop easily (even online), and feel confident in your purchases. 
Splurge Brands For Women 
Let's first talk about the splurge-worthy brands I  recommend for women. I've always been a "quality over quantity" shopper. I love having amazing, well-made, classic pieces in my closet that I can wear for years. Because of that, I don't mind investing more in my wardrobe essentials. 
I alternate between rag and bone (specifically the "Vee Tee"), ATM, and Monrow t-shirts. For blouses, I love the silk ones from L'Agence, Equipment,  Theory, and Vince (plan on sizing down).  My most loved brands for women's sweaters are Equipment, Theory, and Vince. I only wear one brand of jeans, and I've converted all of my female clients to them as well: Frame. They have a way of "lifting everything up." For leggings that are chic enough for a night out, my picks are the "Vegan Barlow" from  David Lerner (size up) and the SPANX faux leather leggings. The only investment-worthy dress pant that I own is the rag and bone Simone, slim ankle pant. I recommend them to my clients, because they easily work from day to night, and the fit is so good. You can wear them with a t-shirt and mules for the day, or a silk blouse and heels, for the night. 
With most of us working from home, we are upping our athleisure game. I  love Monrow and Alo for easy, comfortable pieces that still make you look like you got dressed. Koral and Sweaty Betty can make you look chic while working out. 
Budget Brands For Women 
You can still get quality pieces on a budget, however — onto my favorite budget-friendly brands for women's wardrobe essentials. 
Splendid makes a great t-shirt in a variety of colors. I also love t-shirts from Alternative and Topshop for quality at an easy price point. For blouses, you'll find my clients in Vince Camuto, BB Dakota, ASTR the Label, cupcakes and cashmere, 1.STATE, and Rebecca Minkoff. Treasure & Bond and BP. offer on-trend casual tops, that won't break the bank.
Nordstrom's exclusive line, Halogen, makes affordable sweaters that look way more expensive than they are (plan on sizing down). BLANKNYC and Articles of Society (which you can usually find stocked online at Nordstrom Rack) are my inexpensive jean must-haves. You can also find an amazing skinny jean under $20, from H&M. The budget-conscious leggings I recommend are from BP. and Halogen. My main brands for affordable, but quality dress pants include Tahari, 1.STATE,  Liverpool, Vince Camuto and Halogen. Inexpensive athleisure-wear brands I like, include Zella, Alternative, and Splendid. For working out, I love Nike and Zella. Lastly, for relatively inexpensive blazers you can find some great options from J.Crew, Zara, Topshop, Halogen, and Vince Camuto.
Splurge Brands For Men
Moving on to my brand favorites for men. Yes, I believe men should have "nicer" t-shirts, and for investment-worthy ones, I recommend ATM, James Perse, Vince, John Elliott, and rag and bone. My polo shirt picks are from  Theory, Zegna, Vince, and ATM. Another wardrobe staple for the guys is the casual button-down shirt. I love ones from rag and bone, A.P.C., Steven Alan, John Varvatos, Theory and Vince. My brands for the best dress shirts are Theory, Hugo Boss, and John Varvatos. I suggest a slim fit or tailored style for a modern take. For a big splurge, you can't go wrong with Gucci or Tom Ford. 
When it comes to sweaters, I love Theory, Vince, and The Men's Store at Bloomingdale's sweaters. For jeans, go with a slim/straight style and invest in at least one dark blue wash in your wardrobe. These are my splurge-worthy jean brands: RRL, rag and bone, John Varvatos, A.P.C., Hugo Boss, Frame, and DL1961.
Budget Brands For Men 
For those who are on a budget, or not ready to make an investment in their wardrobe, there are still so many well-made, quality brands for men. Favorite t-shirts that are worn a lot, should be replaced annually. Some affordable options are from J.Crew, Alternative, and Everlane. J.Crew and the Nordstrom Men's Shop brands make great polo shirts.
For budget-friendly casual shirts, I love Frank And Oak, J.Crew and Topman for super slim fits. My Stylist picks for dress shirt options are Zara, H&M, and Topman for extra slim cuts. I love sweaters from J.Crew, Zara, and the Nordstrom Men's Shop. Some inexpensive suit, sport coat, and trouser staples are from Zara, Topman, Banana Republic and H&M. Lastly, Levi's, Gap, H&M, and BLANKNYC are brands I love for budget-conscious jeans that look incredible (especially in a slim/straight fit).
***** 
My hope is that my go-to brands can become yours too. That, by taking the guesswork out of shopping for clothes online, you'll make fewer purchase mistakes and save time and money. Until we can all head back to the brick and mortar stores.
Erica Ball is a Personal Stylist who offers styling services for women, men and teens. She runs a weekly blog at ericaball.com, where she shares her stylist tips, pro fashion advice, and shopping inspiration. Find her on YouTube and Instagram. Sign up for the comprehensive free guide for women, men, and teens: "The Ultimate Brand Guide" here. 
Image via Pexels
Like this story? Follow The Financial Diet on Facebook, Instagram, and Twitter for daily tips and inspiration, and sign up for our email newsletter here.