The Low-Budget Weekend: How I Had A Spa Night, Picnic, & More For $40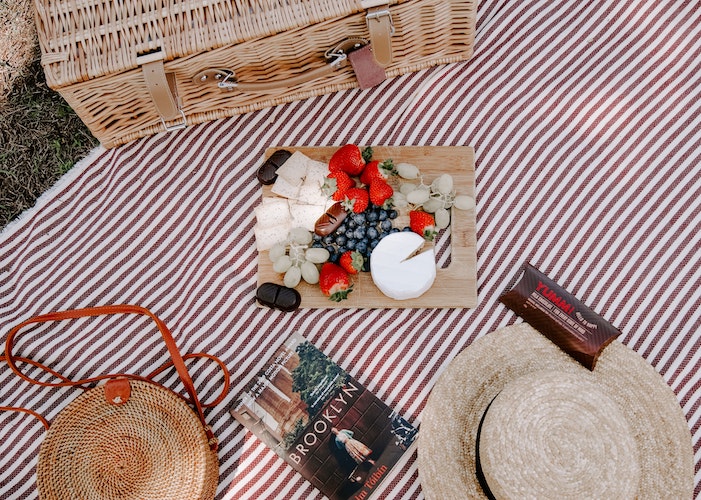 Once upon a time, my weekends were filled with club-hopping, hungover brunches, and ordering pizza at 3 a.m., and falling asleep before it arrived, only to wake up to an ant-covered pie on my front step. While the pizza thing still happens on occasion (I'm not perfect, okay?!), as an almost 30-year-old, my weekends have gotten a little more chill and a little less chaos-inducing. 
That said, as a full-time writer who's currently working two jobs and freelancing at a variety of publications (yes, that's a brag. Ya girl has worked hard to get here), when I finally get the chance to put on my away slack notis, close my computer, and stretch my spine for the first time in five days, it's a BFG. That's why weekends are kind of my jam, especially while I'm working 60 hours a week (which I absolutely do not advise, BTW). 
Since I'm not exactly a budget-y person (my hubs is in finance, we have some solid investments, and while I like to add a zillion things to my online shopping carts, I usually get too overwhelmed by the choices to actually make it to checkout), I don't usually track my weekend expenses. I know, who is she?!
The truth is, I live under my means, I don't have expensive tastes, and I haven't been able to wear heels since shattering my ankle in 2017, so things like fancy dinners and designer shoe shopping give way to more pressing matters, like purging my closet and painting my own nails. Still, after a hard week (which is basically every week, tbh), a little weekend self-care goes a very long way. So when TFD asked if I could give myself an opulent weekend of kindness and indulgence for under $40, I figured this was the perfect excuse to stay home and save some cash. 
Since self-care is different for everyone, what unwinds me might not work for you (or even for me every weekend), but by the time my work week ended, this was the perfect mix of spoiling and care to feel recharged come Monday morning. 
​​Author's Notes: I do all my grocery shopping for the week on Wednesdays which meant my pantry and bar were stocked and I didn't have to stress about making my grocery budget (which is about $150/week for two people) count toward my $40 weekend. See? Self-care before the self-care even started! Planning ahead people, it's the best! 
Also, because relatives never know what to get me for holidays/birthdays, I have an assortment of face masks/beauty products/candles collecting dust that I dug into for the purpose of this weekend. At least they eventually came in handy…
Friday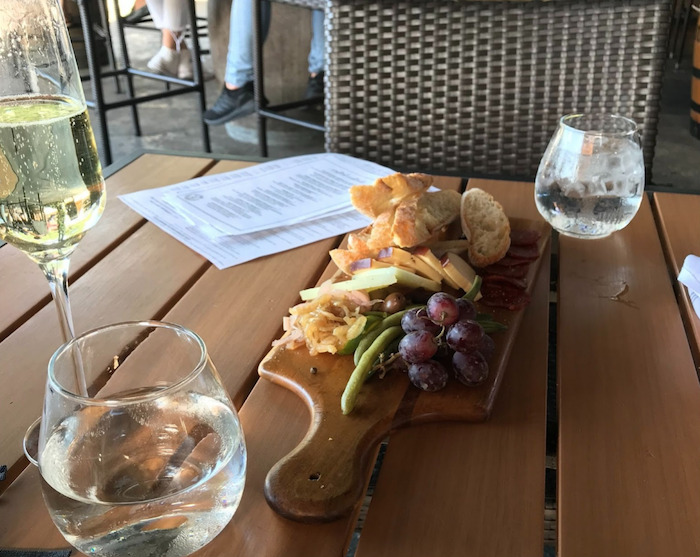 After exiting out of my 45 Google Chrome tabs at 5:14 p.m., I knew this was the day I was going to blow a good portion of my weekend budget. Call me basic (go on, I dare you), but there's just something I find so magical about Fridays. The promise of a full weekend without stressing over how many exclamation points to include in my emails—it's liberating. 
That's why as soon as I submitted my final assignment, I headed into my husband's office to inform him we were, in fact, going out. Luckily, we live within walking distance to a variety of bars and restaurants, which makes things like spontaneous Friday happy hours cheap, easy, and maybe a little too habitual.
We headed to a place called The C House in the trendy Seminole Heights area of Tampa. The restaurant is a hipster paradise with an expansive outdoor space (perfect since Florida is still a COVID hotspot). While the spot is kinda pricey, the trick is to hit up the happy hour, which has reasonably priced apps. I ordered a cheese board and glass of prosecco (and stopped at one drink as opposed to my usual two). The board, which was $11, came with a variety of meats, cheeses, crackers, and veggies, and it was just filling enough that I didn't need to order something else (even though if I wasn't on a budget challenge, I absolutely would have gotten more food).
After forcing my husband to pay for his own drink (bourbon on the rocks), I closed my tab and with tax and tip, the total came to just about $21. Which meant I had spent over half of my weekend budget in the course of about two hours but it was fine! Everything was fine!
We slowly walked back to our house and by the time we got home, fed our dogs, and showered off from the trek through the Florida humidity, it was 8 p.m. After plugging in the popcorn maker I had gotten for Christmas last year and promptly forgot about, we made a few bowls of cheesy popcorn (of which we already had the ingredients!) and logged into my parents' Disney+ account to watch Inside Out. 
Even though it wasn't a spa-like evening, I felt majorly relaxed as I cuddled with my dogs, my tummy full of cheese, popcorn, and sparkling wine. 
Total Daily Spending: $21
Saturday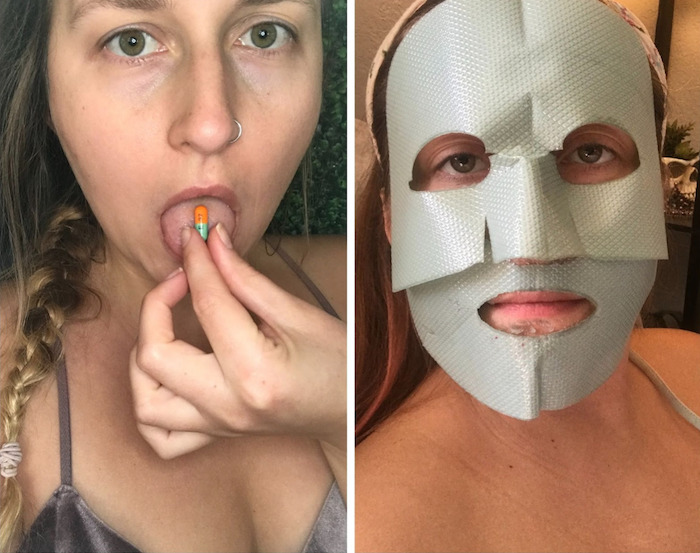 The best kind of self-care, IMO, is a day without plans, which is why I decided to have a completely unstructured Saturday. I lazily woke up late (around 9 a.m.) and started my morning off by lighting some lemongrass incense and doing a few light stretches before taking my daily anxiety medication. I've been taking 40 mg of Fluoxetine for about three years and to say it makes my clinical anxiety/depression much more manageable is an understatement.
After making myself a smoothie (in the kitchen! Without even opening my UberEats app!), I spent the rest of my morning lounging in the yard with my husband and our dogs, reading, chatting, and complaining about how hot it was. By the time we went back inside, I was feeling relaxed from the sun but itchy from the grass and worse, stiff from spending a few hours on the hard ground.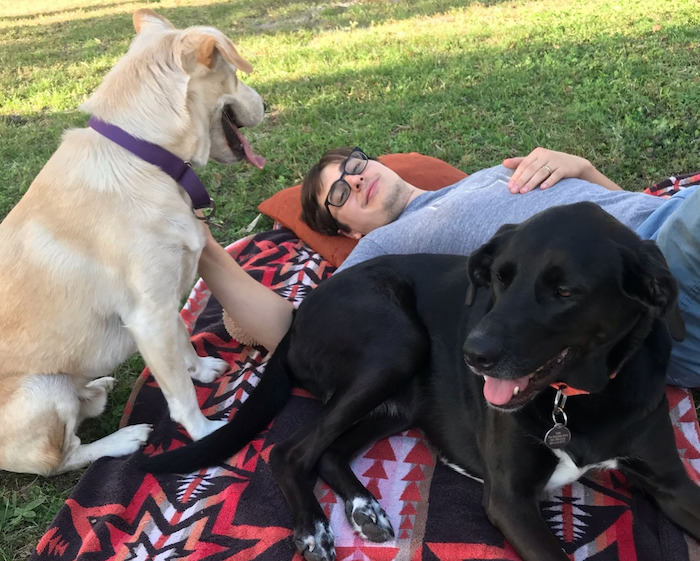 Since I couldn't head to the spa for an afternoon massage with only $19 left for my weekend budget, I did the next best thing: A lacrosse ball rubdown. This is a trick I learned from a physical therapist friend. Basically, since lacrosse balls are hard and dense, they're perfect for rolling out knots in your back and shoulders. 
No, standing hunched against my wall as I rubbed a yellow ball up and down my spine wasn't as calming as going into a lavender-scented room and getting massaged for an hour, but after a few minutes, my shoulder felt looser and my back was less stiff, and I managed it without unrobing or awkwardly asking a stranger to press down on my back harder, dammit.
Mind you, by now I was officially very smelly, so I headed to the bathroom, lit a few candles, and hopped in the shower. Since I'm not a bath person, I figured I could up the luxury of my usual rinse-off to really lean into the self-care vibes. Instead of reaching for my usual soap, I grabbed some lavender body wash I reserve for times of stress. I gravitate toward herbal-scented shampoos and washes, so the bathroom quickly filled up with a nice, Earthy steam and I stood under the warm water, letting the heat relax me further. When I stepped out of the shower, I reached for a white, fluffy towel I usually reserved for guests and already felt pampered just by using something other than an old beach towel to dry off.
After sharing some leftover Indian food we ordered on Thursday, my husband told me our friends invited us over for a game night. Since I knew this would involve Uber and purchasing alcohol to bring, I opted out of joining and instead, soaked my feet with some Epsom salt I found under the sink and enjoyed back-to-back vibration-induced orgasms for the ultimate ending to my self-care evening. 
Total Daily Spending: $0
Sunday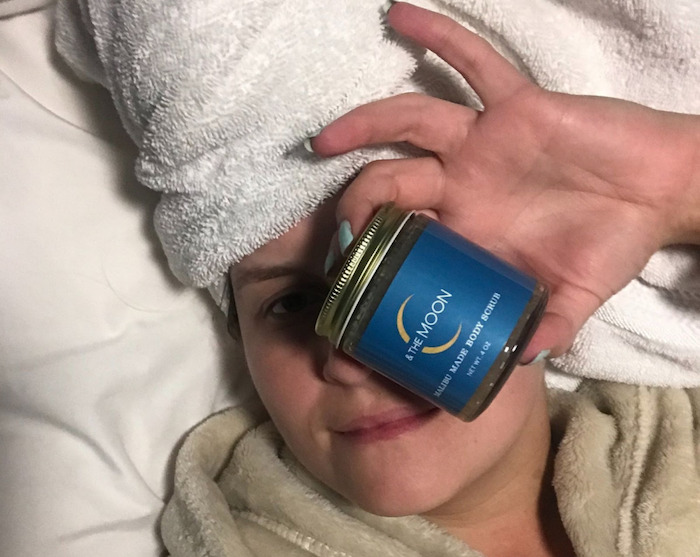 After sleeping a solid ten hours, I woke up at 10 a.m. completely refreshed and ready for another day of self-pampering. Which for me, meant making some pancakes (it took about 10 minutes and I already had everything I needed in the pantry! Major win), deep conditioning my hair, doing a little more lacrosse ball massage, and taking a casual two-hour nap on the couch with some lo-fi radio playing in the background. 
When I woke up, groggy and disoriented, I made myself some iced coffee (like, at home. With a coffee pot) and took another long shower (complete with a fancy scrub I've had sitting in my bathroom for months) before getting ready for the evening. Since my cousin — who lives about an hour away — was having us over for dinner, I threw on a sundress and grabbed my wallet, ready to spend the rest of my self-care money on my Sunday evening. On the way to her house, I ran inside Whole Foods and grabbed a simple bouquet of flowers ($5), a cheap bottle of wine ($7), and a cookie to eat on the car ride home ($2.50).
We spent the remainder of the evening eating my cousin's homemade BBQ, drinking wine, and swiping an extra dessert to eat on the car ride home (in addition to my cookie, of course). Even though we didn't fill up our tank, I figured we spent about $7.50 in fuel getting there and back. And after the long evening, I could barely keep my eyes open long enough to read before falling asleep. 
Total Daily Spending: $22
GRAND TOTAL & TAKEAWAYS:
Total weekend spending: $43
The good news: I had a splendid, relaxing weekend without shelling out tons of cash. The bad news: I went over budget by $3. Sure, I could have gotten a $4 bottle of wine instead of the $7 one or ditched the flowers for my cousin, but at the end of the day, the reason I save my money and am smart with it is so I can spend an extra few bucks here and there on things that are important to me. 
Between a vibrator, a lacrosse ball, and some beauty products I had lying around, I managed to destress and unwind without visiting the spa or making small talk with an aesthetic which to me, is even more valuable than saving the extra cash.
Rachel Varina is a social media, digital marketing, and editorial expert living in sunny Tampa, Florida. When she's not creating content or collaborating with brands, you can catch her devouring thriller novels and supporting pineapple in the great pizza debate with her husband and two rescue pups by her side. You can find her on Twitter and Instagram.
Images via Rachel Varina / Unsplash (header)