The Perfect Pasta Recipe To Get You Off The Jarred Sauce, And Into Homemade

I love pasta, and frankly don't know anyone who doesn't. It's not only a delicious food in itself — perfectly-cooked noodles are something I could frankly eat plain — but it is also an incredibly satisfying vehicle for a huge array of sauces, meats, and veggies. Which is why it is so depressing to make the effort to cook yourself your own pasta meal, but stop just short of making your own sauce, which can be incredibly easy (and is always more delicious). Yes, there are complicated, time-consuming sauces with things like stewed lamb or home-roasted veggies. But there are also beginner sauces that act as a gateway drug to incredible homemade pasta.
This is one of my favorites, not only because it is bechamel-based, and therefore a building block for many other things, but because it is a truly perfect balance of cheesy, spicy, and sweet. It tastes much more complicated and fancy than it is, and it's something you can make (like I did yesterday) while half-watching an episode of Intervention and talking to your friend/boyfriend/life partner in the living room. It's easy, and can be the first of many steps away from the sad jarred sauces. I call it Spaghetti in a Creamy Sausage and Pea Sauce, and it takes approximately 30 minutes from start to finish. Enjoy!
You Will Need
-1 package hot italian sausage (out of casing, if possible)
-1/2-ish package frozen sweet peas
-1/2 box spaghetti
-1/2 cup pecorino romano (or plain romano if you can't find the Italian stuff)
-2 tablespoons butter
-1 1/2 tablespoons flour
-1 cup milk (whole or 2 percent, as you prefer, I use whole)
-salt and pepper, to taste
How To Make It
Start by sautéing your sausage until it's nice and brown and caramelized a bit. I recommend that you use loose sausage or take it out of its casing, because I prefer crumbled to sliced for better distribution, but it's up to you. I also add crushed red pepper here for extra heat, but you don't have to. Around this time you can also start boiling your water for the pasta.
Remove your sausage and put it on a paper towel to dry, then set to making your roux (a butter-and-flour base that is the foundation of many, many delicious sauces). You simply melt the butter in the pan and add the flour, combining until it has a paste-like consistency. You let the mix brown — the browner it gets, the deeper the flavor, and for this I prefer a lighter brown — stirring frequently to prevent burning.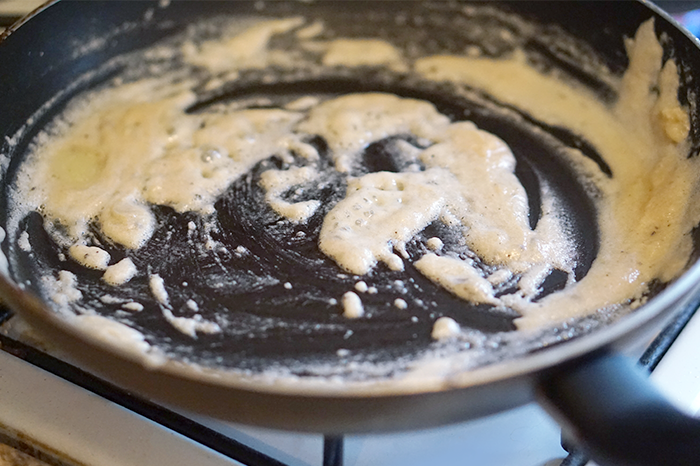 Once the roux is ready, add your milk bit by bit, stirring frequently, until you've incorporated it entirely and it has become a smooth, thick sauce (it should look like alfredo at this point). Add a bit of pepper, and most of your cheese (leaving a bit to garnish), stirring to melt and combine.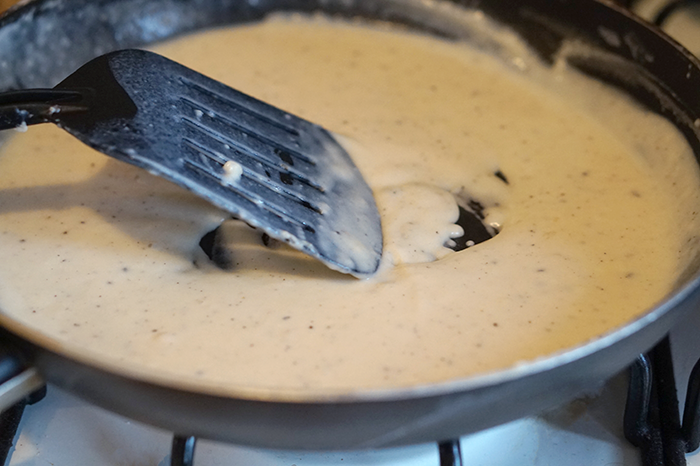 Add your pasta to the now-boiling water.
Taste your sauce to see if it needs salt, more cheese, or anything else. It should be rich and creamy, but not pungently cheesy (unless you want it to be). Now add your peas and sausage, and incorporate them into the sauce until the peas are un-frozen and everything is coated. If the sauce is getting a bit thick, add a small scoop of the pasta water.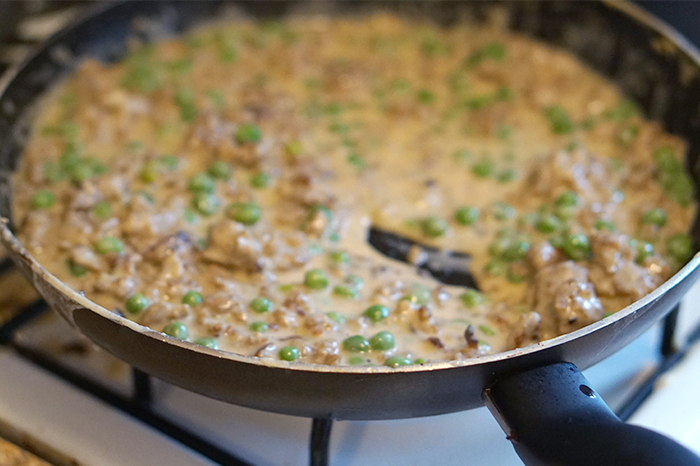 Save a bit of pasta water, and drain your noodles. Add them to your sauce in the pan, stirring and keeping it on low heat to coat each noodle perfectly and get it to the thick, stick-to-the-pasta consistency that you want. If you need to loosen the sauce up a bit, add a touch more pasta water as you go.
Serve with a sprinkling of cheese and crushed red pepper. And never buy the jarred stuff again!