The Products I've Purchased Under $15 To Keep Up With My At-Home Beauty Routine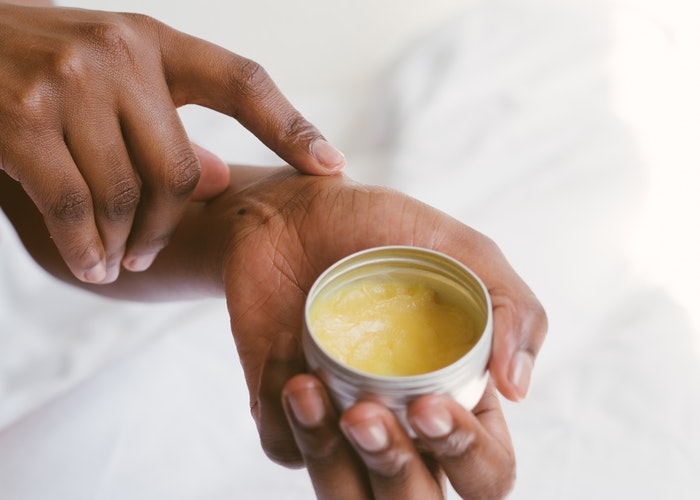 With social distancing keeping everyone in the house, we're all looking for ways to keep ourselves occupied. And with so much going on, it's nice to have the occasional distraction from all the news.
Obsessed as I am with beauty products, I've found that now is a good time to play around with new looks. Who doesn't want to pop into a Zoom book club or house party with six new inches of hair and stiletto nails? But I also don't want to break the bank to test out a passing trend. I'm way more likely to try out a new trend if it's relatively affordable, especially if I know someone else has done a test run. I thought I'd share a handful of purchases I've made during lockdown. Below are 11 fun and useful beauty products that I really did buy — and really do love.  
Yes, I want to pierce my ear cartilage—but no, I do not want to spend a few hundred dollars on high-quality jewelry to safely do so. I also don't like the idea of that piercing getting caught on a winter hat and ripping my ear (ouch!). I went to Claire's and bought these metal ear clips instead, and I am obsessed. The balls keep them securely in place, and I love the look without the pain. 
Now's the time to practice contouring, cat eyeliner, and the sunset eyeshadow look that's all over TikTok. The only downside to hours of makeup play is getting it all off. It might be tempting to hit the hay in full glam, but I'll spare you the dermatologist-approved lecture and suggest you pick up a Mini MakeUp Eraser instead. Add water and swipe, swipe, clean. These work so well, I give them out as gifts.
I would spend my last $100 on eyelash extensions if I weren't so worried that the procedure would damage my lashes over time. I've tried traditional eyelash glue and false lashes but always end up more frustrated than glamorous. Enter these magnetic lashes. You still have to practice, and if you have longer natural lashes to begin with, these will go on easier. They're also lightweight, and the magnets don't feel heavy.
Two weeks after I ordered this crystal nail file, I confidently threw away all my cardboard emery boards. I'm prone to ragged tips that constantly get caught in my hair and clothing fibers. No longer. The glass nail file seemingly seals my nails, and I can get (almost) salon-level results at home – it even works on shaping gel or dip nails. Say no to peeled tips and yes to stiletto nails. 
I impulse bought this adhesive pushup bra to see if it could give me magical cleavage without, well, getting plastic surgery. I was also sure I'd eventually run into one of those "great dress/no appropriate bra" situations. And of course, I did (hello, summer weddings — here's hoping they still happen), so it feels good to have this game-changer on hand. It's not meant to keep your girls up forever, but it has lasted me through multiple wears and it works underneath every dress and top in my closet. 
I absolutely love the look of a well-placed finger or even face tattoo, but I'm not ready to permanently alter my body just yet. These temporary tattoos are a 2-for-1 deal, because it's fun to cut them out and put them on, and you can pretend to be a badass for a little while. I ordered a few different versions online, but this letter set wins for quality. They actually last a full day. Yes—even with extra-long hand washing routines. 
Most of my jewelry looks a bit dingy. Hard water, soap residue, body lotion – it all accumulates to steal the shine. I was delighted to find this cheap jewelry cleaning stick on Amazon. Not only do all my rings, necklaces, and earrings now look newer—it also gave me a chance to organize my jewelry box. Bling bling. 
I think it's safe to say that once you clip in your very first set of hair extensions, you'll never go back to rocking only natural hair. You'll also realize how many women on TV (and in real life) are supplementing what God gave them. The most difficult part of these hair extensions is finding a color that will blend with the hair already on your head. The reviews can help with that. Otherwise, part your hair in the back, clip these in place, and go. 
This $5 e.l.f. drugstore eyebrow pencil has completely replaced my $25 NARS version. (But maybe I'm not really saving any money, because I bought multiples just in case e.l.f. stops making them.) If I have a work video meeting, I quickly fill in my brows and instantly feel more professional and put together. You can add a lip, but let's not get crazy. 
A rattail comb has an ugly name but does a beautiful thing: It allows you to precisely part and section off your hair. If you're practicing French braid skills or training your hair to fall into the perfect '70s-inspired middle part, you need a rat comb. This one is cheap, well-made, and kind of gives me the tingles when I use it.
That's right, I'm maintaining my platinum blond hair at home. I paid about $6 for the same icy toner that cost me $60 in salons. Of course, I'll be ready to get back in my beautician's chair when it's safe to do so — I prefer to get consistent and even results, which only a professional can give. Sometimes, it pays to spend more. In the meantime, this isn't a bad alternative.
Megan Wood is a writer and editor based in Manhattan. Follow her on Twitter @m_louisewood
Image via Pexels
Like this story? Follow The Financial Diet on Facebook, Instagram, and Twitter for daily tips and inspiration, and sign up for our email newsletter here.