The Weird Spending Habit That Surges During A Crisis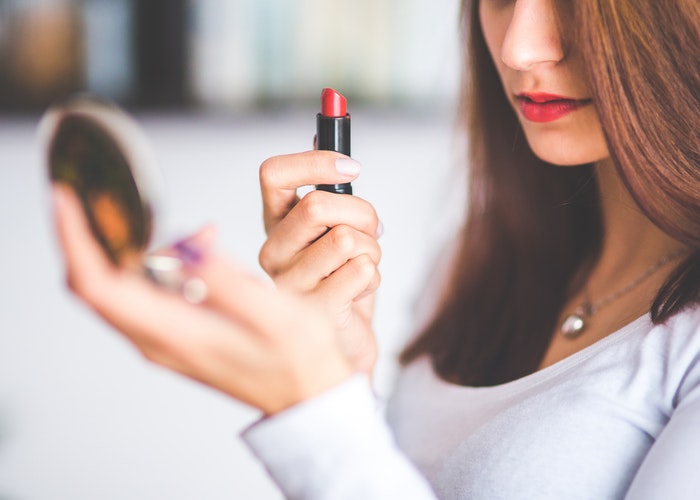 Back in the early 2000s, right after 9/11 and the dot-com bubble bursting into a thousand digitized pieces, the chairman of Estee Lauder (the cosmetic company that owns brands like Clinique, MAC, Bobbi Brown, La Mer, and more) sculpted a new measurement of consumer demand, and it all had to do with lipstick. Leonard Lauder observed that when the U.S. was experiencing an economic downturn, women were more likely to forgo luxury items and instead buy lipstick, a relatively cheap(er) way to look and feel good on a budget. So, in theory, if we see lipstick sales skyrocketing, it means the U.S. economy is in a bad place. It's called the "leading lipstick indicator," "lipstick index," or "lipstick effect."
The lipstick effect can actually be traced back to the Great Depression, so Lauder wasn't exactly sniffing out anything new. From 1929 to 1933, the beauty industry did fairly well, and while women scaled back on other goods, they purchased more lipstick. In 2008, during the Great Recession, L'Oreal, Beiersdorf, and Shiseido all confirmed that lipstick sales had gone up. According to The Guardian, L'Oreal showed 5.3 percent in revenue growth in the first quarter of that year alone. Kline, a market research firm, found that for every one percent increase in unemployment, women bought $25 million more in lipstick on an annual basis.
During times of insane stress and trauma, people are still willing to spend money on things that make them feel better.
Experts go back and forth on whether or not the lipstick effect is a reliable way to gauge the health of the economy. The New York Times questioned the theory in a 2008 article called Hard Times, but Your Lips Look Great, with some experts arguing lipstick sales don't actually indicate an economic trend. Karen Grant, a beauty industry analyst, called it "wishful thinking," saying, "The early adopters of the trend are getting onto the lipstick bandwagon and are seeing increases in lipstick sales. But it's not an overall trend. This is more like a gut feel, like when you say it's time for skirts to come back." 
However, a 34-year-old woman named Melissa McQueeney seemed to affirm the lipstick effect is a real thing. She told the NYT that, even though she was stressed about paying her bills, she relied on a fresh tube of gloss (fine, technically not lipstick, but close enough) to make her feel better. "It's how I freshen up. It makes me feel feminine, even if I'm in sweats and sneakers," she said, adding that she bought a lip gloss for $6 without even sampling it. "I didn't even try it on, I'm just splurging," she explained.
Self-care: The new lipstick indicator
The 2020 global pandemic has made it so not only are we stuck inside, but even when we do step out for groceries or an anxiety-inducing haircut, we cover half our face (mainly our mouths) with a mask. With millions out of work and another Great Depression possibly looming in the not-so-distant future, many people can attest that they've tightened up their budgets. One thing is for sure: they're not buying lipstick as a pick-me-up.
"Experts are now reporting beauty retails sales dropping between 20-30 percent in Q2 and into Q3, and as much as 50 percent in late Q1," Ty Stewart, CEO & President of Simple Life Insure tells The Financial Diet. "The hypothesis behind the drop? People don't wear makeup underneath masks or when staying at home." It's honestly a no-brainer.
So, what's our new lipstick indicator?
It depends on who you talk to, but the common theme revolves around self-care products you can purchase online — which is not surprising. During times of insane stress and trauma, people are still willing to spend money on things that make them feel better, regardless of who they see. "For example, at-home waxing kits, DIY gel nail sets, and at-home hair cuts have all skyrocketed during the pandemic for several reasons: increased unemployment, state/city lockdowns, and increased future economic confidence. This has led members from Gen Z, millennials, and beyond to splurge on self-care items (many of which wouldn't have considered buying a DIY/at-home kit pre-pandemic), while simultaneously decreasing overall economic output," Katelyn Magnuson, founder of The Freelance CFO, tells TFD.
Erin Papworth, financial coach, behavioral scientist, and creator of the FinTech app Nav.it, has been able to pull together some data based on their user's spending patterns, giving her team insights on how (at least some) people are spending their money. They're finding that folks are investing in streaming devices (streaming went up by 85 percent in March) as well as interior decor, specifically the office. Since many employers have made WFH indefinite (and in some cases, permanent), people are splurging on decor (online furniture sales shot up by 306 percent back in April, confirming Papworth's findings).
Skincare searches are skyrocketing
What I've seen, as have beauty editors I know, is that there's been an uptick in skincare interest. Face masks (the goopy kind you slather on your T-zone), cleansers, and moisturizers have always been medicine cabinet staples, but there's definitely been a surge in prioritizing these products, and possibly even going beyond to mimic the "spa" experience we've been missing out on, which is something beauty editor and friend, Emily Popp tells me. "In quarantine, I've been buying face masks, exfoliators and skincare tools, which feel very spa-like. I bought a rose quartz eye-roller the other day, and yes, it de-puffs my eyes, but also just the act of using it is relaxing. I've also been buying a lot more bath products because taking a bath is one of the simplest (and cheapest) ways to de-stress in your home," she tells TFD.
Typing in "skincare products" into Google Trends, you can see the search volume has increased by over 100 percent from the end of March to mid-May (and searches are still up, overall). A good face mask or exfoliator might set you back $50, but when you've stopped dressing up for work, paying for gas, and taking vacations, that $50 seems more reasonable — and like lipstick, you feel pampered. It's a small price to pay when the world seems like it's ending, right?
It seems like there really is no one product that's an indicator of how the 2020 pandemic has impacted the economy. And that's probably because the modern world has never experienced such an unprecedented blow. Even in 1918, when the Spanish Flu killed millions across the globe, the stock market wasn't actually impacted. Economists believe that may have been due to WW1 ending and the wave of optimism that swallowed a potential financial crisis. 
*****
What all this research has ultimately proven, though, is that indulging ourselves with reasonably-priced "pick-me-up" material goods during a time of crisis — whether that's a Disney+ subscription, a new moisturizer, or a fresh tube of cherry red lipstick — is a self-soothing mechanism deeply rooted in American history. And everyone self-soothes differently. When I was first laid off in March, I bought myself a sketchpad and watercolors, thinking this activity could help distract me from COVID-19 and career anxiety. But we all cope in different ways, for different reasons.
"I bought an aqua eyeliner from Glossier that I'd probably never wear IRL," my friend Sam Mendez, an interior designer, told me, and added, "Now that I'm not at work, I can wear it whenever and experiment with it in the comfort of my own home. Would I actually wear aqua eyeliner at work? Def not. But it does make me feel good and actually kind of cool." 
Gina Vaynshteyn is an editor and writer who lives in LA. You can find more of her words on Refinery29, Apartment Therapy, HelloGiggles, Distractify, and others. If you wanna, you can follow her on Instagram or Twitter.
Image via Pexels
Like this story? Follow The Financial Diet on Facebook, Instagram, and Twitter for daily tips and inspiration, and sign up for our email newsletter here.