What Every Woman Needs To Know About Starting Her Professional Wardrobe
By Emma B.
|
Wednesday, May 06, 2015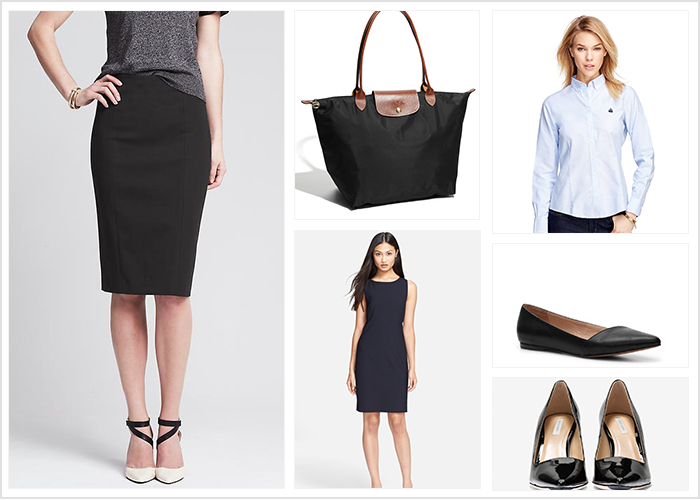 Lately, I've thought a lot about what it means to dress professionally as a young woman in a corporate or conservative, male-dominated field. I recently became the only female attorney in a small law firm that serves mostly business clients. I do both litigation and transactional matters (like forming businesses or selling businesses) and I go to court a few times a month. When I began working I had an idea of appropriate corporate office attire; I had worked in corporate consulting before law school. But, even if you're not a lawyer, there are three rules of thumb to follow when deciding how to dress for any job.
As my mother always told me, "dress for the job you want, not the job you have." I take this to mean you should err on the side of the over-dressed, and dress like the boss.
Look around your office (or your profession, community etc.) and take cues from how everyone else dresses. Although this is inapplicable for me, since all my co-workers are men, I noticed when I worked in-house and for the government (with agencies where lawyers seldom went to court) that the style was much more casual. It is also true of friends of mine who work in places like LA or Miami, where the climate and cultural vibe is more casual. In my Southern city though, the style is quite staid, so I've followed that standard.
Does your appearance matter? The simple answer is that, yes, your appearance always matters. However, it matters more when your job is to interact with people in-person and when that job is to convince complete strangers, like a judge or a client who is paying you hundreds of dollars an hour for your advice, or to listen to your point of view. It matters less when you deliver a product but have no in-person contact with your client. In my consulting job in New York, my professional appearance mattered less because I rarely interacted with clients and, most of the time, they didn't even know I was the person producing the reports they read.
With these three rules in mind I've compiled what I like to refer to as the Professional Ladies' Wardrobe Starter Kit. I bought myself this starter kit in 2008 when I was first interviewing for consulting firms in NYC, and it lasted throughout law school and well on into the job. But, because I am now several pounds heavier than I was when I was 23, I've had to upgrade.  Before I divulge the list, I'd like to share three essential rules to keep in mind when buying your starter pack.
Quality over quantity. Buy classic, quality pieces that are interchangeable and will hold up over time. Even though I had no income when I purchased my starter pack in 2008, I bought well-made items and, because of that, they lasted forever and continued to look good. I've been able to re-sell them to consignment stores and recoup some of that initial investment, in additional to the investment that paid for itself over 5+ years of use.
Fit over fashion. Make sure that whatever you buy fits perfectly. Nothing looks worse than a suit that is too tight or too loose. This is, unfortunately, especially true for women because we are so cruelly judged for our body size. Also get shoes that fit and you can walk in. I know that heels suck to walk in but if you get a well-made pair that is not too big or too small and with a modest heel (2.5 inches or less) it will make running all over NYC for interviews a lot less horrible.
Natural materials. Natural fibers look better, are often easier to care for, and less irritating to wear if you have sensitive skin. Tropical wool is by far the best material for a suit because it's warm enough for winter and cool enough for warmer months. Get 100% cotton shirts, with maybe a little spandex in them (less than 20%). If you get sweaters, get more than 80% real wool or cotton. You want at least 50% and ideally 90% of everything to be wool, cotton, or silk, NOT nylon, spandex, rayon or some other material that you cannot trace to an animal or plant.
So without further ado, here is the starter kit list in order of importance, with investment pieces (where you should be OK spending $100+ on any one item) denoted by a "$", and with pieces where you opt for natural fibers denoted by a "*".  When I was building my kit, I wrote out a list and checked items off as I bought them.
– Black skirt and/or pant suit. $* This is the number one area in which quality counts because you only really need one suit. If you can't afford both pants and a skirt, then buy the skirt. Unfortunately, I think it's always a good idea for a woman to have a skirt suit, because some old school individuals expect and outright demand it (women are required to wear them while sitting for the Virginia Bar Exam, for example).
– Black pumps with less than a three inch heel. $ This is the other area in which you should not be afraid to spent up to $250. I am obsessed with Cole Haan because they use good quality materials, they often have the same shoe with multiple heel heights, and have an online repair service where you can send pictures and a description of your shoe and they'll send you back an estimate for a repair. My first pair was a simple two inch pointy-toed pump with a Nike Air sole. (They don't make them anymore, but I LOVED them.)
– Non-iron, plain, white button-down.* I love the ones from Brooks Brothers Factory Store, but you can get these anywhere. Make sure the buttons don't gape at the chest. If you need to go up a size to prevent this, get a tailor to take up the sleeves. Also, buy some double-sided tape.
– Striped button-down(s).* The same rules above apply. I have a pink and purple one from Brooks Brothers Factory Store, and they are versatile and a wardrobe staple.
– Work bag. Lots of women like the LePliage bag from Longchamp because they fold up flat if you need to travel. They are, however, pricey. You can find them for less money at the duty-free shop in airports (which is where I bought mine).
– Black flats. These don't need to be pricey. Your essential black flats should be something comfortable that you can commute in (they should have an actual sole) and still look polished.
– Nylons & opaque black and/or navy tights. You can obviously break the natural fiber rule here. I like the Donna Karan ones. I have a pair that I got at Saks (you can also get them at Nordstroms and get the 10th free if you use their punch card), and they have lasted since 2009. They are warm and have control top options too. If you have pantsuits, get stocking socks that go above your ankles (I got mine for $3 at Loehmanns).
– Black sheath dress.* I got an amazing sheath dress from a Theory store at an outlet mall that I could pair with my suit jacket at work. It transitioned nicely into formal evening events or dates after work, and it was less than $100. I hunted for almost a year for it! Make sure this dress fits perfectly and doesn't show too much of your back or cleavage.
– Sleeveless top(s). I have a few printed, silk, cotton, and wool-blend shells that I've picked up on sale. These can be really inexpensive and are a staple to your wardrobe.
– Black cardigan.* I have a Zara cardigan that I picked up years ago, and I still use. I like J. Crew for these since they often have quality silk, cotton, and wool-blends that go on sale fairly often and are easy to clean. Anything will do so long as it has longer sleeves, doesn't gape when buttoned, and has the right fabric.
– Water resistant trench coat. I got a London Fog one from Macy's on sale (<$100). It held up well over the years and was a good traveling coat since I could ball it up and machine wash it. You don't need natural fibers here, and it may actually be better to go for a synthetic blend. This way you can wash it in a machine if you commute by public transportation, and buy it in a light color so you can wash it often.
– Umbrella. Do not get a cheap-ass Duane Reade one. Get one that holds up and is a bold color or pattern so it does not get confused and/or stolen by friends/coworkers. You will thank me when it rains at 6pm in Midtown and every Duane Reade is out of umbrellas. I also like to get ones with a little sheath to wrap it in when it's wet, and stash it in your bag.
– Navy/or navy pinstripe skirt and/or pant suit. $*  If you can afford it, this should be the second suit you get.
– Grey/beige skirt and/or pant suit. $*  I like this for a more summery or casual feel. I got mine from Banana Republic and got another one from Elie Tahari for less than $100 on Hautelook.
– Winter coat (if you live in a place that gets cold in the winter). $* Again, try to go for at least 50% wool. For best value, get a dark-colored one since it won't show dirt, and get it long enough to cover your butt for maximum warmth when you hit those NYC wind tunnels.  Burlington Coat Factory, Century 21 and Loehmanns have some affordable stuff and, if you're willing to wait till those Thanksgiving and post-Christmas sales, you can snag a good deal.
I know this all seems like a HUGE investment and it is, but you should not do it all at once. I have these items now which I have acquired over 5+ years of working in professional legal/corporate environments, scanning sales, outlets/factory stores, and hitting up online discounted shopping, and consignment stores. That is how I recommend you go about it, bit by bit, like any investment, nabbing good deals when you can find them and keeping tabs on  when it's time to upgrade or replace. When you think about it, you will probably wear your $200+ suit at least once a week for almost 50 weeks a year, and your $200+ shoes and coats more than that. When you consider the wear you get out of good quality professional attire, and the impact it can have on your career, it's an investment that is well worth it.
Emma is an attorney who moved from NYC to Nashville for law school and decided to stay.  She will never again live North of the Mason Dixon line or pay more than 1/3 of her salary in rent. Follow her blog or her Instagram.