What My Fitspo Insecurities Ended Up Costing Me, In Dollars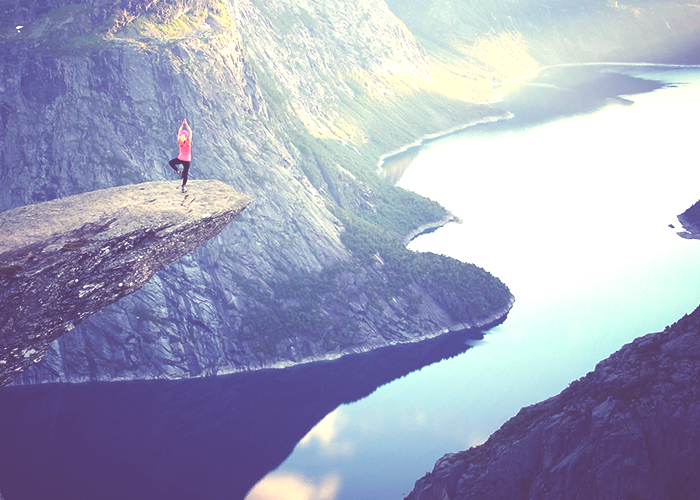 A few years ago, following a particularly demanding semester and gruesome breakup from one of the (many) loves of my life, I found myself seeking solace in a very strange place: A Fairfield County yoga studio. In my weakest of weak moments, I was feeling entirely uncomfortable in my own skin and desperately searching for something to blissfully become a part of. My attempt to reclaim control of my flailing life was dramatic: I dropped my fall class schedule and, without any prior training, signed up for a yoga teacher training certification program.
It was clear within the first few days that I was in over my head. The physical work was no issue; I had no problem pushing myself past all of my limits, and very quickly began to feel stronger again. It was the lifestyle outside of the studio that got lost on me — the "yoga culture" that looks so chic on Instagram, but feels so impossible to replicate in real life — and the realization that when faced with it daily, you have no choice but to conform, lest you be seen as some lesser-tier yoga fraud. The other students in the program with me were everything I wanted to be: calm, centered, chic, and for the most part, rich — and as a 20-year-old college dropout living on a nanny's salary, I simply couldn't keep up.
It began slowly; one lunch break had left me hyperaware of the bag I carried my food in every day. A few days later, a classmate pointing out the sweat spot on my Target-brand leggings prompted me to swipe my credit card for a pair of Lulus I knew I couldn't afford. Getting laughed at for walking far down the street from the studio to the cheaper coffee shop became more shameful than I could bear, and I regretfully charged $4 cups of organic coffee and $8 slices of avocado toast made from locally-grown ingredients during breaks with everyone else. It wasn't long before the thing I'd signed up for to make me feel better began to cost me much more than it was truly worth.
The biggest problem for me was that the parts of yoga that feel good feel really good. The sense of peace and joy following a good sweaty yoga session is almost overwhelming enough to shake your most fundamental beliefs to their perfectly toned core. In general, I often find myself needing to be reminded that spending money I hardly have in the name of self-care is still sometimes reckless spending. But the line between "worth it" and "wasteful" is particularly blurry after a long yoga class surrounded by white walls and glistening bodies sporting $120 leggings. Those feelings of peace, perfection, and belonging are addictive, and at my most vulnerable I would have spent any amount of money to recreate them every Saturday and Sunday morning.
As I write this, I notice more than ever how silly it all sounds. You don't have to act a certain way to be capable of a yoga practice. You don't need to dress a certain way or talk a certain way or eat certain foods to be completely intentional in your practice. It is entirely possible to do your own yoga, be your own guru, and carry it all out in a way that works for you — physically, mentally, and financially. But sometimes, in heat of the hot yoga room, it is easy to forget that you are a just a person doing an activity. You aren't your yoga — you are you, doing yoga.
This if course applies to any hobby, activity, or even job you may have in life. I've learned the hard way more than once that I don't need to splurge on Starbucks during breaks just because my coworkers can afford to, and that doesn't make me any less capable of doing my job. A kale smoothie is arguably nothing more than a state of mind, and definitely not something I would ever classify as a particularly tasty or necessary beverage in my life. But somehow, my brief stint in the yoga world made me feel like if I didn't have a $7 cup of chic plant juice in my paw at all times, I was an unworthy, inauthentic yoga fraud.
After calculating my losses — $5,000 for the training program, $200+ on clothes that I hardly wore, and $15-20 a day on designer yoga snacks — I decided it was best for my wallet's wellbeing, and my own, to cut ties with the studio.
The truth of the matter is that yoga is supposed to be a practice of physical or mental discipline, not a practice of relinquishing all of your control to those who you aspire to be. At the end of the day, if you are doing whatever you're doing authentically and intentionally, you are the most ~enlightened~ person there is- and that is worth way more than any amount of likes you may get on an Instagrammed pic of a pricey green juice.
Mary is the summer Media Fellow at The Financial Diet. Send her your summer intern stories (your lessons, failures, triumphs and good advice) at mary@thefinancialdiet.com
Image via Unsplash