Living
What Rachel Green's Life Would Actually Cost In 2021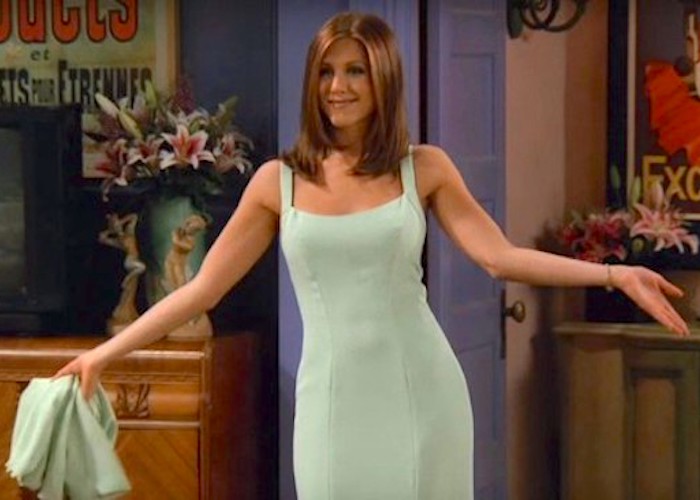 In light of the recent Friends reunion that took place on the series' sweet 16 finale-versary, it's only right we take a walk down memory lane.
And while fans were going crazy over silver fox Matt Lablanc's reunion look, with #MemeCulture likening him to "everyone's favorite Irish Uncle," I looked out for my favorite girl — the woman, the myth, the "haircut" — Rachel Green (played by Jennifer Aniston).
By the way, she looked absolutely stunning. Honestly, the whole cast barely aged a decade, let alone two.
If we're being honest, to fans of Friends, Rachel was like the show's Carrie Bradshaw – she lived inexplicably beyond her means, had a rent-controlled space, her true love was the same problematic man throughout the entire series, she trades a new life in Paris for a domesticated one with said guy in New York and of course, she's fashionable.
And while Rachel's entire life completely and unrealistically romanticized New York living and culture, it's always fun to imagine what her life would, in fact, cost IRL. 
Where Rachel Lived:
Price Then: Rachel (along with her BFF Monica) resided in lower Manhattan's Greenwich Village, more specifically West Village. They occupied a spacious 2-Bedroom apartment (1125 sq. ft).  Considering the bulk of the show aired in the 90's (1994-2004), it would've cost about $2,500 – $3200 a month to rent or $1,250 – $1600 per roommate.
What She Paid: According to the show, Monica inherited the apartment by way of her grandmother. She and Rachel went on to become sole owners of the unit and only paid $200/month total for the unit.
Price Now: In 2021, such a luxury and high-demand Manhattan space would be worth anywhere between $4,500 – $5,000 a month, to rent.
Show Logic: The show's storyline often leaned into the fact that Monica and Rachel had a rent control apartment, and that the rent reflected the time and cost (of rent) in which they became tenants. However, while rent control laws do apply to many historic apartment buildings in NYC, the unit would have had to been built and owned on or before 1947, according to Curbed. On top of that, the tenant(s) would've had to have leased the apartment on or by 1971, for rent control to apply. And, during this time, rent for a similar space in the West Village in 1970's, would've been about $335 a month.
Where Rachel Worked:
Price Then: It's no secret that Rachel is from generational wealth (or at the very least, a next-gen, upper-classer.)  However, her character's time on the show kicks off with her jilting her wealthy, then-fiance at the alter, running to a cafe and ultimately renouncing her riches. Basically, during the series, Rachel was starting her adult life from scratch. She soon ends up working as a waitress/barista at Central Perk Cafe. In 1994, the national minimum wage was $4.25 and servers, who earned tips (e.g. Rachel), were on a "tipped minimum wage" rate of $2.15/hour + tips.
What She Earned: We never actually find out Rachel's wages, however, it's fair to calculate that if she worked 40 hours a week, at a rate of about $5 / hour (we're leaning into tips here), she would've made about $200/week.
Price Now: With the huge increase in popularity of coffee (and the inflation that has come with it), baristas in New York today make about $12-$15 / hour and tips! 
Show Logic: Rachel's ability to survive in the big city on a small wage can more than likely be backed by her low-living cost, as proposed on the show. So if she and Monica split a unicorn rent amount of $200/month, this is more than affordable on a salary that averaged about $200/week.
Not to mention, later on in the series, Rachel would go on to work a job in fashion, both as an assistant and a buyer. It could be argued that her higher career role (buyer) supplemented other aspects of her lifestyle.
What Rachel Spent:
Now here is where it gets tricky. Rachel was known to wear a lot of fancy designer pieces. Although she didn't always name-drop like a certain "you-know-who" from SATC (cough – Carrie – cough) she was no stranger to big price tags, be it clothes or just the overall finer things in life.
Price Then: Rachel's wardrobe varied from London boutique wear  (the infamous yellow dress!) to custom couture (the infamous green dress!) to fashionable everyday wear. The price, while not often stated during the series, could easily be chalked up as expen$ive.
Price now: Ironically (or perhaps, strategically) enough, after the series ended, designer Ralph Lauren went on to create a Rachel-Inspired clothing collection. The line, which carried pieces that ranged from $39.50 – $2998, was entirely inspired not only by Aniston's style on the show, but also by the fact that Aniston's character worked for Ralph Lauren.
Show Logic: Honestly, none! We can easily chalk up the logic for Rachel living beyond her means to small-screen magic and imagination, folks!
***
It's fair to say that in the real world, Rachel couldn't (and wouldn't) be able to afford her lifestyle on her income and charm alone. The beauty of TV and movie screens is the ability to pretty much make things up as you go along. However, if you don't want to oversimplify the plotholes of Friends by saying it's part fantasy, just do what I do  and assume that Rachel more than likely got some money from mommy and daddy Warbucks, on occasion — at least for her birthday.
Image via Youtube/NBC