Why I "Called In Black" At Work & How I Used That Time To Heal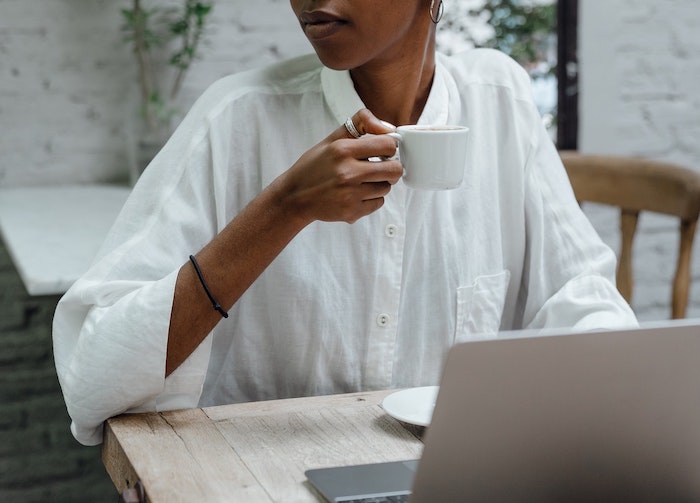 My one-bedroom apartment was full of hundreds of virtual participants when the Zoom meeting host asked everyone to take a moment of silence. The moment of silence was for George Floyd, Breonna Taylor, Ahmaud Arbery, and all the other unarmed Black people who have been killed by police. I did not want to lose it in front of a sea of unfamiliar faces. I instinctively turned off my camera, sunk into my sofa and I began to weep. This was the first time that I took a moment to grieve.
Mentally I was losing a battle with the reality that Breonna Taylor could have been me. Breonna was born one day before me. She lived in the same state. And she was Black just like me. She was building a future for herself, just as I am actively doing. My chest hurts having to fathom how all hope for the future can be taken away by police bullets. These everyday similarities haunted me so much that I stopped feeling comfortable in my own home. Breonna was killed in her home.
My petite apartment stopped feeling big enough for all the rage I was feeling. I could not go for a run, because Ahmaud Arbery's story paralyzed me. His neighbors had no right to take his life, and I was afraid that could happen to me. As I began to think about work the next day, I struggled with my breathing. The agony of their deaths flowed through my body triggering a panic attack. George Floyd's voice was playing in my head, "I can't breathe."
These difficult conversations can be draining, and the pandemic limits our chances to escape. For this reason, in any way we can, it is important to prioritize our mental health along the way.
During Monday's work meeting, we did not talk about the deaths of unarmed Black people nor did anyone mention the transnational protests. It felt like the world was paying attention, but no one in this work bubble cared to mention the humanitarian crisis within this space. I was fighting to compartmentalize my professional and personal life. If my dining room painting could talk, she would tell you, I was not winning. I mustered every ounce of my physical, mental, and emotional being to mirror my white colleagues' apathy. By Tuesday afternoon, my lack of sleep rendered me emotionally drained. I was not eating properly. It felt like my apartment was losing square feet. 
In one of her videos, Evelyn from the Internet introduced the idea of "Calling in Black." She takes viewers through an everyday person calling off work. This time was unique because she was calling off to grieve the death of Sandra Bland. Bland was a Black woman who died in police custody. While the video is lighthearted, it was imbued with a seriousness that I could relate to because I yearned for time to grieve. I realized that, "Calling in Black" was my only option to take time and truly acknowledge my distress. At work, there was no space reserved to mourn these deaths.
When I finally took time off, in the spirit of Maxine Waters, I was reclaiming my time. I rid myself of work responsibilities and focused on me. To affirm that my mental health was a priority, I closed the curtains, lit lavender candles and took a warm shower. It was when I began to dry off that my apartment gradually stopped shrinking. In a bed fit for a queen, I gave myself time to process each death. I was grateful for the global response to this humanitarian crisis. I prayed that paying attention was not just to be trendy. With my phone on do not disturb and my work laptop at the bottom of my bookshelf, I embarked on my journey of radical self-care. I wrapped my hair in my purple silk scarf. I applied the sweetest smelling vanilla lotion. Lastly, I looked at myself in the mirror to speak words of affirmation reminding myself why I love my brown skin. 
That night, I received word that the Klu Klux Klan was going to my hometown to counter-protest the Black Lives Matter protests. In a panic, I called my family to make sure they were safe. I begged them to stay home for the evening. Enough Black people were forcefully martyred for this call for justice. I could not take it if someone in my family became the latest hashtag. We are not the kind of people to sit idle in times like this, but COVID and the Klu Klux Klan complicated things. I never thought my siblings and I would experience this kind of hatred in our lifetime. We chose self-preservation over protesting that night. Had I not called in Black, I wouldn't have been able to handle such turmoil. 
I had every intention to stop posting on social media during my well-being day; however, I have never been one to shy away from using my voice. I flooded my IG story with any post I felt reflected how I was feeling. It felt like the safest way to participate, and people were listening. I posted about my personal experience with discrimination and racism. An old friend told me protesters were exploiting the deaths of George Floyd, Breonna Taylor, and Ahmaud Arbery to push a political agenda. This tells me that some people are still holding on to their racist views. Alternatively, I received a few messages that contained apologies. These apologies were for the discrimination I experienced in high school.
All this processing and posting was cathartic, but I needed to take care of myself physically, too. The only option was to cook breakfast like my dad. Within minutes, I was having my own private Black Lives Matter party. The musical guests included Pulitzer Prize winner Kendrick Lamar, Tupac Shakur, H.E.R., Beyoncé, and Esperanza Spalding singing, "you are Black Gold." With each word of the song, my tiny apartment started inching back to its normal size. The menu for this private party included the finest grits with salt – not sugar — along with sausages, biscuits, and the best store-bought orange juice.
This set the tone for the rest of my self-care Wednesday. Angela Davis once said, "Anyone who is interested in making change in the world has to learn how to take care of herself, himself, themself." This is a historical moment in our lifetime. The global community is experiencing a pandemic. We are actively having conversations about white privilege, police brutality, and institutional racism. These difficult conversations can be draining, and the pandemic limits our chances to escape. For this reason, in any way we can, it is important to prioritize our mental health along the way.
Not everyone will be able to "Call in Black" the way that I did, but it's important to be intentional with how you spend your time, as much as you are able to. It could mean that you take a walk, phone a friend, sing the words to your favorite song at the top of your lungs (it doesn't have to sound good), or just cry like I did. Take a moment to do something for you and only you. I love Evelyn's video because she does not tell us how to "Call in Black." I was free to spend the time in whatever ways that felt right to me. On the day that I decided to "Call in Black" I acknowledged that I was hurting, I began to process my emotions, and I ensured that I could feel comfortable in my home. Despite all this pain and discomfort, I love being Black and I would not have it any other way.
Tara is a writer currently based in Kentucky. When she's not pouring her heart onto a page, she's reading, practicing photography, talking on the phone, or cooking. Follow her in Instagram at ms.taranicole
Image via Pexels
Like this story? Follow The Financial Diet on Facebook, Instagram, and Twitter for daily tips and inspiration, and sign up for our email newsletter here.