10 Quality Home & Kitchen Items I Always Buy At The Dollar Store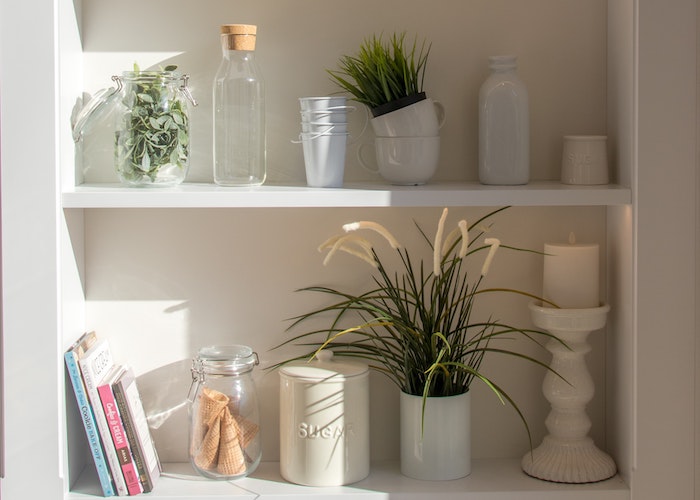 As I get older, I notice myself becoming increasingly frugal in my ways. And even though I've trimmed a lot of my expenses, there will always inevitably be things I need or want to buy. The fun part is seeing how inexpensively I can purchase these items, and the dollar store is one of my favorite bargain places that many overlook. A lot of people associate dollar stores with cheap, useless products that you get for one-time uses only, and yes, I'll admit there are a few of these — but there are also a lot of useful products worth perusing the aisles for.
The trick is to find the right dollar store. Some of them are actually "dollar and up" stores (which, in my mind, is a total cop-out and shouldn't have the word "dollar" in the name of the store at all). It's worth trying to find a branch where everything you see in there is actually $1; no more, no less, and it makes it easy to keep a running total in your head while you shop. It's also worth gauging the size of the store. There is a dollar store about five minutes from my house, but it is SO worth it to drive an extra 15 minutes to the larger one. They are guaranteed to have a larger variety of products, more inventory, and even sometimes frozen/refrigerated food items. Plus, I can stop in the thrift store next door and make it a two-for-one bargain hunting day.
So, without further ado, here is my list of 10 items I always purchase at the dollar store.
1. Spices
I love cooking from scratch to minimize the amount of processed food I'm eating, but that requires me having a large spice arsenal at my disposal to beef up the flavors. Having started out with just a tiny container of cinnamon when I first moved out of my parents' house, I didn't relish the idea of forking out a ton of dough just for spices (look — not just anyone can fit three food puns into one sentence!). Most of the dollar stores I've been to have decent-sized containers of spices, so I make sure to add to my inventory every time I go. On my last trip, I stocked up on cayenne pepper, cinnamon, chili powder, and dried onion flakes. I find that the more spice variety I have, the more likely I will be to experiment with new dishes and choose cooking at home over takeout.  
2. Cleaning Products
I live in a very old house that is prone to bug infestations, so I am pretty much wiping down surfaces 24/7. I always need to re-up my supply on all-purpose cleaner when I make a trip to the dollar store. The bottles are full size, and I don't notice a difference in quality from other brands, so I'm pretty happy with my $1 cleaning spray. While you're at it, you can also invest in washcloths to replace paper towels/cleaning wipes. Hand wash or throw them in with your washer, and they're good as new. I've also gotten dish soap, laundry detergent, air freshener, and hand soap. That's six cleaning products you can get for a grand total of $6 (the only problem is that now I have no excuse not to clean).
3. Travel Kit
I love to travel everywhere and anywhere, but I refuse to check a bag no matter how long I'll be gone. Not only is it cheaper, but it's good minimalistic practice to evaluate what you actually need. The dollar store has plenty of travel sized items to choose from like razors, toothbrushes, toothpaste, wipes, pill organizers, and deodorant to help you pack efficiently. You can also pick up little containers to fill up if you prefer to use the products you already have (and reuse them for a kinder-to-the-environment option). No more having to remember to pack bathroom essentials the morning of your flight.  
4. Gift-Giving Accoutrements
I love giving gifts, and even worked a permanent "presents" category into my Mint budget. But somehow, I always forget to factor in everything that goes into presenting the gift. For my friend's birthday last year, I walked into the drug store to get a gift bag, a pretty bow, and a card to go with the gift I'd put meticulous thought into, and just those three items totaled more than the actual gift itself! I enjoy presenting someone with a perfectly wrapped present with matching frills, but I'm not trying to waste more than a few dollars on something that (let's be honest) is just going to end up in the trash. When I make my semi-monthly dollar store trip, I always pick up a few extra gift-giving supplies should the occasion arise. I also make sure to get some birthday/thank you cards to have at my disposal, which has come in handy more than once.
5. Picture Frames
I went to Spain last year and bought three gorgeous watercolor paintings of flamenco dancers, and for months, they sat in my drawer waiting to be hung. I'm not particular about frame design, and wasn't looking for anything fancy, just something to protect the pieces once displayed. You can find a lot of good frames at thrift stores, but since I wanted three identical frames to hang, can you guess where I headed? Yep, dollar store wins again my friends. Now that my paintings have a permanent home inside three textured rose gold frames, it feels like one step closer to officially #adulting. Having your pictures/paintings/posters actually framed instead of taped or thumb tacked into drywall definitely has a certain I've got my shit together vibe about it. Plus, if you don't like the color of the frames they have, they're cheap enough that you can experiment with painting them and not feel too bad for wasting money if they turn out like garbage.
6. Candy
I literally have to shield my eyes from this aisle at the dollar store, because it's so tempting. Every one I've been in has at least a full row of brand-name candy. If you're hosting a party, in need of gift basket fillers, or want to stock up on some movie theater candy without having Costco-sized leftovers in your pantry for months on end, grab $5 and you're all set. I only wish I had thought of this tip last December when I dropped $40 on an assortment of candy and ingredients for a gingerbread house that ended up in the trash a month later. Speaking of gingerbread houses…
7. Small-Portioned Ingredients
I rarely ever bake, so I don't keep a stash of ingredients in my pantry that I can turn to in times of a craving. Sometimes, though, I'll get the urge to bake a recipe for a special occasion or to attempt one of the extravagant challenges depicted on The Great British Bake Off. The dollar store is a great place to turn if you are in need of small portioned ingredients that you only need for a single use. It's a win-win for cutting down on ingredient spending and minimizing food waste. Plus, they often have boxed desserts available for when you want to pretend you're on GBBO but don't actually have the patience for baking. In need of a creative-but-cheap date night idea? Head to the dollar store and make a gourmet meal using only ingredients you find there.
8. Holiday Décor
I love all holidays of the year. Celebrating even the minor ones in small ways makes me happy and breaks up the monotony we fall into from time to time. "Celebrating" doesn't have to mean you go all out on decorations and food; it can be something as simple as hiding a bag of chocolate gold coins for your S.O. on St. Paddy's or making a special margarita recipe for Cinco de Mayo. Whether you go big or like to keep it simple, there's no need to go overboard when spending on decorations. The dollar store always has a good selection of cute, simple decorations that will give your living space an extra something special for the upcoming occasion. I mean, how cute are these little plastic cactuses?
9. First Aid Supplies
I find that with prepacked first aid kits, I always run out of band-aids, but have a ton of gauze pads, burn cream, and ice packs leftover that never get used. Dollar stores usually have a good variety of useful first aid items like band-aids, antiseptic cream, medical tape, or whatever else you use most frequently that you can fill your kit with. You can also get certain medicines like pain relievers, aspirin, cough drops, and other items good to have on hand, but cost a small fortune at the drug store. Grab a $1 container to pack it all in, and you'll be prepared for anything.  
10. Storage/Organizational Containers
I may be organization-obsessed, but at least I've found a cost-effective way to fuel my "habit"! The dollar store is an organizational dreamland for me. From drawer separators to storage bins to vacuum seal bags, the possibilities are endless. If you're feeling extra organizational motivation, stop by the office supplies aisle and pick up some fancy paint pens and labels. I am constantly organizing and reorganizing everything in my house, and it feels good once I finally decide on a permanent home for something.
Bonus: Did you know that you can bulk order all these items and from the Dollar Tree and, depending on your location, have them delivered to your nearest store free of charge? I've never done this myself, but I definitely plan to take advantage in the future. This can be a great hack if you're super crafty, own your own business, or are planning an awesome party (which you have to invite me to, since I just saved you a ton of money). Just make sure you're getting the best deal. Everything may be $1, but that doesn't mean you can't get it cheaper elsewhere.
*****
Dollar stores are not perfect: the quality of some items is not the best, you have to be careful about expiration dates, and you can end up with a lot of random crap because, well, everything is $1. But if you shop carefully, the dollar store can be a one-stop bargain shop for a lot of necessities. Grab whatever cash you have lying around, head to the dollar store, and you will be surprised at how much you come out with.
(This post was originally published April 2018)
Kara is a working 20-something from Maryland who is trying to figure out her next career step. She enjoys personal finance, rock climbing, traveling anywhere and everywhere, and trying out new hobbies every six months or so. Her dream is to one day own her own business, but she has yet to come up with any good ideas.
Image via Unsplash