10 Warm Weather Essentials For People Who Really, Really Hate Summer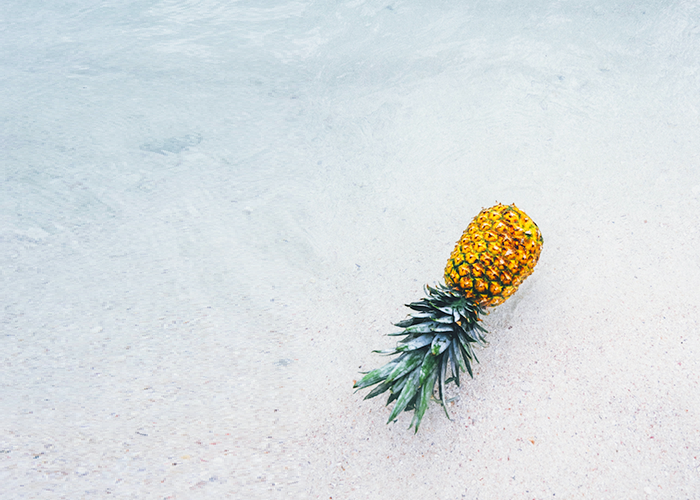 I'm going to start this post on a positive note: There are plenty of nice things to love about summer. Cold, fruity cocktails. Weekend getaways. More daylight hours to enjoy. Ice cream trucks. Eating ice cream outside in general. Swimming in the ocean. The concept of getting a tan (an extreme theoretical for me tbh). Going to the movies twice a week, mostly for the AC. Picnics. Drinking rosé without getting weird, judge-y looks from people who think it's "not in season."
That paragraph took me literally 20 minutes to write. Not because I don't genuinely love all of those things — I do, I promise! — but because summer, for me, always conjures up more negatives than positives. And I fully understand that not liking summer has become just as passé as LiViNg for the beach, and that my stance is fully unoriginal. Yet I am already dreaming of the day in September or October when it finally feels right to sip on hot cider while watching Over the Garden Wall again. *sigh*
I grew up in the South, where summer meant bringing a sweater with you everywhere, because that's how much they jacked up the air conditioning. And you know what? I spent so much more of my summers indoors than outside. Sure, I went to the pool sometimes, but mostly I would hunker down on the couch consuming diet coke after diet coke during the hours I wasn't working. I loved the change of seasons, but I dreamed of moving somewhere where summer was short and winter involved actual snowstorms (hence why I went to college in Vermont).
Now that I live in a city where AC is hardly a given, at least in people's homes, and I don't have a car to get around/escape the heat in, I find that I've come to dislike summertime even more. I love New York, and it's easy enough to find an escape from the extremely sticky months here…but boy are those months long. We've already had one or two days above 90 degrees, and it's not even June. But as much as I would like to crawl into a 65-degree hole for the entire season and not even think about having to step onto a stuffy, hellish subway platform, that's not really possible. I have people to see and a job to do. Therefore, investing in a few things to have on hand during the summer to make the hot days a little more bearable is something I do each year. As always, if you have any to add, please share!
1. Something to set your makeup.
If you do wear makeup, you probably understand that one of the most annoying feelings is all of it smudging off your face on a particularly gross, hot day. I've always used setting spray, but Chelsea swears by using thermal water
instead. And, as a bonus, it also helps cool and calm your skin.
2. Blotting sheets.
If you have oily skin, blotting sheets
are a godsend. I don't have the greasiest skin by any means, but using these once a day after my face has just been basking in all the humidity is quite a relief. I also feel like I never run out of them too quickly, and only end up going through one or two packs a year.
3. A few breezy dresses.
As cute as tight-fitting skirts and dresses can be, I personally feel like they are just not made for summer. Thigh chafing is incredibly real, and I am cringing just thinking about being stuck in a sweaty, skin-tight skirt on a gross humid day. I always invest in a couple swing-type or maxi dresses, which are great because a) a dress is basically a whole outfit, and b) no one will ever notice if you wear the same basic swing dress
twice in one week, especially if you accessorize it differently.
4. Bike shorts (or other spandex-y shorts).
And on the note of breezy dresses, yes, I have often been That Girl holding down her skirt after it was blown up around her ears while walking down a flight of stairs on a windy day. It is still worth it to me to wear flowing, non-constricting skirts and dresses, but it's a hell of a lot less embarrassing if I'm at least wearing some spandex shorts
underneath. They're great for both feeling less vulnerable walking around in a dress on a windy day, and helping prevent uncomfortable and unavoidable upper-thigh-chafing.
5. Baby powder.
And speaking of chafing…baby powder
. It's an extremely versatile (and cheap) product to have on hand all summer. Not only does it make your thighs rubbing together a little more comfortable during the summer, it is an excellent dry shampoo substitute (even for my dark hair — I just make sure to brush it out thoroughly), and it's great for when you need to dry out a particularly sweaty area (whether that be your underarms or under-boobs — no judgment here).
6. An insanely-insulating water bottle.
Since we all know there is nothing as environmentally un-friendly and un-chic as buying bottled water, I think we'll all be on the same page that having a reusable water bottle is both a financially and environmentally responsible choice that everyone should be making. That said, carrying around water that gets lukewarm (and eventually even hot) while out in the sun is a huge bummer. Getting a well-insulated water bottle
honestly makes life so much better. (It also means that your water bottle won't have that icky condensation situation that seems to happen as soon as you take your thin plastic bottle of water out of your bag. Ew.)
7. A mini fan.
If the fear of looking a little goofy creeps up on you whenever you consider investing in a portable mini-fan, ignore it. Picnics are fun, but I enjoy them so much more if I can make eating chips and dip under the hot summer sun slightly more comfortable. Considering I once brought an umbrella to sit outside during a cloudless (and humid and disgusting) college graduation, I have no shame carrying a mini fan
around in my bag. You shouldn't, either.
8. An actual fan.
I do have an air conditioner in my apartment, but it runs up my electric bill so much. Running a fan instead, even all night long, is way more cost-effective. I have one that is three feet tall and oscillates
. I keep it next to my bed, and it runs all night for at least four months straight. I love it.
9. Hair clips. 
One thing I actually do love about summer is that I almost never bother taking the time to blow-dry my hair — I love the way my hair looks when I do it, but I hate having to blow it out. In the summer, I almost always put it up. Most of the time that involves a bunch of mini claw clips
(and yes, it is extremely 90s-looking), or, if I'm feeling fancy, I'll do some sort of braided updo. Not having to worry about my hair during the summer makes it so much easier for me, especially because I will never understand how to get the perfect beachy waves.
10. Good sunscreen.
For the love of god, wear your sunscreen. I try to put at least some SPF on my face every day of the year, and if I'm planning on going outside at all on a summer day, I put it on every piece of exposed skin. It is truly one of the easiest forms of preventative healthcare you can do. I've heard a lot of good things about the new Glossier sunscreen, but honestly $34 for a tiny little bottle seems like too much to me. I've been using the non-greasy Neutrogena
 kind since high school, and it works great.
Holly is the Managing Editor of The Financial Diet. Follow her on Twitter here, or send her your ideas at holly@thefinancialdiet.com!
Image via Unsplash