10 Wholesome Shows To Watch On Netflix When You Need A Break From Reality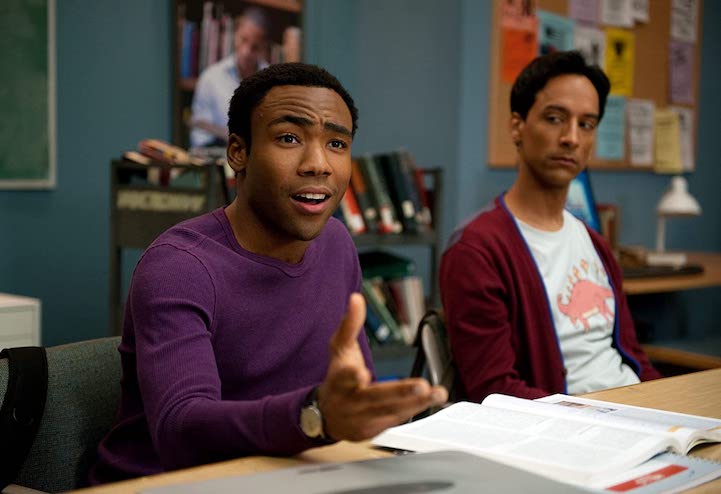 With so much stress, anxiety, and fear going on in the world right now, many of us are craving a little escapism from the endless stream of news. Once you've made it through the madness of Tiger King, you might find yourself craving something a little…less chaotic.  
With that in mind, I've compiled a list of 10 uplifting shows and movies to watch on Netflix right now. (Please note that availability can vary based on your country).
1. Community
This 2015 TV show series is a classic for a reason. It features a star-studded cast, including Donald Glover, Yvette Nicole Brown, and Ken Jeong. The show is fast-paced, witty, and easy to digest, with each episode only being about 20 minutes. It's the perfect show to keep on in the background while you're batch cooking, organizing your space, or refreshing your budget.
2. The Good Place
Tackling big questions like "what is morality?" and "what happens when I die?" sounds stress-inducing, especially now, but with the comedic team behind this fast-paced series, you're sure to laugh along. The talented cast (Kristen Bell, Jameela Jamil, Ted Danson and more) have chemistry and humor that keep you curious and content along the journey.
3. To All the Boys I've Loved Before
While this movie may seem designed for middle school girls, viewers of any age can enjoy this cute story depicting a high school romance with a fresh twist. The first time I watched it, I was skeptical, but by the end, I found myself giddy and inspired to feel that you're-everything-to-me type of puppy love. 
4. Parks & Recreation
It seems that no list can be complete without mentioning this wholesome sitcom. This is the type of show that you can quickly catch onto, even out of order, so join your roommate next time they throw an episode on.
5. Our Planet
Nothing can make you quite as grateful for the many animals that live on this Earth than seeing them in high-definition from the safety of your home. Episodes take place in the breathtaking settings of jungles, coastal seas, and forests. 
6. Miracle
This 2004 film is a nail-biting classic for sports lovers and Disney fans alike. The message of the movie is beautiful: you can dream, you can do it, and you're nothing without the people by your side. Plus, with sports on hold for the time being, this film will give you that on-the-edge-of-your-seat feeling.  
7. Tidying up with Marie Kondo
There's something about organization that just feels so satisfying. Not to mention, each episode takes you through the life and transformation of a family–sparking joy in viewers along the way.
8. Secret Life of Pets
This family-friendly film keeps kids engaged and adults cackling. With witty banter, a cute plot and beautiful animation, there's everything to like. 
9. Queer Eye
If you're already a Queer Eye fan, now is a great time to re-watch the show (Also, check out our post on how to Queer-Eye your life on any budget). This sweet show has captured America's heart for good reason. It follows a team called the "Fab Five" as they travel far and wide to transform the lifestyles of others and bring more understanding to one another. With themes of self-compassion, acceptance, and community, now is as good a time as any to get into this series if you haven't already. 
10. Sugar Rush
This baking competition has all the glam and glitz of a game show with the calming movement of frosting a cupcake. Prepare to feel inspired to bake something new while at home!
While there's plenty of captivating content out there, it's more than okay to stick with shows and movies that are comforting and uplifting when you're feeling heavy. What shows and movies are you loving right now? Let us know in the comments below!
Simplicity Bryan is deeply entrenched in the worlds of self-help, gratitude, personal finance, and organization. She's happiest paddleboarding with her pup and storytelling with a purpose. You can follow her here.
Image via IMDB
Like this story? Follow The Financial Diet on Facebook, Instagram, and Twitter for daily tips and inspiration, and sign up for our email newsletter here.