A 6-Step Guide To Protecting Your Financial Life During A Crisis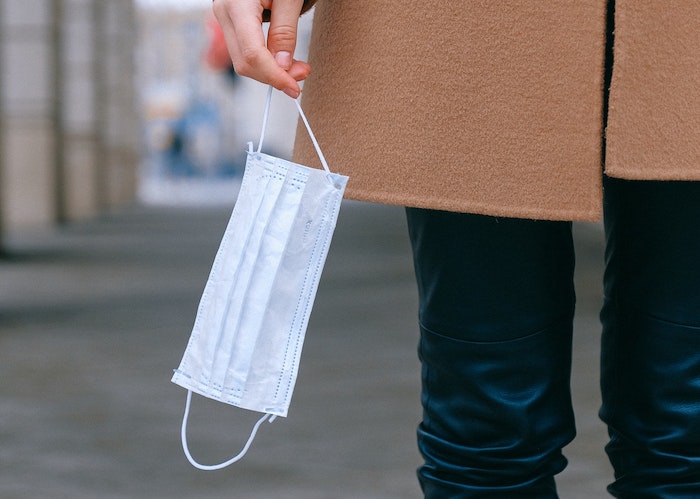 Uncertainty can be scary, and right now, we're all drowning in it. With so much up in the air during this pandemic, you're probably wondering what you can do to feel a little more in control of things.
We won't pretend to have any clue what the next few weeks or months will hold, but we do know that money can make everything infinitely more stressful. Whether you're already going through a tough time financially or you're just afraid financial hardship is on the horizon, there are a handful of precautions you can take to protect your finances now.
1. Talk to your employer.
The federal government is working on passing the Coronavirus Response Act, which would give some employees more paid leave and offer a tax credit for self-employed workers. Unfortunately, the bill would also reportedly leave millions of workers behind, so it's worth talking to your employer about how they plan to handle work and payroll during the emergency.
See if the payroll schedule is still in place, what plans they have to shut down the business, offer paid or unpaid time off, lay off employees, and so on. Basically, you want to know what to expect, even if it's the worst. Your employer should be willing to tell you whatever they can. They might not know what to expect, either, but urge them to share as much information as they can so that you can make plans accordingly. Freelancers should ask clients if assignments are still on the table, and now is a good time to invoice for any as-yet unpaid work. 
2. Build an "emergency budget." 
Take a look at your budget and see what expenses you can cut until things go back to normal. Sure, you want to support local businesses and do your part to keep the economy afloat right now, but that doesn't mean you have to stretch your own finances thin, either.
Look for expenses you can reasonably cut back until you have a better idea of what your financial life will look like for the next few months. Look for ways to save money on all of your bills. Personally, I've paused my gym memberships and other subscriptions. If you're working from home, be financially prepared for higher utility bills, as you'll presumably be using more electricity. 
3. Talk to your landlord or mortgage lender.
Even if you can still afford your rent or mortgage, you want to know your options if you run into any financial setbacks in the coming weeks or months. 
The Federal Housing Finance Agency (FHFA) is reminding everyone about forbearance, a hardship relief option that's basically like hitting pause on your loan. With forbearance, you have the option of postponing your mortgage payments while you're going through financial hardship. But keep in mind: interest will still accrue while your loan is "paused," so this can offer relief in the short-term but cost you more in the long run, since interest accrues while your principal amount stays the same. In a statement, the FHFA director encouraged borrowers to ask their mortgage servicers about policies they're putting in place amid coronavirus. 
If you're renting, many cities are implementing an eviction ban during coronavirus. This ban prevents your landlord from evicting you if you can't make rent in the coming weeks. Baltimore, Miami, San Jose and San Francisco, New York, Los Angeles, Seattle, and Boston are among the major cities that have implemented or are working to implement this "30-day moratorium" on evictions. If you're worried about taking a financial hit in the near future, it's worth asking your landlord what other protections they may be putting in place for their tenants. 
But let's be honest: Landlords and lenders are often unhelpful when there isn't a global emergency. If your landlord has been difficult in the past, there's a good chance they won't exactly be prepared to accommodate tenants right now. Still, any information you can get out of them will at least help you prepare your finances for the hit, so reach out and ask them what their policies are if you haven't heard from them already.
4. Prioritize your bill payments.
If you've already taken a financial hit from coronavirus, you might be wondering how to prioritize your bill payments right now. The good news is, many bill providers are implementing emergency policies to help customers going through financial hardship.
Utility providers
Many utility companies will keep the lights on for customers who can't afford their bills during the emergency. If you haven't already received an email from your utility provider, check their website and see if they've released a statement about their policies regarding coronavirus. If they haven't, give them a call and ask, but there's a good chance they won't shut off your service or charge you late fees if you can't pay right now. 
Cable and Internet service providers
The FCC has asked Internet and cable providers to follow suit and not shut off services or charge customers late fees if they can't afford their bills for the next 60 days. Most of these companies have complied, including Comcast, AT&T, Charter, Verizon, and Cox. Vox has a full list of companies that have agreed not to shut off services or charge customers late fees. 
If your bank account is in emergency-mode, it might be worth canceling automatic bill payments for bill providers that have implemented these policies. If you won't be able to afford the payment on your due date, the last thing you want is to drain your bank account and rack up overdraft fees. Charter is also offering two months of free service for new customers who live in households with students, and they're waiving installation fees.
Credit card issuers
Credit card companies are pointing customers to their own hardship options, and some of them are waiving late fees or offering reduced payment plans. Bankrate has a list of policies from major credit card issuers, but the gist of it is, if you can't afford your minimum payment, give your credit card company a call and ask about their hardship programs. 
Student loan servicers
Your student loan servicer might have emailed you with their relief options, too. Like mortgage companies, student lenders offer forbearance. Again, this means you'll pay more money over the course of your loan, but it can offer a lot of relief in the short-term. Similarly, the Trump Administration has issued a student loan interest waiver for some federal loans. This means the interest on certain federal student loans will be waived during the emergency. Unfortunately, it doesn't mean your monthly payment will go down. As Ron Lieber of The New York Times reports: 
"Monthly payments aren't going to go down at all. Instead, the entire payment will go toward paying down the principal amount on the loan. The result will be little short-term relief for many of the borrowers who celebrated the announcement. Instead, they will benefit later — say, if they pay enough principal during the waiver period to shorten the scheduled term of their loans."
So while the waiver does offer some relief, it might not lower your monthly payment. The Department of Education is still finalizing these details, and if you have a private loan, again, it's worth contacting your lender to see what hardship options are available should you need to use them.
Generally, if you're struggling to pay all your bills, your loan payments are probably going to take priority, as bill providers seem to be offering more immediate relief options, including waiving late fees.
5. Beware of stress spending. 
When you're stuck at home, it's tempting to spend time shopping online. Impulsive shopping also feels productive when you're stressed or anxious, and people are likely to buy practical, utilitarian items when they stress-shop, according to a 2016 study. 
We're all pretty stressed right now, and there are some practical, utilitarian items we should be stocking up on, just make sure to be extra discerning with your spending. You want to keep as much cash on hand as possible. 
Don't make any rash investing decisions right now, either. Experts warn that a global recession is coming, and that means selling your investments is not ideal right now, but it's also probably not a good idea to "buy stocks on sale," either. The bottom line is, we don't know what to expect in the near future, so hold tight, keep your cash, and try not to overspend. 
6. Get a refund on travel.
If you have any travel or events planned within the next 60 days, all signs seem to point to canceling them, if at all possible. Thankfully, airlines have issued flexible cancellation policies and we've covered the policies of major airlines here. Airbnb is also implementing a flexible refund policy amid the emergency, covering "Existing reservations made on or before March 14, 2020 for stays and Airbnb Experiences with a check-in date of April 14, 2020, or earlier, and with at least one night occurring between March 14, 2020, and April 14, 2020."
Hotels and other travel or event platforms should be willing to offer similar cancelations, although there are reports that customers are still being charged fees for canceling. If an airline, hotel, or other travel agency has charged you for canceling your reservations due to coronavirus, you shouldn't have to negotiate with them or wait for hours on end with customer service. Anecdotally, some of my friends and colleagues have had more success communicating with companies on Twitter via Direct Message. And if you really feel you've been unfairly charged, you can try disputing the charge with your credit card company, which might be easier.
*****
We've all been inundated with emails from random companies, services, and businesses about COVID-19. While it can be slightly annoying to get a random email from the optometrist you visited in 2015, it might be worth filtering and labeling these emails into a separate folder in your account. That way, if you need to reference a bill provider or company's policy, you have these emails on hand. 
Image via Pexels
Like this story? Follow The Financial Diet on Facebook, Instagram, and Twitter for daily tips and inspiration, and sign up for our email newsletter here.