12 High-Quality Bedsheet Sets That Feel Way More Expensive Than They Cost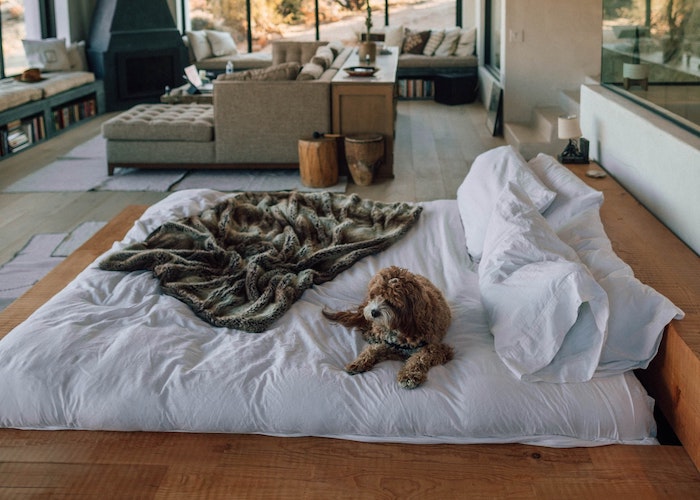 As life starts going back to "normal" (which might even mean going back to the office soon), it's understandable to want your bed to be the safe place you can retreat to after a long day filled with anxiety, stress, or uncertainty. One way to ensure not only comfort and calm, but also a good night's sleep, is a set of really good sheets that don't require a huge financial sacrifice. While Instagram ads might make you feel like you need those trendy bedsheet collections in order to feel more luxurious, you can get the same quality, if not better, for a lot less.
Without further ado, here's a list of just honestly really great bedsheets that have thousands of happy reviews, are wallet-friendly without sacrificing quality, and look and feel lavish. I decided not to really harp on thread count, because in my experience, thread count isn't a make-or-break characteristic of amazing bedsheets. In fact, I've purchased stupidly high thread count sheets only to be bummed out when I actually use them. And while I personally love and prefer cotton sheets, microfiber and blends can be just as good of an option if not better for some people's preferences. Okay! Let's do this, bedsheet enthusiasts!
These 100 percent cotton, sateen sheets from Costco will last you forever. I bought mine two years ago, and there isn't a single hole, tear, or any weirdness happening with the elastic part. They're wrinkle-resistant, super soft (and get softer with every wash), and fit perfectly if you have a thick mattress — nothing is more needlessly aggravating than having your fitted sheet ride up in the middle of the night because you stretched or, like, switched sleeping positions. You also get four pillowcases, which is a bonus, since most sets only come with two, and I love having an excess of pillows. 
Even cotton loyalists will find that Becky Cameron's microfiber sheets are super high-quality and feel incredibly soft. The patterns aren't too loud, so even if you prefer to have white or solid color sheets, you can gradually switch things up with the soft floral pink flower design or the stippled light grey patterns. Overstock offers other Becky Cameron options that are just one solid color, so if you're feeling very "no thanks" to a sprinkle of design, I got you. 
Behold: Possibly the most beloved sheets from the Amazon community. These hypoallergenic microfiber sheets have 4 ½ stars and 89,621 ratings on Amazon, with customers saying these are the "best sheets" they've ever purchased in their life, and that they're on par with luxury bedding brands like Boll & Branch. I'm almost tempted to refer to them as "The Sheets" in Alison Roman-fashion only because these have reached such monumental internet notoriety. Mellanni has 42 of colors and patterns to choose from, so do prepare yourself for a bit of decision fatigue. It's well worth it, though (and you can't go wrong with plain white). 
I personally have the calming lavender grey color sheets from California Design Den which I swear make me feel less high-strung and also go nicely with my grey bed frame. Aside from aesthetics (they have plenty of colors and patterns to choose from), these cotton sheets are all-natural and get softer and softer with every wash. And, because you know I can't stand ill-fitting sheets and wouldn't do that to you either, these are big enough to fit snugly around larger mattresses. California Design Den, although not quite as popular as Mellanni, has 4 ½ stars with 11,222 ratings — so their quality is backed up by thousands of happy customers, too.
I admit: I saw these cherry-hued, flower-patterned sheets from a Facebook ad about a month ago and I've been thinking about them ever since. I imagine how easy it would be to give my bedroom space a pop of vibrancy as soon as I remove my grey duvet cover and see hundreds of red '60s-inspired Marimekko flowers staring back at me. Customers say that these are the perfect spring sheets (although IMHO I think they're perfect year-round) and are that they're soft and durable. They definitely get softer every time you wash them, but make sure to use a color-safe detergent. 
Another great sateen cotton option, customers say this bedsheet set from Overstock is super high-quality for the price. One reviewer wrote, "Right out of the package, they felt soft and heavier, the color so beautiful, and the stitching was flawless, with some light wrinkles." Another shared, "They are soft and do not come off my 14-inch mattress with a 2-inch pillow topper."
Not only do I love these Madison Park Microcell sheets for their practicality and comfort (they use anti-moisture technology to keep sheets dry even if you or your partner sweat at night), but I'm personally really into the colors offered (the baby blue, blush, and teal are my favorites). 
The OG lifestyle guru has a bedsheet set? Sign me up. Normally, I'd be wary of celeb labels, but Martha Stewart's products are usually well-vetted, these have good reviews, and they're also on sale at Macy's. And the colors! This spring-worthy collection looks crisp and soft and versatile for any kind of bedroom aesthetic. These sheets are another solid option for people who prefer cotton over the popular microfiber option, and customers rave how silky and light they feel while also staying durable through many washes. Also FYI, if you're looking for cute patterns (like brightly colored triangle confetti against white), Martha Stewart also has this collection I'm eyeing right now (and also on sale!).
I've been relying on Urban Outfitters for cute, fairly inexpensive sheets since college. Their sheets surprisingly last a really long time, and this particular set's 80 percent cotton and 20 percent polyester combo makes for a crisp but soft texture that will feel like they're always straight out of the dryer. While they're patterned, the black and white will go with just about anything. 
I haven't included many patterned sheets on this list — I'm partial to solid colors because they're more versatile and I can pair them with quirky pillows, BUT I know some of you like a little pizzazz, so here are some high-quality microfiber sheets with a variety of different patterns to choose from (even leopard print if that's your business, as my queen Tabitha Brown would say). 
These sheets are 40 percent rayon derived from bamboo and 60 percent brushed microfiber, making them possibly the softest and most breathable sheets you may ever own. They're also eco-friendly and hypoallergenic. As far as quality goes, one customer claimed that these sheets are more comfortable than their $125 Egyptian cotton sheets. Another who's a self-proclaimed "sheet snob" says that these are better than their 800 thread count set. 
No bedsheet roundup would be complete without something from Target, especially this Project 62 + Nate Berkus jersey blend collection. These sheets feel like a T-shirt you wish you could wear every single day. The color selection is simple but versatile, and the cotton-lyocell fabric makes for a sturdy but soft and breathable option good year-round, but especially the spring and summer.
Gina Vaynshteyn is an editor and writer who lives in LA. You can find more of her words on Refinery29, Apartment Therapy, HelloGiggles, Distractify, and others. If you wanna, you can follow her on 
Instagram
 or 
Twitter
.