13 Creative Storage Ideas To Give Your Small Space A Serious Upgrade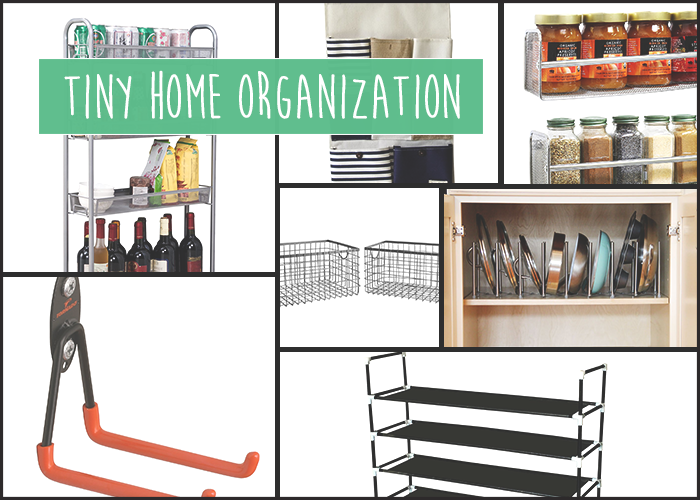 I can't lie, I've probably devoured hundreds of articles over the last few years that offer up the promise of "smart," "space saving," and "creative" storage solutions for those of us dwelling in small homes. I've written about this many times on the site before — so forgive my musings! — but the tiny home, organized living content genre really gets my gears turning. Heh. There are a lot of benefits to living in a small space, mainly having so much less shit to clean. It's pretty awesome that vacuuming my place takes all of 10 minutes, since the floor space is so limited. Cleaning the bathroom is a cinch, since there are only six large square tiles, and making sure the windows are gleaming and streak-free is easy — we only have three!
Living in a small space also means that the amount I shop has taken a STEEP nose dive. Seriously, a few years ago when I used to have a Saturday morning free, shopping around for home stuff, clothes, shoes, or kitchen supplies was inevitably part of my day. Now?! Pffft. If I bring home one more pair of shoes, my closet will implode, and if I try to fit one more tart pan into my baking cabinet, the shelves will buckle from the weight of flour, sprinkles, and one too many loaf tins. I have everything I need and have built up my closet and pantry slowly, and I still struggle with overbuying things at times. But, I've gotten a lot better about mindful consumption — having to be so judicious about the things I purchase means that spending money on stuff I don't need has become easy to avoid. But, despite the fact that my husband and I live in close quarters, I love our place. We've learned to be super organized about storing household items and clothes, and have come a long way since the day we first moved in. (For example, on move-in day, we brought a "decorative chest" to use as our coffee table, which took up approximately 1/3 of our living room…needless to say, it's currently being stored at my parents' house…)
With the help of the other TFD ladies, I put together a little roundup of the most useful items that people who live in small spaces (and who want to stay organized) can benefit from. This list illustrates the creative ways you can use vertical space, keep tight cabinets organized, and your home looking beautiful and more open.
1. STACKABLE ORGANIZERS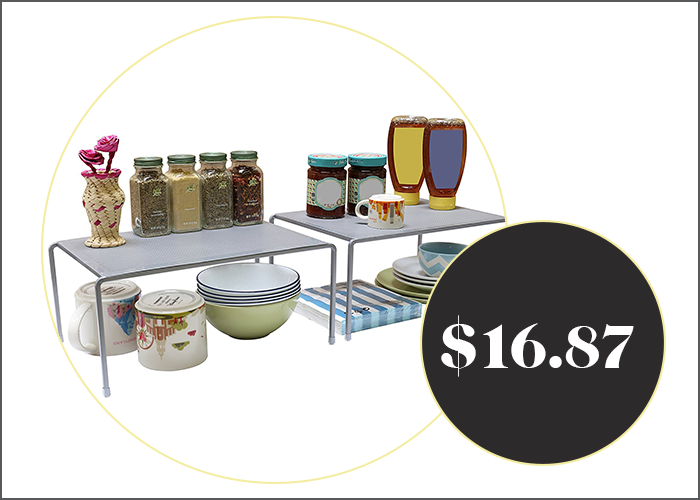 These bad boys are excellent at opening up the possibility for additional cabinet space and counter top storage. I've seen them utilized in simple and straightforward ways, and more creatively with the addition of wooden baskets for garlic, ginger, and other odds and ends. They're also a great idea for college students in temporary or short-term student housing to make their space feel more organized and fleshed out. Check them out! | DecoBros Expandable Stackable Kitchen Cabinet and Counter Shelf Organizer, Silver
2. WALL-MOUNTED SPICE RACKS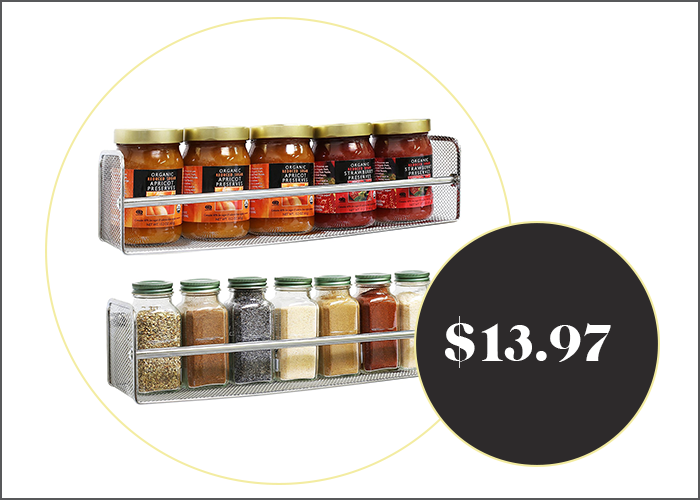 Holly swears by these things and uses them to house her spices and other kitchen essentials. She says, "The photo is pretty misleading. We bought two packs because we thought we'd need four racks, and ended up using the extra two as extra storage in the bathroom, which is great because it's out of the way and holds all of our extra hair/bath products!" Just looking at these, I think they would make a fantastic addition to my bathroom as well to hold all of my night creams, lotions, and small bottles of oil that get knocked over in my medicine cabinet. | DecoBros 2 Pack Wall Mount Single Tier Mesh Spice Rack, Chrome
3. KITCHEN CART FOR TIGHT SPACES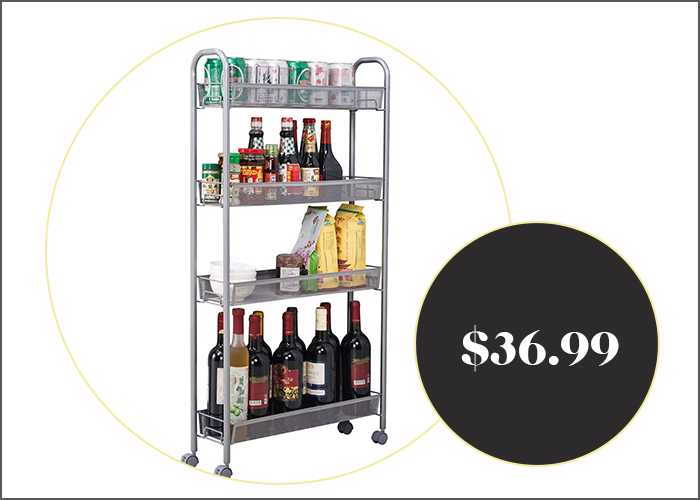 I originally included this nifty, little, and slim kitchen storage cart in one of my Friday roundups, and Holly ended up buying one to use in her own apartment. It looks very chic IRL, and is the perfect width to be tucked away neatly into a small space. It's a great way to expand your pantry or serve as a small bar cart where you can store liquor, small bowls of fruit, and baskets for your wine opening, corks, and bitters. A perfect price for such a useful and discreet kitchen cart! | Homfa 4-Tier Gap Kitchen Slim Slide Out Storage Tower Rack with Wheels, Cupboard with Casters – Silver
4. FOOD STORAGE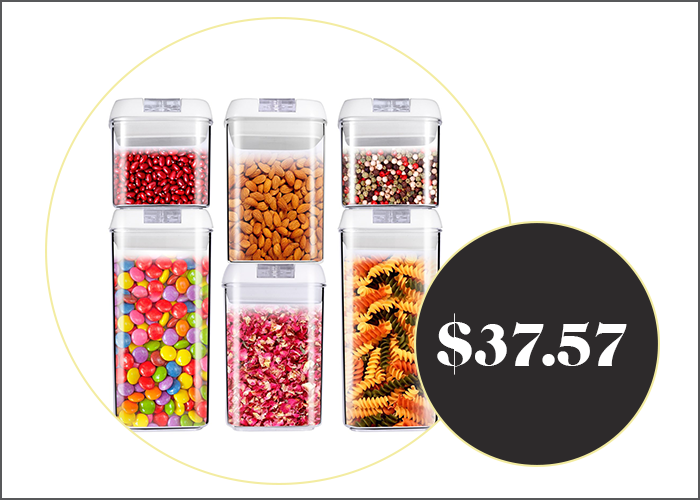 These durable, plastic BPA-free storage containers are a great way to store food items out on the counter or on a shelf in the kitchen if you can't fit the items into cabinets. (They also fit in the kitchen cart above!) They'll keep food fresh with an airtight seal, so you won't have to deal with torn cereal box tops or faulty chip clips that make food go stale in hot second. The price is pretty reasonable for a set of six, which come in a variety of sizes — an overall great find! | ME.FAN Air-Tight Food Storage Container Set – 6-Piece Set – Durable Plastic – BPA Free – Clear Containers with White Lids
5. WALL HOOKS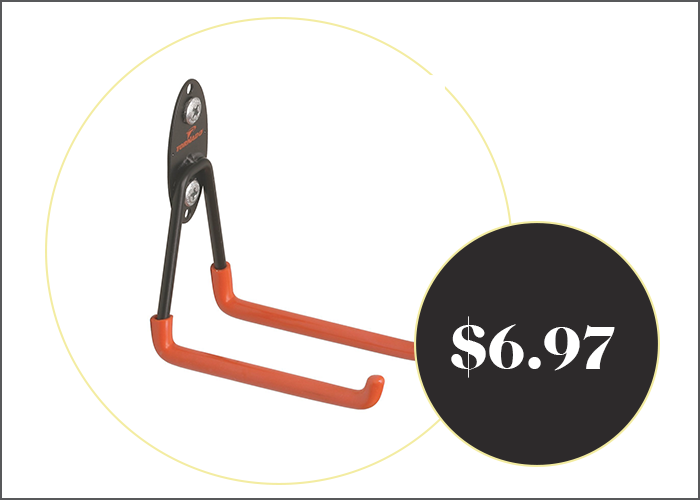 I've used these extendable hooks before at home in my parents' garage to store gardening supplies that I couldn't fit outside in the shed, and let me tell you, they are amazing. They're super sturdy and useful, and could come in handy to help store things in your home that you don't have room for in closets. My friends uses his to keep his bike up and out of the way over his doorframe, and Holly uses hers to store extra folding chairs for company. It's a really nifty solution to a tiny apartment with limited floor space. | Tornado 00510 Extended U-Hook
6. TALL SHOE RACK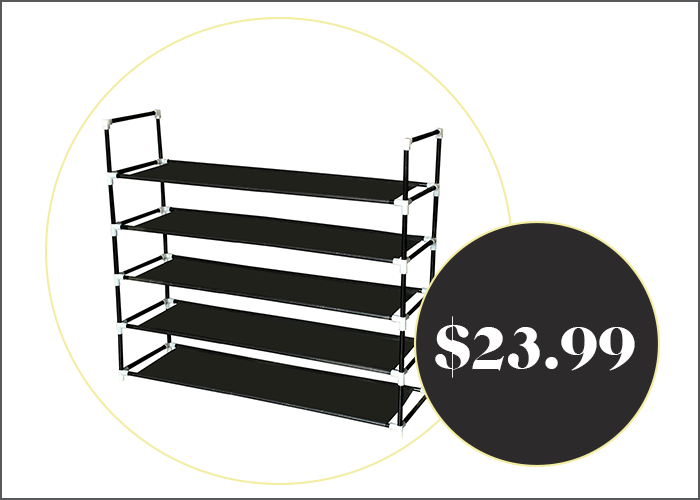 Having a shoe rack by your front door is a must if you're low on closet space, and this one offers up plenty of vertical space for as many pairs of shoes you could dream of storing! It's basic black, which is neutral enough to store out in the open in a bedroom if you had to, and it's super easy to set up. In fact, no tools are required to get this guy up and running. You could also use this shoe rack to store other things, like boxes for craft materials and art supplies, pet essentials, or even paper goods like paper towels and toilet paper if you have extra room in your home. It's very affordable, too, so check it out if you're in need of one! | Sodynee 25 Pairs Shoe Rack Shoe Tower Shelf Storage Organizer Stand Cabinet Bench Stackable – Easy to Assemble – No Tools Required, Black
7. OVER-THE-TOILET STORAGE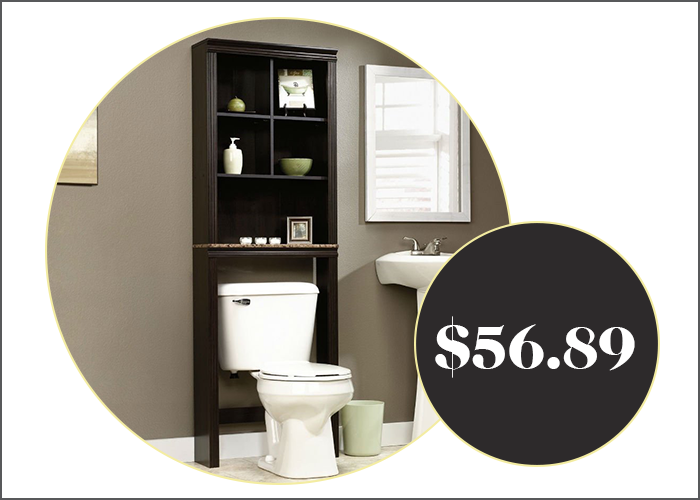 Ahh, over-the-toilet storage. It grosses some people out, since the idea of flushing a toilet beneath shelves you store towels and other toiletries on it off-putting. But, for people who are low on storage space, it's a fine use of vertical space that would otherwise go unused. Obviously, I wouldn't store a toothbrush out in the open on this thing, but I think it's a great place to put baskets of shampoo, conditioner, soap, body wash, and other knick knacks that need a home. Joe and I only have one NARROW medicine cabinet to share, and one very teeny tiny cabinet under the sink, which is at capacity. Something like this would ensure all of my beauty supplies had room to breathe and were easy to find. Definitely worth checking out y'all! | Sauder Peppercorn Etagere Bath Cabinet, Cinnamon Cherry Finish
8. WIRE BASKETS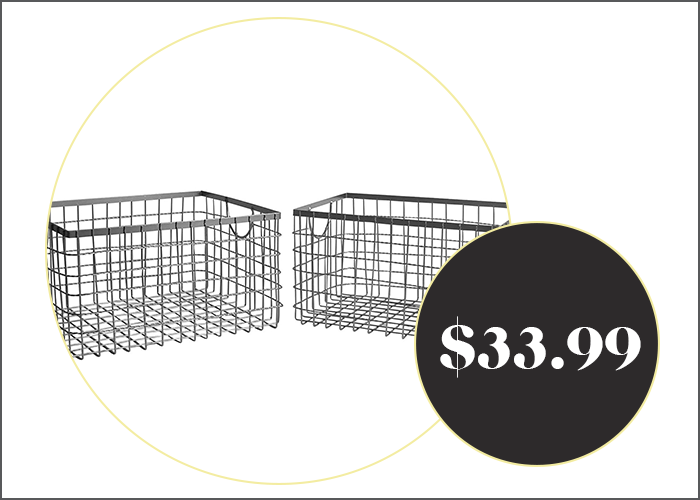 Speaking from experience, storage space on top of cabinets is crucial to utilize in NYC. I've seen people put their luggage, Christmas tree decorations, toolkits, and spare towels up there — you name it! I can't help but laugh to myself when I go visit friends who have houses, and who decorate the top of their cabinets with sweet little signs, candles, or other pretty decorations, because it seems like such a luxury to not have to cram every available inch of your home with storage. Anyway, these wire baskets are the perfect way to store additional items, and best of all, you can actually see what's inside them, so you know what you're going up there for. | SLPR Wire Storage Shelf Basket (Set of 2, Industrial Grey) | Organizer for Laundry Pantry Freezer Cabinet Bathroom
9. HANGING SHOE RACK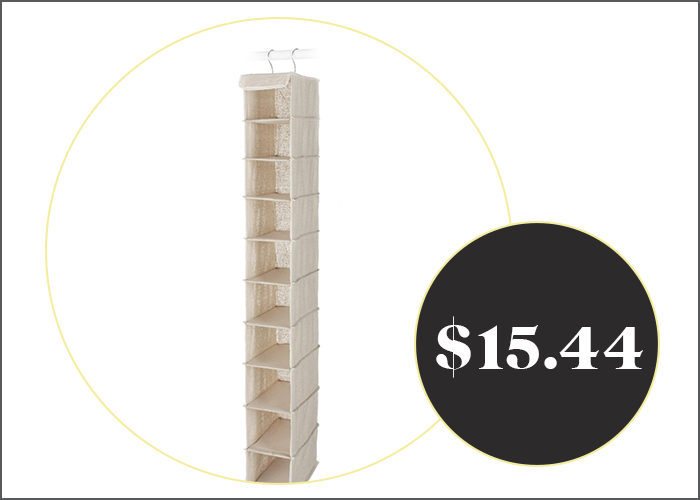 Ahh, the vertical hanging shoe shelf — my personal savior. These things have kept my closets organized and my shoes nice and clean. Instead of having shoes on the floor where they accumulate dust and dirt, they're safely tucked away where they remain clean until their next use. I pushed my shoe shelf to the center of the closet, and Joe and I each take one side for our coats and scarves. It's the perfect divider. | Whitmor Linen Hanging Shoe Shelves
10. CORD ORGANIZER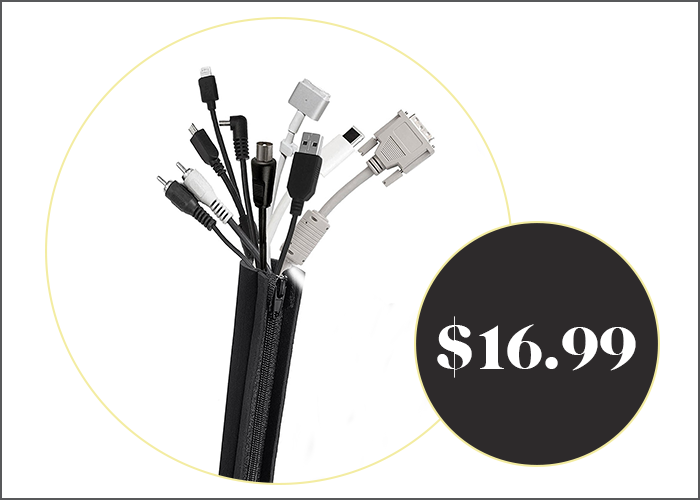 When you have a tiny space, the smallest piles of clutter become super noticeable and irritating. For example, the desk I work at is in the middle of our living room right next to our TV set, internet box, and large power strip. There used to be wires everyone, and they looked like a mess if they weren't tucked away. This functional wire organizer keeps everything neatly wrapped in one tight bundle, so you don't have to worry about unsightly tangles of cords making your space look messy. These things are lifesavers and really are worth every penny. | ILLATONE – Wire Organizer. Set of 5 × 20″ [100 inch] Black Flexible Neoprene Cable Management Sleeves with Zipper for TV, Computer & Electronics
11. BASIC SHOWER CADDY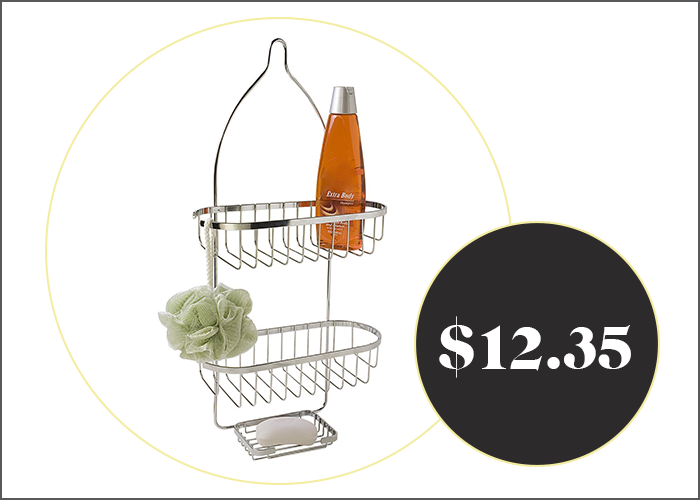 Instead of storing shower essentials on the edge of the bathtub, where they're bound to get knocked over and clatter about, a shower caddy is a convenient and useful alternative. This guy comes with two tiered shelves, which make the most out of the vertical space available. I used one in my shower all throughout college, and it rocked. | Home Basics Shower Caddy, Chrome
12. POT LID ORGANIZER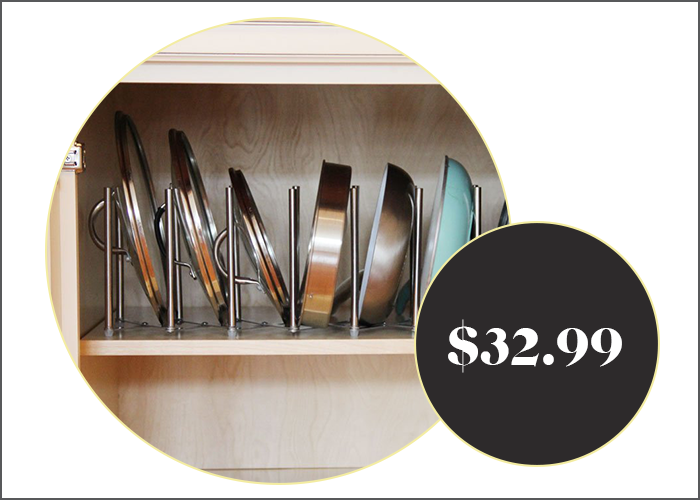 Every single person in existence (who cooks) knows the utter horror of having to fetch a pot or pan in a crowded disorganized cabinet. You know that as soon as you move something, four other things will comes crashing down in a blaring cacophony around you. No?? Just me?? Well, grabbing a simple organizer for your kitchen space will make a world of difference come dinnertime. This one is extendable and super no frills, but it's very effective. | Kitchen Pot Lid Plate Holder Rack Stainless Steel , 8 Sectional , Adjustable Length Accordion Style , Can Be Extended to 30″
13. HANGING ORGANIZER
I have to say, I'm not one for hanging wall organizers, but this one is quite stylish and cute. I love the alternating colored pockets of fabric, which are chic and neutral enough to secure a spot on the back of a door or on the wall of my bathroom. I think it would be the perfect solution for storing small accessories like jewelry, scarves, etc., if you don't have floor space for a nice stand or dresser. It's a great way to keep all of your most prized possessions in one convenient location! | Wall Door Closet Hanging Storage Bag Organizer Multilayer Nonwoven Fabric Pouch Debris Storage Multifunctional Room Bedroom Bath Organizer Space Saver Gift (Blue,23.6×13.3In)