14 Household Items That Were Supposed To Be "Efficient" But Just Take Up Space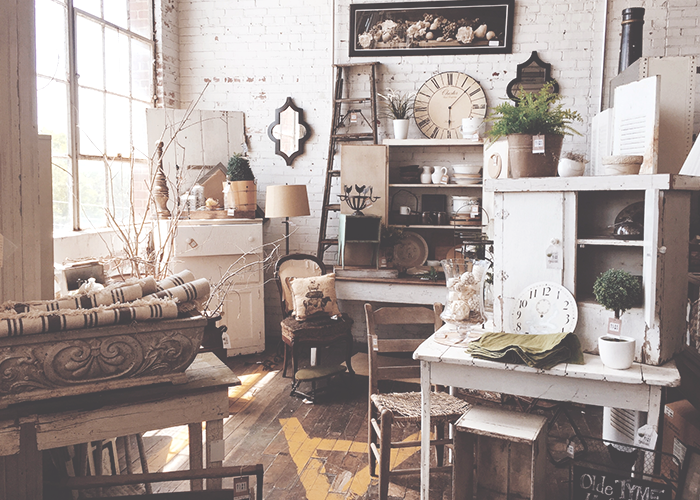 I follow a few interior design Instagram accounts that provide stunning inspiration for the home, and Chelsea and I frequently torture ourselves by tagging one another in particularly great photos. I am very far away from being able to call myself "interior decorating savvy," but I am getting a much better handle on figuring out what I like, and picking out the reasons why I like it. When we moved into an apartment of our very own back in September, it was the first time I had an entire space to myself to decorate. This, of course, meant there were inevitably going to be a few mistakes made through trial and error. Below are just a few of the purchases I made that weren't as sucessful and/or useful as I intended them to be.
1. A vintage wine crate. We picked up a medium-sized distressed, vintage wine crate at a stoop sale last summer, and we intended for it to serve as additional storage in the corner of our apartment. However, since we have a bar cart AND a mounted wine rack, the wine crate was more than a little superfluous. Instead of being a stylish and efficient way to store some bottles, we turned it on it's side so it functions as more of a (hilariously) haphazard side table that's now topped with random stuff. This is what's on it currently: a small epson printer, a lamp, a few adult coloring books, a bunch of leftover receipts I'm keeping track of, and a few sheets of stamps. Oh, and books.
2. A laundry basket that we keep in the tub. Since our bedroom is too small to fit a hamper, we figured we would buy a laundry basket for dirty clothes, and keep it in the bathtub. It's the way we did it in my house growing up — when the basket got full, you'd simply walk it downstairs to do your laundry. However, since we have to physically walk our laundry over to the wash and fold, we procrastinate and let the basket fill up WAY TOO HIGH. When your laundry basket is roughly the size and weight as a baby elephant, it becomes cumbersome and stressful very quickly. Instead of using it as an efficient way to store clothes out of sight, it's enabled us to shirk our laundry duties until we literally one of us can no longer move the basket by ourself.
3. Circular wooden cheese boards. When we first moved, the idea of throwing weekend dinner parties for friends was one of the things we were most excited for — enter, fancy wooden cheese serving boards. (Actually, they weren't expensive at all, but they do feel ~fancy~ AF.) They're kind of bulky, and while they are efficient when being used to serve guests an apéritif, that only happens maybe once per month. The rest of the time, they take up nearly all of the space on the top of our fridge, and require weekly dusting and cleaning since they're out in the open. Yes, they're pretty when in use, but good lord, they are a waste of space.
4. A small decorative globe. It currently sits on my desk, and when I bought it, I literally rationalized the space it would take up, saying, "If I ever need to reference where a country is, I don't have to use Google anymore! I can just glance over, and use my globe to check." Do you know how many times that scenario has played out IRL? Zero times. 0. Never. It's a sweet-looking thing, but, it serves no purpose.
5. Big plastic bins for under-the-bed clothing storage. We had the brilliant idea of purchasing these big, low plastic storage containers to slip under our bed, which would house off-season clothing when we didn't need it. However, we use vacuum seal bags to shrink the overall size of the clothing, which don't neatly tuck into the bins. So, instead of being utilized for clothes as they were meant to, the bins just sit there half-empty taking up space.
6. A wooden basket next to the couch. This purchase was meant to help streamline all of our linens, blankets, and our two decorative bed pillows that we take off when we go to bed each night. However, the bottom of the basket has become the final resting place for various magazines and newspapers that I say I'll "eventually get around to reading." It's become the most un-chic storage solution that's now comprised of soon-to-be-recylced magazines, papers, a set of sheets, some pillowcases, and two oversized fluffy blankets.
Of course, I know I'm not alone in my misguided home decor purchases that went awry, but that doesn't make me feel any better. You know what does make it better?! Listening to my friends share their own embarrassingly-useless home decor purchases. After asking around, a few friends of mine came up with their own answer to the, "what household item do YOU have that just takes up space" question. Please enjoy them!.
7. "A fondue pot (which was a gift to be fair). But LOL all the same." — Chelsea
8. "A food processor! I was convinced that I'd be the type of home cook that was always whipping up homemade hummus, pasta sauces, interesting dips, etc., but I don't. I use the thing MAYBE once every other month because it's so hard to clean. I also haven't made anything that I felt was standout where I thought, 'Oh my god, THIS is why I have a food processor, I need to make this dish again!' To be honest, I just like the taste of Trader Joe's hummus….oh well." — Erin
9. "A metal champagne bucket which was a gift, but still. It's now used to hold magazines. And, it's not even a bucket, it's more like a bathtub." — Chelsea
10. "I bought clear plastic containers to organize all of the crap underneath my sink in the bathroom. I have a ton of bottles of shampoo, conditioner, lotion, hairspray, makeup, sunscreen, etc. It honestly looks like a drugstore down there, and I have a bit of a problem buying multiples of things when they're on sale. However, the containers I bought don't have any dividers in them, so all of my stuff falls over and mixes together anyway. So now, instead of having all of my items standing free outside the containers, they're all haphazardly arranged in a pile inside the plastic containers. Total waste of money." — Steph
11. "A plastic carafe that I wanted because it was supposed to look like a chic carafe, but instead, it just looks plastic and shitty." — Maya
12. "My coat rack. Like, yes it's useful, but I find that it encourages people to be messier." — Laureen
13. "A decorative armchair for my bedroom, because I used to have a huge bedroom with tons of extra space and I thought it would be chic as hell to have a big colorful armchair in the corner where I could read books and sip tea (lol). Spoiler alert: when it was in that bedroom, it was almost never not used as a clean laundry pile storage unit. And now that I live in an apartment with a much smaller bedroom, the armchair just kind of awkwardly floats around the house, matching with nothing and serving no purpose." — Jess
14. "I bought this fancy set of kitchen storage containers from Crate and Barrel, to put flour, popcorn, rice, sugar, etc. in. I thought that I was going to look like one of those cool food bloggers that have their shit together, and their kitchen looking fancy and effortlessly chic. However, my kitchen is so tiny that the collection of containers take up a laughable amount of space, require constant cleaning because oil (from cooking) sprays on them, and soapy dish water splashes the counter when I go dishes. Sigh. What a waste of space and money." — Steph