17 Items That Make Any Work-From-Home Space Cozier & More Efficient For $35 Or Less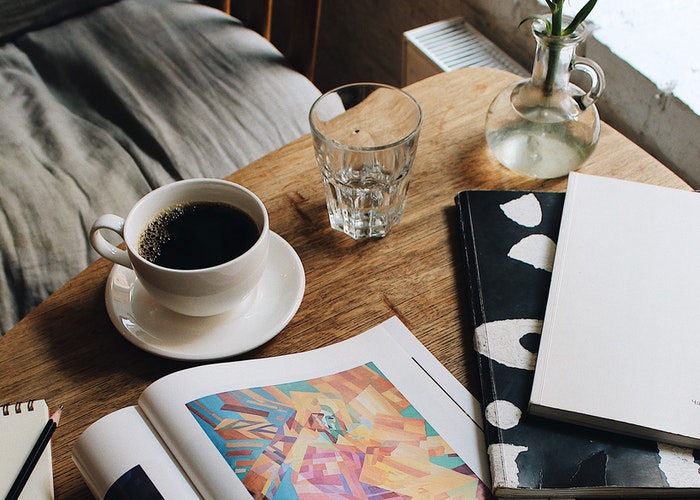 Even though the country has seemingly forgotten we're in the middle of a global pandemic and started to open back up, your employer might have decided to let people work from home for the rest of the year. If you're privileged enough to be able to do your job from the comfort of your apartment, you might have started to think about making your workplace work for you just a little more. While I'm not going to take Working From Bed Mondays away from you (nor am I gonna suggest you put on a pair of pants, because I'm not a psychopath) there are a few things you can purchase that'll help optimize your WFH space and make your nine-to-five brighter and better. 
Since you may not have some of the amenities that your office most likely offered, ask your manager if they're open to you expensing some of the office supplies you're planning on getting — you might be offered a WFH stipend (Google is reimbursing up to $1,000 for home office must-haves). Even if they're not, you might be able to write off some of the expenses when you file your 2020 taxes. 
Either way, if you have some budget set aside and want to create a happier, more productive and impactful space for yourself while you work, here are some things I've found super helpful in my year of working from home. As Don Draper once said in Mad Men: "Make it simple, but significant." And that can totally apply to the space you use to get all of your creative and meaningful work done.
Chances are, your office chair isn't super supportive for your back. I know my back starts to ache after about an hour of sitting at my desk typing away on my laptop (I also have bad posture, but we'll get to that in second). Get this pillow specifically designed to help prop your back and help your posture while you work. It's not ~glamorous~ but it works.
Another option is to wear this posture corrector while you're working. It helps adjust your posture so that you're not hunched over for hours. 
After a long day, my self-care regimen includes lighting a candle and placing a heating pad on my back (or abdomen if I'm on my period *insert upside smiley face*) while I read or watch The Americans. I also use a heating pad during the day if I need to, since I'm usually typing on my laptop from early in the morning until late at night, and regardless of my posture, my lower back ends up feeling like a piece of plywood by like 10 a.m. 
No more free office coffee? Get yourself a trusty French press that makes a really good cup of coffee so you won't be tempted to order or run to Starbucks. This one makes a strong batch every time, it's easy to use, and it's easy on the wallet. Also, it's just so orange and happy-looking! 
Remember when I mentioned lighting a candle at the end of the day? I love this one because of its pretty tin design, how it smells like better days ahead (it comes in Acai Berry, Wild Rose Peach, and Bamboo Lotus — all three are lovely), and it's not very expensive. Get one for your office desk or bedside table if that's where you spend most of your time working. It gives your space a pop of color and character, and you'll be catching wafts of berries and peaches all day long.
If you're blasting the A/C at home or just want to give your chair a cozier feel, there's nothing a chic throw can't fix.
These slippers aren't trendy, but they're comfy — and that's all you need for when you're working from home alone, or with your dog/cat napping at your feet. 
8. A really cute mug from Etsy
One of my favorite rituals I had back in the day when I worked in an office was getting my morning and 3 p.m.-on-the-dot coffee in my favorite mug. The daily tradition gave me comfort because I'm a creature of habit and couldn't imagine enjoying my caffeine in any other kind of vessel. If you need a new work mug, Etsy has some great ones, like this one with a simple floral pattern ($15.53+), this mug that will affirm your overthinking habits ($15.53), and this "Cup of Ambition" Dolly Parton mug ($14.76+), because must I really justify this purchase?
When I go with a lamp, I go for something understated, simple, and modern. I like this one from IKEA because it pleases my secret inner goth, and it provides a nice contrast with my white desk. Oh, and it lights shit up for when you've got some deadlines to meet after the sun goes down.
Funny enough, my husband got this for me for my birthday. I told him not to get me anything that I couldn't sleep or binge-watch prestige television in, because unless I really have to (like, for food or deodorant) I don't really venture out into the world. I work and I play (aka, watch Netflix) in leggings, a black tank top, and absolutely no bra. "You got me a bra? I haven't worn one in like six months," I told him when I unwrapped my present, because when you've been with someone for eight (maybe?) years, you can be honest. But then I tried it on and understood (he told me he did his "research," lol).  It's like a bra…if your bra wasn't a bra. I get support but feel nothing. This bra is so comfortable I forget I'm wearing it and have fallen asleep in it multiple times. It's really come in handy when I need a bra for the dog's walk or a Zoom call — I'm ready to buy myself at least three more.
Since you're washing your hands a lot more now because of that pandemic I mentioned earlier, your hands are probably dry AF. And if you're typing all day long, you know that it actually gets painful to type if your hands are in desperate need of moisture. This one smells so good you'll want to smother it on your poor, dry hands every hour. 
It can be hard to remember to drink water when you don't have a water cooler the size of a planet conveniently located near your workspace, but a good water bottle can help motivate your H2O intake.
If you need a lap desk, get one with all the fixings. This one comes with a phone slot so you won't have to worry about losing it under your sheets and blankets, and a mouse. 
You might need a printer in order to do your job. Typically, printers are a pain — they jam, need expensive ink, and come with all kinds of annoying quirks like not recognizing your laptop when you need them the most. This printer is easy to use, and it gets the job done. Also, I cannot resist technology or cookware that comes in mint.
Plants make you feel better! It's science! (No really, it is.) Plants "release oxygen and absorb carbon monoxide," making your home a healthier place for you to be in. Aside from plants' health benefits, they also create a calmer, more collected environment. 
One of my previous jobs had an automatic egg cooker in the kitchen, and I'd skip breakfast at home knowing I could just pop a couple eggs in the cooker at work, and it'd steam them in about ten minutes and boom! Boiled eggs. So, while I checked my emails and sipped on coffee, my eggs cheerfully cooked away. I'd return back to the kitchen to peel them before going back to my desk to enjoy my free breakfast. If you're a big egg fan like me, this egg cooker is a time (and pot cleaning) saver.
If I didn't write everything I needed to do in my planner (including "shower," "go to sleep at some point," and "don't be dumb, drink water") it literally would never get done. Get yourself a cute planner that reminds you to get your stuff done. Nothing feels better than crossing off even the smallest of tasks. Yes, including showering. Be proud of *all* of your accomplishments. 
Gina Vaynshteyn is an editor and writer who lives in LA. You can find more of her words on Refinery29, Apartment Therapy, HelloGiggles, Distractify, and others. If you wanna, you can follow her on Instagram or Twitter.
Image via Pexels
Like this story? Follow The Financial Diet on Facebook, Instagram, and Twitter for daily tips and inspiration, and sign up for our email newsletter here.