17 TFD Readers Share Their Go-To Cheap & Lazy Dinner Recipes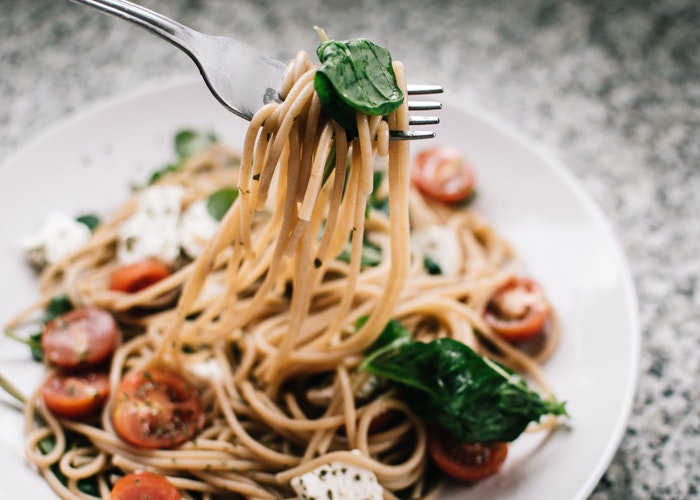 Spending time in the kitchen can be a joy, but when you're hungry and tired of cooking, sometimes you just need a good, fast meal — bonus points if it's also affordable. This week, TFD readers were kind enough to share their go-to lazy dinner recipes.
"I'm obligated to say THE STEW." –Tori
"Leek and potato soup! 2-3 leeks, 1-2 yellow onions, as much garlic as you want. Sweat in olive oil until golden and soft, dump in a bunch of diced potatoes (red preferred). Cover with broth and water to taste. Simmer until soft, blend, add cream. Season with s&p. All to taste!" –Cadence
"I like @Budget_Bytes Curried Tofu Salad. Easier than chicken salad because you don't have to poach a chicken breast. I like to add almond slivers and scallions for improved texture. Pairs well with Granny Smith apples and Wheat Thins." –Trevor
"I'm rarely lazy with my cooking, but when I just don't feel like it and I want something cheap and easy, but still relatively nutritious and tasty, I'll cook a pot of rice (white or brown) and eat a bowl with lots of frozen peas and butter." –Sarah
"Vegetarian frittata – a potato base, any vegetables you may have, and 6 eggs mixed with some double cream and cheese. Fresh parsley on top for brownie points." –Andreea
"Cream cheese and mushroom pasta – recipe as described serves 2." –Helen
"Rice and steamed veggies. I have a rice cook with a steam basket that's a lifesaver. Rice in the bottom, veggies on top. Toss with a sauce when they finish and boom 20 minute zero effort dinner." –Meg
"Creamy chickpeas with baked eggs and ham." –Hannah
"Give me pasta + butter + green vegetable + mushrooms + cheese. Delete or add to the middle three ingredients as inspired." –Lauren
"Ground turkey taco bowls (seasoned ground turkey, rice, corn, beans, whatever green I have on hand). OR Pasta with sautéed chickpeas and spinach." –Zoe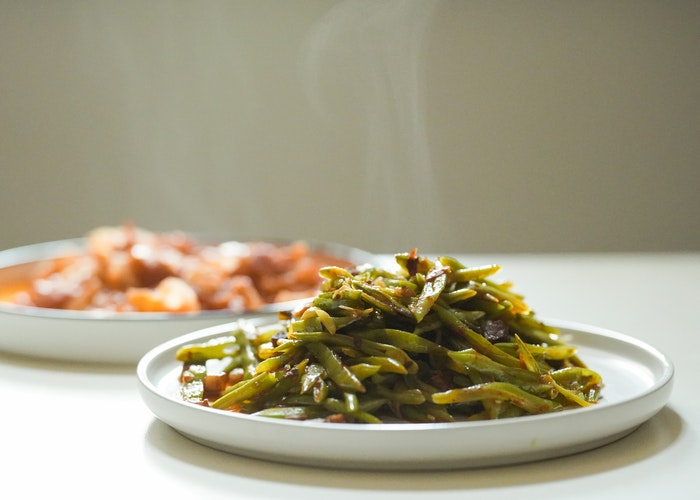 "Beef Ramen + Ketchup + Oregano. 'Dorm room spaghetti' and I still eat it twenty years after college. 😆" –Alison
"A simple fajita bake! Skirt steak and bell peppers, chopped and drizzled with olive oil and lime juice, add your spices, mix and bake in the oven. Serve with black beans or quinoa or whatever, with avocado/pico/cheese/whatever's in the fridge and sounds good! Honorable mention: This chicken-avocado lime soup is PERFECT." –Cait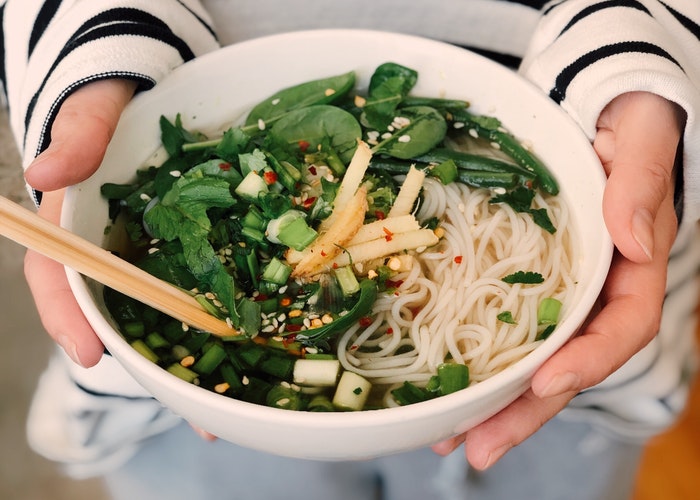 "Dumpling soup! Flour, water, and 1-2 eggs for dumplings, some chopped onion, paprika, parsley, and salt for the broth, and potatoes. You can fry both the potatoes and dumplings for different textures. I usually have these ingredients on hand, and it can feed ya for a week!" –Sydney
"Slow-cooker Cuban black beans, from Simply Nigella: 2 onions, 2 peppers, garlic, 1lb dry turtle beans, 1 fresh chilli, 2 tbsp cumin, 2 bay leaves, 2 pints water. Slow-cooker on low for 6-8 hrs, rest for 30 min to thicken. Great in any chilli-type context. Makes 6-8 portions!" –Melanie
"The laziest and yummiest: boxed Mac and cheese, but sub heavy cream for the milk, served with New York steak (I split both in half to make it affordable)" –Heidi
"Just roasting any veggies which are about to go bad with some olive oil." –Lindsey
"Chicken thighs baked on a sheet pan with veggies. The thighs release enough fat that they baste they veggies as they cook. Yum! Also, tomato, cucumber and avocado chopped up with white beans and cheese." –Kate
Image via Pexels, Pexels, and Pexels
Like this story? Follow The Financial Diet on Facebook, Instagram, and Twitter for daily tips and inspiration, and sign up for our email newsletter here.