A 2-Week Guide To Get Started On Meal Planning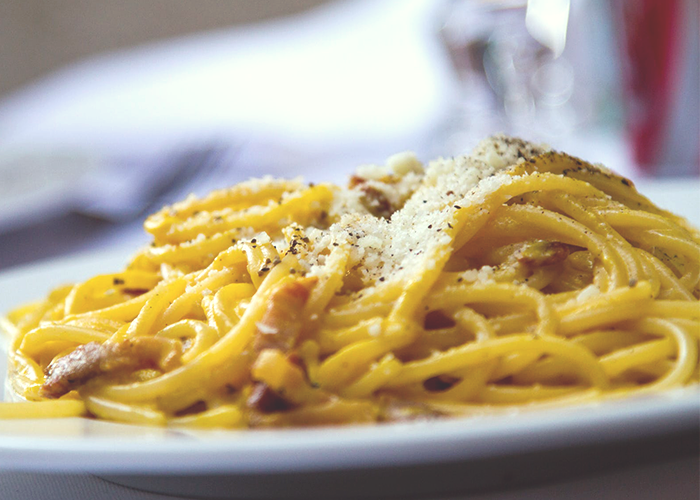 Everyone knows that going out to eat is expensive, and a few extra restaurant meals can really blow your monthly budget. This is something we struggle with in my house ALL the time. I like going out to eat, trying new restaurants, and having someone else cook for me…kind of the best right? But do I like it more than being able to pay all my bills and hit all my savings goals at the end of the month? Nope. (Well, almost always nope. Sometimes a new fried chicken place opens just down the street, and you overindulge a little, whoops.)
Not only is eating out hard on your wallet, it's also not so great for your waistline. I'm more likely to overeat when I'm at a restaurant than if I'm eating at home. I've found that it's easier to make healthier choices when meals are planned in advance.
Everything in Moderation
I'm not saying you can't ever eat out, but I recommend having a plan in place to make sure you're not doing it too often. For us, that means allowing ourselves to have one dinner and one lunch out per week. Sometimes that's a fancy dinner if there's a special occasion, but it's more often a chance to hit up one of our neighborhood favorites. Dinner out doesn't need to be expensive — but it's always going to cost you more than if you cooked for yourself at home.
I also find not getting lunches out much harder to stick to. The bf is great at this and VERY rarely eats out at work — and when he does, it's usually just Subway or something equally as inexpensive. I try really, really hard to be good most of the time, but I also have coworkers who are very convincing about going out to grab lunch. Sometimes it's just so hard to say no! We've made a once-a-week lunch-out deal, though, and have been pretty good at sticking to it.
Making a Plan
The one thing that dissuades me from eating out is having a fridge full of food to cook. I hate throwing out food. So if all the ingredients for a recipe are ready to go, you can bet that meal will get made. If I have to run out to the grocery store and buy anything, though, all bets are off, and we'll be way more likely to grab some takeout or head to a restaurant.
This is where meal-planning is a lifesaver. I don't cook — I hate cooking. A lot. My boyfriend does like cooking, though, and is way better at it than me, so that's his job. My job is doing the organizing part: picking what meals we are eating for the week and putting together the grocery list. Then, we have a super romantic Sunday afternoon date at the grocery store to pick up everything we need for the week. Grocery shopping sucks, but going together makes it a little bit better, and getting everything in one shot saves those mid-week trips that make takeout sound so tempting.
One thing that has made grocery shopping easier has been to use a home delivery service every so often. We've been using the Canadian service Spud for almost a year and have been really impressed with it. It is slightly more expensive than the grocery store, but the quality is excellent, and having fresh produce delivered right to your door is so convenient. Most of our grocery shopping is done at Superstore, which is not known for high-quality fruits and veggies. It is also almost always out of something we need, so Spud has filled a gap.
The Eats
Pinterest is an endless resource for recipes, and it's where I find probably 99.99% of the meals that we make. I might as well just get rid of our stack of cookbooks because I never even look through them. Both of us work full time so quick dinners are essential for weeknights and slow cooker recipes are even better. There's not much better than to walk into the house after work to the delicious smell of an already cooked dinner. I choose recipes that specifically make enough leftovers for lunch the next day. I also pick some things that have overlapping ingredients, like curries (which you'll notice in the list below). As I said above, I hate food waste, so making sure there is enough for another meal is an easy way to stop myself from going out for lunch.
To give you a head start on meal planning I'm going to include the recipes we've got on the calendar for the next two weeks. There are 12 meals in total — 6 dinners (plus lunch leftovers) to make at home, leaving us one a freebie day each week. If you want even more suggestions, you can check out my Dinner Ideas board on Pinterest.
We haven't made these yet, but my mom made them for Christmas Eve dinner (curry night!), and they were a hit! I love lentils and have been making some progress convincing my meat-loving boyfriend that they are a real meal.
2. Easy Skillet Baked Ziti With Sausage and Ricotta Recipe
This is a brand new recipe for us, but the Serious Eats food blog is a highly trusted source in our house. J. Kenji Lopez-Alt (the recipe creator) is "the guy" when it comes to cooking.
3. Baked Buffalo Chicken Taquitos
Cream cheese and hot sauce…what's not to love? Cooking the chicken breasts in the slow cooker means these are really quick to put together for dinner. We just serve them up with a side salad, and there are always extras for lunch.
Tacos have become a weekly staple, and this recipe is my favorite. The slow-cooked pork is delicious, and I love the addition of mango.
5. Creamy Thai Sweet Potato Curry
Even though this curry is meatless, it's still super satisfying and filling. It's already packed with spinach, but we usually throw a couple of handfuls of peas in, too. Don't skip the peanuts — they give a nice added crunch.
6. 7-Ingredient Easy Zuppa Toscana (Creamy Gnocchi Soup with Kale and Sausage)
This is my all-time favorite soup! I'm really fussy about meat and find that the Italian sausage from the grocery store can be a little chewy so we've been using these sausages from Spud and they are so good in this soup.
7. One-Pan Chicken Burrito Bowls
Another quick and easy meal for during the week. I actually omit the chicken from my portion, so this is an easy meal to make vegetarian.
8. Thai Coconut Curry Shrimp Noodle Bowls
These shrimp bowls are so delicious and packed with flavor. Do as the recipe says and keep the noodles separate until serving, or they'll get mushy. This goes for packing leftovers, too.
This is a breakfast recipe, but breakfast for dinner is A Thing. Eggs are cheap, full of protein, and delicious, so why wouldn't you want to include them at dinnertime?
I can't even count how many times we've made this recipe. It's about as quick and easy as you can get. Usually, we'll toss in some broccoli with the saucy meat to hit the veggie quota.
11. Asian Pork Tenderloin with Ginger Glaze
Another slow cooker recipe that will make dinner a breeze. The glaze for this pork is amazing, and you can serve the pork over salad and it even doubles as a dressing.
12. Sticky Thai Peanut Orange Chicken
Speaking of delicious sauces…this sweet, citrusy, peanutty concoction is where it's at.
*****
There you have it — two weeks of dinners that will hopefully get you off on the right meal planning foot. Are you guys avid meal planners or are you more prone to winging it? I'm always on the lookout for new recipes, so if you have any go-tos, let me know in the comments!
Sarah is a Canadian personal finance blogger over at Smile & Conquer. She has been working in the world of finance for almost a decade and uses that experience to help other millennials get smart about their money.
Image via Unsplash