20 People On The Clothing Item They Can't Bring Themselves To Throw Away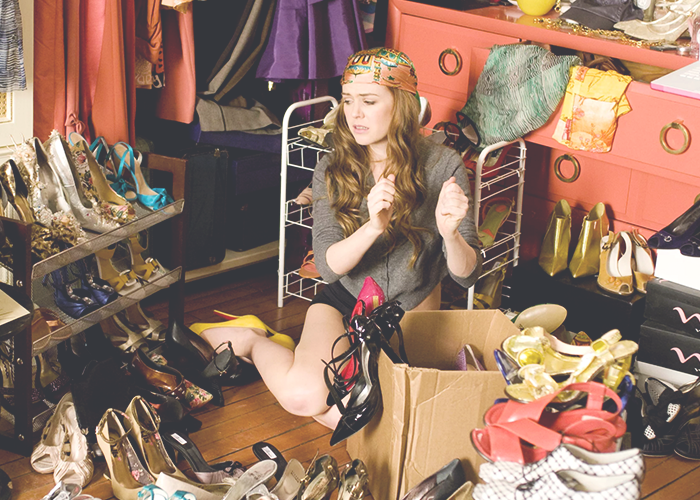 When it comes to spring cleaning (or any-time-of-year cleaning), the closet purge is always the hardest. We all know that productive feeling of filling up several bags with clothes to be brought to the local donation center, suddenly making room for new items in our wardrobe. It's a strange sense of satisfaction; it's not just the accomplishment of checking something off of a to-do list, but it's also very challenging to simply part with our clothes.
For some reason, we all have articles of clothing that are really hard to say goodbye to during a closet purge. For some, it's an outfit that they hope to wear someday. For others, it's something that they once fit into and don't anymore. And many people find that they attach sentimental value to pieces of clothes without fully being able to explain why.
This is definitely a common human phenomenon — we all experience it. It's why we find ourselves at age 30 digging through t-shirts we wore in high school while spring cleaning, or stumbling upon those Jnco jeans we purchased when we thought they were cool. Of course, the idea of hanging onto clothing that will one day be considered "vintage" has its appeal — especially since trends seem to make their way back into style eventually. (Shout out to everyone who still has their tattoo choker necklaces
from middle school and can now wear them on the regular.)
But since we're all different, not everyone has the same attachment to clothes. We talked to 20 women and men from all over the country to find out what they can never bring themselves to throw away when it's time for spring cleaning. Here's what they had to say.
1. "I'm really sentimental about a lot of my clothing, and even though I try to pare it down every so often, it's hard for me to give away items that have memories attached to them. Even though I'll probably never wear it again, I can't possibly get rid of this '40s black silk crepe jacket with gold embroidery that i purchased in 2008 from a now-closed vintage shop here in Minneapolis. When I bought it, the owner said he called it his 'Cinderella jacket' because it felt like something a fairytale princess would wear. One day I'll have a little daughter (or son) who can wear it and appreciate it too." – Kara
2. "A sleeveless mini dress that I got at Urban Outfitters almost ten years ago, and have really only worn three or four times. I haven't worn it in about six years, and I know it won't ever fit me again. I just love the freakin' thing." – Whitney
3. "A pair of nice-looking button-up shirts that don't fit. I want them to. It's been a while, though." – Henry
4. "A biker jacket that I inherited from my awesome aunt after she passed about eight years ago. I have never worn it." – Chelsea
5. "My Uggs from high school. I don't know why, but I just feel like it's throwing away a friend. That sounds stupid, I know. But I wore them almost every day in high school and I still like to wear them with leggings. They're insanely comfortable, even if they look dumb." – Nina
6. "Dresses from skinnier days, and a navy wrap-dress that I never took to but still keep because I'm told that I should have one because they go from 'day to night.'" – Kitty
7. "I have a dress from when I was on (medical) steroids so I was two-to-four dress sizes bigger. I don't really fluctuate in weight too much, but this dress is so unique and flattering I keep it, just in case? I attempted to get it altered, but the seams are curved so it didn't alter well." – Andrea
8. "This is embarrassing, but it's a trench coat. Like, an all black, dark, long, trench coat with chains. I went through a 'phase' in high school and saved up for it. I thought I looked so cool. But even though I would never be caught dead wearing it now, I still keep it in the back of my closet. Maybe it's a reminder that I was never as cool as I thought." – Nick
9. "Shoes. It takes a lot for me to toss a pair. I have statement shoes I've worn like twice that I refuse to get rid of because I just love them too much and I truly believe I'll have the opportunity to wear them again! Especially heels!" – Stephanie
10. "A mink coat inherited from my grandmother. Fits perfectly, but I'm an animal activist and it is just too creepy to wear." – Jocelyne
11. "I'm drowning in camisoles. You have to wear something under everything, right? They're all black, too, which makes picking faves hard." – Hunter
12. "There's this dress that I bought five years ago, thinking, when I lose a few pounds, it's going to look great. Unfortunately, I've never been able to fit into it. But I keep it in the back of my closet in hopes that one day I will." – Gina
13. "Steel-toed combat boots that I've had since 2004. I haven't worn them in ages, but I can't seem to part with them!" – Siobhan
14. "My friends make fun of me for this, but I still have a sweatshirt from my high school boyfriend. We broke up ages ago, but he was my first boyfriend and he gave me his sweatshirt. Not just to wear because I was cold but to keep. I don't still like him or anything, I just can't part with that cozy hoodie." – Josh
15. "Simple layering tanks. They're so cheap and easy to replace, but I think that's exactly why I don't bother replacing them (which I know doesn't make any sense)." – Kelly
16. "Just did a HUGE purge and the things I had the most trouble getting rid of were old t-shirts that have sentimental value." – Taryn
17. "Coats & blazers. For some reason I can NEVER get rid of them." – Jason
18. "My little black dress! It's perfect for everything. I can dress it up or down, so it's always a different look." – Gabby
19. "My black leather jacket. No matter how old it gets, I know I'll need it." – Chrissy
20. "I am obsessed with this one dress from Delia's (remember that store?!) from high school. Surprisingly I still fit into it even though it's so not what a 'grownup woman' should wear. But I don't care. I love it and always will." – Eliza
De is a New Yorker turned Bostonian and lover of all things theatrical. She'll never turn down a cup of gingerbread coffee, and she's the owner of the fluffiest cat imaginable. De is on Twitter and Instagram.
Image via Confessions Of A Shopaholic