$25 Grocery Haul & Recipe: Cozy & Delicious Lentil Soup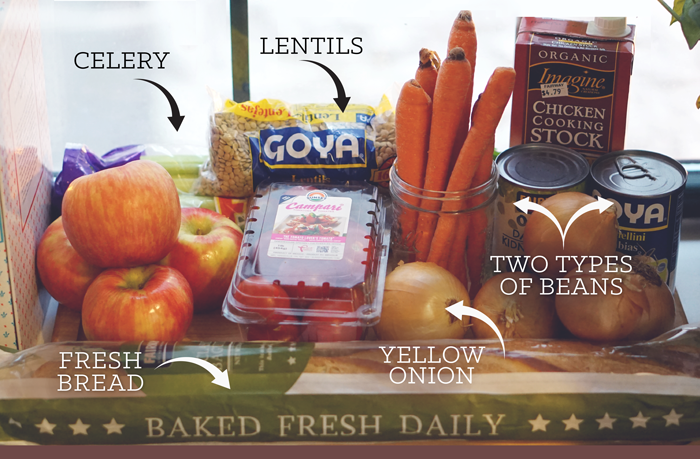 This week's grocery haul was a pretty awesome one (even though we somehow managed to lose the potatoes we paid for between the checkout line and my apartment). For 25 bucks, we got fruit, vegetables, three kinds of beans, fresh bread, AND chicken stock. Beans have probably become our favorite grocery store item since starting to do these $25 hauls, because they're by far the most cost-effective and filling item you can get, and during the fall/winter months, chilis, soups, and stews are the kind of things you want to be eating basically every day.
(No joke, I have made about 20 soups in the past month, and currently have one going on the stove right now — and it contains those cannellini beans.)
Anyway, another thing to not underestimate is the baguettes your grocery store carries. Sometimes they are truly depressing, but other times they are unexpectedly delicious, full of those amazing chewy holes. My local (amazing) grocery store has pretty good ones, and bread is very freeze-able, so I almost always have a baguette on hand or one in the freezer that can be brought out and heated up at a moment's notice. There is no reason that we have to deal with crappy, soft, sliced bread just because we live in America. The price is usually reasonable for a baguette (ours are a little over a dollar), and from everything to butter and jam in the morning, to sandwiches, to served with a bowl of soup, it's a million times better than sliced loafs.
Which brings us to our crusty-bread-accompanied recipe this week, an easy, healthy, and very flavorful lentil soup. Ours uses chicken stock and broth, but you can absolutely swap it out for vegetable if you want to make it vegan!
Cozy (And Delicious!) Lentil Soup
Total Prep Time
-25 Minutes
Total Cook Time
-1 Hour
You will need:
-1 cup dried lentils
-1 can kidney beans
-2 large carrots (or 3 medium carrots)
-2 stalks celery
-1 large yellow onion
-4 cloves garlic
-1 large tomato (or a few small ones)
-1 32 oz. box chicken stock (unsalted)
-3 cups chicken broth (salted)
-2 tablespoons ground cumin
-2 tablespoons ground chili powder
-2 teaspoons dried oregano
-2 tablespoons chili garlic sauce (optional)
-Salt & pep to taste
To make the soup, prep your veggies.The carrots should be in little inch-thick coins, the celery should be about the same dimensions (see the photos below), and the tomatoes should be diced. The onions should be chopped roughly, and the garlic should be minced.
Coat a large pot with olive oil on medium heat, and soften your onions (about 1-2 minutes), then turn the heat down slightly and add your garlic, carrots, and celery. Let them all soften for another 5-10 minutes on low heat, until they are nice and soft and mingled. Add your dry seasonings to this mixture, as well as a bit of salt and pepper, and stir again.
Add your kidney beans and lentils, as well as your box of unsalted stock and three cups of broth (could be bouillon or boxed/canned, totally up to you). The liquid should totally cover everything with room to spare. Cover the pot and let it simmer for about 30 minutes, or until the lentils have become tender (could take up to 45 minutes).
Once the lentils are tender, uncover, raise the heat slightly, and add your chopped tomatoes and your chili sauce if you like it spicy (I do!), let the soup reduce and combine for about 10 minutes, uncovered, on this heat.
Salt and pepper to taste, and if you're like us, serve with a nice hunk of crusty bread and some grated salty cheese!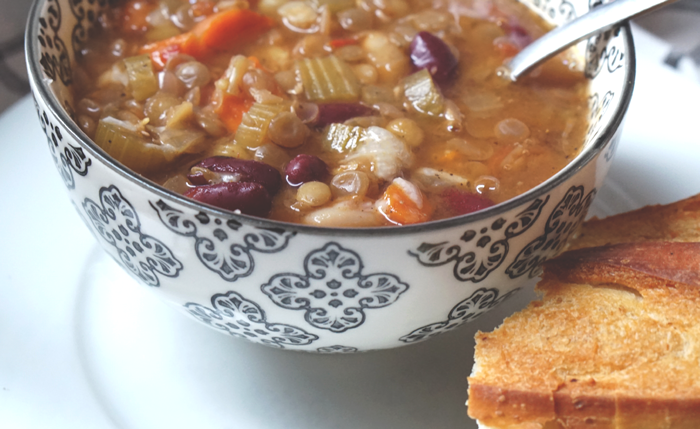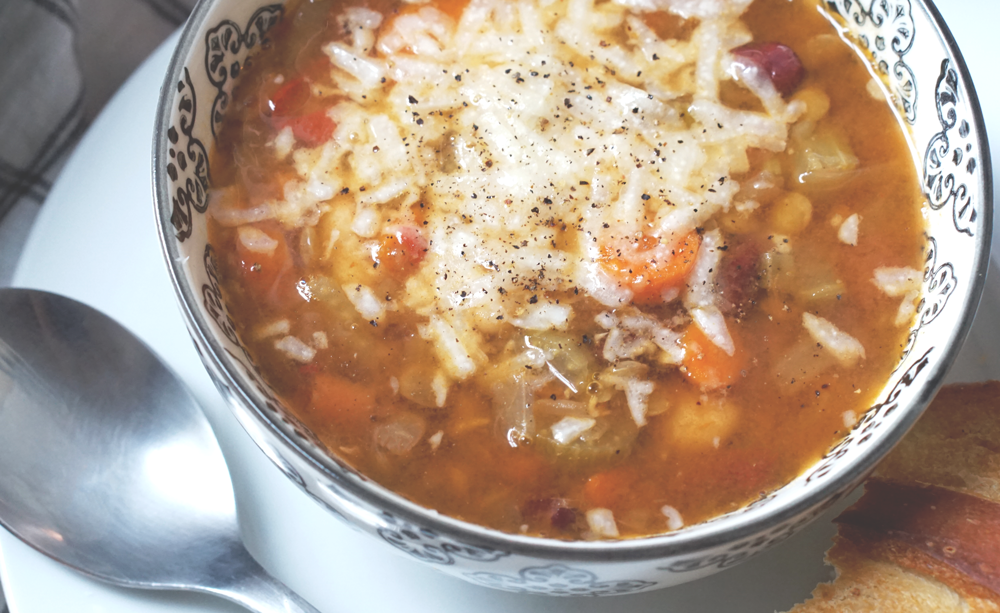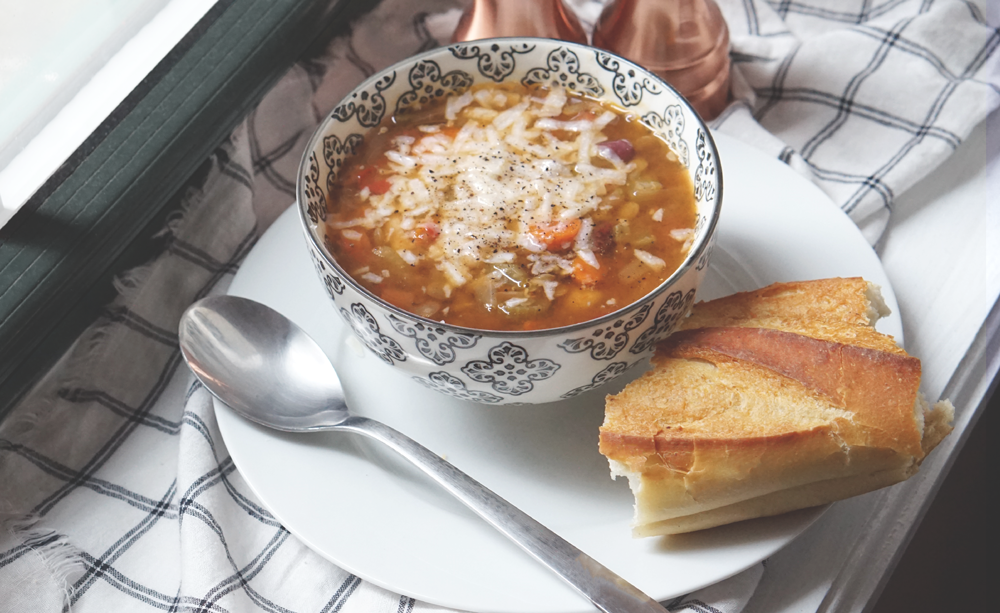 Bon appetit!