$25 Grocery Haul & Recipe, Vol 3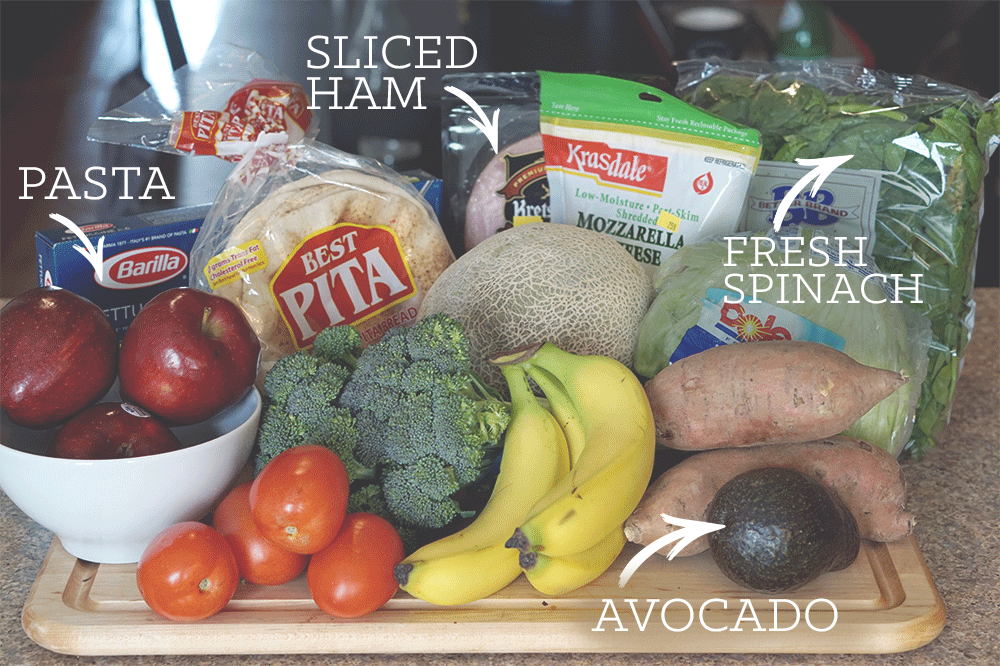 Yet another $25 haul + recipe, yet another series of painful lessons learned. Once again, we were relegated to going to our not-usual grocery store, where the prices are slightly higher and the selections slightly worse, and once again we overestimated our frugality and went a few dollars over budget. We promise that next time will be better (even though we made some great finds, like 14 cents for a big, fresh jalapeño)! We simply got cocky and went for a can of coffee to fuel our afternoon work session, and didn't think of the cost.
That said, we're getting better at this every week, choosing the produce that's on sale, going for generic brand on things where you can't really taste the difference (as in crappy shredded cheese that's just gonna get cooked in things anyway), and remembering to get the biggest item of things that are by unit, and not by weight (like with the broccoli). It wasn't a perfect shopping trip, but combined with some things we had at home — like a block of good pecorino or ground turkey, as well as the usual home cook ingredients that we always have on hand — we have several nice recipes lined up for the week, from pasta to taco salad to our recipe today, a SUPER delicious quiche.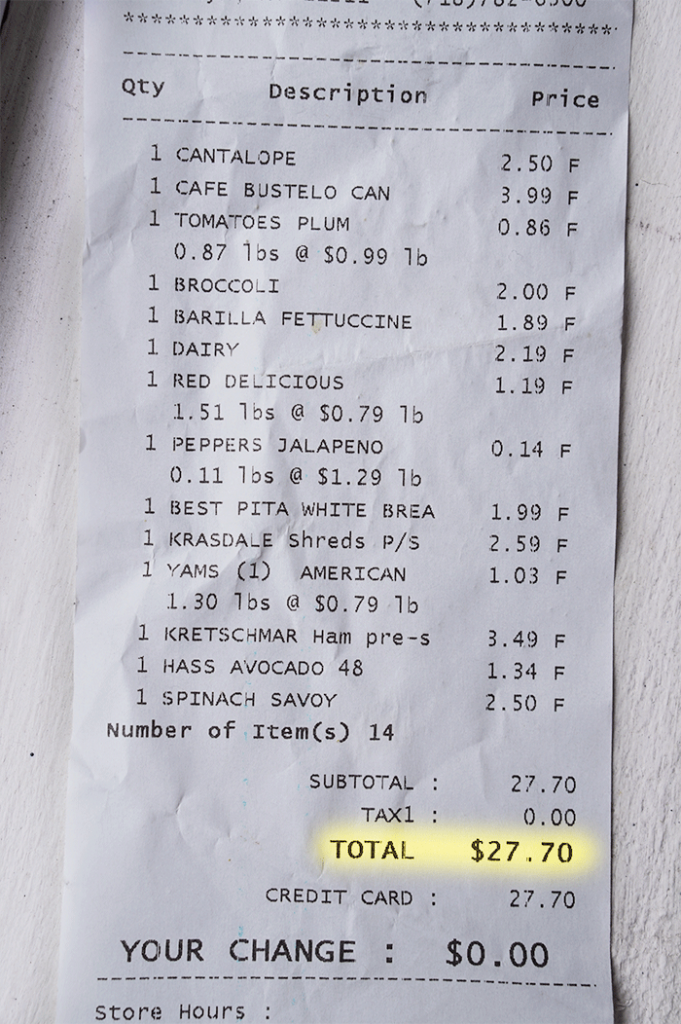 We've also planned on testing out some super-cheap and healthy snacks, like baked sweet potato chips, and veggie-stuffed pita pockets with a swipe of hummus and a sprinkling of herbs. The more we can break away from the teat of processed, expensive food (especially snacks), the better, for our overall health as well as our finances.
But first, the quiche!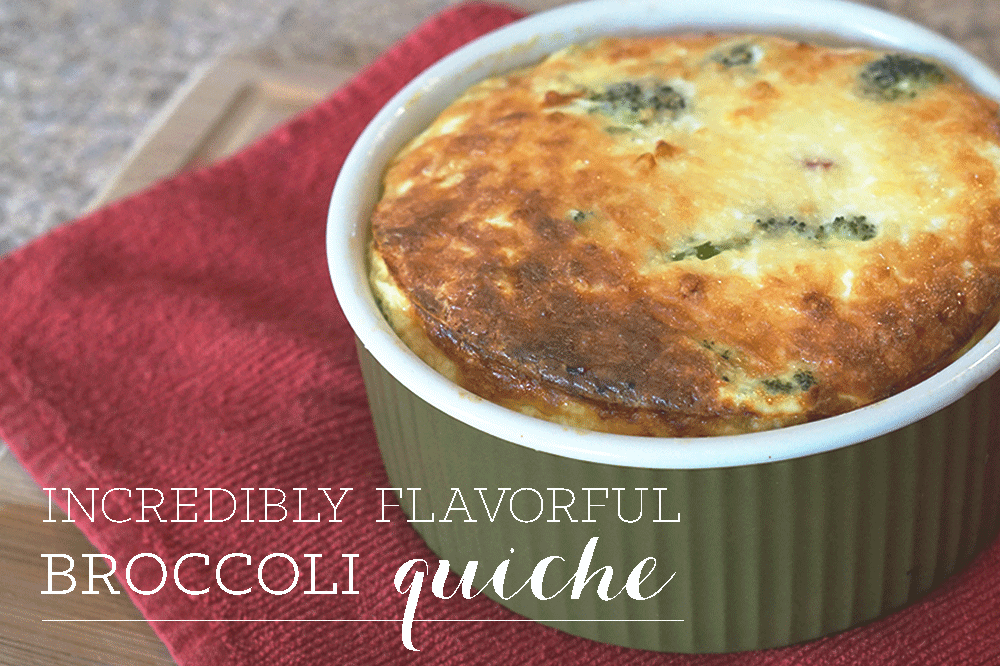 Our recipe is so simple and delicious, literally anyone can make it. And trust us — you will not miss the crust on this quiche, as the flavor is so rich and incredibly light, so you can have the big serving you will undoubtedly be craving. (Also, keep in mind that you can sub in any veggie you like, or keep it vegetarian if you want to omit the ham — though it is super-light in calories and gives the whole thing a wonderfully smoky flavor.)
You will need:
– 2 teaspoons olive oil
– 2 thick slices of smoked ham, diced (about 2-3 oz)
– 1 small yellow onion, diced
– 3 garlic cloves, minced
– 1 large head of broccoli, chopped into florets
– 1 1/4 cups 2% milk
– 3 large egg whites
– 3 large eggs
– 1/2 cup shredded light Mozzarella cheese
– 1/2 cup grated Pecorino cheese
– 1 teaspoon hot (or dijon) mustard
– 1 teaspoon salt
– 1/2 teaspoon freshly ground black pepper
– Cooking spray
To prepare, chop your veggies and grate your cheese, if needed. Mix the eggs & whites, milk, cheese, mustard, and salt & pepper in one bowl. Set aside.
Pre-heat your oven to 350 degrees.
Cook down your diced onions — adding in your garlic after about two minutes — until they are nice and soft, about five minutes in total, maybe a bit less. Add in your diced ham, continue to cook down for a minute or so. Add in your broccoli, put a splash of water in the bottom of the pan, stir, and cover. Let the whole thing simmer/steam for 5-10 minutes, until the broccoli is slightly softened and the water is evaporated (you can take off the lid for the last few minutes if you need to for this).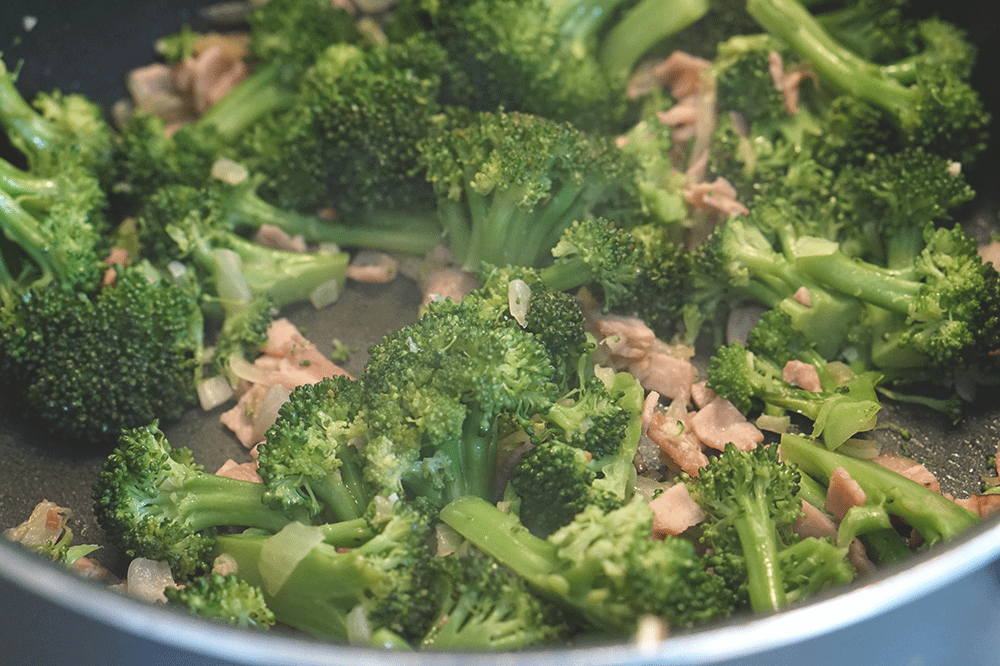 Lightly spray a pie pan — whatever size/depth you have on hand, ours was deep — and add the broccoli mixture. Cover with egg mixture to the top, then sprinkle with a touch more pecorino. Throw it in the oven for 45 minutes to an hour, depending on thickness, until a knife comes out clean and there is a golden-brown crust on the top. Voila!
Serve with a large green salad for dinner, or a small fruit salad for breakfast/lunch. Or both! This recipe is light and filling, and serves so many purposes. We promise you'll soon be addicted, and trying out all the different fillings you can think of.