$25 Grocery Haul & Recipe, Vol 9.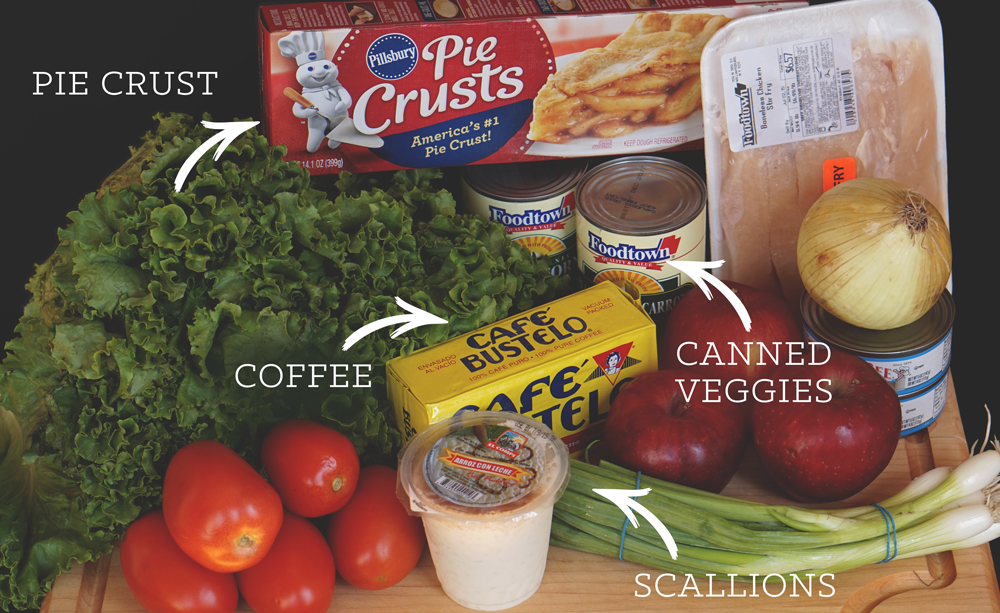 Well, we should probably start off this grocery haul with a bit of a confession: I (Chelsea) am a pre-made pie crust addict. Yes, I know, it would be much more Financial Diet-y to just make basic pie crusts oneself, and it's not that I don't know how. But — and despite the frequent chiding from my baking-obsessed friends on Instagram — I find that the taste of your average storebought pie crust is just as good as what I could make, and part of making the deal with myself that I will cook at home nearly every night means making certain concessions to enable a more streamlined, manageable process.
Today's recipe, for example, takes less than an hour from start to finish. Throw in making your own pie crust, and that's quickly compounded, which (at least mentally) makes the whole thing more difficult to pull off on a busy Monday night. We're all working gals (and guys), and we have to figure out what works for us to make ourselves actually get our asses in the kitchen to cook regularly, and sometimes that means spending a little more money on pre-made pie crust when you could make your own. Whatever, don't judge me.
Other than that, though, we managed to get a pretty productive haul — a metric shit ton of lettuce (enough for, like, five salads), ripe plum tomatoes, two different proteins, a dessert, and other assorted goodies. When breaking down your budget for groceries (as we do here in units of $25), it's important to think about the ways you can mix it up while still getting the things you need. Yes, there is a way to go about it as cheaply and efficiently as possible, eating a lot of canned foods and rice, but we all want to feel like we're actually living, instead of just getting by. If you combine a healthy mix of sale items with bulk produce — especially the stuff sold by unit, instead of by weight, like this lettuce — you can almost guarantee that every shopping trip will yield stuff you actually want to eat.
Now, onto the recipe! But first, the receipt: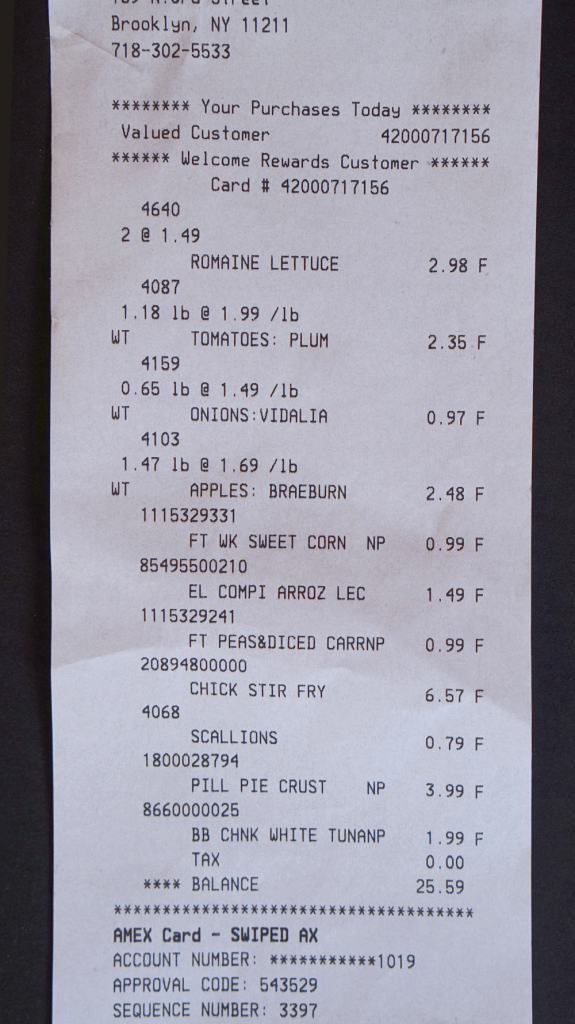 This week's recipe is actually one I've posted on my personal blog before, my ~World Famous~ Chicken Pot Pie. Seriously, despite using no cream/butter/milk, it is the most richly delicious and filling pot pie you'll ever have. I actually don't recall where I first found this recipe, but I know that it's been in and out of my life for nearly a decade, and only in the past few years have I distilled it down to its most pure and wonderful form. It is seriously THE crowd-pleasing recipe in my arsenal, I've never encountered someone who didn't love it on first bite, and generally the whole pie gets eaten in the first sitting. The secret? White wine.
Total Prep Time:
35 Minutes
Total Cook Time
20-30 Minutes
To make it, you will need:
2 large chicken breasts
1 small can corn
1 small can peas
1 small can carrots (rounds, preferably)
1 cup dry white wine
half yellow onion, diced
2 cups light chicken stock
3 cloves garlic
2 tbsp flour
one pie crust (light if possible)
1 tbsp olive oil
Salt & pep
To begin, simply mince your garlic and dice your onion, while in a pan coated with olive oil you cook off the chicken breasts — lightly seasoned with salt and pepper — until they are pretty much cooked through, and golden-y brown on the outside.
Transfer your breasts to a plate, and in the pan with the chicken juices and leftover olive oil, sweat your onions and then add your garlic until they are both translucent. Should take a few minutes total. While doing this, shred your chicken breasts with two forks on your plate until it's entirely torn up into little pulled pork-y chunks. Add your chicken breasts back to the onion & garlic, and cook them together another two-ish minutes.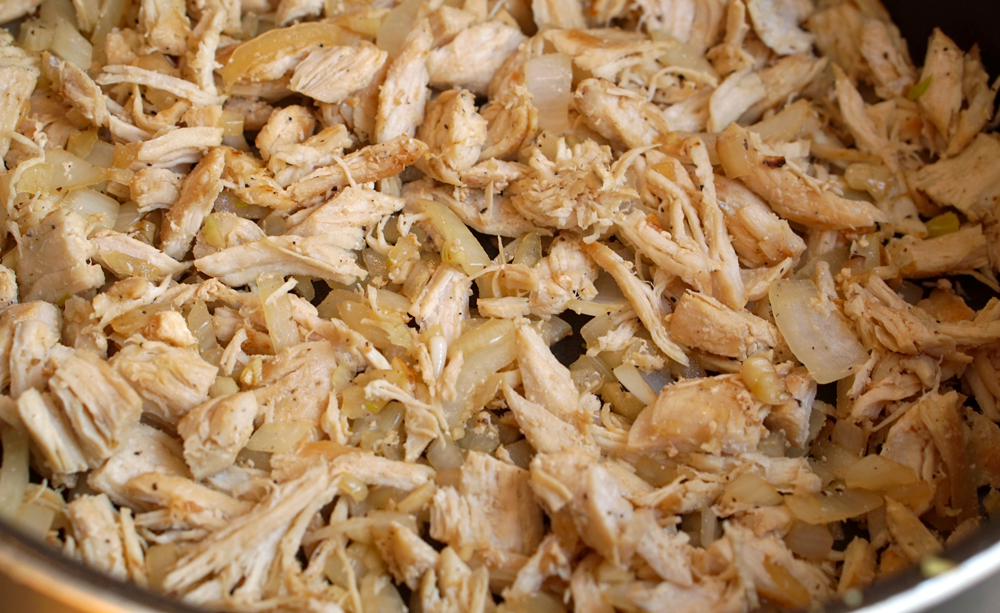 Once they have cooked together and are all golden and lovely, sprinkle your flour over the whole thing and coat them well. Let them cook another minute, enough for the flour to get golden as well and lose that raw flour taste.
Add your chicken stock, stir. Add your wine, stir. (You can add a little more wine here if you'd like, if you like a more wine-y taste, but it's up to you.) Cook the whole thing down until it has a nicely soupy texture, and if you need a bit more liquid, feel free to add a little water and continue to cook down. The ideal texture should be a bit thinner than gravy, but thicker than broth.
Add your veggies, stir, cut the heat. Salt and pepper to taste (you'll need more or less salt depending on the kind of stock/broth you used).
Fill your pie crust and cover it with the other crust, and bake according to the directions on your crust box (or recipe). The filling is already cooked, and will just get nice and bubbly.
Take your pie out when it's nice and golden-brown, serve with a salad, and enjoy!