30 Cheap & Breezy Instant Pot Recipe Ideas To Get You Through This Month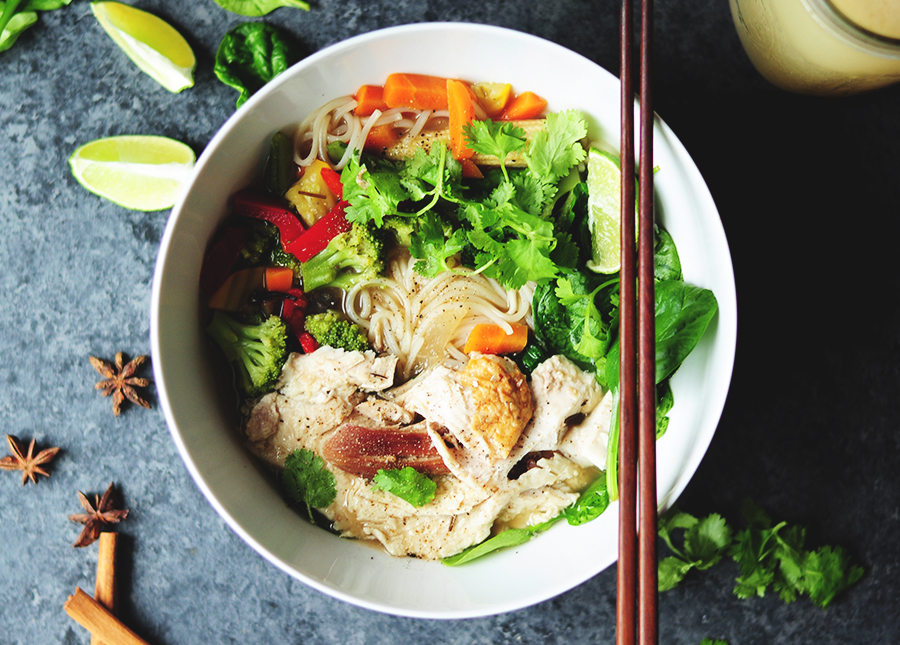 I always like September. It feels like a reset month, even more than January. I find myself ditching the spur-of-the-moment activities that the summer brings and settle into a more regular schedule. More than anything, it means getting back on track with meal planning and eating at home — not things I have much motivation to follow strictly during the summer.
Meal planning makes such a difference when it comes to saving money and sticking to a budget. Eating out is expensive; we all know that. But it's easy and feels indulgent! Cooking at home doesn't need to be so terrible though. There are tons of quick meal ideas out there that will have dinner on the table fast. My secret weapon for ensuring that happens? Our Instant Pot. I rarely get caught up in the newest kitchen gadget crazes, but I'm fully onboard with the Instant Pot. We got one for Christmas and have used it so much. It's a great investment if you haven't jumped on it yet. Through our Instant Pot usage, we've found a bunch of really good recipes, and I thought I'd share those with you today. Hopefully, we'll all get inspired to do more cooking at home!
Chicken Instant Pot Recipes
I love a good peanut sauce, and this one fits the bill. It's a super simple and quick recipe, and it's easily adaptable depending on what kind of meat and veggies you have in the fridge. I've made it with tofu, and it's also great.
I saw this recipe floating around Pinterest a while back and passed it off at first because I've never been able to master homemade butter chicken. It kept popping up in my feed though so I checked it out and it turned out so good. Even better, it has lots of spices in it but nothing you'll have a hard time finding.
Hot wings are one of my guilty pleasure foods, but they aren't great for you and are hard to recreate at home. This meatball recipe helps curb any hot wings cravings you might have while being much healthier. These are great served up as an appetizer but also work as a main course with a side salad.
The best enchiladas are stuffed full with slow cooked shredded meat but that takes too much time when you're rushing around after work trying to throw together dinner. The Instant Pot makes the meat taste fantastic and doesn't require much work.
Same idea as the enchiladas but this time you throw that super fast shredded chicken into some tacos for an even faster dinner. This recipe cooks the chicken right in salsa, so it comes out pre-sauced and juicy. Top it with some slaw and avocado, and you're all set for Taco Tuesday.
The sauce on this chicken is so flavorful you'll want to make sure you serve it with rice, potatoes, or fresh bread to soak it all up.
Beef Instant Pot Recipes
Meatballs, mashed potatoes, mushrooms, and a yummy gravy . . . pretty much my dream meal. We've made this recipe numerous times using the original instructions and also with frozen meatballs to make it even easier, and both ways were delicious.
This recipe is a bit more in-depth than most of the others so it might be best to save it for a weekend when you're not in a rush. It's worth the extra effort though, and it makes a good impression if you've got company coming over.
This recipe has pears in it — weird, right?! I thought so, too, but it works. The sweet but salty sauce is so tasty and a unique addition to tacos. We do tacos a lot when we need quick dinners and this recipe changes things up.
We are split on this recipe in this house; I love it, but the bf isn't sold. I include it anyway because maybe you have olive lovers in your life who will think it's the best thing ever.
Are classic Sunday dinners a thing in your house? When I was growing up, my mom always cooked a roast on Sunday. It's not a tradition we've kept up though, and I miss it sometimes. If you'd like to give it a shot, this pot roast looks so good, and the Instant Pot makes it so much simpler.
Another shredded meat recipe that can be thrown into tacos, on top of a salad, as an alternate stuffing for enchiladas, or into a french dip sandwich. All good options and a handy recipe to have in your arsenal.
Pork Instant Pot Recipes
When I think of red beans and rice, I think of a budget-friendly dinner that often falls short on flavor. The addition of andouille sausage takes this to the next level. Plus, using an Instant Pot means you can use dried beans which helps to keep the cost low.
Guess what? Another shredded meat recipe. I was serious when I said we like our tacos. This time it is pork, and just about the easiest recipe you can find. Like the creator, I'm not a big fan of liquid smoke which is super common in a lot of the similar pork recipes I've found. The substitution of the smoked paprika gives just enough smokiness and spice to the pork.
Ribs have always been a summer dish for us because they are made to be BBQ'd. This recipe comes a close second though. I nix the liquid smoke and just use store-bought barbecue sauce, but they come out tender and delicious. Don't skip the broiling step though, that's where the real magic happens.
Did you ever eat pork chops smothered in french onion soup mix or the also popular cream of mushroom soup as a kid? I sure did. They are not fond memories. This is an upgrade on those not so great classics with real ingredients and super tender chops.
Pulled pork is one of my favorites, and it's a regular on our meal plans. I like that you can cook up a big batch and freeze it for later, or make it for a big crowd. The addition of Dr. Pepper to this recipe is strange, but trust me, it works.
I don't remember how I stumbled across this recipe but I'm so happy I did. A posole is a Mexican soup that is made with hominy which is a form of dried corn. You should be able to find it at your grocery store (it comes canned), but if you're stuck, you could substitute frozen corn.
Soup Instant Pot Recipes
Classic winter comfort food! The problem with beef stew is that you need to cook it forever to allow the meat time to tenderize. The Instant Pot speeds up that process and lets you make beef stew in a fraction of the time.
Tortilla soup is one of my favorites, and it's super simple to make at home. It's one of the first dishes I start to crave when the weather turns cool.
Everyone needs a good chili recipe on hand for when you get stuck hosting a Superbowl party. This one has a ton of flavor and includes the essential addition of a beer and beans. I do not understand people who don't put beans in chili.
Another classic comfort soup. This recipe is ready in 20 minutes . . . amazing! It's not one of those "healthy" broccoli cheese soups that always taste blah. It uses lots of cheese and cream, and it's perfection.
Minestrone is the perfect soup when you have a pile of leftover vegetables in your fridge that are just about to turn. You can throw just about anything in the pot and call it minestrone. Then serve it up with some fresh crusty bread, and you have a dinner that will make everyone happy (and warm).
This is like baked potato soup but slightly lighter and lower on the carbs. It's tasty, and I like the flavor the cauliflower brings.
Vegetarian Instant Pot Recipes
Mac and cheese is up there on my list of favorite foods of all time. My love of cheese runs deep and if throw pasta in the mix, I'm a happy girl. This is a solid recipe that strikes a balance between creamy and cheesy. It's also fast to make with no sign of neon orange powder.
I put this under the vegetarian section even though the recipe calls for bacon. You can omit it though, and it's still delicious. You can also sub in coconut bacon to keep the flavor without the meat. If you are a vegetarian and have never tried coconut bacon, it's a must. This recipe is technically a side dish, but I could eat an entire plate of this so let's just call it a warm salad and open up options.
If you have kids (or are a kid at heart), then I bet grilled cheese sandwiches and tomato soup are a regular request. It's still the meal I crave if I'm feeling under the weather. This Instant Pot version of tomato soup is almost as easy as cracking open a can of Campbell's but far more nutritious.
Risotto in the Instant Pot is one of those magical things that feels like it shouldn't work but it comes out perfect. I love the freshness of this lemon version but feel free to get creative.
Lentils are a staple in vegetarian cooking because they're filling and packed with protein. This dish is loaded with vegetables and has so much flavor that you won't even realize you aren't eating meat.
Paneer is one of my favorite Indian dishes, and it makes me so happy to be able to recreate it at home. If you're not familiar with it, paneer is a type of cheese that is similar in texture to cottage cheese. Palak paneer combines the delicious cubes of cheese covered in a spicy, spinach based sauce. It's fantastic.
*****
And that's it! Hopefully, these recipes will help inspire you to get back in the kitchen and have a positive impact on your wallet. If you have any Instant Pot recipes you love, please share them in the comments so we can all build up our database.
Sarah is a Canadian personal finance blogger over at Smile & Conquer. She has been working in the world of finance for almost a decade and uses that experience to help other millennials get smart about their money.
Image via Unsplash