30 Ways To Treat Yourself This Fall Without Splurging Unnecessarily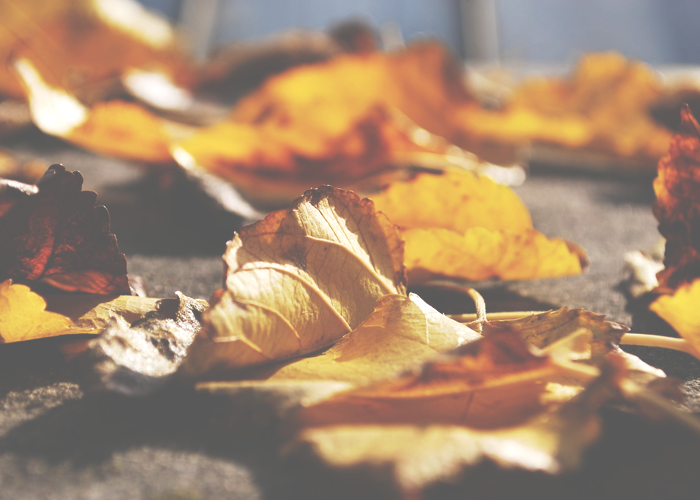 1. Have a fall-themed bake swap for you and your friends. Instead of buying pumpkin donuts, brownies, cheesecake bites, etc., make them yourselves. Invite a handful of friends over, and have everyone make 1-2 dozen treats, and bring a tupperware, and copies of the recipe (or the link to the recipe, because it's 2015). Then, host everyone, and enjoy a little fall soirée while everyone tries each others desserts. Send everyone home with a mix-and-match dessert platter in their tupperware.
2. Make yourself a little tea
display. You know how when you walk into a coffee shop, you immediately see eight perfectly aligned teas? I've been thirsting over those displays for my entire life. Finally, this year, I made myself a "tea corner" on a nook on my kitchen counter. You can find relatively inexpensive teas that have the flap that allows you to ~slip a tea bag out~ the way you would in a coffee house. Line 'em all up in a row, and enjoy your cozy counter aesthetic.
3. Slowly but surely make your way through the fall soup recipes you've always wanted to try.
4. Buy your favorite brand of pumpkin coffee
, and make it at home, instead of spending your cash on the expensive (though, admittedly delicious) seasonal beverages at your local coffee house.
5. Instead of buying yourself a new mug (or a fancy to-go mug), go to a pottery painting place with your friends, and make yourself a new fall-centric mug.
6. Instead of getting rid of your boots from last year, buy suede or leather cleaner
, and whip your scuffed boots back into good shape.
7. Embrace fall cocktails at home, instead of splurging on fancy drinks that really just have a cheap vodka base and a cinnamon stick on top. There's fall sangria (the base is the same as any other sangria, and then I spice it with nutmeg and cinnamon, and use stone fruit). I'm also a huge fan of hot cider and whiskey. I once served it at a house-warming, out of a crock pot, and my friends still call it a "fall smash," a title you can feel free to pass off as your own.
8. Go to a local thrift store and find the good sweater deals. For the $3 treasure hunt tomorrow, I am focusing on finding great deals at Good Will, and now is the perfect time to buy sweaters and flannels.
9. Host a Halloween party. Last year, Uber surge pricing was so insane, that I have a friend who paid $100 to get home. Save yourself the superfluous spending and host a costume party at your place. (Make everyone bring their favorite pumpkin beer.)
10. Spring for tiny scented candles
around your apartment. You can find nice ones at Walgreens for under $3, and if you limit yourself to putting candles around the house, you'll feel pampered enough to not hop on the fall accessories purchasing train. 
11. Host a fall-themed accessories swap and invite a few friends over to bring fall pieces that are still in good shape, but that they no longer want to wear. Think: statement necklaces, gold jewelry, scarves galore, and shoes. It's easier than just focusing on clothing because you don't have to worry about who fits into whose clothing. It's positive and everyone ends up with something they love. 
12. If you and a specific friend have been talking about watching a show for the longest time, make it happen. Pick a night, like Wednesday, and watch an episode or two of the show every Wednesday. Whoever hosts will make dinner for the other person. 
13. Go for a walk, hike, or a run, by yourself. It's free. It doesn't require a gym membership, or talking to anyone. It's just a way to savor the season before it gets too cold.
14. Find a harvest festival close to you (or a farmer's market, or an apple orchard) and actually go. Take your Saturday, and convince a friend, or a significant other to join you, and get in the car, or hop on the bus, or train, and make a day of it.
15. Find a good, well-priced moisturizer
that will last you the entire season. The later months of fall is when dry skin starts to become a problem, so find a lotion you're actually excited about that will keep your skin soft.
16. Color your hair on the cheap (but find the right product
, and the right friend to do it). Also, hunt around and see if salons near you are offering end-of-summer sales. I just got my hair colored for 50% off because of an end-of-summer promotion a local salon was running.
17. Have an at-home spa day using exclusively fall ingredients. Paint your nails a warm color
, and make yourself a DIY brown sugar scrub.
18. Buy yourself new warm socks
. The genre of fall and winter socks is expansive: knee socks, fuzzy socks, thermal socks. Find your favorite, and give yourself a price-limit (I would say $10 for a quality pair).
19. Make an autumn inspiration board on a stretch of wall that has been waiting to be populated for far too long. Dry leaves, experiment with cheap colored paper, or prints. If you're not feeling up to the arts and crafts hunt, make a mood board on Pinterest instead, filled with your favorite #Fallspo.
20. Go through all of your summer clothes that you won't be interested in next year, and donate them. Freeing up closet space (so you can actually move things around in there) is a treat in itself. 
21. When you're at the grocery store, buy one "treat" fall item to add to your go-to recipe. I like to make risottos (mainly because it makes me feel like I'm making fancy rice) and as a seasonal treat, I grabbed mushrooms and bacon to put in the risotto. (Somehow earthy and savory flavors make it feel more like fall in LA.)
22. Instead of buying a costume, raid a friend's closet, or get creative with your own wardrobe. Then, so you feel like you added something special, try face paint, glitter, or fake eyelashes to make your old clothes feel new and exciting.
23. Dry out leaves, put them in a glass bowl, and put them on your toilet seat as autumnal potpourri. 
24. Buy patterned paper towels. (A few of the major brands will do leaf prints around October, and it's kitschy, but it gets me every time.)
25. When you're at the grocery store, sub something you would already buy (like cereal) for a specialty fall item. I'm partial to the fall pickins at Trader Joe's (Pumpkin O's are a very worthwhile cereal substitute). 
26. Host a potluck Friendsgiving the week before Thanksgiving as an excuse to dress up, give thanks to all the friends who make your city, or town, feel like home, and eat mashed potatoes.
27. Join a fantasy football team so you're motivated to stay in, watch football, and make good snacks, instead of going out to dinner on Sunday or Monday night as a pick-me-up. If you can get a lot of your friends in on it, the buy-in can be around $20, with the possibility of winning your money back.
28. Buy cinnamon sticks. Put them in EVERYTHING. Never buy another beverage out ever again.
29. Make this your Year Of The Crock Pot and host a fondue night. (Or, if you're sick of having people over, work on making yourself some delicious stews as the weather gets colder.)
30. Elevate your entryway (or, let's be honest, your living room, because I sure as hell don't have an entryway) and put out a little dish of candy corn.
Maya Kachroo-Levine is a writer and editorial assistant at The Financial Diet. Send her an email at maya@thefinancialdiet.com or follow her on Twitter.
Image via Pexels